You've heard it before. Breakfast is the most important meal of the day. It wakes you up, it gets your metabolism moving, it helps to keep you energized all day long. But it's hard because mornings are so rushed! Well, I have a solution for you.
Today I'm going to teach you how to make oatmeal ahead of time, so you're always armed with a healthy breakfast option when you're short on time.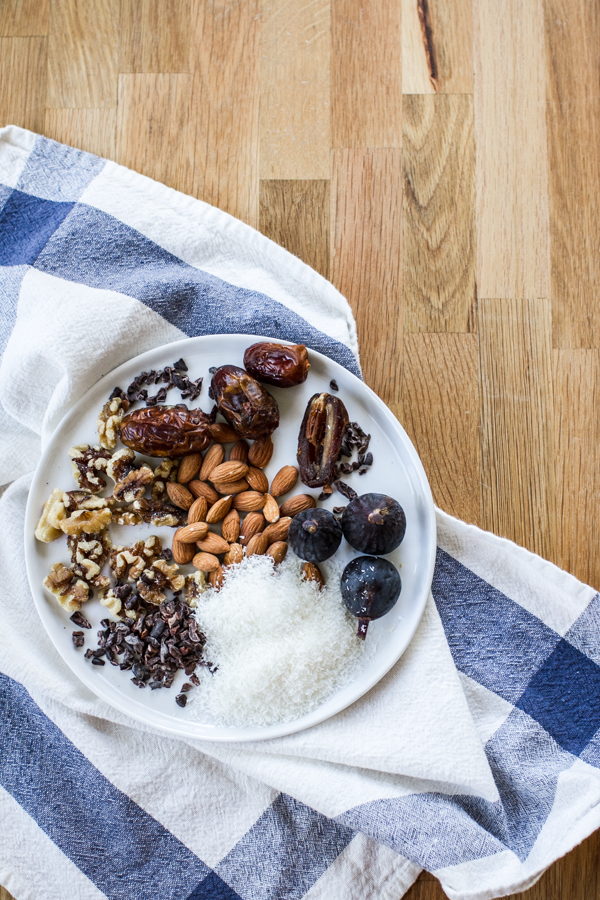 Photos via Edible Perspective
Learn how to make oatmeal ahead of time for those mornings when you're running out the door in a hurry!
Not only is eating breakfast important, but making sure that breakfast is nutrient dense is even more important. It may feel overwhelming as to what constitutes a healthy breakfast, but I promise I've made it very simple with the instructions below.
Rolled oats are loaded with fiber and protein, it's low in fat, and contains zero sugar. Its thick and heavy texture along with the protein and fiber will help keep you full all morning long. I like to top my oats with a bit of fat (like nuts or nut butter) to make this meal even more nutrient dense and satiating.
Don't be afraid of the fat in nuts and nut butters! When eaten in moderate amounts they're very healthy for you and add even more protein and fiber to your meal. I typically top my oatmeal with about 1 – 1 1/2 tablespoons of almond butter, peanut butter, cashew butter, or a small handful of raw nuts (about 3 tablespoons).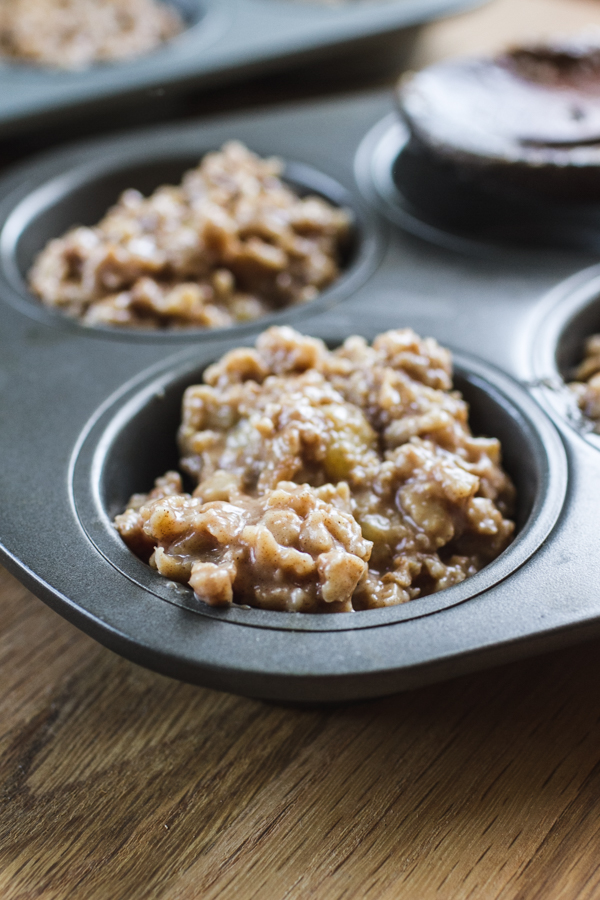 Sweet swap to sugar
Instead of pouring on the sugar first thing in the morning (commonly with brown sugar or maple syrup on oatmeal) I'm sweetening these oats naturally with banana. This will help you avoid a blood sugar spike first thing in the morning which will make you feel better throughout the day. The banana flavor is slight but gives the oats a nice hint of sweetness.
If you're looking for more sweetness I recommend topping with a 2-3 tablespoons of dried fruit such as dates, cherries, apples, cranberries, etc. Or, top with fresh fruit such as figs, peaches, strawberries, blueberries, etc.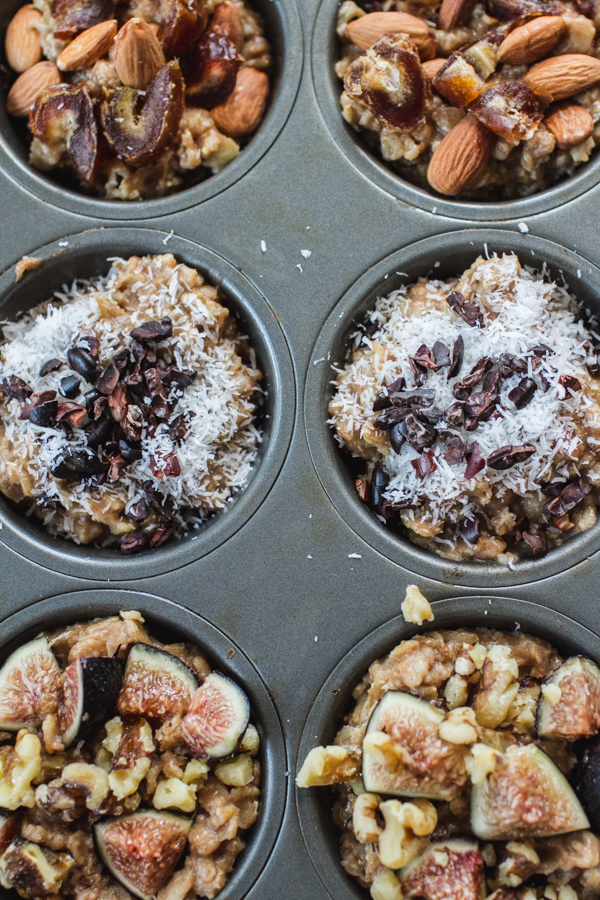 Recipe alternatives
I like using rolled oats for this recipe but you could also use steel cut or Scottish oats if desired. I don't recommend using quick-cooking oats, as their texture doesn't hold up as well. For much more detailed information on all the different types of oats check out my post from a few months ago. Everything you need to know about oats is in that post!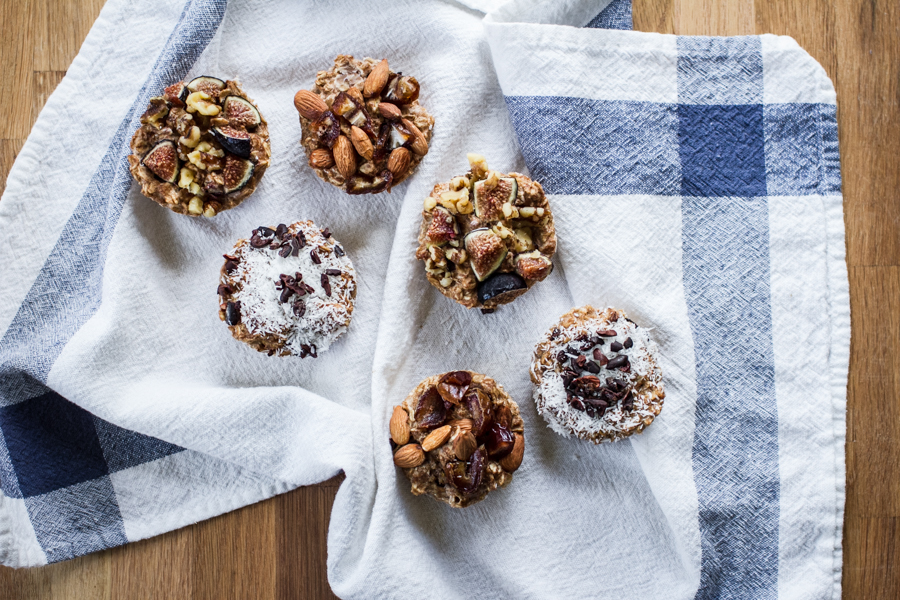 For this recipe I made a large batch of oats. My normal oatmeal breakfast starts with 1/2 cup dry oats. I think a standard amount for breakfast is 1/3 – 1/2 cup depending on your appetite (mine is crazy in the morning). I cooked up enough for 5 days of frozen oatmeal but I'm sure you could make even more. Or if you're making these for your kids you'll get many more servings from it.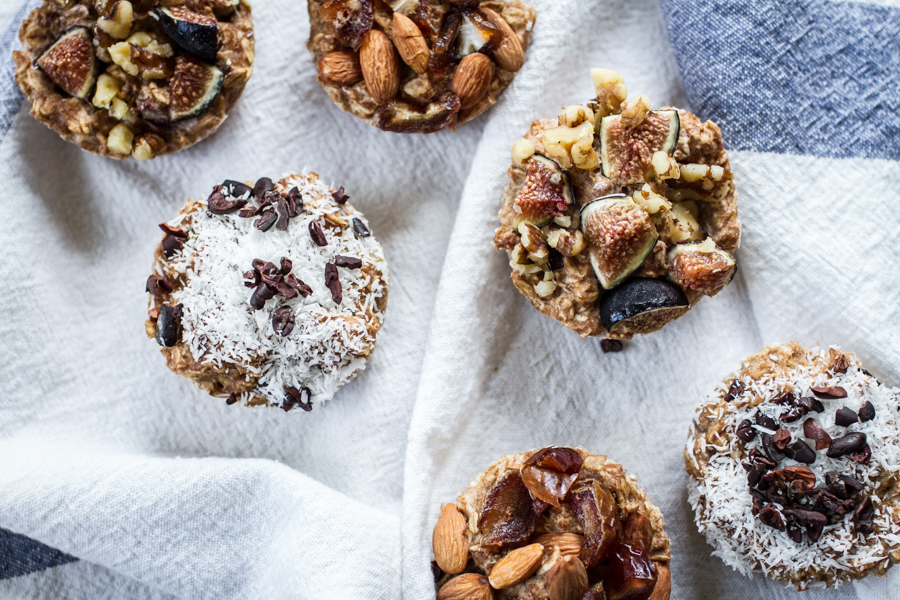 After cooking the oats I portioned it into greased muffin tins and then topped with the following:
unsweetened dried coconut + cacao nibs
chopped fresh figs + raw walnuts
raw almonds + chopped medjool dates
I also loaded my batch with cinnamon because I never get enough and it has been shown to help stabilize blood sugar levels.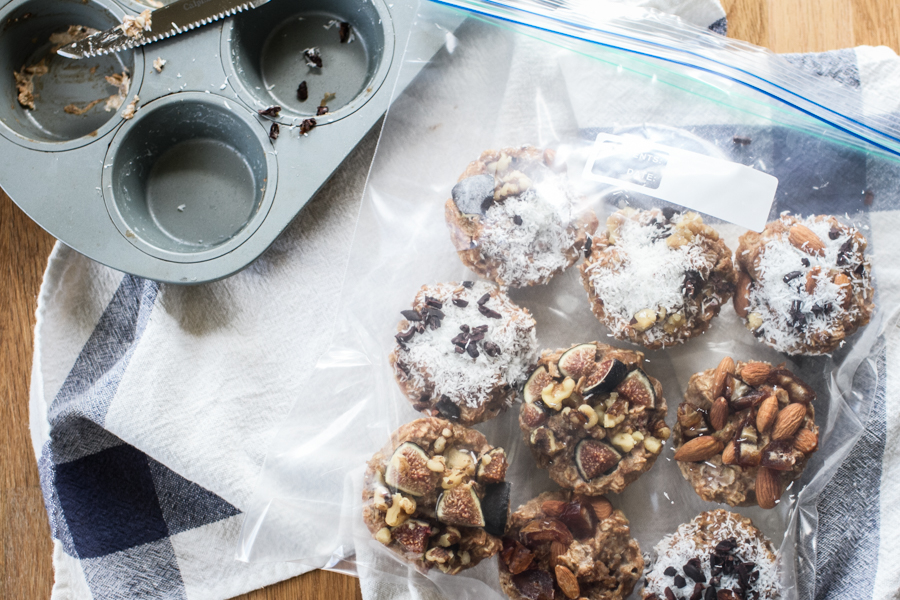 How to Make Freezer Oatmeal Cups
Makes 14-16 freezer cups in standard muffin tin, about 5-8 servings
Ingredients
2 1/2 cups old-fashioned rolled oats
2 1/2 cups water
1 1/2 cups unsweetened almond milk, (or 2%/whole milk/soy milk/etc.)
2 medium bananas, (sliced)
2-5 teaspoons ground cinnamon
1/4 teaspoon salt
2 1/2 teaspoons pure vanilla extract
butter or coconut oil, (to grease the pans)
Step 1:
Heat a large pot over medium. Once hot place the rolled oats in the dry pot for about 3-5 minutes to lightly toast the oats. (You can skip the toasting step. It helps to bring out the nutty flavor in the oats.)
Step 2:
Slowly pour in the water and milk, then stir. Raise temperature to med-high and bring to a boil, stirring occasionally.
Step 3:
Once boiling, reduce heat to a constant simmer, add in the sliced banana, cinnamon, and salt, and stir frequently. Cook for about 8-12 minutes until it reaches your desired consistency, adding more milk or water if needed. It will thicken a bit more as it cools.
Step 4:
Turn off the heat and stir in the vanilla extract. Grease 14-16 muffin cups (without liners) with softened butter or coconut oil. Scoop the oatmeal into each cup just below the top. Add desired toppings and lightly press into the oatmeal so they stick.
Step 5:
Let the oats cool on the counter for about 30 minutes then place in the freezer for 4-5 hours, or once frozen.
Step 6:
Remove from the freezer. Slide a knife around the outside of each oatmeal cup to help remove. If they're stuck, let the muffin tin sit on the counter for about 5-10 minutes, but no longer as you don't want them to thaw. Place the oatmeal cups in a large freezer bag, squeeze out the air, and seal. Place in the freezer for up to 3-4 months. Step 7: Reheat oatmeal cups one or more at a time and top with extra toppings if desired.
To reheat:
Stove top: Thaw muffin cups in the fridge overnight in a bowl or glass jar. In the morning, heat in a pot over medium with a splash or so of milk. Stir frequently until hot.
Microwave: Thaw muffin cups in the fridge overnight in a bowl or glass jar. Place in the microwave with a splash or so of milk and heat for 30 second increments, stirring in between each. Add more milk if needed.
No-thaw: Place muffin cups straight from the freezer into a bowl and thaw in the microwave with a splash or so of milk in 30 second increments, stirring in between each. Add more milk if desired. (This method works well but will take slightly longer than if you thawed the cups the night before.)
On-the-go tips:
After re-heating place in a jar and seal with a lid for easy transport.
Place right from the freezer in a sealed plastic bag, jar, or storage container to take to work with you. Heat once you arrive. They'll thaw a bit on your commute!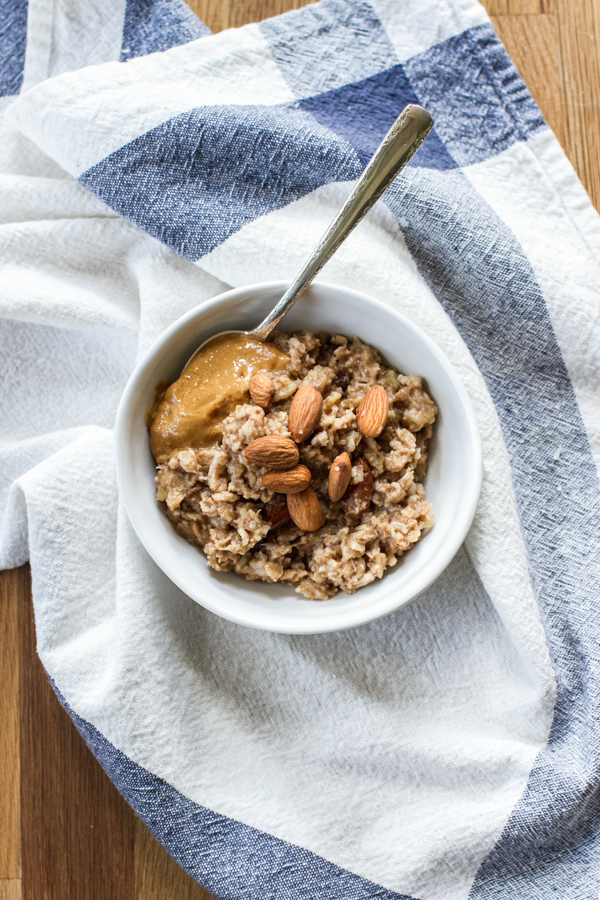 Breakfast is served! At home or on the go!