In the third installment of our Homemade Holiday Cookies series, we're covering how to make Nanaimo bars. Once you learn how to make these, they may enter your permanent recipe rotation. They're really just that good. Anyone you share your food and cooking projects with will certainly thank you.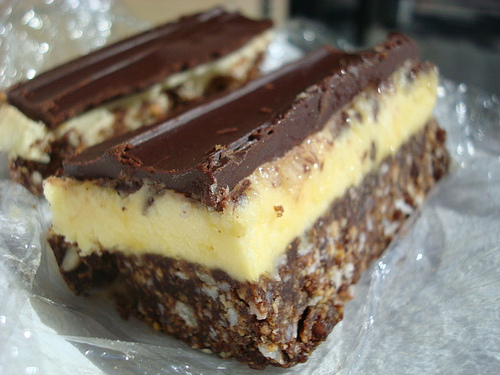 If you've never heard of a Nanaimo bar, let's quickly get you acquainted with this no-bake bar cookie.
For one thing, it's pronounced "nuh-nye-moe," after a town by the same name in British Columbia, Canada, from which the bar hails.
The origins of the recipe itself are hazy. Similar recipes for "chocolate slice" or "smog bars" appear in books and newspapers of the 1950s. Likely, versions of the recipe had been kicking around in the area before the bars became known by one specific name: Nanaimo bars. Their reputation was cemented in the area when the recipe was a winning entry in a baking contest, and they've been a source of civic pride ever since. They've even been dubbed "Canada's favorite confection." In Nanaimo, there are even benches shaped like the bars in the museum.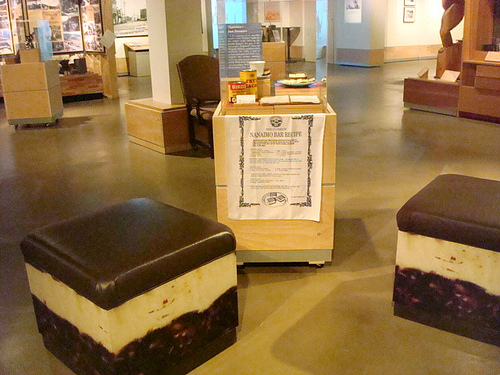 As for the physical construction, the Nanaimo bar has three layers. The bottom layer composed of a base layer of graham cracker crumbs, cocoa, nuts and coconut; the middle layer is buttercream fortified with custard powder; the topping is a firm chocolate. Visually, they are striking, and taste-wise, they're not quite like anything else. Clearly, the good people of Nanaimo knew a good thing when they saw it, because the bar has been a beloved local specialty since the early days of home refrigeration.
Recipe notes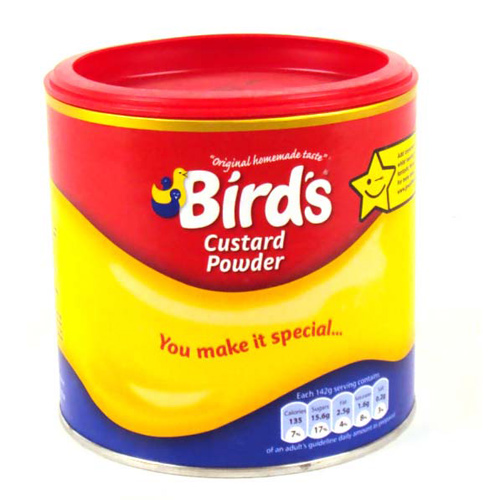 A note on the custard powder:
Traditionally, the middle section of Nanaimo bars is made with Bird's Custard Powder. This is a popular custard powder invented in the UK that immigrated to British Columbia in the early 1900s when there was a large wave of new immigration from Europe. This would have been well timed with the advent of iceboxes as a common household item in Canada, which would explain for the bar's UK influence.
Instant vanilla pudding powder will do in a pinch, but do try to find Bird's Custard Powder for a truly authentic taste. It's not extremely difficult to find: look for it in the international aisle of your local grocery store, or online.
Can they be made without coconut?
Yes, the recipe will work without coconut; however, don't you dare tell someone from Nanaimo you did it!
Can I flavor the bars?
Nanaimo bars work splendidly in a variety of different flavors. Consider adding a flavored extract to the middle section to add festive flavors, such as peppermint, or stir in a tablespoon of peanut butter with the butter in the middle layer for a peanut butter cup inspired taste.
Will the egg be fully cooked?
To ensure that the egg is fully cooked, either pasteurize the eggs or check the bottom mixture to ensure it has attained a temperature of 140 degrees F or 60 degrees C before pressing into the pan.
Where is this recipe from?
This is an adaptation of the official City of Nanaimo version.
How to make Nanaimo bars
Makes 24 bars
Ingredients:
For the bottom layer
1/2 cup (1 stick) butter
1/4 cup sugar
5 tablespoons cocoa
1 large egg, beaten
1 cup shredded sweetened coconut
1 1/2 cups (about 20 crackers) finely crumbled graham crackers
1/2 cup finely chopped nuts (almonds are traditional; pecans or walnuts work well, too)
For the middle layer
1/2 cup (1 stick) butter
2 tablespoons heavy cream
2 tablespoons Bird's Custard Powder, or substitute vanilla pudding powder (instant)
2 cups confectioners' sugar, sifted
For the top layer
4 ounces chocolate, coarsely chopped
1 1/2 tablespoons butter
[box type = "shadow"]Note: International readers may enjoy our handy metric conversion guide.[/box]
Directions:
Step 1: Prepare the bottom layer.
Melt the butter, sugar and cocoa in a double boiler until fully incorporated, but do not let the mixture come to a boil. Add the beaten egg and stir constantly until the mixture begins to thicken, less than 5 minutes. Remove from heat and stir in the graham cracker crumbs, coconut and nuts. Press down firmly into a greased 8″ by 8″ pan; try to make the mixture as flat as possible in the pan. Let this cool for about 20 minutes in the refrigerator.
Step 2: Prepare the middle layer.
In a stand mixer fitted with the paddle attachment, cream the butter, cream, custard powder and confectioners' sugar together until very light and fluffy, 3 to 5 minutes. Spread over the bottom layer, taking care to spread it as flat and evenly as possible. Consider flattening with an offset spatula.
Basically, the flatter this level, the flatter the chocolate will lie on the top. Return the pan to the refrigerator while you prepare the topping.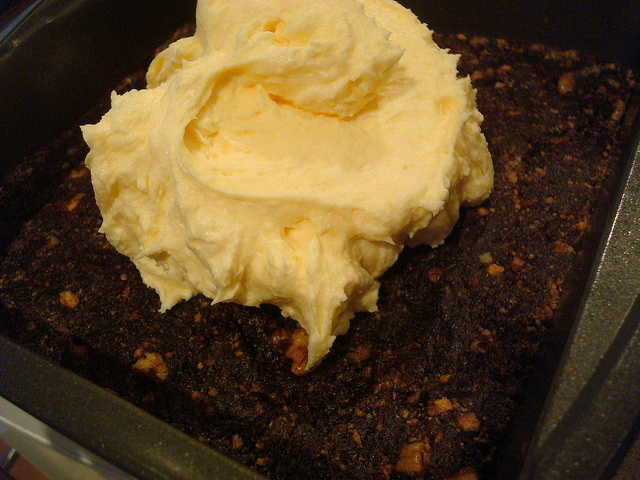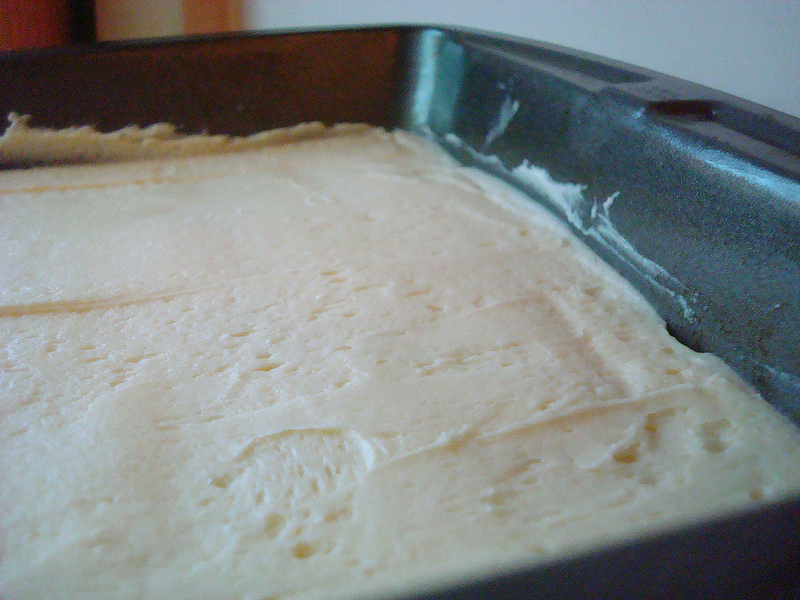 Step 3: Prepare the top layer.
In a medium saucepan or double boiler, melt the chocolate and butter over medium heat, stirring often to ensure that the mixture doesn't scorch. Remove from heat. Let sit until the mixture is still liquid but very thick, then pour it over the second (middle) layer and gently spread it with a spatula to ensure even coverage
Note: Work carefully, because the still-warm chocolate will get messy if you press too hard while spreading it and tear up the buttery layer below.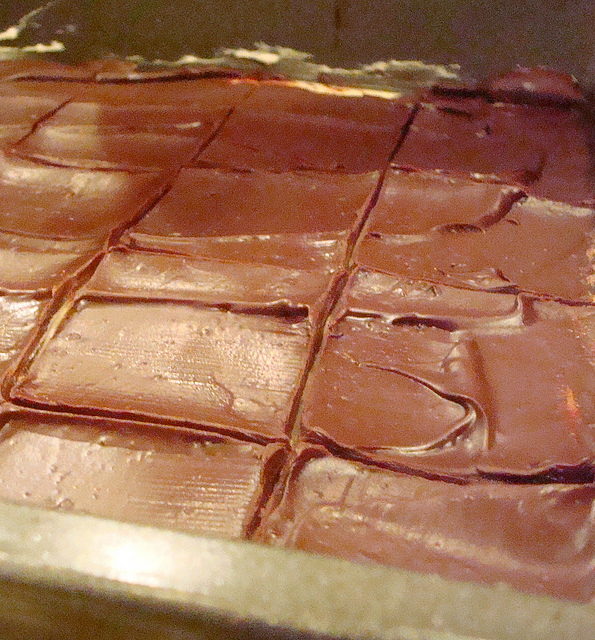 Be sure to score the tops of the bars before the chocolate totally sets on top. This will make slicing them much easier later.
Typically, Nanaimo bars are sliced in fingers rather than squares. You can slice them any way you like, of course, but for an authentic look, split into eight rows in one direction and six rows the other way, so that they are slightly elongated when sliced.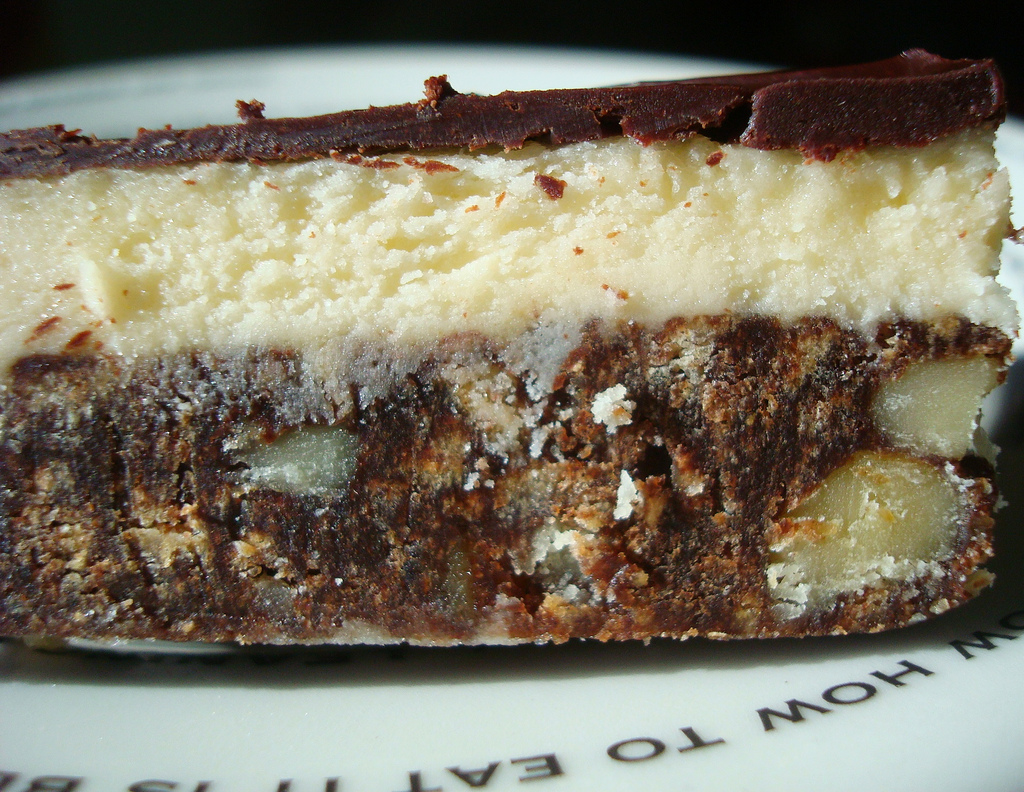 Let the chocolate set on the bars, then place in the refrigerator for at least 20 minutes before serving. Run a knife under hot water and then dry off before slicing; this will help the knife go through the bars easily. Clean the knife frequently between cuts.
Have you ever tried Nanaimo bars?
Make Sweet Holiday Treats With This FREE Guide!
Learn how to make the most popular baked goods of the holiday season with this FREE PDF guide, available exclusively on Bluprint.Get My FREE Guide »