There exists a bar cookie, a splendid concoction of graham cracker crust topped with sweetened condensed milk, coconut, chocolate chips and nuts, that goes by many names: hello dolly bars, 7 layer bars, dream bars and magic cookie bars. This abundance of aliases is part regional, part preference and perhaps part cooking mystery. For simplicity, and because it really does accurately represent the taste experience, we'll call them magic cookie bars in this recipe and tutorial.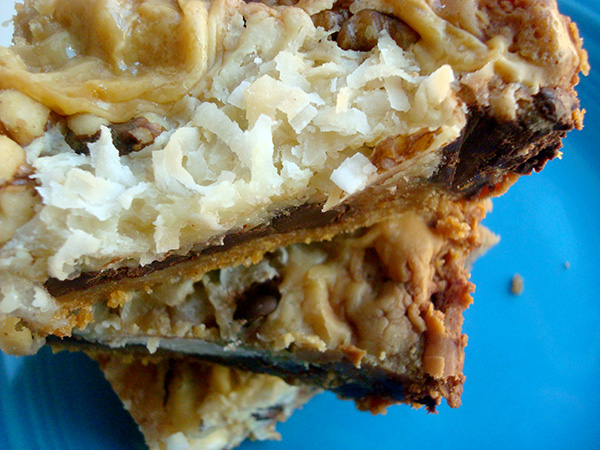 Photos and illustrations via CakeSpy.
Now, with that settled, let's learn how to make magic cookie bars.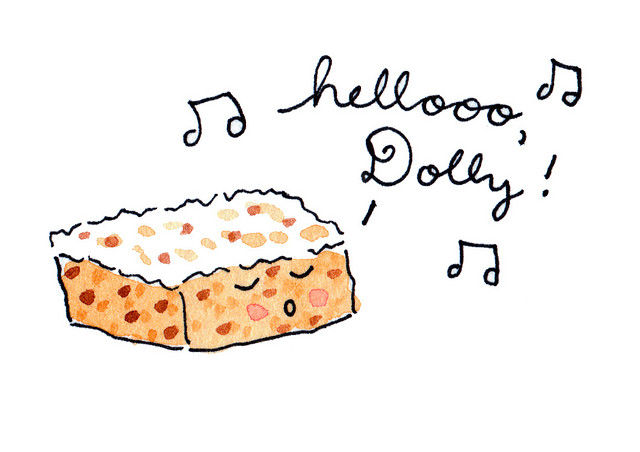 Although its layered look might lead you to believe that it's a complex treat to assemble, these bars come together fairly quickly. It's also a recipe that adapts very well to change.
Yes, indeed: just as the bar has many names, it has many variations. While the main elements of crushed cookies, sweetened condensed milk, chocolate chips, nuts and coconut are non-negotiable, there is still quite a bit of room for improvisation and personalization in this recipe.
Substitutions and variations
Crust
You can swap any type of crushed cookie for the graham crackers in the crust; perhaps this is the right moment to test out digestive biscuits. Basically, any type of crushed cookie that would work for a cookie crumb pie crust would work well here.
Nuts
You could use just about any type of nut for this recipe. In the photos, walnuts were used, but you may choose to use pecans, almonds, hazelnuts, or get fancy with macadamia nuts.
Sweetened condensed milk
You can even doctor the sweetened  condensed milk a bit by adding a teaspoon of flavoring such as vanilla or almond extract. Or, as added chocolatey bonus, you could stir a little cocoa powder into the sweetened condensed milk.
Chocolate morsels and toppings
Most fun of all, you can add in any number of different toppings either in addition to the chocolate chips, or swap up to 1 cup of the amount called for in the recipe. Popular picks to further personalize your bars are chocolate candies (such as M&M's), caramel candies, crushed toffee, butterscotch chips or white chocolate chips.
Oh, the delicious and magical places you'll go with these bars.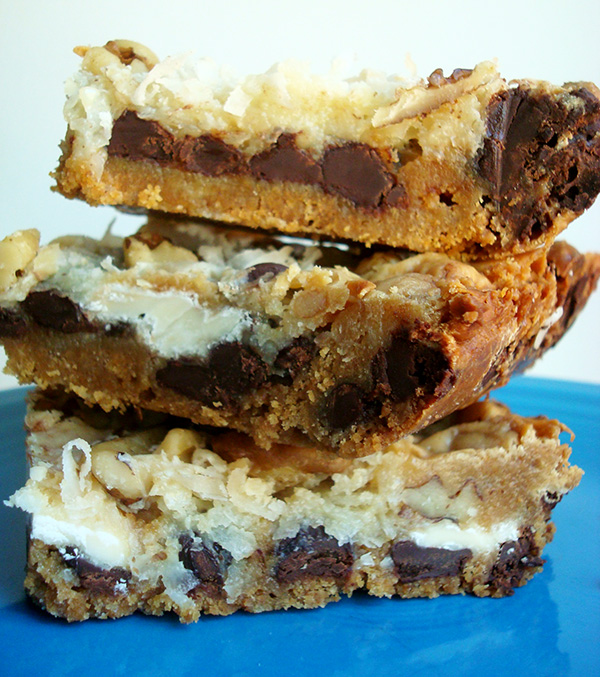 Magic cookie bars
Makes 12 large bars, or 24 bite sized ones.
Adapted from Eagle Brand Sweetened Condensed Milk
Ingredients:
2 cups graham cracker crumbs
1/2 cup butter, melted
1 teaspoon salt
1 (14 ounce) can sweetened condensed milk
2 cups (one 12-ounce package) semi-sweet chocolate morsels or discs
1/2 cup white chocolate morsels or discs
1 1/2 cups flaked coconut
1 cup chopped nuts of your choice (walnuts were used in the recipe pictured)
Step 1:
Heat the oven to 350 degrees F. Generously grease a 9×13-inch baking pan.
Note: As an optional, but suggested, step, insert a strip of parchment paper to use as a "handle" to ensure easy removal of the bars later on.
Step 2:
In a medium bowl, combine the graham cracker crumbs, butter and salt. Stir until combined, as you would to prepare a cookie crumb crust. Once mixed, press the mixture into the bottom of your prepared pan. Press it in firmly. See the parchment handle?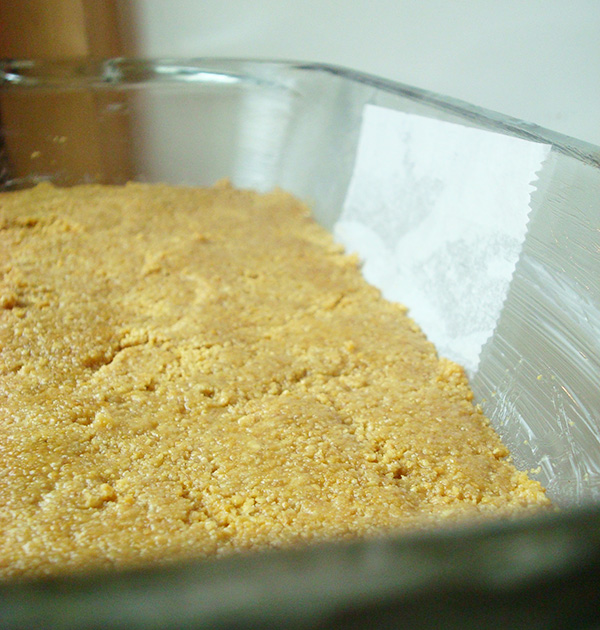 Step 3:
Open the can of sweetened condensed milk, and pour it slowly and evenly over the graham cracker layer. Shoot for even coverage. You can gently lift and tilt the pan to cover any parts that don't seem even. This is an easier method for ensuring even coverage than using a spatula, which carries the risk of tearing up the delicate crust as you spread.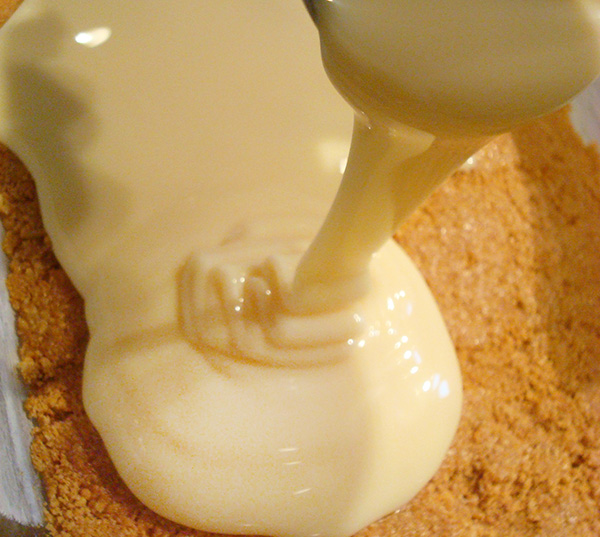 Step 4:
Now, scatter the chocolate morsels, coconut flakes and nuts, evenly distributed over the expanse of sweetened condensed milk. Make sure you cover everything evenly, to the edges of the pan. The condensed milk can bubble up if too much of it is exposed.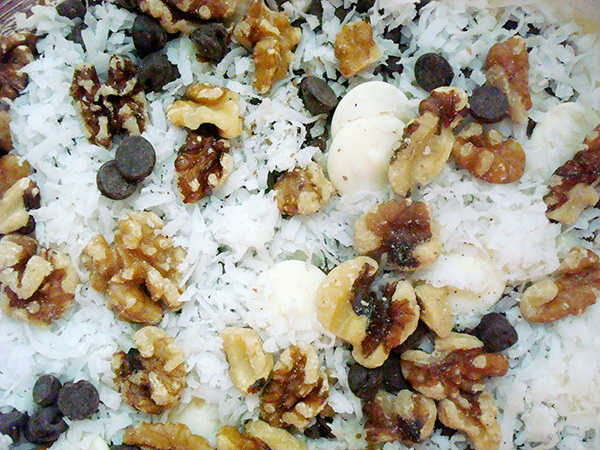 It's a lot to pack on top, so use a spatula or fork to gently press the toppings down so that they stick better to the condensed milk. This will keep the toppings from crumbling off after you remove the bars from the oven.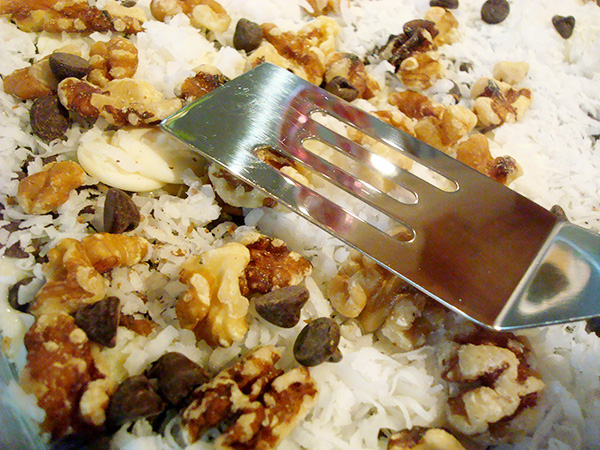 Step 5:
Bake for 25 to 30 minutes, rotating the pan halfway through baking (at approximately 12 minutes). When the bars are bubbling and lightly browned around the edges and top-most parts, remove the pan from the oven. It's OK if the mixture is still bubbling a little bit. It will firm as it cools.
Step 6:
Using a sharp knife, loosen the sides of the bars. This will help them come out of the pan easily later.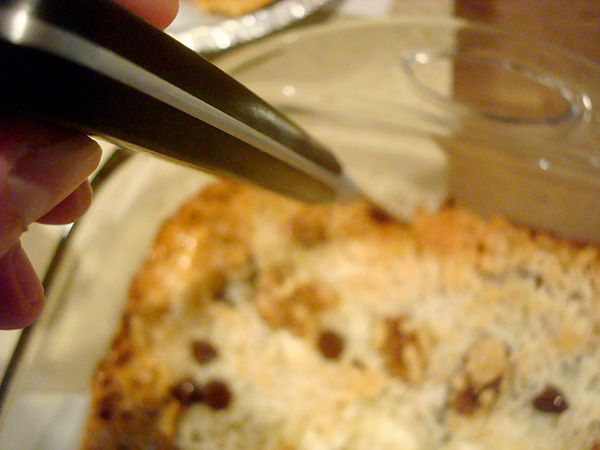 Place the pan on a wire rack to let cool completely, for about 1 hour. Cut into bars or diamonds to serve.
Craving even more delicious desserts? Make an assortment of tempting French pastries! Discover the secrets behind phenomenally flaky treats like éclairs, cream puffs, fruit tarts and more in French Pastry Shop Classics.
What name do you call these magical bar cookies?