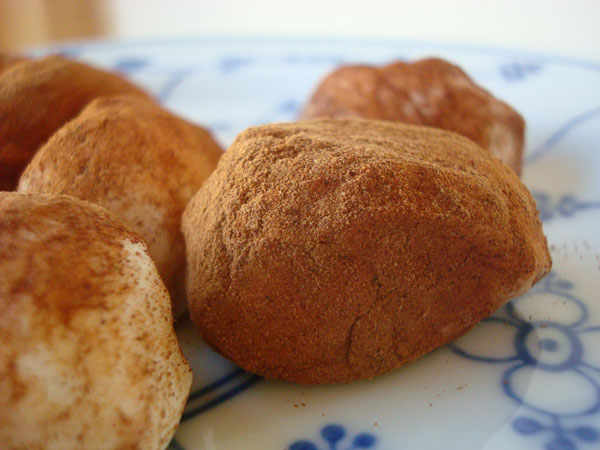 While the recipe's Celtic origins are questionable, Irish potato candy is a fun and easy treat for celebrating St. Patrick's Day. Essentially, the no-bake treat is candy dough shaped and coated to look like a tiny potato, but it obviously tastes so much sweeter. Trust us, the whole gang will be grabbing 'em by the handful.
Irish Potato Candy
Yield: 4-5 dozen candies, depending on size
Ingredients
¼ cup (½ stick) unsalted butter, room temperature
4 ounces (half of an 8-ounce brick) cream cheese, room temperature
½ teaspoon salt
1 teaspoon vanilla extract
4 cups confectioners' sugar, sifted
2½ cups sweetened coconut flakes
Cinnamon, cinnamon sugar or sifted cocoa, for coating
Pro Tip: If you don't like coconut, don't stress. This recipe will work even if the coconut flakes are left out. However, the coconut helps absorb a lot of the moisture and keeps the candies firm, so you may need to add more confectioners' sugar (about 6-7 cups total) so the candies hold their shape.
Ingredients
1. In a stand mixer fitted with the paddle attachment, cream the butter and cream cheese until smooth. Add the salt and vanilla, stirring to combine.
2. Add the confectioners' sugar one cup at a time. Mix until the sugar incorporates, turning the mixture into a thick, sticky dough.
3. Stir in the coconut until evenly distributed. Place the dough in the refrigerator and cover for at least 30 minutes until firm.
4. Remove the dough from the refrigerator and shape into small balls, about 1″ in diameter. Lightly press them into potato-like shapes.
5. Place the finished white "potatoes" on a baking sheet. In a shallow bowl, place cinnamon, cinnamon sugar or cocoa. Roll the potatoes in the mixture to coat all over. Tap off any excess.
Pro Tip: This batter softens quickly and won't roll as well in the coating mixture if left out too long. If they begin softening, stick them in the refrigerator for a few minutes until they firm back up.
6. Place the candies back on the baking sheet and refrigerate for 30 minutes to allow them to set completely.
You're done! The goodies can be kept in the fridge in an airtight container for up to three weeks.