One of my favorite things about paper is how quickly it can turn from a simple crafting supply into a gorgeously festive party statement. This paper leaf party garland is a great example. You can pull one together in under and hour, and it will transform any wall or room with a seasonal spark of festive party style!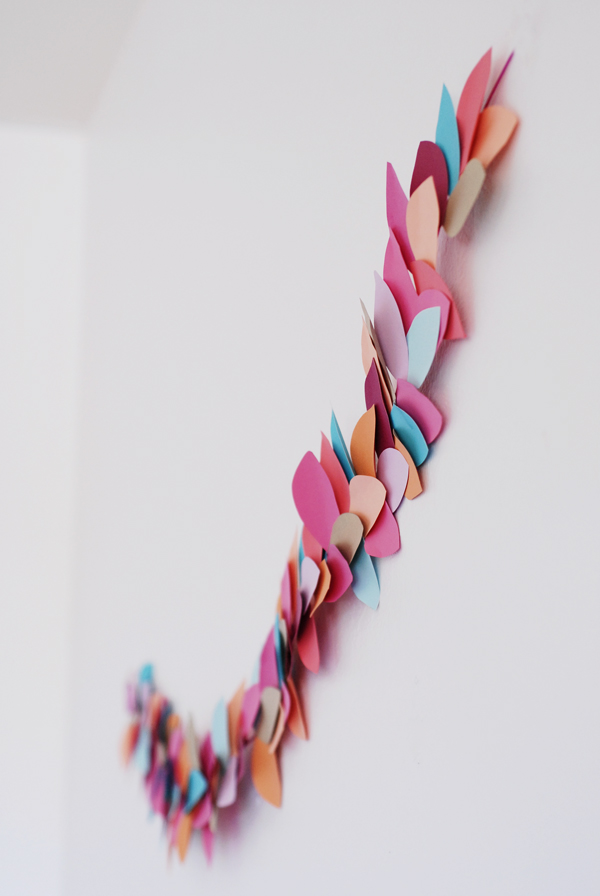 I am excited to share my tips for how to make a homemade garland out of paper that will make your spring much brighter! This easy paper crafts project will leave you feeling like an artist.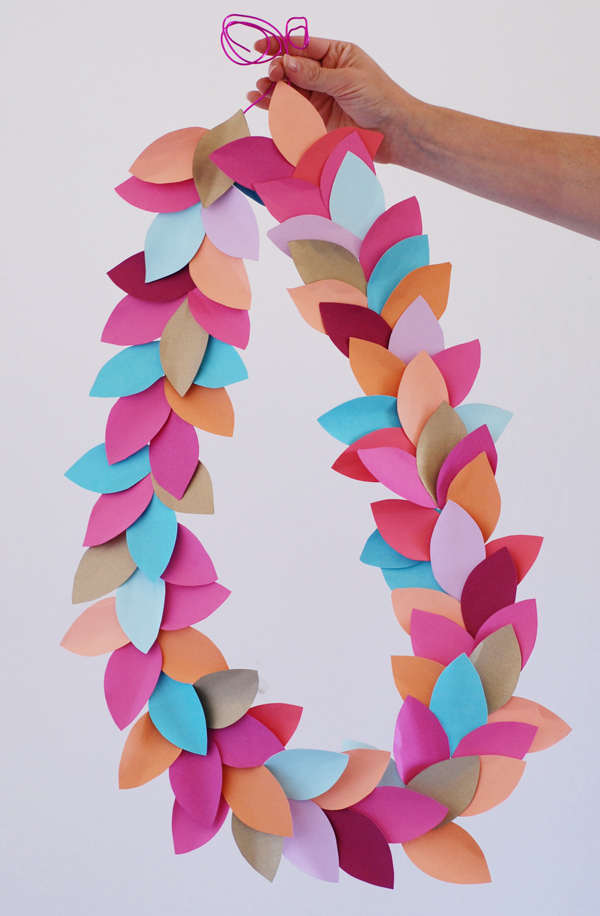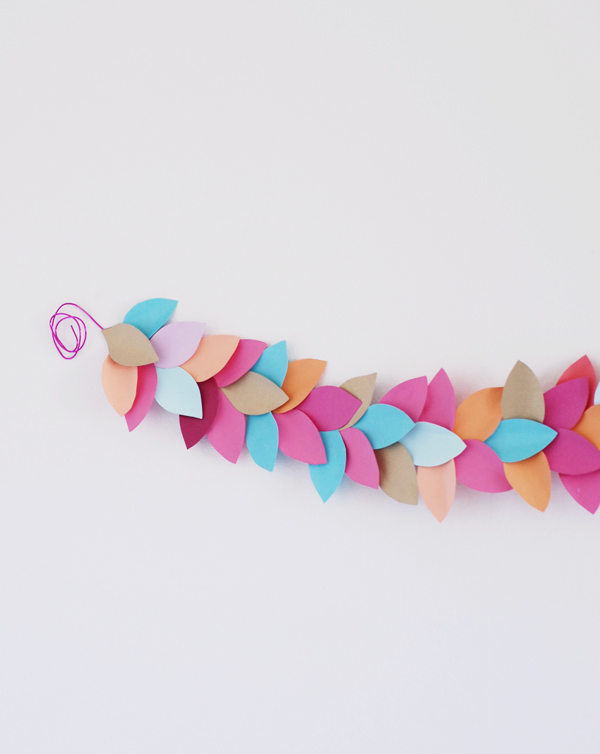 Although the garland is meant to be hung horizontally, you can always experiment by hanging it vertically or even wrapping it around to create a pretty leaf wreath. The colors are also completely customizable to your own party decor. Change the leaves up for darker colors to make this wreath a showstopper in fall, or create the leaves in shades of green that will give you a Christmas garland that can't be beat!
Anyway you design and hang the garland will bring festive fun to the walls of your home.
How to make homeland garland
Supplies you will need:
Various sheets of colorful scrapbook paper (We used 7 sheets of paper to make this 3-foot long garland)
Scissors
Thin jewelry wire
Hot glue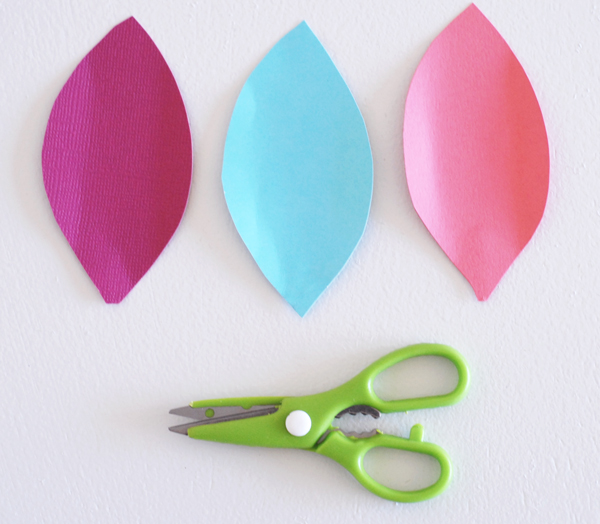 Step 1:
Start by cutting the paper into the leaf shapes. A great way to find a pretty leaf shape is by heading outside and searching your yard for a unique but simple design. This garland works best with a very simple leaf shape, as cutting more intricate shapes could take…forever!
You can also create a leaf shape by simply free-handing your own template, or by searching online for simple leaf templates that are free to use.
Once you have your template in hand, turn the first piece of scrapbook paper over and trace the template along the back side of the paper. Trace the template as many times on the paper as will fit to make the most of your paper purchase.
Step 2:
Stack the scrapbook papers 3-4 thick and cut out the templates. It will save loads of time to cut as many as possible at once. I find 3-4 pages thick is about what my scissors can handle before making the sides un-sharp.
Step 3:
Once all the leaves are cut, stack the leaves and gently bend them in along the middle line to give dimension to the garland.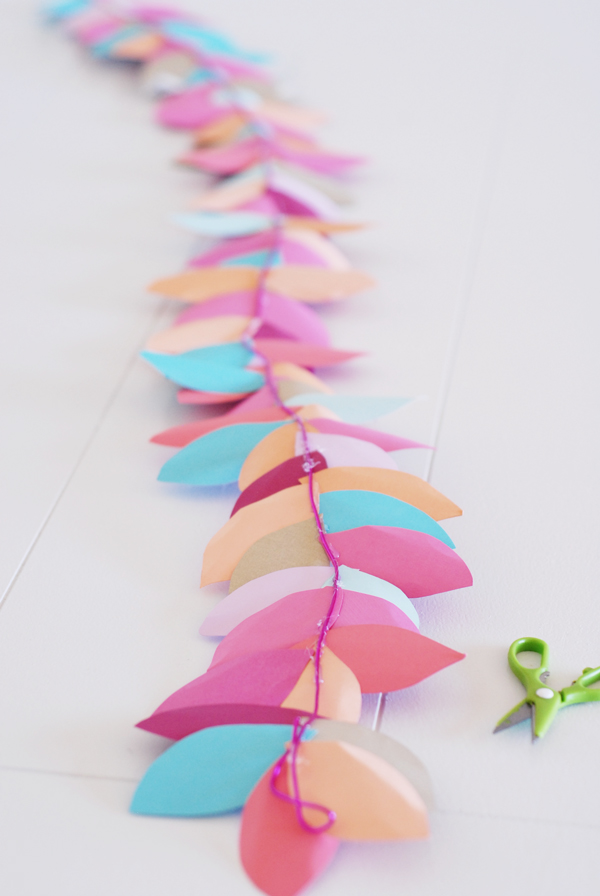 Step 4:
Once all the leaves are cut and bent, begin gluing them onto the wire. Start at one end and glue the paper leaves with the backs of the paper overlapping each other slightly. Continue the process throughout the garland until you are happy with the length.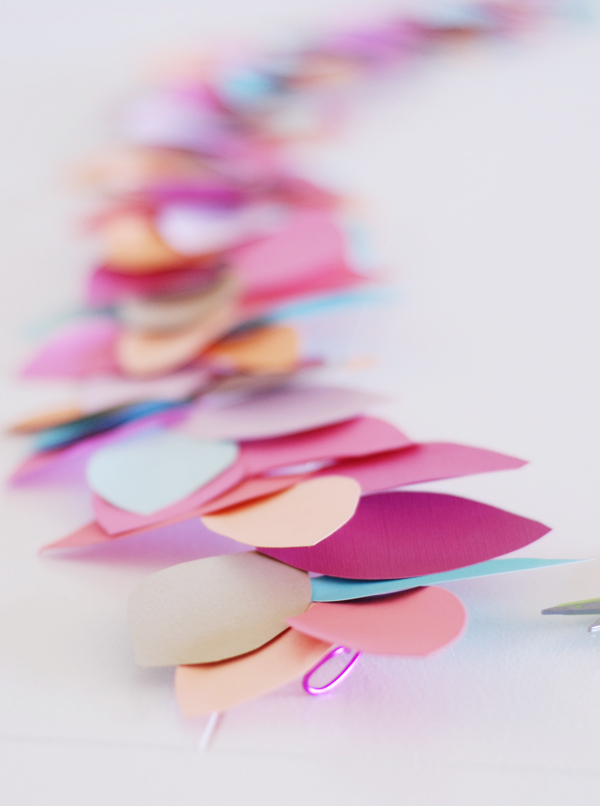 Step 5:
Turn the garland over as you continue putting it together and adjust the leaves as needed. Vary the color and the placement as you go for a full and bright paper leaf garland. Once the garland is finished, circle off the ends of the wire for easy hanging.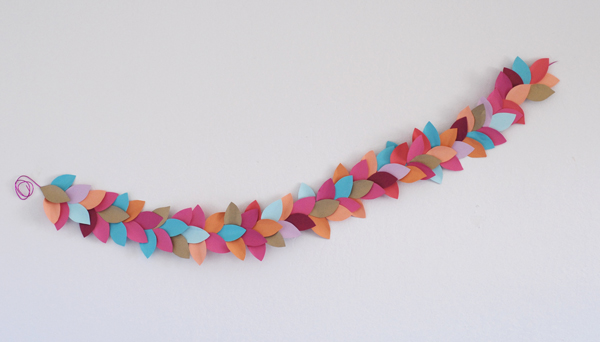 Where will you hang your bright paper leaf party garland this spring?