Three cheers for carbs! You'll be a true bread winner once you learn how to make homemade bread sticks.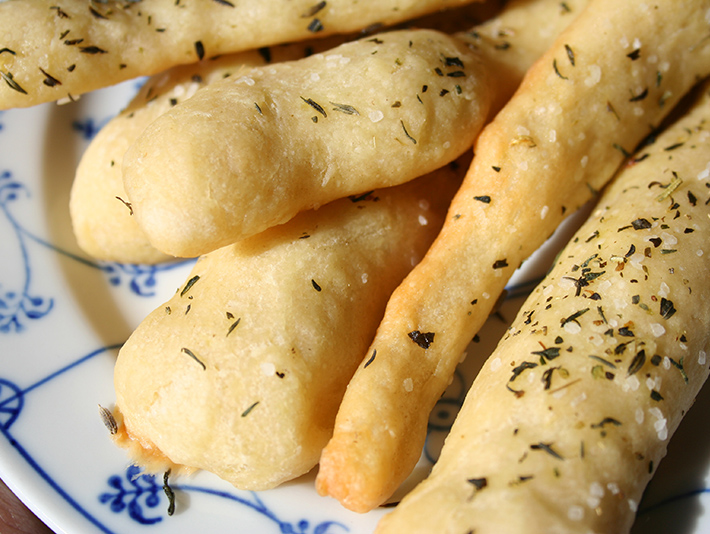 Photos via CakeSpy
If you've ever made pizza dough, then the process of making these bread sticks might seem familiar. This recipe is actually derived from a pizza dough recipe, but instead of stretching it into large, pizza-friendly rounds, you roll the dough into logs and bake them like long, skinny loaves.
Learn how to make homemade breadsticks with the recipe below, then check out some ideas for creative dipping sauces.
Tender and soft on the inside but crunchy on the outside, these breadsticks have an irresistible texture and a full-bodied flavor thanks to a generous brushing of olive oil and a coating of spices and herbs. 
Easy homemade breadsticks recipe
Makes 16 breadsticks (approximately 10″)
Ingredients:
3¾ cups bread flour (plus more for kneading / work station) 
2 teaspoons sea salt
¼ teaspoon active dry yeast 
1½ cups warm (105 F) water 
For the topping: Olive oil, herbs and spices of your choosing (I used herbes de provence and coarse sea salt)
Step 1: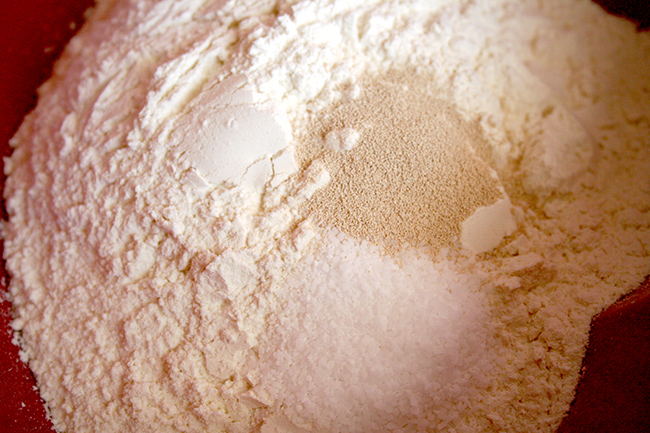 In a large bowl, whisk the dry ingredients together to combine. Add the water and mix with a wooden spoon to incorporate. As the mixture becomes cohesive, switch to kneading by hand, using floured hands if needed. Knead for 2-3 minutes by hand, removing any clumps from the mixture. 
Step 2:
Place the dough in a large, oiled bowl and cover with plastic. Let the mixture sit on the counter for at least 6 hours, up to 24 hours. The dough will rise to double its size in less than 6 hours, the added fermentation will help the flavors develop more. 
Step 3:
Gently deflate the dough using an oiled hand (the dough might be a bit sticky). Re-form into a ball and turn onto a lightly floured work surface. Divide the dough into four equal portions, then divide those portions into 4 portions each, so you'll end up with 16 small portions of dough.
Step 4:
Form each portion into a ball, then roll or stretch each ball into a long, skinny log, about 8″ to 10″ long. Use more flour on your work surface as needed to roll.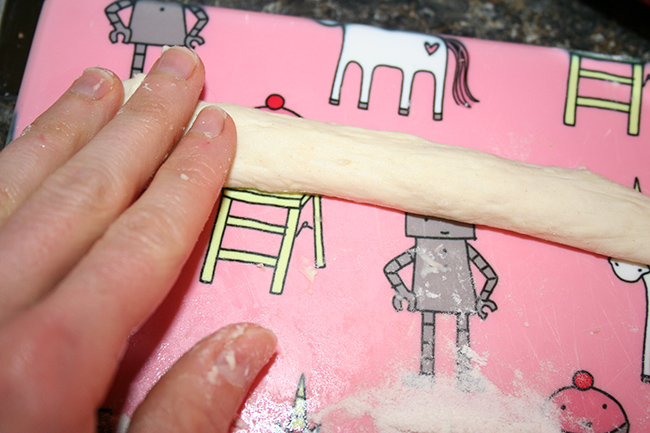 Step 5:
Place the logs on a parchment-lined baking sheet and cover with plastic. Let proof for about 30 minutes. Near the end of your proofing period, preheat the oven to 400 F. 
Step 6:
Uncover the bread sticks (they will have puffed up a bit) and brush with olive oil, salt and the seasonings of your choice. Here, I used a generous sprinkling of herbes de provence and some coarse sea salt.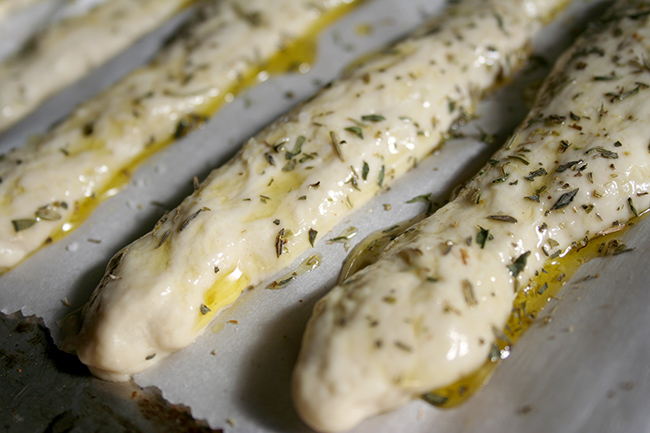 Step 7:
Bake for about 8 minutes, then rotate the pan. Bake for 3-6 more minutes, or until the edges are crisped to your liking. (Note: Personally, I like softer bread sticks, so my total bake time was around 10 minutes. If you want crispy bread sticks, you might bake up to 14-15 minutes total).
Remove, let cool briefly on the sheet, then transfer to a wire rack to cool before serving. 
If your bread sticks are soft, they are best enjoyed the same day; if crispy, they will keep for up to 3 days in a paper bag at room temperature, or can be frozen for up to 1 month.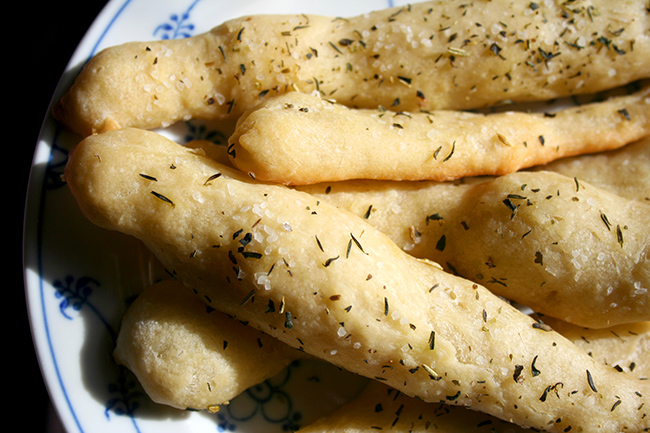 Care to take a dip?
Bread sticks are far more fun with dipping sauce. Here are some ideas for how to dip yours: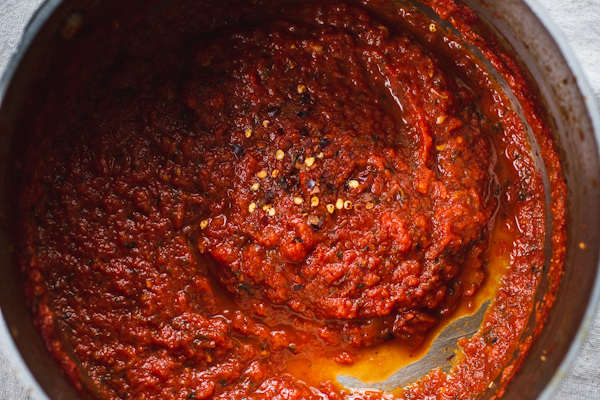 1. Pizza sauce
This homemade pizza sauce isn't just for pizza! It tastes great as a dipping sauce for your bread sticks, too.
2. Hummus
Homemade hummus tastes great with these homemade bread sticks. Personalize yours with flavorings that are harmonious with your breadstick toppings for maximum deliciousness.
3. Ranch dressing
Some people love dipping pizza crust in ranch dressing. These breadsticks are similarly tasty when dipped in the zippy dressing. Give it a try and see what you think! 
4. Garlic aoli
Warning: Once you start dipping these breadsticks in this delectable and simple-to-make garlic aoli, you might not be able to stop! As a bonus, no vampires will attack you any time soon after you indulge in this snack.
5. Garlic bread topping
OK, so this is more of a topping than a dip. Our easy garlic bread recipe features a cheesy topping that is equally awesome when used to top homemade breadsticks. Top your finished bread sticks with the cheesy mixture and bake until it's nice and melty for a super snack upgrade.