Hummus is a delicious, inexpensive dip that I always have on hand in my house. I serve it when entertaining and also enjoy it as a protein-packed snack while working at my desk.
There are many different brands of hummus out there to choose from, but this is one dip that is actually very easy to make yourself! Plus, this classic hummus recipe is tasty and can easily be used as a base for making several different flavors!
Whether beating the 3 o'clock slump or entertaining a crowd, this simple, homemade hummus recipe is the perfect snack dip!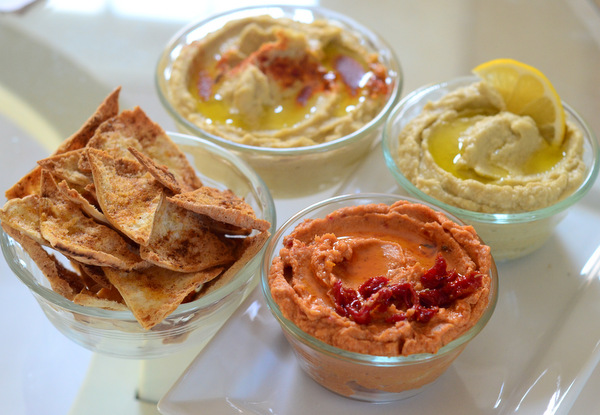 Photos by Nicole Weston of Baking Bites
Serve up a culinary tour of the Mediterranean, no passport required, with the online cooking class Mediterranean Favorites: Tapas, Meze & Antipasti. Join chef Joanne Weir to learn her tips and recipes for incredible Mediterranean small plates!
The main ingredient in hummus is garbanzo beans, also known as chickpeas. You can buy dried chickpeas and soak them overnight to rehydrate them yourself, but it is quicker and easier to use canned garbanzo beans.
The canned beans also tend to be a bit softer, which means you'll get a creamier finished dip. Garbanzo beans are pureed with garlic, spices, olive oil and tahini — a toasted sesame seed paste that gives hummus its signature flavor. Tahini is readily available at many markets; however, you can substitute it with additional olive oil if you don't have any available.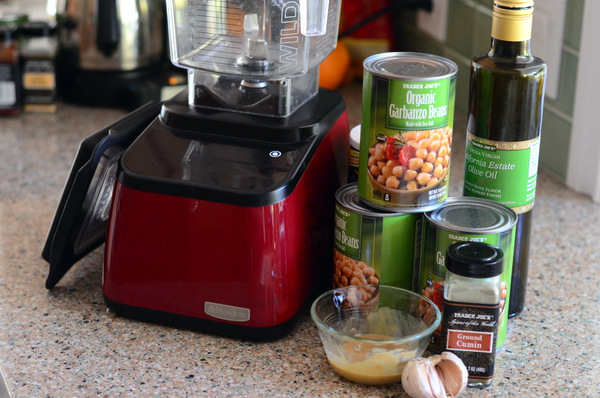 Once you have your garbanzo beans, they need to be rinsed thoroughly before you can start your dip. I recommend placing them in a sieve or a colander, then running them under cool water for 30-60 seconds until they are clean.
Let them drain for a minute or two before using them, as you don't want too much excess water in your dip.
Once your beans are rinsed, you're ready to puree! Combine all the ingredients in a blender or a food processor and pulse until well combined. Scrape down the sides to ensure all the beans are being incorporated, then puree on a higher speed until smooth.
Note: You might find that you need to add in additional olive oil to get the consistency you want, particularly if you are a fan of a thinner, smoother hummus.
The finished hummus should be topped with a drizzle of olive oil and a dash of paprika, which gives it a nice color and adds another little pop of flavor. You can serve it right away, or store it in an airtight container in the refrigerator until you are ready to use it. The hummus should keep well for about a week.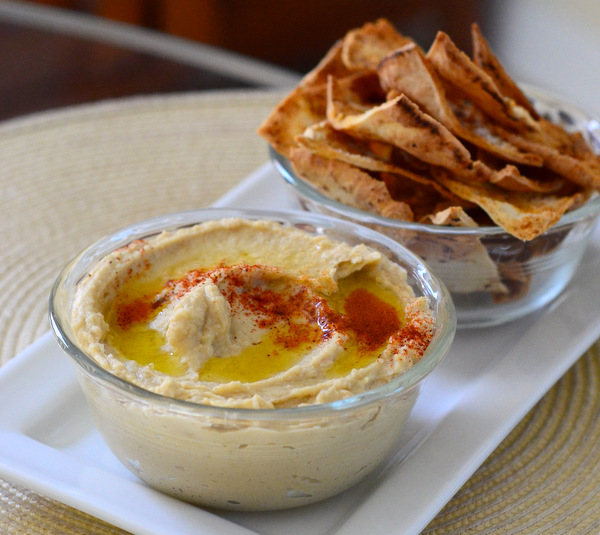 Classic Hummus 
Yield: 2 cups
Ingredients:
1 15-oz can garbanzo beans
1/4 cup olive oil
3 tbsp tahini
1 tbsp lemon juice
2 cloves garlic or 3/4 tsp garlic powder
1 tsp ground cumin
Salt, to taste
Paprika and additional olive oil, for topping
Step 1:
Pour canned garbanzo beans into a sieve or colander and rinse well under cool water. Allow to drain for 1 minute.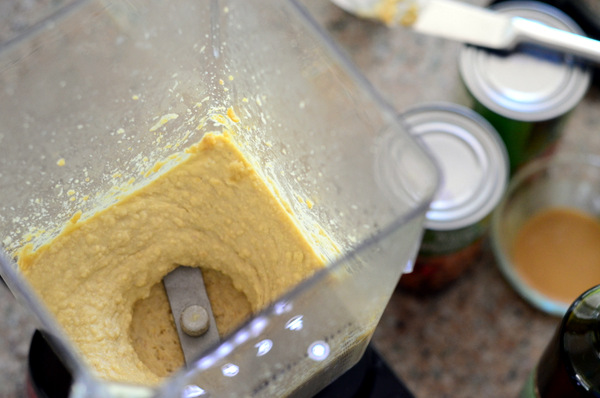 Step 2:
Combine all ingredients in a food processor or blender. Pulse until combined, then blend at medium speed until a smooth puree is formed. Add in additional olive oil, if necessary, to smooth out the dip and season with salt to taste.
Step 3:
Transfer hummus to a serving bowl and top with a drizzle of olive oil and a sprinkle of paprika before serving.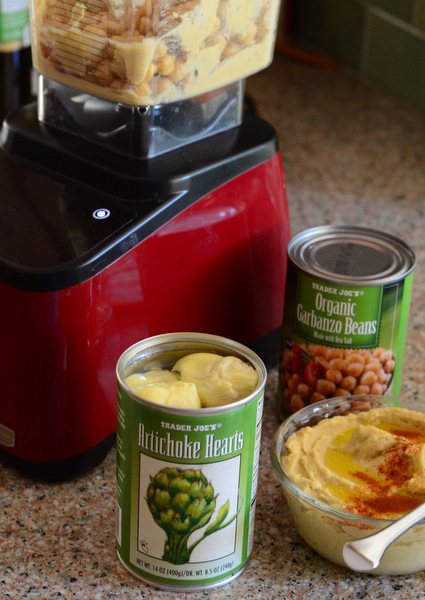 Different flavor combinations
Once you have the hang of the basic hummus recipe, you can start to put your own spin on it to create new flavor combinations. Two of my favorites are Artichoke Hummus and Sun Dried Tomato Hummus.
Both recipes start out with the same recipe for Classic Hummus, then add additional layers of flavor. Artichokes and garbanzo beans have very complimentary flavors, so you can taste both clearly in the finished dip. Since artichokes are most often used in creamy dips and the garbanzo beans take on a creamy texture when processed, this dip tastes surprisingly rich – much richer than it actually is.
The Sun Dried Tomato Hummus has a beautiful red color and a bit of spice to it, which contrasts well with the sweetness of the sun dried tomatoes. Reserve a bit of the oil that the tomatoes are packed in, as it makes a very nice finishing touch to the hummus before you serve it.
Artichoke Hummus 
Yield: 2 1/2 cups
Ingredients:
1 recipe for Classic Hummus
1 15-oz can artichoke hearts, packed in water
1 tbsp lemon juice
Directions:
Prepare Classic Hummus recipe (see above) and add in drained artichoke hearts and lemon juice. Blend until completely smooth. Season with salt, to taste.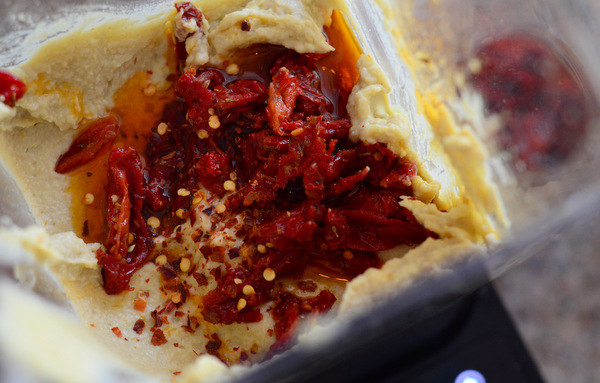 Sun-dried Tomato Hummus
Yield: 2 cups
Ingredients:
1 recipe for Classic Hummus
1/4 cup  sun dried tomatoes packed in olive oil
1/2 tsp red pepper flakes
1/4 tsp paprika
Directions:
Prepare Classic Hummus recipe (see above) and add in sun dried tomatoes, red pepper flakes and paprika. Blend until completely smooth. Season with salt, to taste.