Garlic bread is one of those crowd-pleasing dishes that tends to appeal to eaters of all ages, from 2 to 92. The only thing better than a slice of garlic bread is one that has a generous quantity of cheese, too. That's what you'll find on this easy garlic bread recipe! Believe me when I say that this combination is one that almost no one can resist.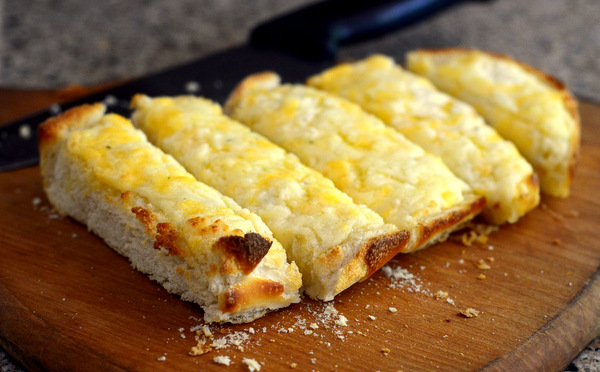 About this cheesy, easy garlic bread recipe
This easy recipe for garlic bread starts with a loaf of fresh French bread. You can actually use a baguette, ciabatta or other favorite style of bread if you would like, but French breads with a nice crust and a soft interior are always a good choice for this recipe. Bonus if you make the fresh bread yourself!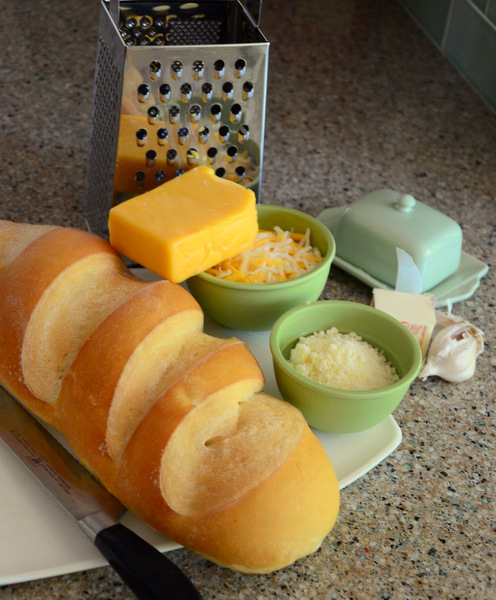 All of the flavor in this side dish comes from a topping mixture made with three cheeses, butter, olive oil and mayonnaise.
The mayonnaise may seem like a strange ingredient at first, but it blends well with the cheeses and gives the mixture a lot of body. This creates a nice layer on top of the bread instead of simply melting away.
While many cheesy garlic bread recipes only use butter with the mayonnaise, I prefer to a blend of butter and olive oil. The olive oil adds a nice acidity that contrasts with the richness of the butter and keeps the bread from seeming greasy.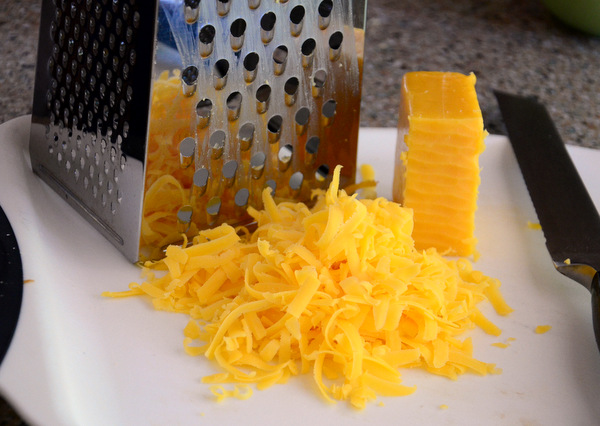 This recipe uses a three cheese blend of cheddar, mozzarella and Parmesan. The cheddar and Parmesan bring in a nice salty sharpness, while the mozzarella melts well and gives the bread an almost pizza-like quality. You could use another melting cheese, such as fontina or provolone. All of the cheeses should be freshly grated if possible.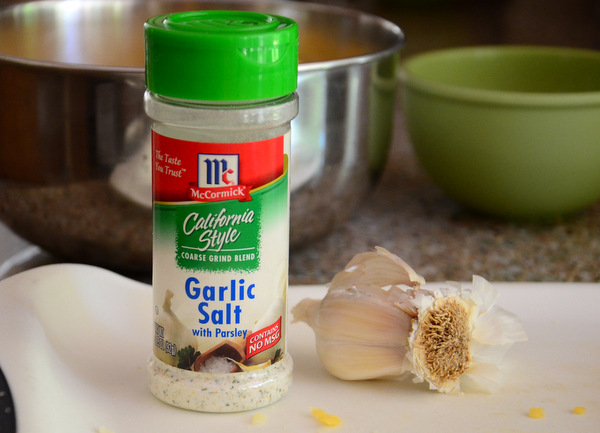 As for the garlic part of the garlic bread? I highly recommend using roasted garlic. I often go out of my way to whip up a batch of this cheesy garlic bread after I've roasted a few heads of garlic, in fact.
If you don't have roasted garlic, don't despair: You can use garlic salt, a seasoning made from garlic powder, salt and herbs. While garlic salt doesn't have the same sweetness as roasted garlic, it still packs a lot of garlic flavor.
Even counting a few minutes for prep time, this recipe still takes less than 10 minutes to prepare from start to finish. It's wonderfully comforting, so it is an excellent side dish for a weeknight dinner, when you might not feel like spending too much extra time in the kitchen after a long day. I like to serve it with tomato soup instead of ordinary grilled cheese.
Cheesy, easy garlic bread recipe 
Serves 6-8 people
Ingredients:
1 loaf French bread
¼ cup butter, room temperature

¼

olive oil
½ cup mayonnaise
1 cup cheddar cheese, shredded

½

cup mozzarella cheese, shredded

½

cup Parmesan cheese, grated
1 tablespoon roasted garlic or 1

½

 teaspoons garlic salt

½

 teaspoon salt, or to taste (omit if using garlic salt)
Step 1: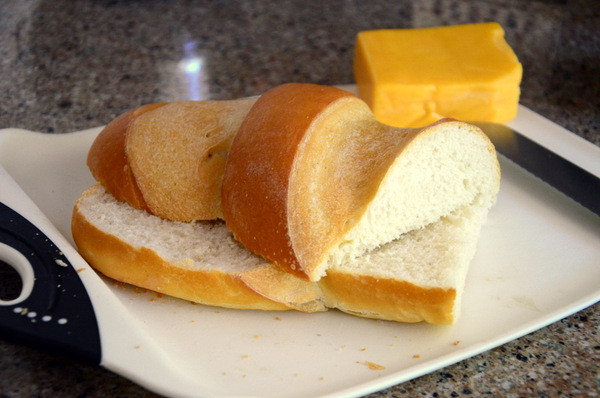 Preheat oven to 400 F. Line a baking sheet with parchment paper or aluminum foil. Slice the loaf of French bread in half horizontally and lay cut-side-up on prepared baking sheet. If your loaf is too long or your baking sheet is on the smaller side, cut the bread into quarters instead of halves.
Step 2:
In a large bowl, combine butter, olive oil and mayonnaise, then stir to combine. Stir in cheeses, roasted garlic and salt (or garlic salt) until all ingredients are well combined.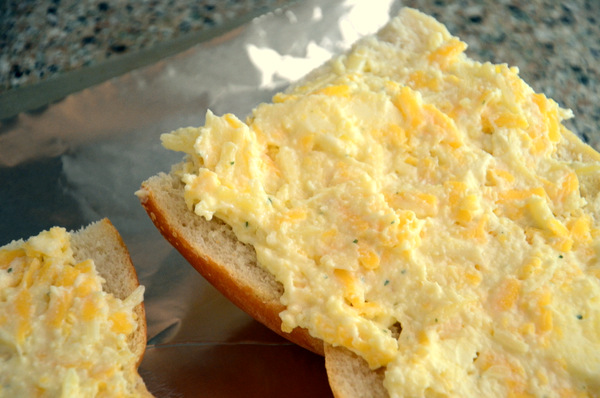 Using a spatula or a large, flat knife, spread mixture evenly onto the cut French bread. 
Step 3: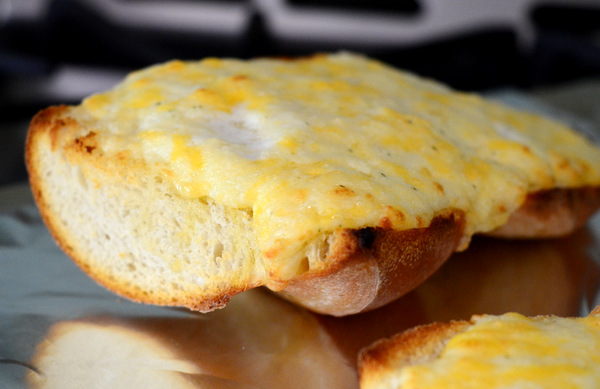 Bake for 5-7 minutes, or until cheese is bubbly. Transfer breads to a cutting board and cut into strips to serve.