Do you know how to make flavored sugar, or how to color sugar? These are simple tricks that makes your baking even sweeter. Making flavored sugar is an easy technique to add to your food and cooking repertoire — basically, all you have to do is combine a flavoring with the sugar, mixing and letting it sit until it has absorbed the flavor.
Photos via CakeSpy unless otherwise noted
You can scent sugars with a variety of flavors, from vanilla to citrus fruits to flavoring extracts to exotic spices. You can even tint your sugar with various colors, too. The finished sugar is fantastic for finishing or cake decorating, but can also be used to add a subtle flavor to tea and lattes. You can even use the sugar to add to cake batter or filling recipes to create thoughtful and delicious flavors, such as those presented in the Craftsy course Creative Flavors for Cakes, Fillings & Frostings.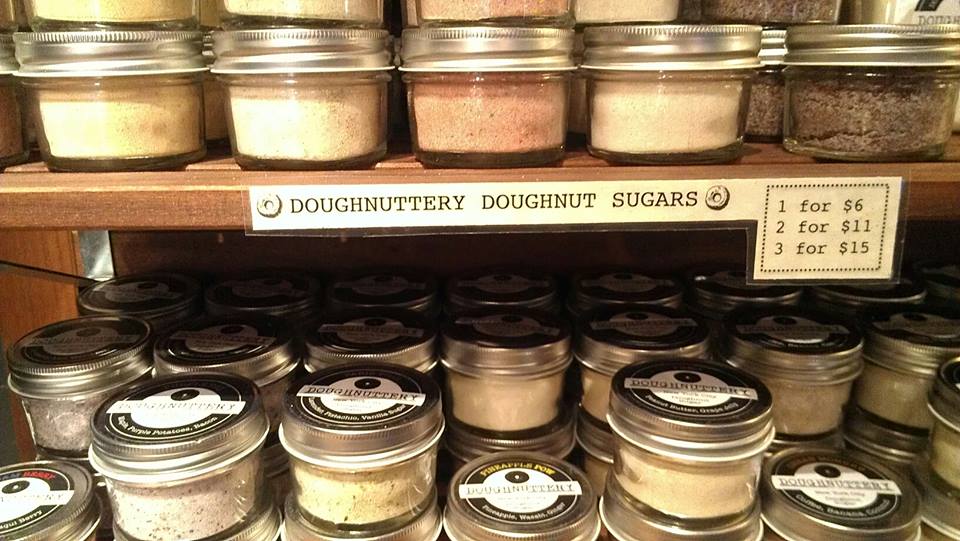 Here are several ideas for how to flavor sugar.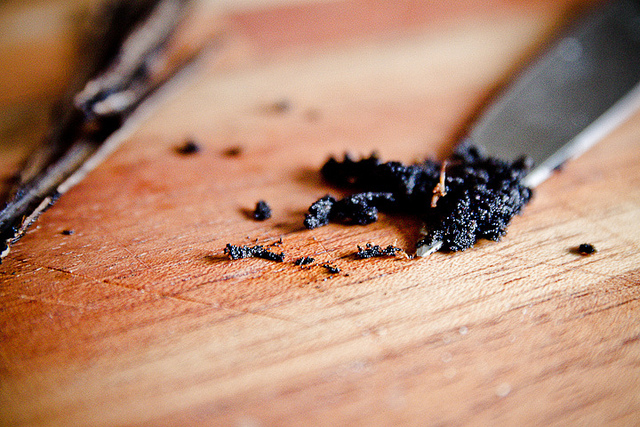 Photo licensed via Creative Commons by Flickr member George Atanassov
Vanilla sugar
1 whole vanilla bean
2 to 3 cups granulated white sugar
Note: Vanilla beans are expensive, so you may want to stretch it out as much as you can. One vanilla bean will delicately flavor up to 4 cups of sugar, but will distinctly flavor 2 cups.
Step 1:
Pour the sugar into an airtight container or freezer bag.
Step 2:
Slice the vanilla bean, lengthwise, and open it up gently. Use a small, sharp knife or a spoon to scrape the viscous black specks inside. Add the specks to the sugar, and give it a stir so they are evenly distributed.
Step 3:
Bury the pod in the sugar and seal your container. Let the sugar sit for about a week. When it is ready, remove the pod and pour the sugar through a strainer to separate large specks. Store in an airtight container.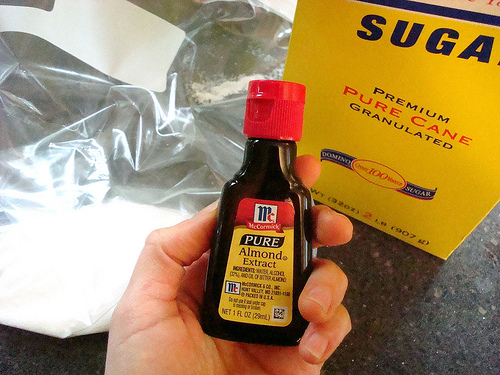 Flavored sugar using extracts
This is an easy method to quickly and easily flavor sugar in a variety of ways. You can even use vanilla extract, though the result is more subtle than the above method.
1 cup sugar
2-4 drops flavoring extract (for example: almond, peppermint, vanilla)
Step 1:
Combine the sugar and flavoring extract in a heavy duty, sealable freezer bag.
Step 2:
Seal the bag, and then shake vigorously for 1 minute, or until combined. The sugar will be slightly softer, almost the texture of brown sugar. The flavor will become more pronounced after a few days, but it will remain fairly subtle.
Store in an airtight container.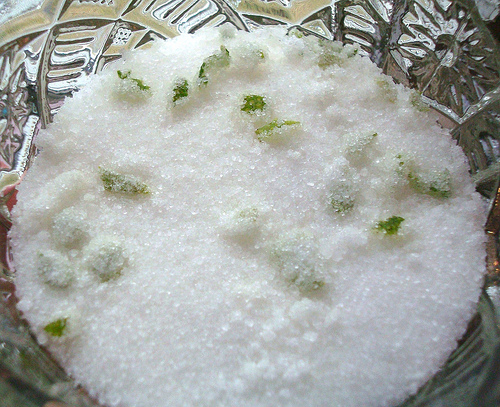 Citrus sugar
zest from one orange, lemon, or lime (or, mix it up and use part lime, part lemon, etc.)
1 cup sugar
Step 1:
Zest the citrus fruit. Finely chop the zest. Let the peel dry overnight, or place it in a low oven (100 degrees F) for about 20 minutes to dry. (This will keep the zest from adding too much moisture to the sugar and causing clumps.)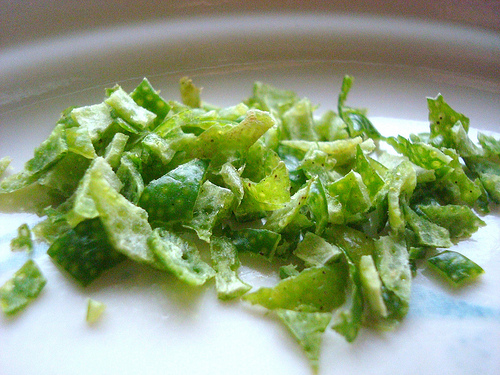 Step 2:
Place the sugar in an airtight container or freezer bag. Add the zest, and stir to combine. Seal the container, and let the sugar sit for about a week, or until it has attained the desired flavor.
Store in an airtight container.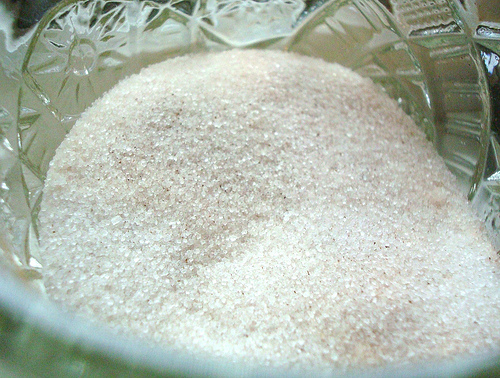 Spiced sugar
3/4 cup sugar
1 teaspoon cardamom
1 teaspoon cinnamon
1 teaspoon ginger
1 teaspoon nutmeg
Note: Use ground spices, preferably freshly ground.
Step 1:
Place the sugar and spices in an airtight container. Stir until combined.
Step 2:
Store in an airtight container, and use in recipes or as garnish, as a finish to homemade pie crust, or this is particularly fantastic with teas or hot chocolate.
Since you are not adding any moisture to the sugar, this type can be stored in a shaker, or in an airtight container.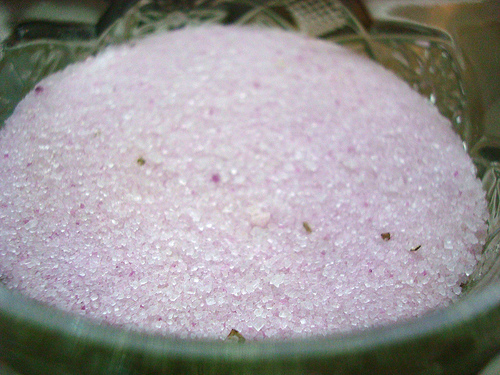 Colored sugar
To make your flavored sugar even more special, you might consider tinting it, too: for instance, lime-scented sugar with a touch of green food coloring can really enhance the visual appeal of the corresponding flavor. Tinting is a snap, and can be combined with flavoring it. For best results, tint the sugar before flavoring it.
1 cup sugar
2 drops liquid food coloring
Note: You can also use concentrated gel food coloring or powder food coloring. Use a toothpick to dip into the coloring and then dip it in the sugar and repeat the same steps. Far less coloring will be needed with the more concentrated color.
Step 1:
Place the sugar in an airtight freezer bag.
Step 2:
Add the food coloring and seal the bag.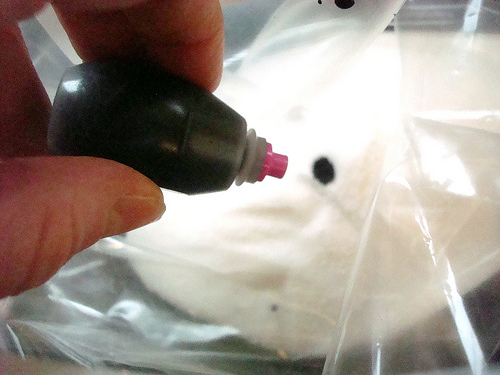 Shake vigorously. You will start to see the color incorporate, first as specks and then it will begin to distribute throughout the sugar. You can add more color if it is not vibrant enough for your liking.
You might also enjoy our posts on how to make confectioners' sugar at home and making brown sugar at home.
Have you ever tried a flavored sugar?