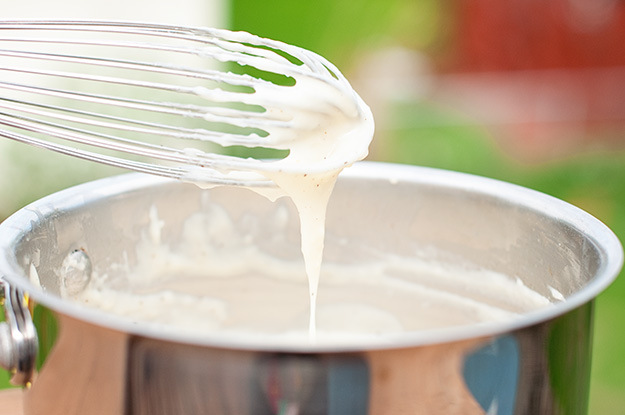 Béchamel sauce is one of the five mother sauces, and therefore a staple of French cuisine. You can often find it in chicken and fish dishes, or incorporated into lasagna or other baked pasta meals. And despite how fancy-schmancy it sounds, you don't need any crazy ingredients or tools to make it.
Good to Know: "Mother sauce" — meaning béchamel and four other sauces — is a sauce from which other sauces are derived, so you can take your béchamel and create many other recipes with it.
Easy Béchamel Sauce
Yield: 3 cups
Ingredients
5 tablespoons butter
5 tablespoons flour
4 cups milk
½ teaspoon salt
White pepper, for seasoning (optional)
Nutmeg, for seasoning (optional)
Instructions
1. Warm the milk in a saucepan to a simmer.
2. In a separate medium saucepan, melt the butter over low heat. Whisk in the flour and stir until smooth. Continue cooking 2 minutes, taking care not to brown the roux, as this is supposed to be a white sauce.
3. Stir in the warmed milk one cup at a time and whisk until the sauce is smooth. Bring to a boil, reduce heat and continue cooking until thickened, about 5-8 minutes. Season with salt and white pepper or nutmeg (if using).
Pro Tip: Add more or less milk to adjust the thickness of the sauce to your needs.