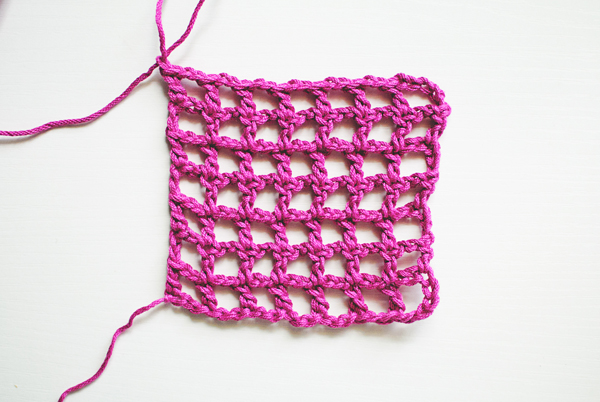 The grid-like look of filet crochet might look fancy, but it's created with only two basic stitches: the chain and double crochet. The double crochet stitches are used to create the grid and fill in spaces, while the empty cells are made with chain stitches between two double crochets. This style of crochet is commonly used in lightweight yarn, but if you have a large-scale project in mind, worsted weight would work well too.
Filet crochet is a popular choice for tablecloths, place mats, curtains, bedspreads or a lace shawl. There's so much to love about this versatile technique, so add it to your repertoire and stitch to your heart's content!
Filet Crochet
Level: Intermediate
Pro Tip: When selecting or creating your design, remember that each filled grid will be four stitches wide.
Abbreviations
Ch: chain
DC: double crochet
Pro Tip: The hook for your project should be a size smaller than what's typically recommended with your yarn, so your stitches can be a little stiff.
Gauge
Make a blank mesh as a swatch to determine your filet gauge. Use this to get an idea of how many grids would look best in your particular design.
Instructions
Chain 26.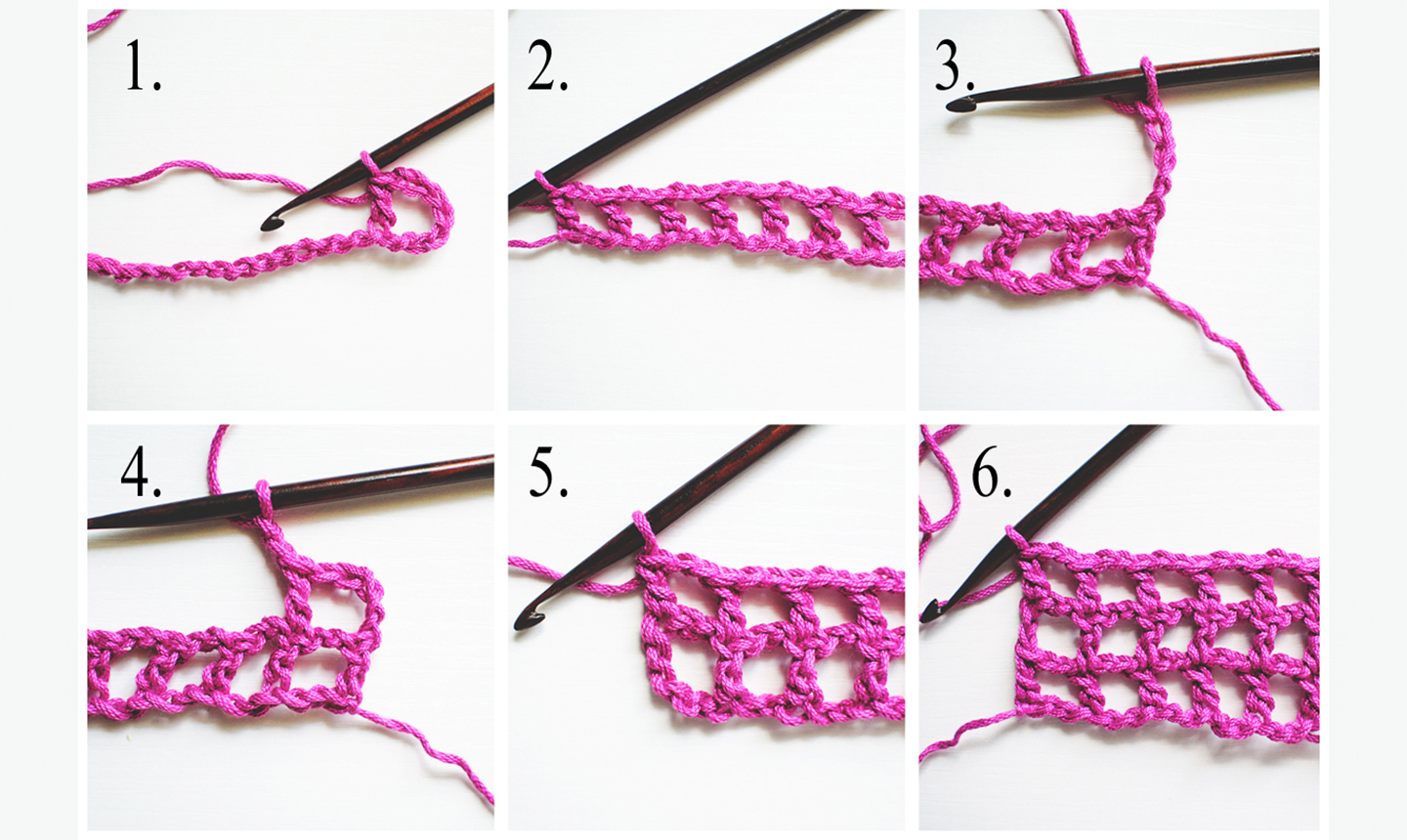 Good to Know: To determine your foundation chain length, take the number of squares you want and multiply that by three, then add five (three for the edge/first stitch and two for the first space). Fort this demo, we have seven squares and a foundation chain of 26.
Row 1: (photos #1-2) DC in the 8th chain from your hook, *Ch 2, skip 2 chains, DC in next chain; repeat from * to end. Turn. (7 empty squares made up of 8 DC and 7 ch-2 spaces)
Row 2: Ch 5 (photo #3), skip first DC and ch-2 gap, *DC in next DC, Ch 2 (photo #4); repeat from * to end, DC in third chain of previous row's turning chain. (Photo #5)
Repeat Row 2 until you have the number of rows you desire. (Photo #6)
How to Design With Filet Crochet
There are a few rules to remember when using filet crochet to make a design:
1. If the first grid of a row is filled, the beginning of the row will be a chain 3. If it is empty, the beginning is chain 5.
2. Always skip the first DC. The beginning chain of the row will always include the first stitch.
3. If the first grid of a row is filled, skip the first DC and work the first two DC into the first ch-2 space. If it is empty, skip the first DC and ch-2 space and DC into the first DC.
4. If the last grid of a row is filled, but the first grid of the next row is empty: turn, chain 5, then skip the first 3 DC.
5. If you are working an empty square over a filled square, you will need to skip the two DC stitches between the "lines" of the grid.
6. When working a design that is on graph paper, work the odd-numbered rows from right to left and the even-numbered rows from left to right.
How to Stitch a Gridded Design
Let's use the design below to see how a gridded pattern translates into actual stitches. The black squares will be solid crochet and the white squares will be left open.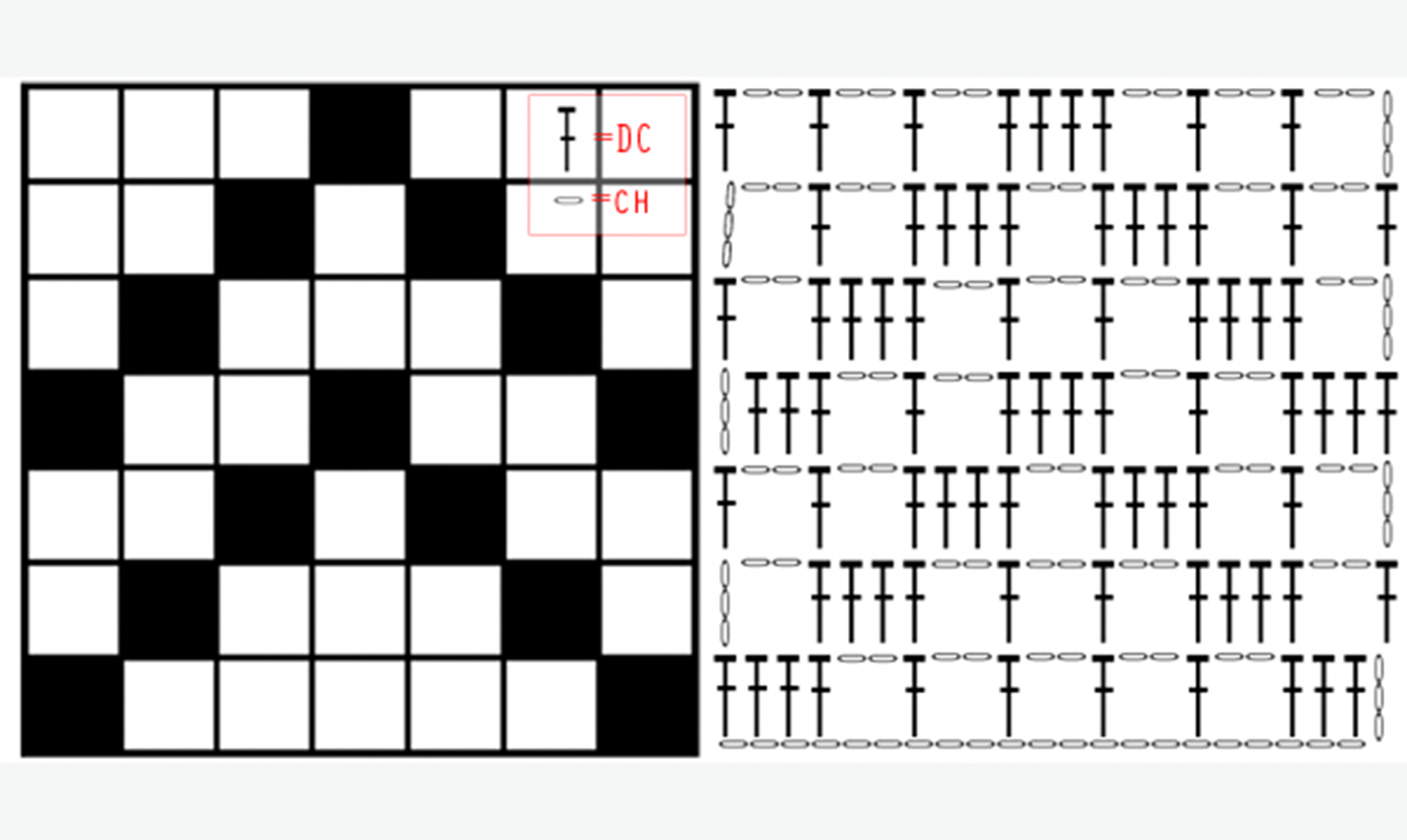 To work a design like this, you chain the number of squares needed, multiplied by 3 (7 x 3 = 21), plus 3 (first DC) to get a foundation that is 24 chains long.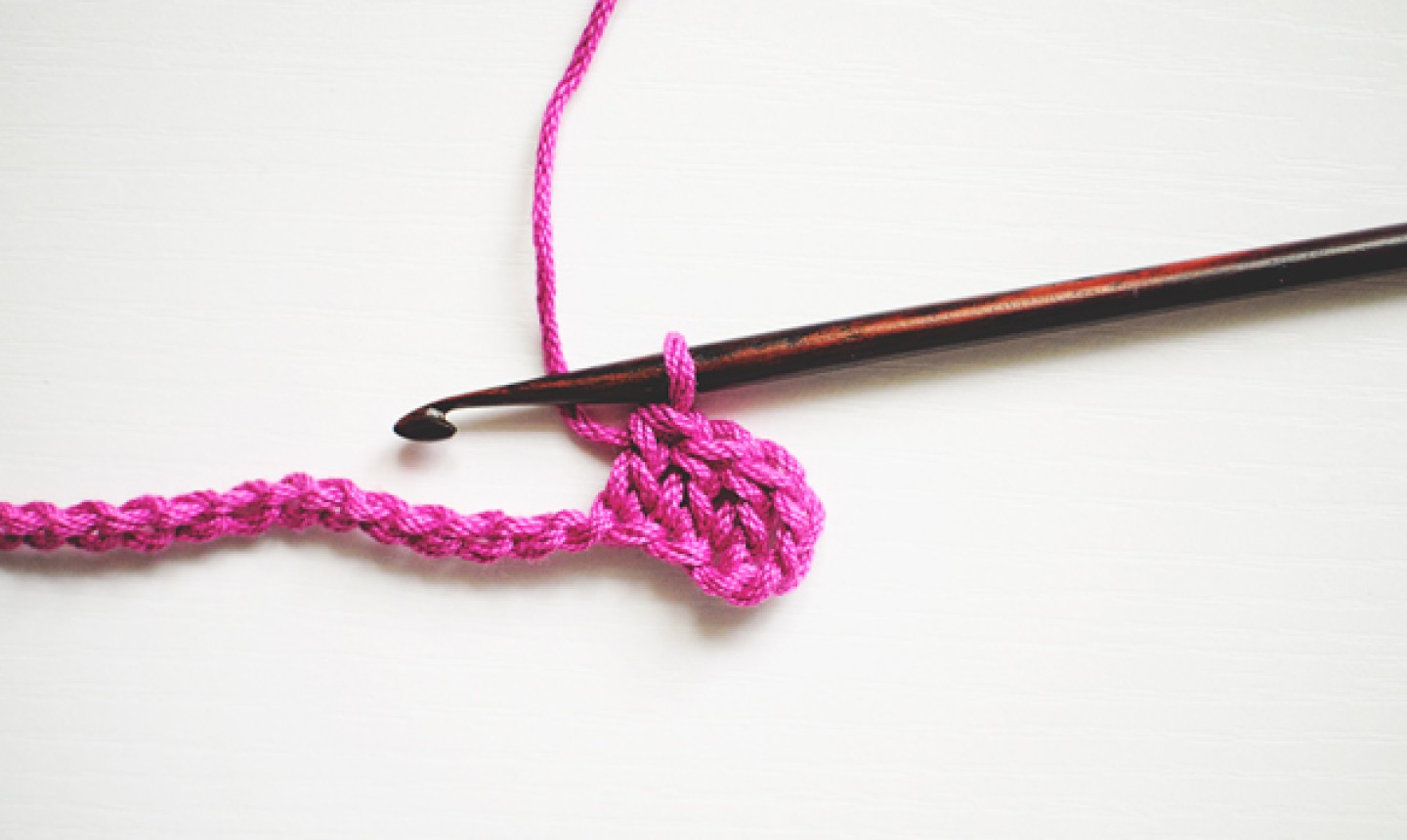 DC into the fourth, fifth, and sixth chains to create the first block.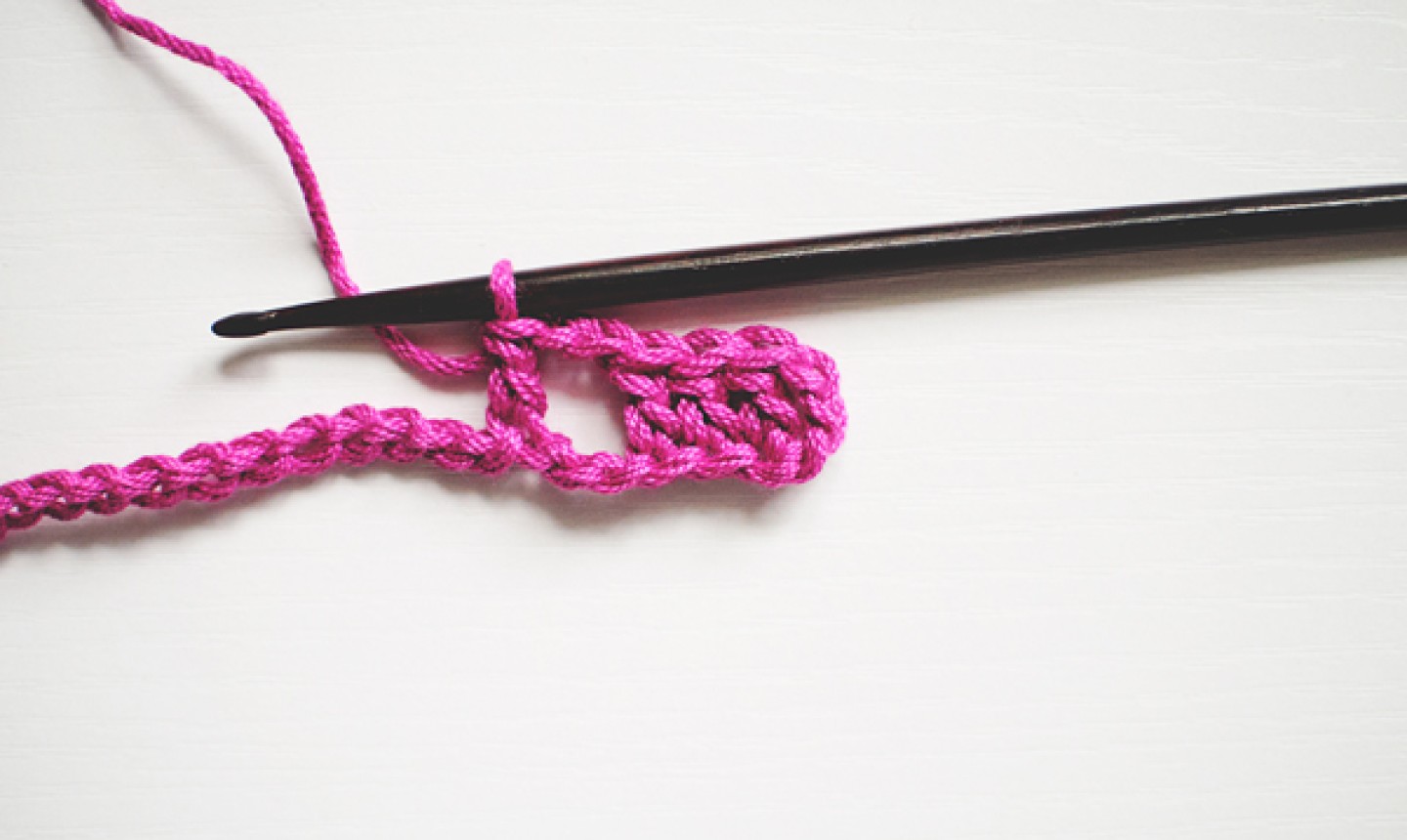 Create the blank blocks the same way you worked the blank mesh, by chaining 2 and skipping 2 chains, then working a DC.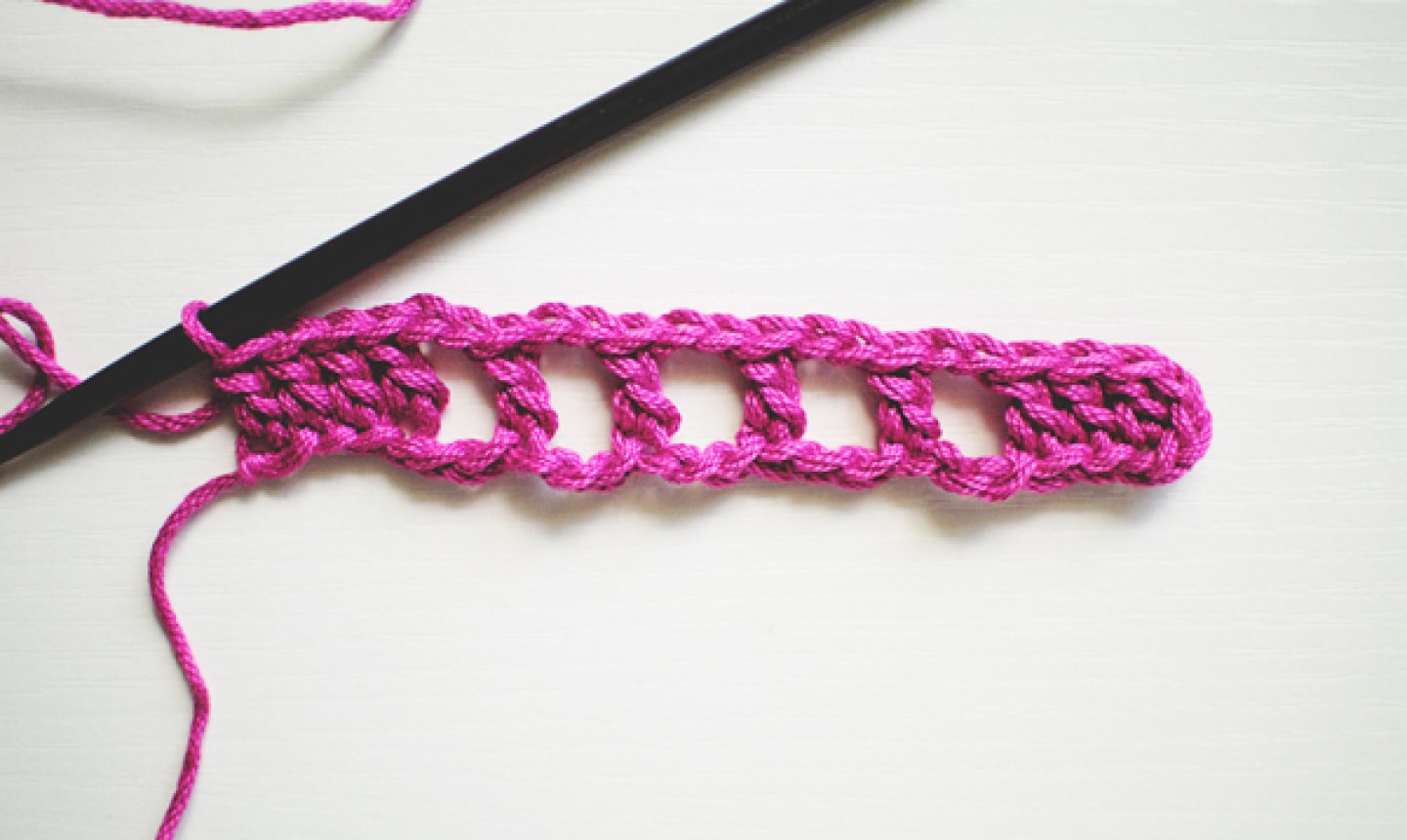 Work the last block by making DC stitches into each of the last 4 chains.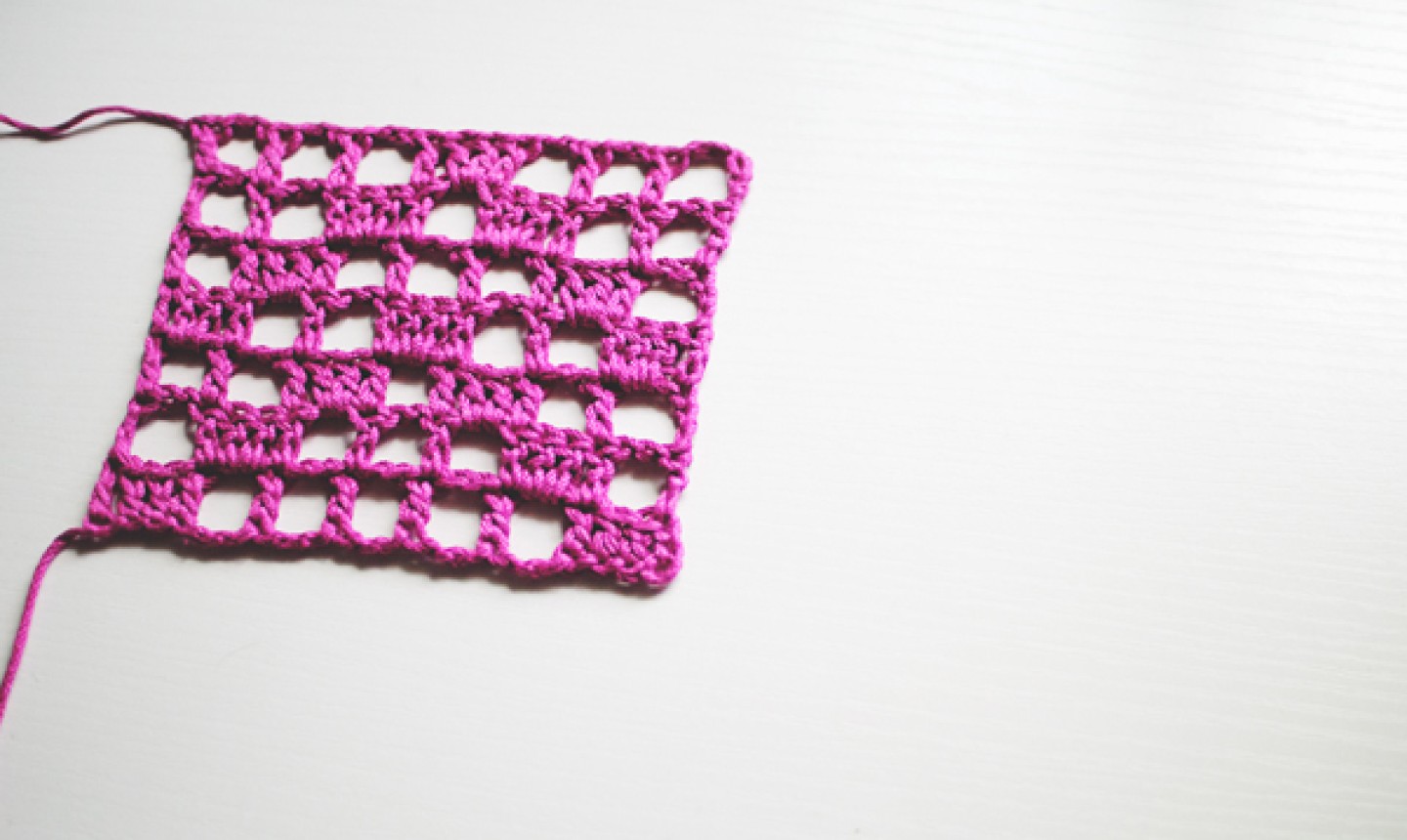 Work the rest of the graph. When you're done, block your piece to your desired dimensions.
Now you know the basics of filet crochet! There's a lot more you can do with this technique (increases, decreases and lacets, to name a few), but it's best to get these basics down before moving on.