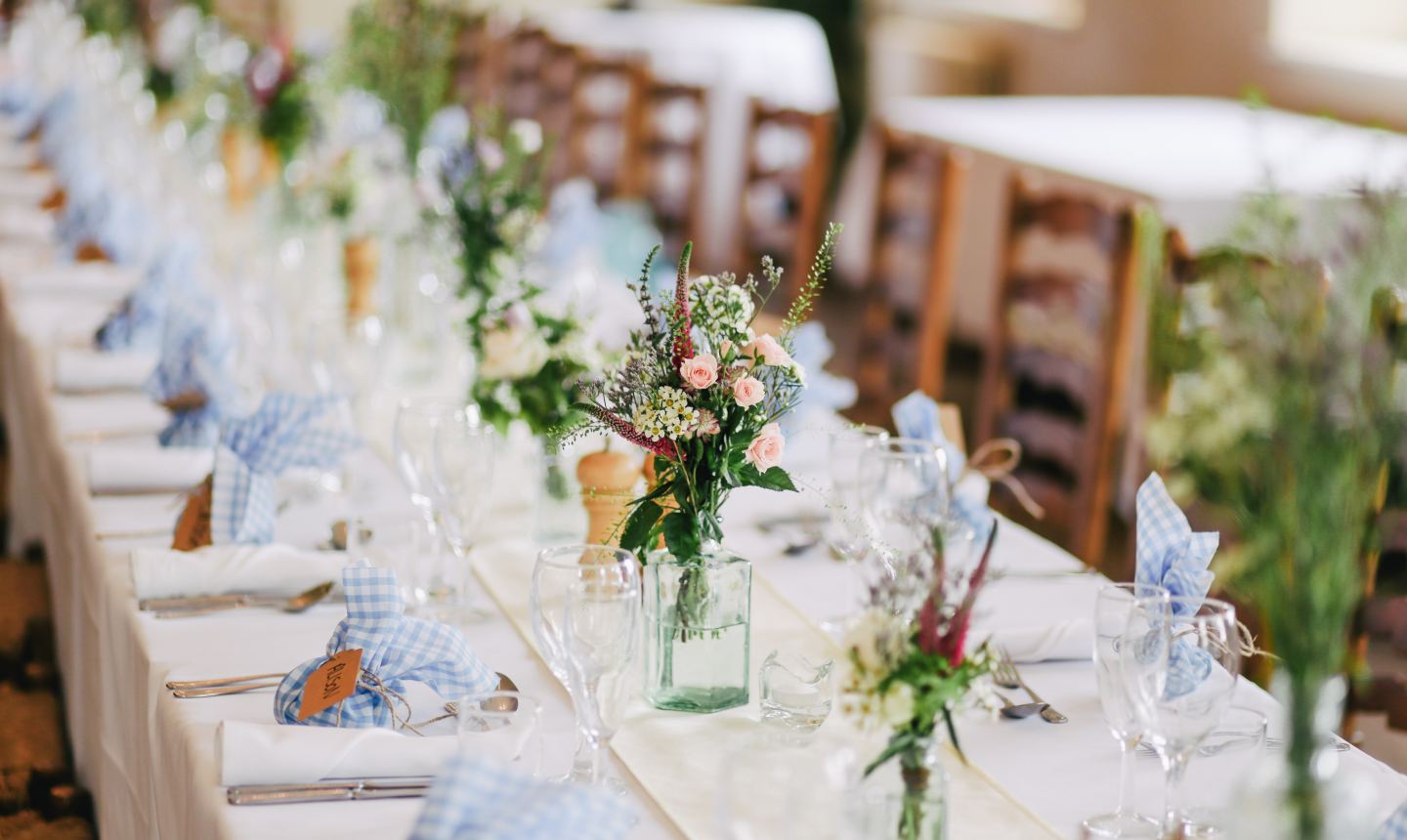 If you're paired off, you know the drill. Mention the word "wedding" and the price of everything triples. Add "custom" and prepare to hand over you first-born. Sure, we all want a one-of-a-kind wedding that doesn't drain our life savings, and some things are easy to handle on your own — you can DIY your invitations or make rad photo booth props on the cheap. But for a newbie, flower arranging seems like one area where you have to bring in a pro… right? Not quite.
I tackled all the flowers myself, saved a few Benjamins and actually had a good time doing it! With a little practice and insider info, you can totally handle your own centerpieces, bouquets and boutonnieres.
Study Up
It might sound silly, but a flower arranging class will go a long way, plus it'll help build your confidence. Scope out classes online or locally that'll give you the rundown on materials and terms (because it's pretty hard to guess what foam, frogs, floral tape, and "greening up" actually mean). If a class isn't possible, pick up a book and spend some time with it before you begin.
Pick Your Blooms
Most bouquets start with roses, but they shouldn't end there. Add lilies, ranunculus, stock and anything else you love to fill out your wedding's star accessory. For centerpieces, don't forget the greenery! Just like roses are the foundation for lots of bouquets, greenery grounds your container arrangements.
Picking blossoms is the fun part — until it's time to actually buy them. Online wholesalers are your friend here: You can get more than 10 dozen roses for as little as $81.25 at Flower Farm! Not sure about ordering flowers online? Shop your neighborhood grocery or farmers' market for accent blooms.
Professional bouquets range from $150 to $500 (or more!), so even if you splurge on the makings of your DIY bouquet, you'll still come out ahead. My bouquet started with red and orange roses, lilies, hypercium berries, greenery from my yard, and the most beautiful ribbons in the craft store.
Stock Up on All the Accessories
Flowers are just the first half of the battle. Don't forget to build your flower arranging tool kit: Get a good floral knife, blocks of foam and floral tape, and more buckets than you think you'll need. Start collecting containers, too. Salvage pots and vases are great for a rustic wedding, and elegant glass is somehow affordable at craft stores if you're planning something higher end. If you can, carve out a big work space where you and your pals can be flower artists for a day.
Assembly Required
You'll need to spend the day before your wedding assembling all your pieces. For your bouquet, arrange everything in a dry vase with the densest items in the center, wrap the whole pile in sticky floral tape, and add water to keep it fresh overnight. Add ribbons on the morning of the big day. When it comes to centerpieces, start with the greens. Add height in the center, then work downward toward the outside. Create a pattern — like three accent blooms in each arrangement — for elegance and symmetry.
Secret Seconds
We don't blame you for not wanting to toss your gorgeous DIY bouquet! So be sure to prepare a second, super simple bouquet that won't break your heart if it gets wrecked. For a special touch, add a strip of paper with a unique "fortune" predicting good luck in love and life for the lucky recipients.