There are so many reasons you might want to crochet faster. Maybe it's because there are three baby showers coming up in the next month, and you need to stitch some gifts… pronto. Maybe it's because you have a list of to-crochet projects that's a mile long, and you want to get to all of them as soon as possible.
Or maybe you just want to crochet faster to beat the world record, currently held by Lisa Gentry who crocheted a total of 5,118 stitches in 30 minutes. (Go, Lisa!)
Here are a couple of tricks to help you crochet faster: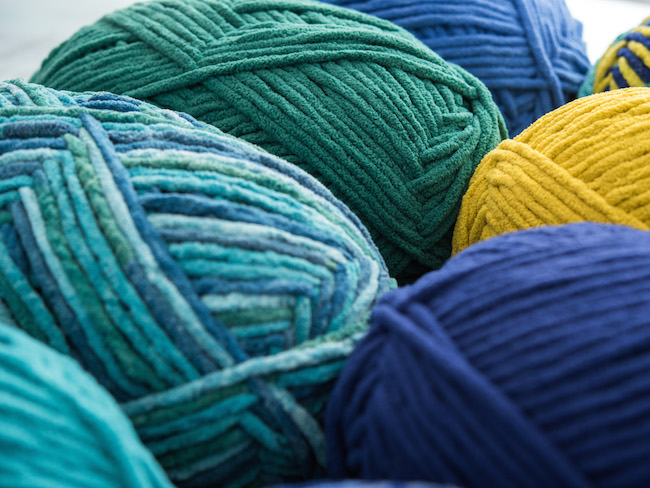 1. Use a bulkier yarn.
This one might seem obvious, but if you're not finishing projects quickly enough, you might consider using a bulkier yarn. Crochet projects that use thread and lace-weight yarn can seem eternal. Bump it up to a chunky or super-bulky yarn like the Bernat Blanket yarn pictured above and you'll see your project quickly grow.
2. Stretch those wrists and hands.
Fast crochet isn't just about how quickly you move. It's also about keeping your arms, wrists, and hands pain-free. Before you sit down for a long crochet session, try some of these stretches. The stretches will not only prevent pain, but they will also give your hands and wrists more flexibility, which in the long run helps you stitch faster.
You might also consider taking breaks to stretch every half hour or so.
3. Find a good seat.
Crocheting faster starts with a good spot to sit as well as good posture. If you want to crochet faster, find the most comfortable spot for you. In general, you'll want to avoid the floor or other hard surfaces that don't offer back support. Sit up straight and try not to hunch over your stitches; otherwise you might end up with shoulder problems.
4. Use the right hook for you.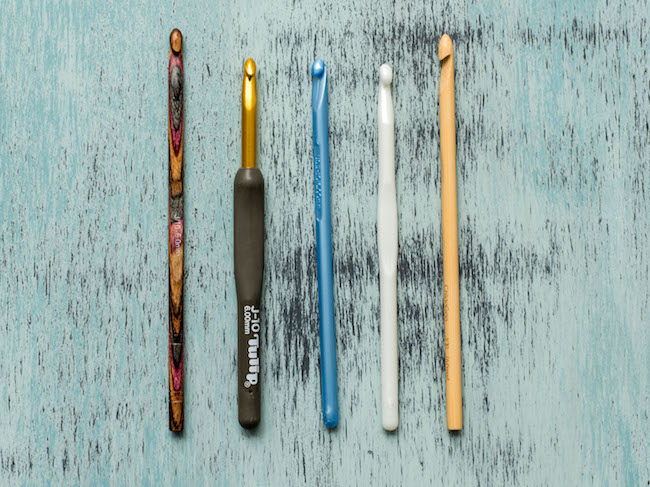 There are so many hooks to choose from, and there's no magic hook that suits every crocheter. You might crochet faster, for example, with a soft-grip hook like the Clover Soft Touch Crochet Hooks pictured above than with an aluminum hook that causes your hands to slip.
5. Get into a rhythm.
Practice crocheting until your hook and hands move fluidly. Once you can get into this rhythm, you can move much faster. 
If you find that your hook won't smoothly move in and out of stitches, check your tension. You might be crocheting too tightly. This can cause your hook to get stuck and affect that fluid movement.
6. Check your yarn ball.
Are you unwinding the yarn with your hand as you crochet? Is your yarn getting stuck in the middle of a center-pull ball? Is your yarn ball rolling around on the floor and getting stuck on furniture? That can affect your tension as well as slow down your crocheting.
One way to keep your yarn in place is to use a yarn bowl. This keeps the yarn contained. The bowl even features a little opening in the side that you can feed the yarn through to keep it nice and even.
7. Take away the texture.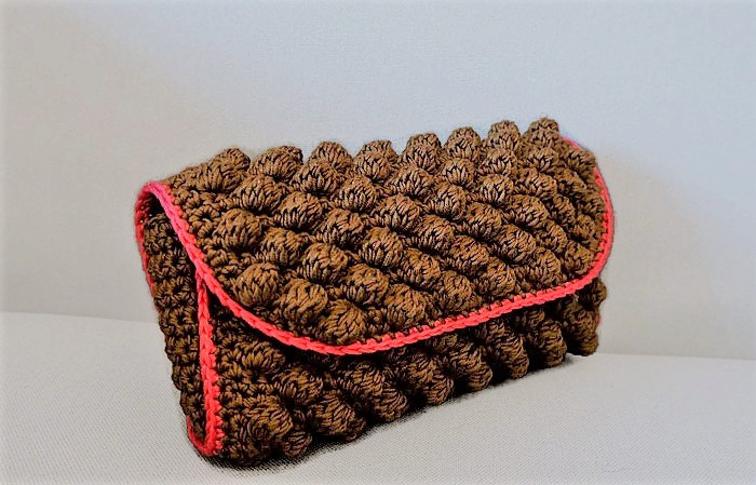 Photo via isWoolish
Textured stitches like popcorn and shell stitch require crocheting several stitches into one. The Brown Bobble Pochette pictured above uses bobble stitch, which requires several stitches in one space. That takes a little longer than, say, adding one single crochet in each stitch. If you're in a rush, stick to stitches that don't have a lot of texture. Save beautiful textures like this for when you aren't trying to beat the clock.
8. Relax!
I find that I can crochet faster when I'm relaxed. When I'm relaxed, my hands and posture also relax. I'm not gritting my teeth or hovering over my work, and this helps me to get that beautiful fluid movement that increases the speed of my stitching.
If you find that you can't relax, try playing relaxing music in the background to encourage your brain to slow down. You might even find yourself stitching to the rhythm of the stitches!