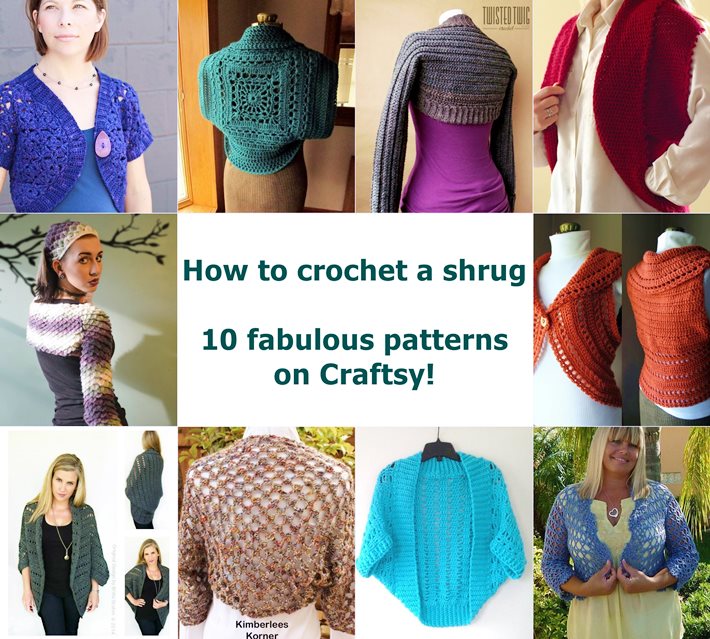 At its simplest, a crocheted shrug is a large rectangle, square or circle that is folded in half and then seamed at the sides to form armholes. It's one of the easiest ways of making something to wear that isn't a scarf or a shawl but that doesn't require a great deal of shaping like a traditional sweater, jacket or cardigan.
If you want to learn how to crochet a shrug, sometimes the best way to learn is just by trying! Here on Bluprint, we have dozens of expertly designed patterns with plenty of sizing options, some suitable for a beginner and some to challenge an experienced crocheter.
Learn how to crochet a shrug with these beginner-friendly patterns!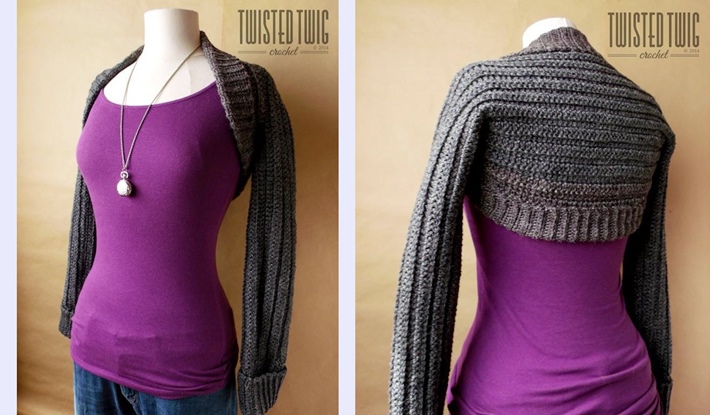 Photo via Twisted Twig Crochet
1. Beginner Shrug
This pattern by Twisted Twig Crochet is a perfect one to start if you have never crocheted a shrug before. It's short with full-length sleeves, and the pattern includes guidance on how to make different sizes. A knowledge of basic stitches is required, as well as a knowledge of back-loop-only crochet.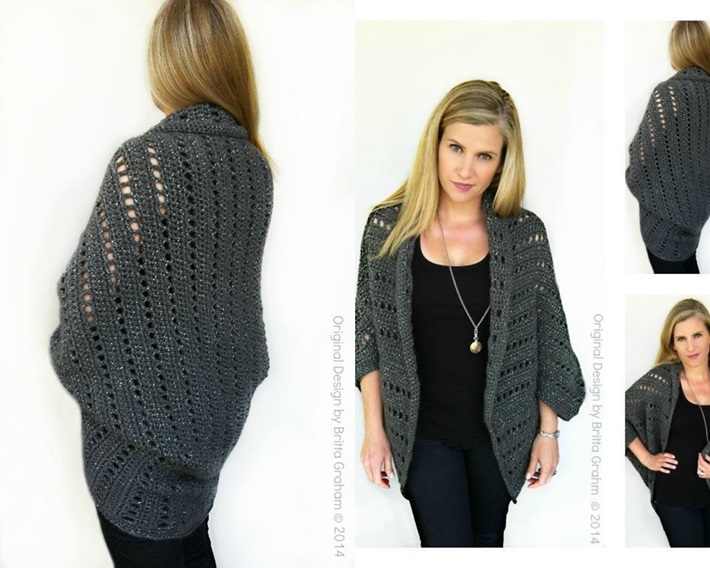 Photos via Britta
2. Oversized Chunky Shrug
This is another really simple shrug that you can easily tackle as a novice crocheter. The pattern uses only the basic stitches of single crochet and double crochet, and it's worked in rows. It's a one-size pattern and is meant to have that trendy "over-sized" look.

Photos via Hidden Meadow Crochet
3. Wild Cranberries Shrug
This beautifully stitched shrug shows off a bold, soft yarn to perfection. Aimed at crocheters who have learned the basic stitches and want to progress to garment making, this sleeveless design can be fastened at the front or left open. Three sizes are given in the pattern so you can get the perfect fit.
Shrug patterns for intermediate crocheters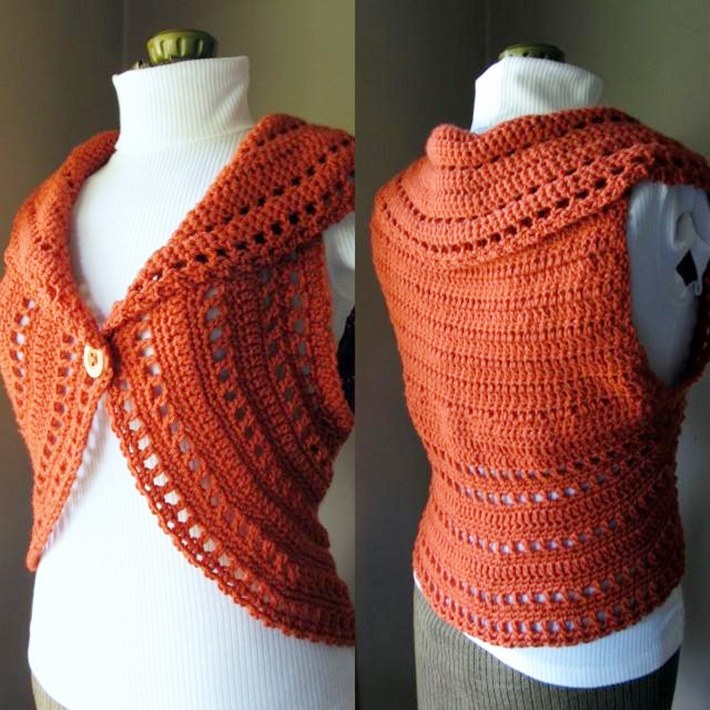 Photos via LazyTCrochet
4. Crochet Ladies Circle Vest or Shrug
Choose a shrug with a little extra detail — this pattern features a simple fastening where you can show off a button or brooch. The circular collar gives it an unexpected look that you won't find on many other crochet patterns.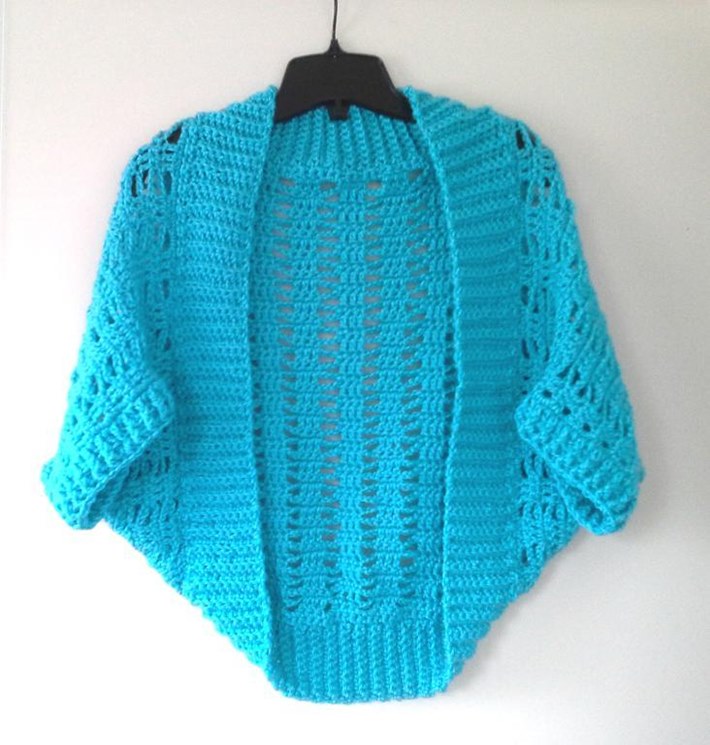 Photos via Trendy Crochet
5. Short 'n' Sweet Ribbed Lace Crochet Shrug
This lovely, light, lacy shrug looks more complex to make that it actually is. The pattern does feature ribbing, which is made using back-loop-only crochet, and front and back post stitches, so it's definitely for a crocheter with some experience of those stitches. This shrug is very quick to make and uses up only 600 yards of yarn.
More advanced shrug techniques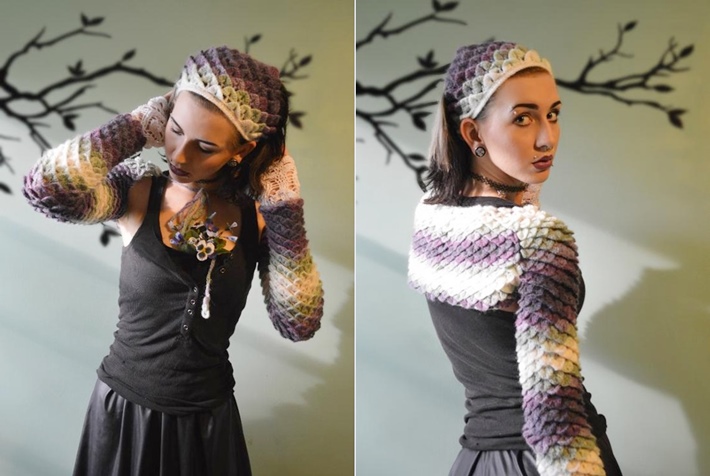 Photos via MidKnight Starr
6. Daughter of Dragons Shrug
This is a shrug like no other! Made using the crocodile stitch, it has the appearance of dragon scales that fantasy fanatics will love. Although this is for advanced crocheters, the thorough pattern takes up 25 pages full of explanations of all the stitches used, information on sizing and fitting, and guidance on how to change the sleeve length.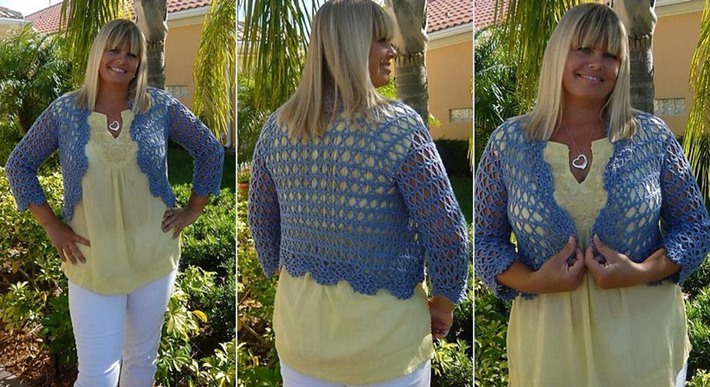 Photos via Kristin Omdahl
8. Jewel of the Shrug
This beautiful, short shrug has a distinctive X-shaped lacy stitch, and the scalloped edging is embellished with beads for a touch of glitz. This would look beautiful made in a sparkly yarn for evening.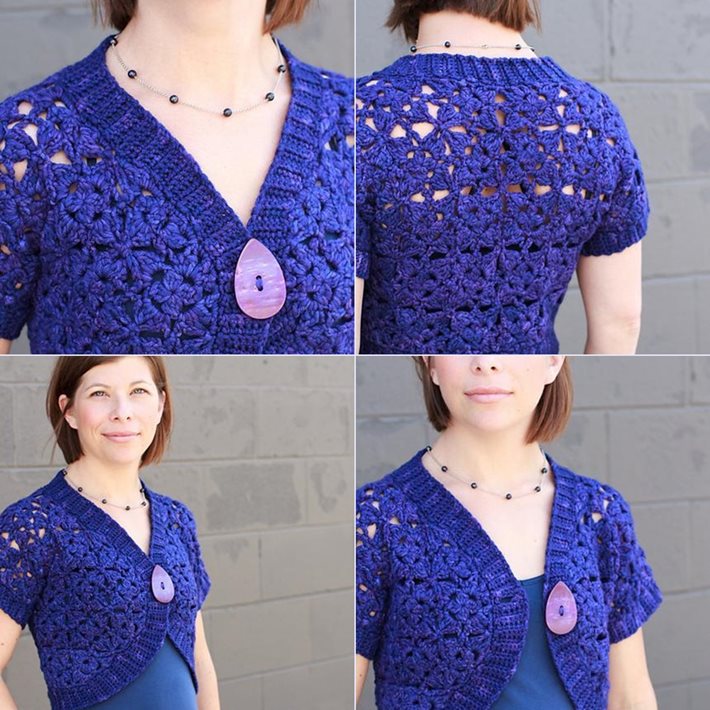 Photos via Linda Permann
8. Tart Shrug
The body of this shrug is made up of whole and half tart motifs in a worsted yarn. These are joined together as you work and then edged with a ribbed border. The short sleeves set it off perfectly, creating a perfect cover up for cooler summer evenings.