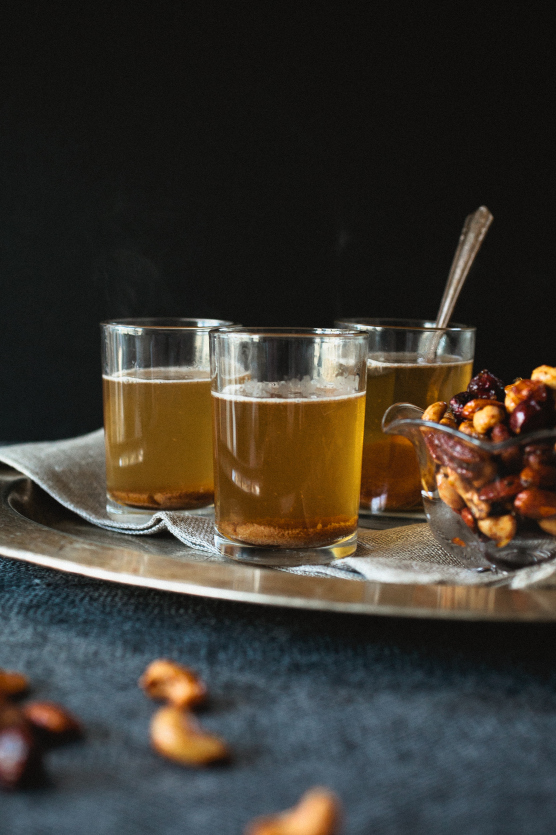 Hot buttered rum sounds like one of the coziest drinks you could order on a cold winter's night. Between the actual butter, warming spices and dark brown sugar — not to mention the rum — it's exactly what you need to melt from the inside out in the most heavenly way. Here's how to whip up a batch; sip away while enjoying family time by the fire!
Hot Buttered Rum
Ingredients
1 teaspoon cinnamon
½ teaspoon nutmeg
¼ teaspoon cardamom
¼ teaspoon kosher salt
1 stick unsalted butter, soft
2 cups dark brown sugar
1½ oz rum (you could also substitute bourbon)
½ cup hot water
Parchment paper
Good to Know: This recipe is written for a crowd, or to last you through the season. The butter log freezes well (it'll last a couple months), or it can be refrigerated for two weeks so it's always ready when you need to warm up the party.
Instructions
1. Cream together the butter, spices and sugar. Spoon the mixture onto parchment paper, then roll into a log, cover well and refrigerate until ready to serve.
2. When ready to serve, place 1-2 tablespoons of the butter mixture in a mug. Top with rum and roughly ½ cup of hot water.
Good to Know: The ratio of ingredients is up to your personal taste, so if you prefer a stronger drink, use less hot water and more alcohol; vice versa for a weaker cocktail.
Once butter is melted and well mixed, serve warm!