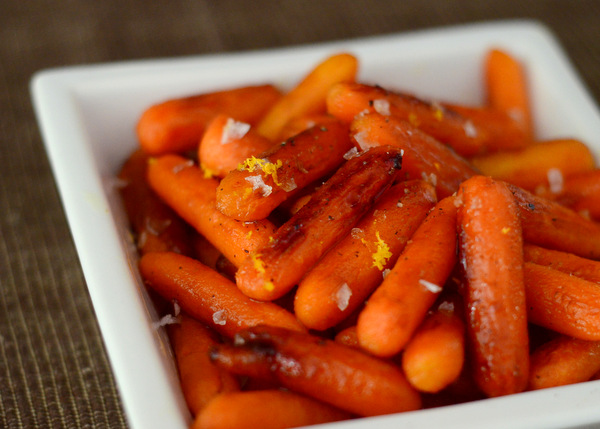 Carrots are a total rock star for holiday meals. First of all, they're a really festive color (sorry, spinach). Plus they're naturally sweet, which is just what we crave for a big celebration.
This simple recipe makes more of a good thing by pouring on honey and orange juice to crank that sweetness up a notch. Then we let the magic of roasting deepen the flavors. Who knew a humble carrot could be so crave-able?
Orange and Honey Roasted Carrots Recipe
Yield: serves 4-6
Ingredients
1 pound baby carrots or sliced carrots
¼ cup freshly squeezed orange juice
¼ cup honey
3 tablespoon olive oil
¼ teaspoon salt
¼ teaspoon black pepper
1 teaspoon orange zest, for topping
¼ – ½ teaspoon kosher or sea salt, for topping (to taste)
Instructions
1. Preheat oven to 375 F and line a large baking sheet with aluminum foil.
2. In a large bowl, combine carrots, orange juice, honey, olive oil, salt and black pepper. Toss with a spatula until carrots are well coated, then transfer to the baking sheet.
3. Spread carrots in a single layer. Roast for 35-45 minutes, stirring every 15 minutes with a spatula. Roast until carrots begin to caramelize and are tender enough to be easily pierced with a fork.
4. Sprinkle with fresh orange zest and sea salt; serve warm.