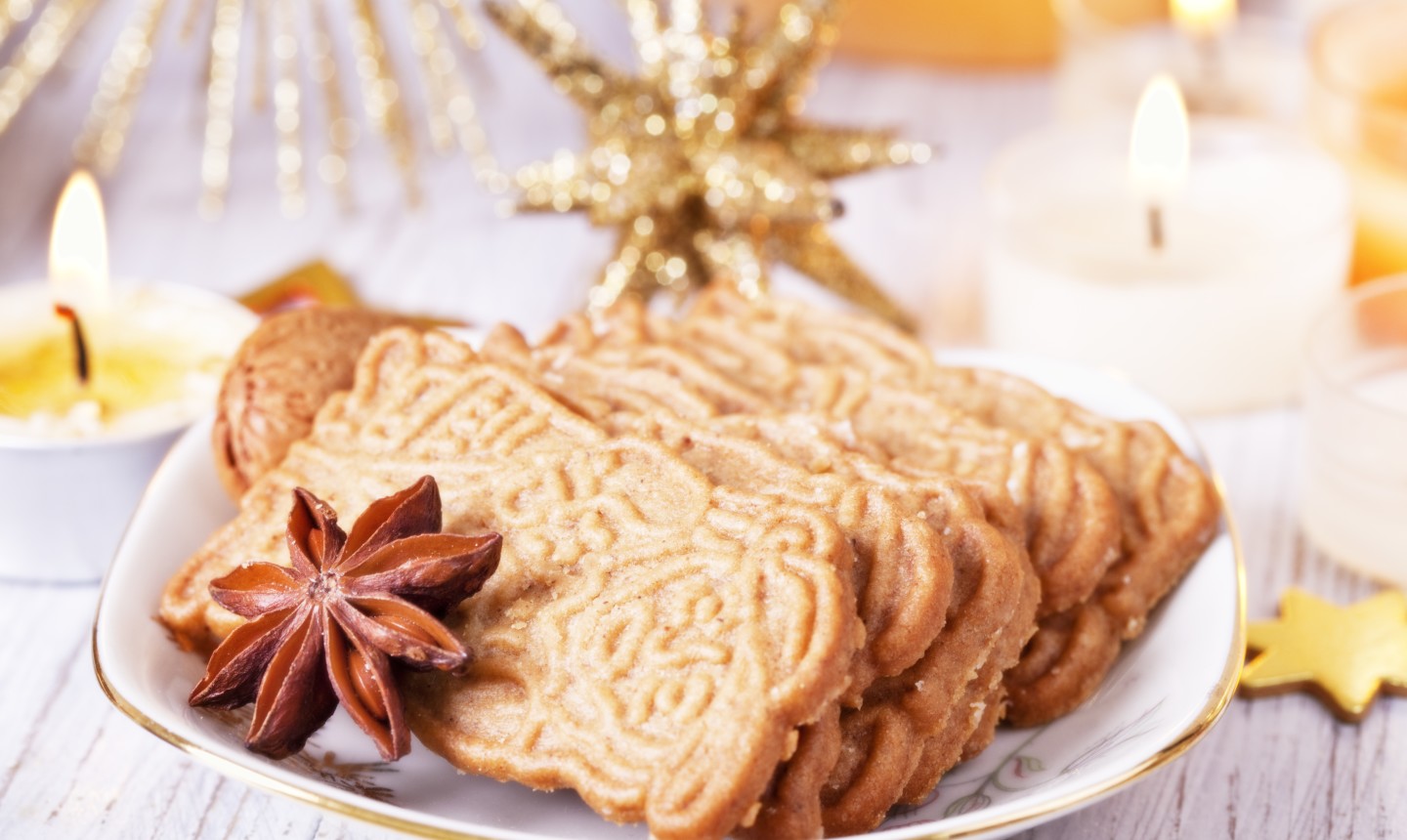 'Tis the season for ALL the cookies. And lucky for us, pastry chef extraordinaire Gesine Bullock-Prado is back with our new holiday favorite — festive spice cookies that are made even more amazing by the addition of browned butter.
Holiday Spice Cookie (Spekulatius)
Yield: Makes three dozen 2½" round cookies
Ingredients
1½ cups all purpose flour
½ cup toasted almond flour (Spread almond flour on a sheet pan and bake at 300 F for 15 minutes.)
¼ teaspoon baking soda
1½ tablespoons speculoos spice (or 1 tablespoon cinnamon, ¼ teaspoon nutmeg, ¼ teaspoon ground cloves, ¼ teaspoon white pepper, ¼ teaspoon ginger, ¼ teaspoon cardamom)
1 teaspoon salt
1 stick plus 2 tablespoons unsalted butter, browned (Place butter in a small saucepan. Melt over low heat and continue cooking until the butter starts to brown and gives off a nutty scent.)
½ cup sugar
¼ cup light brown sugar
1 large egg, room temperature
Instructions
1. In a medium sized mixing bowl, whisk together the flour, almond flour, baking soda, spices and salt. Set aside.
2. In the bowl of a stand mixer, combine the butter, sugar and brown sugar. Mix until combined. Scrape down the bottom and sides of the bowl. Add the egg and mix until well combined.
3. Add the dry ingredients all at once and mix on low until just combined. Transfer the dough to plastic wrap and turn over a few times to integrate any dry patches. Wrap well and refrigerate for at least 20 minutes.
4. Preheat oven to 325 F.
5. Roll the dough to ¼" thick with a traditional rolling pin, and generously flour the top before using a 3D roller. For cut-out cookies, roll the dough to ⅛" thick.
6. Cut out and arrange on a baking tray, leaving space between.
7. Bake for 20-25 minutes, or until the edges just start to brown. Cool thoroughly on racks.
Pro Tip: To get a very clean image when using a 3D rolling pin, allow the cookies to "dry" by placing them on a sheet pan and leaving them, uncovered, on your counter top overnight. Bake off in the morning.