Having a good stir-fry recipe in your back pocket ensures that even on the busiest of weeknights, even when you really don't feel like cooking, you can still get a healthy, homemade dinner on the table. This healthy beef stir-fry recipe is a perfect weeknight dinner solution! It's so easy you'll find yourself falling back on it almost weekly. Before you know it, it will have become one of those "back-pocket recipes."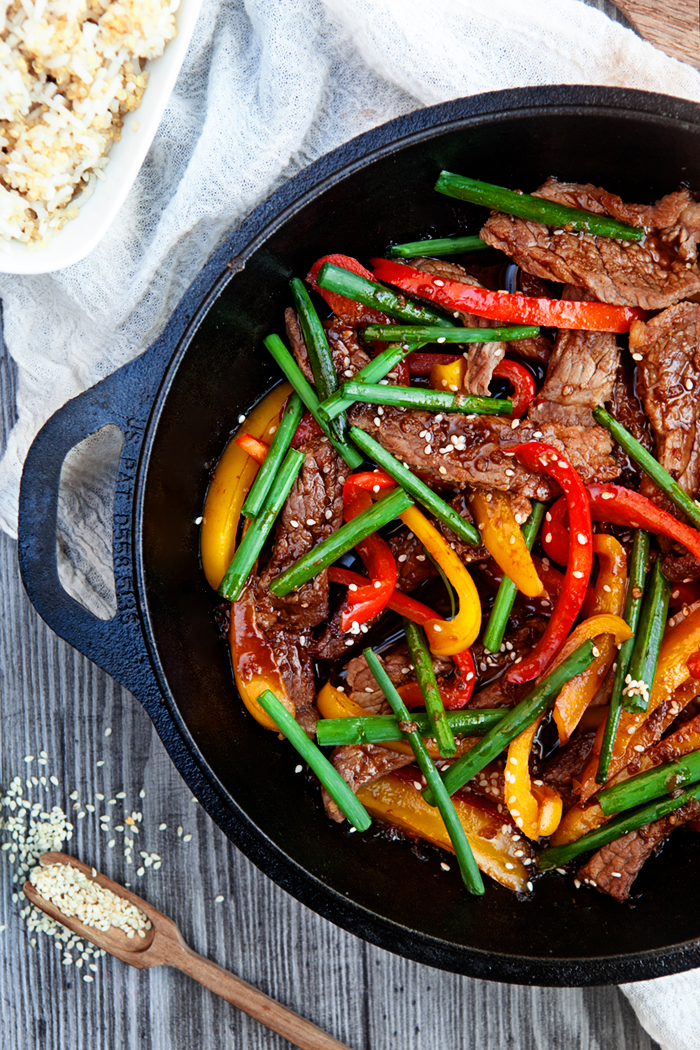 A recipe is "back-pocket" status when I no longer need the notes.
To become a true back-pocket recipe, the recipe must be one that can save the day over and over again. It's the answer to that age-old question, the one that plagues people everywhere at about 5:30 pm on a busy weeknight: "What's for dinner?"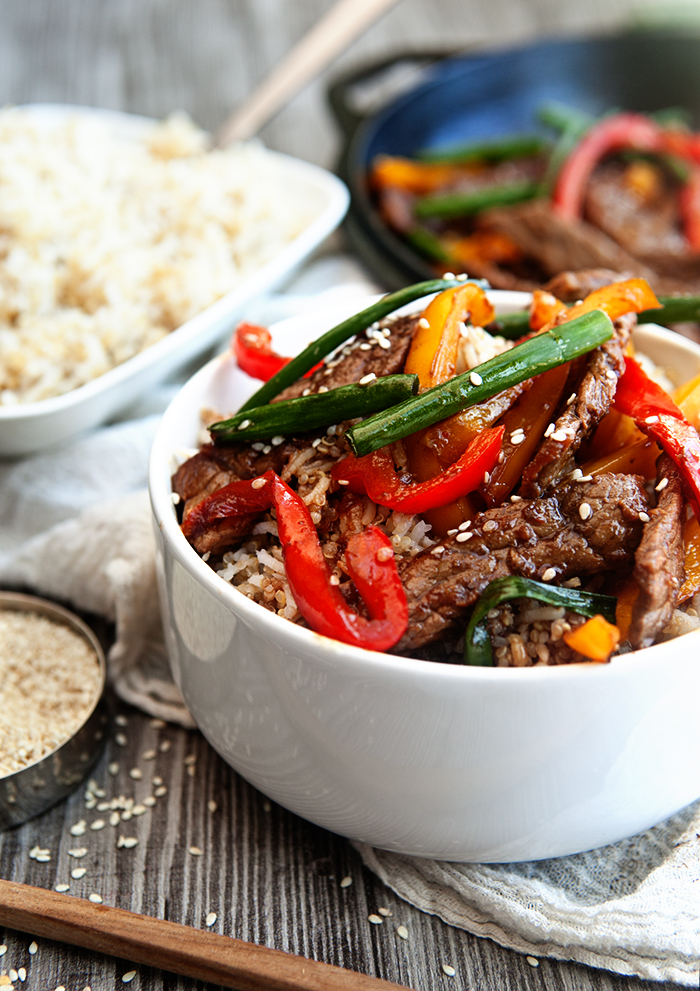 As a single parent with four young kids at home, I find myself in a dinner quandary more nights than not. I find myself lamenting often that there just aren't enough hours in the day. Still, family dinner is my favorite part of the day and it's important to me, no matter how much time or energy I have, to get a healthy dinner on the table. That's where this healthy beef stir-fry recipe comes in. 
Asian-style stir fry recipes like this are at the top of my weekly meal plan precisely because they're fast, flavorful and I can almost always pull one together with the ingredients I always have in the fridge and freezer. This beef stir-fry has become one of my personal favorites because it is, no exaggeration, a 20-minute dinner recipe that even I, with three kids and a baby hanging around the kitchen, can manage to make happen often. 
Packed with veggies, tender beef and a delicious chili-garlic sauce, this is a dinner that aims to please. Keep it in your back pocket and enjoy knowing that even when you get home late, a healthy dinner is just a few quick minutes away. 
Healthy beef stir-fry recipe
Serves 4
Ingredients:
1 tablespoon coconut oil
12 oz flank steak, thinly sliced (or thinly sliced outside round steak) 
1 red bell pepper, cut into thin strips
1 yellow bell pepper, cut into thin strips
3 tablespoons tamari
2 tablespoons rice wine vinegar
1 to 2 teaspoons grated fresh ginger
2 teaspoons chili garlic sauce 
1 to 2 teaspoons honey
4 green onions, cut into strips
Toasted sesame seeds for garnish
4 cups cooked rice and/or quinoa for serving 
Directions:
1. In large skillet, heat coconut oil over medium-high heat. Add the beef to the pan and cook for 2 minutes.
2. Toss in the bell peppers and flip over the beef pieces, cook for an additional 2 to 3 minutes, or until the beef is no longer pink and the bell peppers have softened slightly. Remove mixture from pan and set aside. 
3. In the same skillet, add the tamari, vinegar, ginger, chili-garlic sauce and honey. Bring to a simmering boil over medium heat while whisking constantly. Cook for 1 minute or until slightly thickened.
4. Return the beef and bell peppers to the pan. Add the green onions and toss mixture well to coat with sauce. Remove from heat.
5. Sprinkle with sesame seeds. Serve over cooked rice and/or quinoa.