Have you tried Tunisian crochet before? It's a totally unique needle craft. In fact, you can be an expert at both knitting and crochet and still not be familiar with the different Tunisian crochet stitches.
I first saw Tunisian crochet in action at a stitch group. Even knitters and crocheters who'd been crafting for years had never seen anyone using a Tunisian crochet hook before, and they were amazed to watch a fellow stitcher work the different Tunisian crochet stitches.
Fortunately, if you're already a crocheter, learning the Tunisian crochet technique is a breeze. The end of the Tunisian hook looks just like a crochet hook, and you'll find that some of those same crochet skills will translate right over to Tunisian crochet.
Check out a few different Tunisian crochet stitches.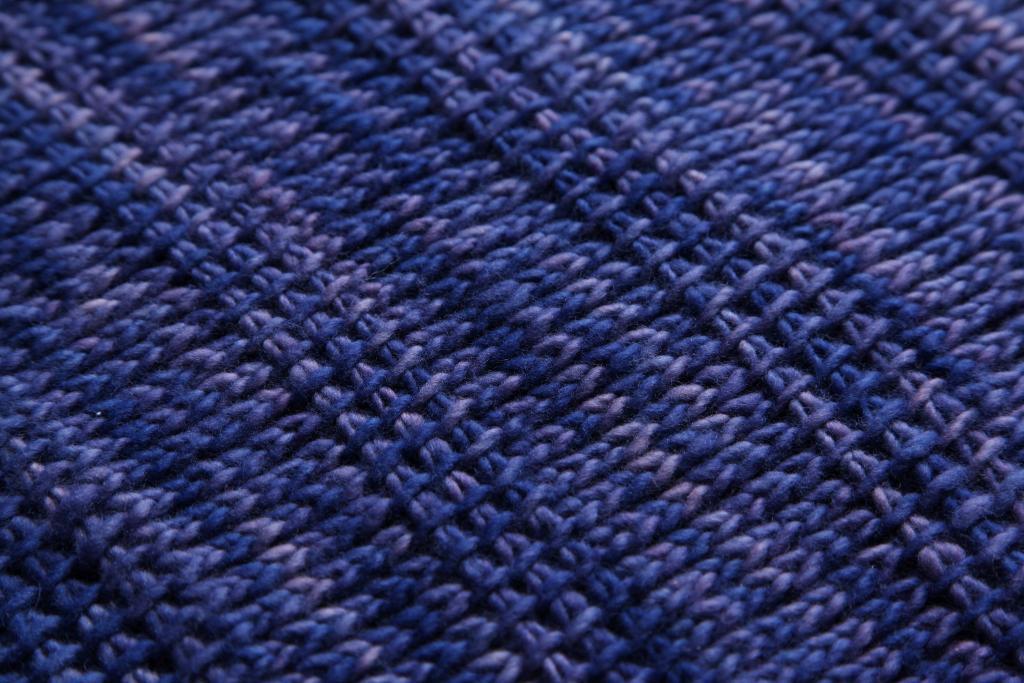 Photo via Bluprint instructor Dora Ohrenstein
Foundation stitches
Setup row
You have to somehow get those stitches on your Tunisian hook, right? Every Tunisian crochet project begins with a setup row.
No matter what stitch you choose to do in your Tunisian crochet, the setup row is almost always exactly the same. The setup row begins like crochet, chaining a certain number of stitches. However, once you begin working into the chains you'll find that unlike crochet, the loops you work with will stay on the hook as you work the row. Ever wondered why a Tunisian crochet hook is so long? It's because you need it to hold all those loops!
In addition to helping you begin your project, making a foundation row can also give you a neat, professional-looking finish on the edge of your work.
Tunisian simple stitch
Tunisian simple stitch is a stitch that baffles crocheters and knitters alike because this stitch doesn't look like any knit or crochet stitch you've ever seen.
The Tunisian simple stitch is the first stitch most beginners learn in Tunisian crochet — it's called "simple stitch" for a reason! Check out the beautiful blue swatch pictured above. That's a swatch of the chic vest straight from the Custom Fit Tunisian Crochet Bluprint class with Dora Ohrenstein. The swatch is made up of Tunisian simple stitch and Tunisian knit stitch, which looks pretty similar to stockinette stitch in knitting. (We'll get to the knit stitch later!)

Photo via Bluprint member kelleyjogirl
Other stitches
Check out the Tunisian crochet washcloth pictured above. This washcloth from the Tunisian Crochet: Revolutions in Color and Style class with Jennifer Hansen was made using a combination of Tunisian simple stitch, Tunisian knit stitch and Tunisian reverse stitch. We've already learned about simple stitch, so let's check out the Tunisian knit and reverse stitches, plus a few other stitches.
Tunisian knit stitch
Did you know that you can create a stitch that looks knitted using your Tunisian crochet hook? Tunisian knit stitch looks deceptively a lot like stockinette stitch in knitting on the front. But, flip it over to the back, and you'll see that it's a bit different. The wrong side of the work is the key to spotting the difference between a knit stitch in knitting and a knit stitch in Tunisian crochet.
The Tunisian knit stitch can be used on any type of project, from garments to accessories. It looks especially nice combined with other Tunisian crochet stitches, like in the two examples we just looked at.
Tunisian reverse stitch
Tunisian reverse stitch is very similar to Tunisian simple stitch, except that it's worked from the back of the work instead of the front. Tunisian crocheters should first master Tunisian simple stitch before trying the reverse stitch. Tunisian reverse stitch creates a little ridge in the work, making it a great option for adding texture to your project. It's also great for colorwork when you're working with multiple colors.
Tunisian double crochet
Almost any crochet stitch can be translated over to Tunisian crochet, and the double crochet is one of those stitches. Like double crochet, Tunisian double crochet creates a taller, more open stitch that's ideal for when you don't want to create a super tight fabric. The loose stitches of Tunisian double crochet can help create garments with a very nice drape.
Tunisian purl stitch
If you're working with just one color in Tunisian purl stitch, your stitches will look similar to the Tunisian reverse stitch. However, if you're using more than one color, the Tunisian purl stitch will look completely different. So, of course, this stitch is perfect for when you're working on something that uses several different colors.
The Tunisian purl stitch is a little trickier than other Tunisian stitches, just because of the finagling it takes to get your hook in and out of the stitches. Once you practice the Tunisian purl stitch, though, you'll move more fluidly across the row.
[box type="shadow"]
The great thing about these Tunisian stitches is that they can be combined to make all kinds of interesting projects, from accessories to even garments.  If you've mastered the basics of Tunisian crochet and want to take your skills to the next level, check out the Custom Fit Tunisian Crochet class with Dora Ohrenstein. You'll make that chic vest we talked about earlier, plus learn all about customizing your Tunisian crochet to fit your body.
[/box]
Have you tried Tunisian crochet before? Did you think it was similar to crochet? Tell us about your experience in the comments section!