Why should savory foods have a monopoly on summer grilling fun when grilled desserts are so easy, delicious and fun to make?
As tasty as grilled meat, corn on the cob, or even fresh fish can be, your grilling shouldn't be limited to merely mains and sides. There are an incredible number of creative desserts which can be prepared on the grill. From grilled fruit to pound cake to spectacular mini cakes grilled in orange shells, there are a number of sweet adventures that await you on the grill.
Serve these at your next cookout and prepare to be admired for the sweet results of your mad grilling skills.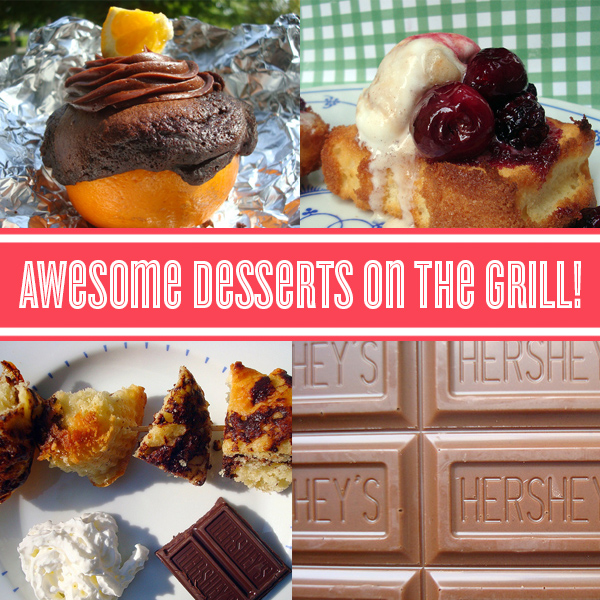 Photos via CakeSpy unless otherwise noted
Tips + tricks for grilled desserts
No grill? No problem.
If you don't have a grill, don't despair. All of these tasty ideas can just as easily be executed on a grill pan, indoors. This means that these desserts are within your reach even during cooler months when you don't want to go outside to grill.
Foil is your friend
Most desserts should be grilled either on top of or wrapped in foil, which prevents dripping or dropping between grates. To ensure easy removal, spray the foil with nonstick spray before placing your dessert item on top.
Dessert first
When you think of the grill, you probably think of the aroma of smoky cooked meat. While this is a wonderful summer scent, it might not be something you want to impart on your dessert. While certain items like grilled corn won't impart much on desserts, if you are grilling foods with assertive aromas such as salmon, steak or barbecued chicken, you might consider grilling your desserts first, or take a break between grilling to allow scents to fade before grilling your dessert.
Now that you've read the primer, let's get grilling!
Get your grill on with these grilled dessert recipe ideas!
Grilled pound cake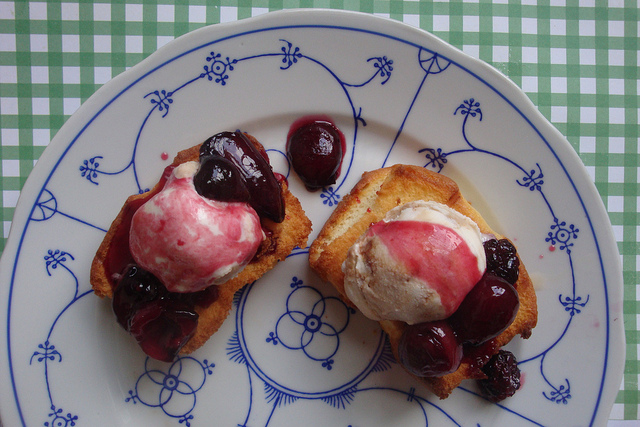 How do you elevate pound cake from pleasing to the palate to absolutely phenomenal work of dessert art? Put it on the grill. Grilling pound cake gives it a wonderful texture, and its toasty temperature makes it a stellar contrast to cold, creamy ice cream. While the sturdy texture of pound cake makes it well suited for grilling, it does tend to soften as it cooks. So, place it on a piece of foil to avoid losing precious crumbs. Top it with fruit and ice cream for a fantastic finish.
Variations: Try this method with pastries such as doughnuts or cinnamon rolls for crave-worthy results.
Kebabka and other grilled dessert skewers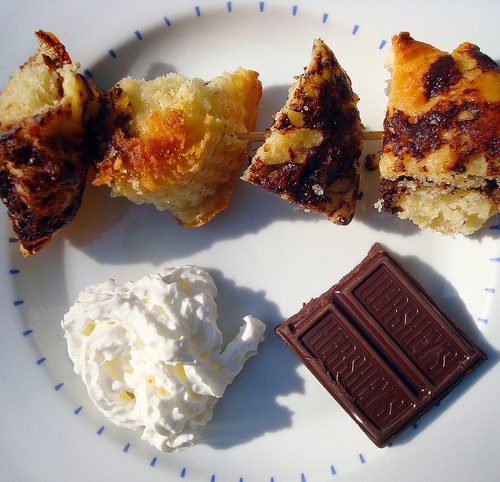 When held together by a skewer, you can grill just about any carbohydrate-y dessert. You could grill hunks of a cinnamon roll, brownie, or even babka (for the taste as well as the opportunity to call it "kebabka"). Simply skewer the sweet of your choice, place on foil and grill until toasty.
Grilled fruit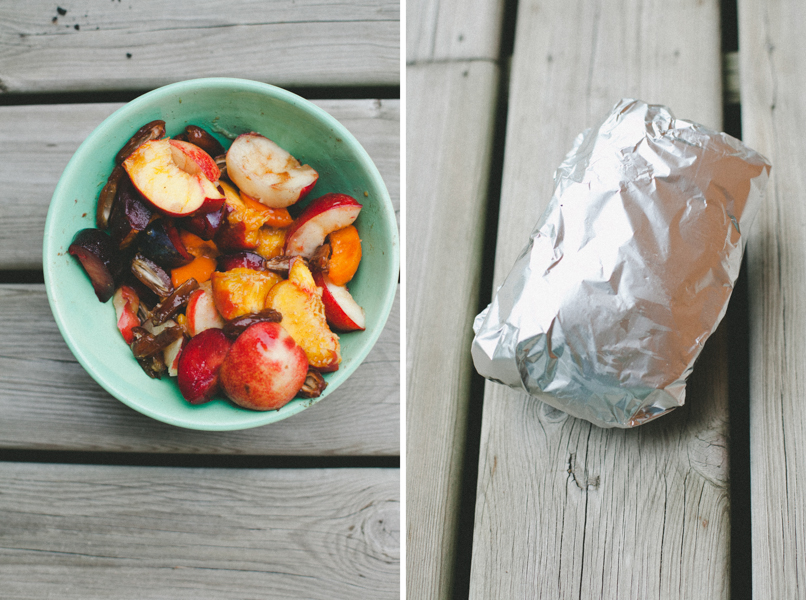 Photo via Craftsy blog
You can grill just about any fruit on the grill for a relatively virtuous dessert, or make it even better by pairing it with a big scoop of homemade ice cream.
Plain and simple: Simply slice fruit, brush with melted butter and sprinkle with brown sugar, wrap in foil, and put it on the grill. It won't take too long to grill — once you hear the juices bubbling, you only need to grill as long as you prefer. This is a fantastic option for some kicked up camping food, as well.
Go bananas: Slice a banana lengthwise, and fill with chocolate morsels, peanut butter, marshmallow fluff or a combination thereof. Nestle in foil and place on the grill. Heat until the fillings have become melty. Enjoy immediately.
Fruit kebabs: Follow the steps for making dessert kebabs, but instead of cake, skewer fruit. OK, if you feel like alternating some cake, go ahead. Place atop foil to retain the moist juices.
Grilled cake in orange shells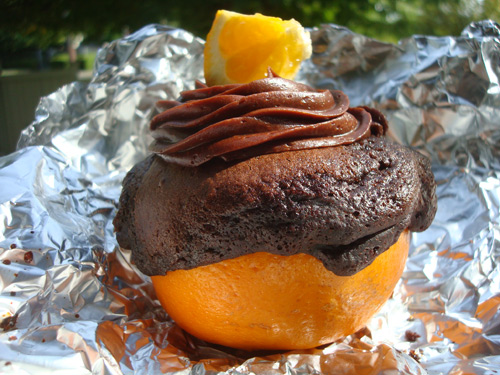 Believe it or not, this concept takes its cue from an unexpected source — the Boy Scouts of America. Orange shell cake was publicized in the Boy Scouts camping manuals from the 1950s and earlier.
Scoop the innards from orange shells, fill each one 3/4 of the way with your favorite cake recipe, and grill, nestled in foil, for about 15-20 minutes, rotating frequently, until the cake is cooked through. Be sure to test them with a skewer to see that they have cooked through. If you're still worried about uncooked egg, pasteurize the eggs before adding them to the batter.
Grilled s'mores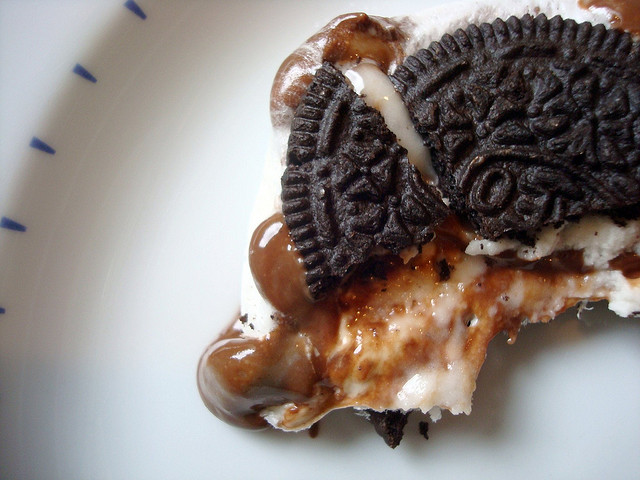 S'mores are already a pretty perfect summer food, but once you've tried them on the grill, you might never go back to the campfire method. Place the ingredients in a stack and cover with foil. Place on the grill for a couple of minutes, and unwrap. Toasty, melty bliss. If you're feeling particularly naughty, try it between Oreo cookies instead of graham crackers for a s'moreo.