Green beans are so much more than a holiday table necessity covered in fried onions and creamy soup. They can be blanched, pickled, steamed, fried, quick roasted or slow roasted, eaten raw, and make the perfect accompaniment to a summer salad or vegetable platter.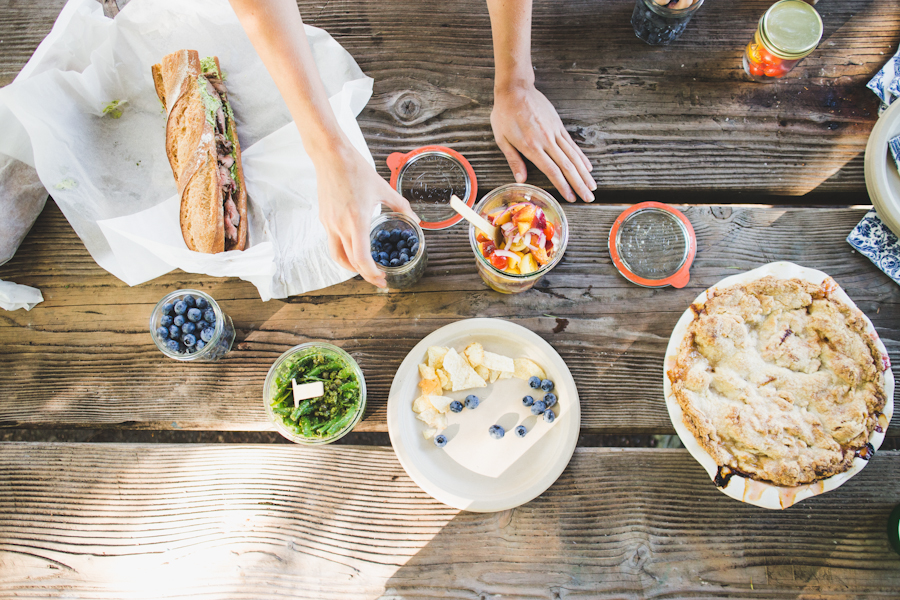 During the summer months they are present in abundance but beyond the boiled until tender and served limp with nothing but a bit of salt that I had grown accustomed to, I didn't know what to do with them. But they are one of a select few vegetables that ALL of my kids will eat and because of their abundance they are quite affordable and actually the bush variety grows quite well in our garden, so out of necessity I've had to experiment and come up with new recipes to show off these seasonal beauties.
At the store or farmer's market look for long slender beans with a vibrant green color, tight skin and a crisp texture.
When I've come into an abundance of green beans I love to pickle them. I make a simple brine of apple cider vinegar, a touch or water, a bit of sweetness (honey or sugar), salt and spices (fennel, garlic, chile flake, mustard seeds). I fill a jar with clean beans, push some fresh herbs into the cracks (dill or basil work well) and top with beans with hot brine.
The french beans (Haricot Vert) are crisp, sweet and great eaten raw. Chop them up for a salad or arrange on a vegetable platter. If you prefer them not so crisp or can't find any Haricot Vert than I suggest a quick blanch. In a large bot of salted, boiling water, add the beans and cook until their color brightens. Carefully remove the beans from the water and immediately submerge in ice water to stop the cooking.
Green bean and picnic season just so happen to perfectly coincide. Check out this picnic-ready recipe for green beans with pesto and capers.
And this beauty for meltingly tender and sweet, slow-roasted green beans from the blog, A Sweet Spoonful.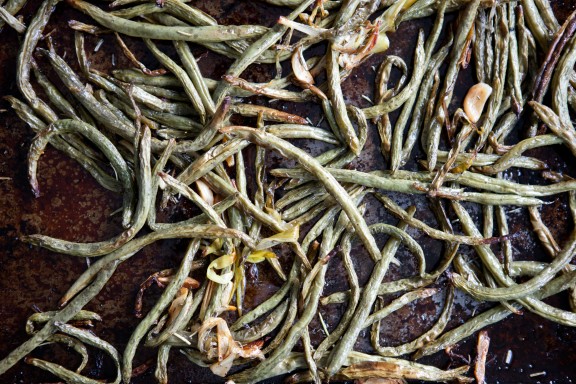 The recipe below combines my memories of Grandma's sweet and soft beans with my love for a punchy vinaigrette.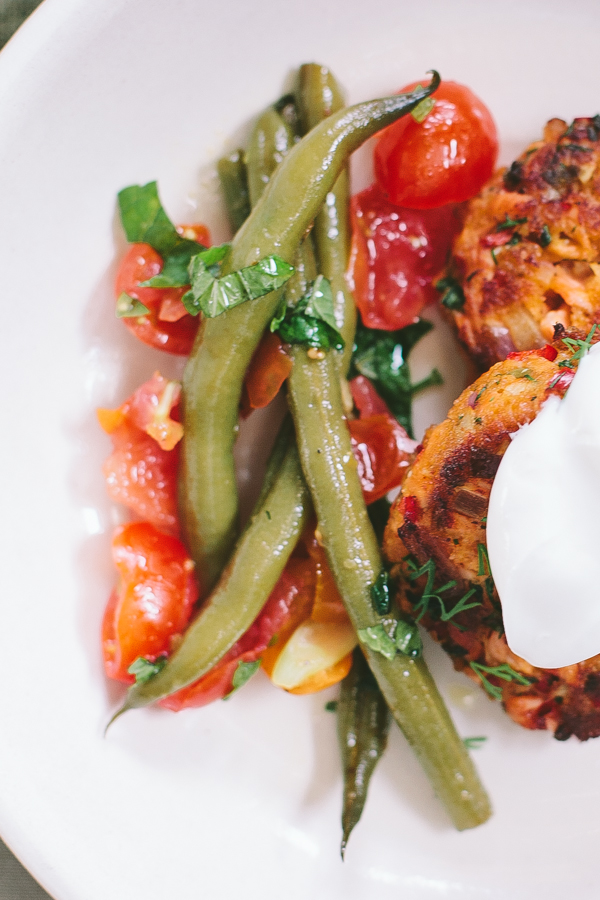 Braised Green Beans With Smashed Tomato Vinaigrette
From Date Night In
Recipe notes
I went through an al dente bean phase because I thought those beans were more sophisticated than the beans that cook for 40 minutes or longer, the way my mom and grandma make them. But you know what I decided?
Those pale and limp-looking beans taste so much better. Perfectly soft when you bite into them, these beans are braised with lemon and olive oil to give you flavor and sweetness. I'm bringing back Grandma's beans!To help what they lack in the beauty department, I've tossed them with a bright tomato vinaigrette, dappled with fresh mint. But, I'd toss almost anything in this dressing, come to think of it; this dressing with grilled corn would be ridiculous.
Serves 2
For the green beans
3⁄4 pound / 340 g green beans, trimmed
11⁄2 tablespoons olive oil
1 teaspoon freshly grated lemon zest
11⁄2 tablespoons freshly squeezed lemon juice 1 garlic clove, roughly chopped
1⁄2 teaspoon kosher salt
1⁄4 teaspoon freshly ground black pepper
1 cup / 240 ml low-sodium chicken or vegetable stock, homemade (page 18) or store-bought
For the vinaigrette
1⁄2 cup / 80 g cherry tomatoes
2 teaspoons red wine vinegar
1 tablespoon freshly squeezed lemon juice
2 tablespoons olive oil
2 tablespoons chopped fresh mint
1 scallion, thinly sliced (white and green parts)
1⁄4 teaspoon kosher salt
Flake salt, for finishing
Directions
Step 1:
Combine the green beans, olive oil, lemon zest, lemon juice, garlic, salt, pepper, and stock in a large skillet set over medium-high heat.
Step 2:
Bring the mixture to a boil and then reduce to a simmer. Cover and cook for 30 minutes, or until soft.
Step 3:
Uncover and cook for 10 minutes more, over medium-low heat, stirring occasionally, until the liquid is reduced and coats the beans.
Step 4:
Now it's time to work on the vinaigrette.
In a medium bowl, add the tomatoes and squish them between your fingers inside the bowl, so the juices don't splatter all over your kitchen; alternatively, you can smash them using the backside of a wooden spoon. The juices will help create the vinaigrette while the tomatoes still remain in large pieces.
Step 5:
Whisk in the red wine vinegar, lemon juice, olive oil, mint, and scallions.
Step 6:
Toss the warm or room-temperature green beans with the vinaigrette. Finish with flaked sea salt just before serving.
The dish can be served cold or at room temperature.