The granny square is one of the most iconic designs in crochet. Its origins have been lost in time, but working crochet stitches in the round and then squaring off to give the motif four corners seems to be as old as the hills.
What is funny, though, is that this simple idea can be interpreted in unlimited ways, and the world is now overflowing with granny square patterns, small and large, to combine into blankets, garments, homeware and accessories. Here are 12 gorgeously different granny square patterns to inspire you. If you want more, check out other granny square patterns here.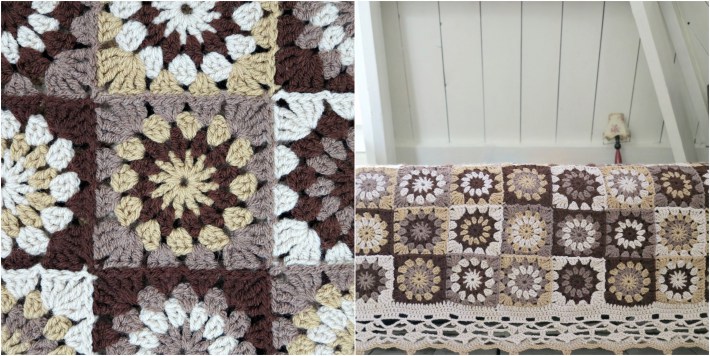 Photos via Haafner Linssen of By Haafner
1. Granny Flower Square
This square by Haafner Linssen is a retro granny square made up into a gorgeous retro blanket in a mix of wonderful neutral tones. The individual motifs are simple to work, but when combined in the beautiful brown, cream, mocha and and camel colors, the finished blanket looks simply stunning.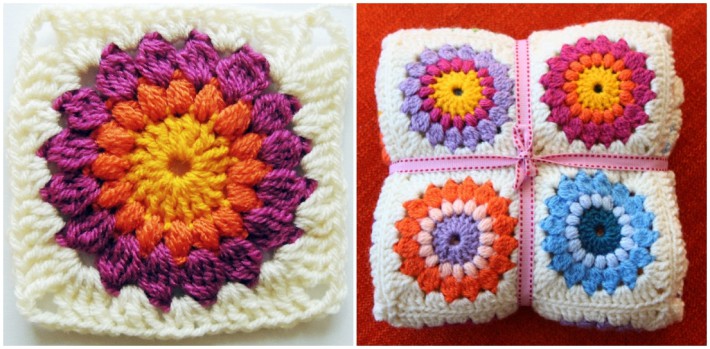 Photo via Jenny Hoogeboom of Nittybits
2. A sunburst granny square pattern
A classic variation on the granny square is this starburst design worked by Jenny Hoogeboom of the Nittybits blog in a range of bright colors all bordered in cream for maximum impact. Jenny's granny square pattern uses double crochet puff stitches and cluster stitches to create the glorious starbursts. Join them to make a cozy but lovely-to-look-at baby blanket. By combining more sunburst granny squares, you could make a blanket of any size, even one to cover a king-size bed!

Petal Afghan Block pattern via Bluprint member WoolnHook
3. Petal afghan block
At first glance, you might think this was a standard granny square, but the design cleverly uses the first round to give the square a flower petal center. Combining modern tones of deep pink and aqua with cream, this motif would make a great baby blanket or lapghan as well as a full-size bed cover.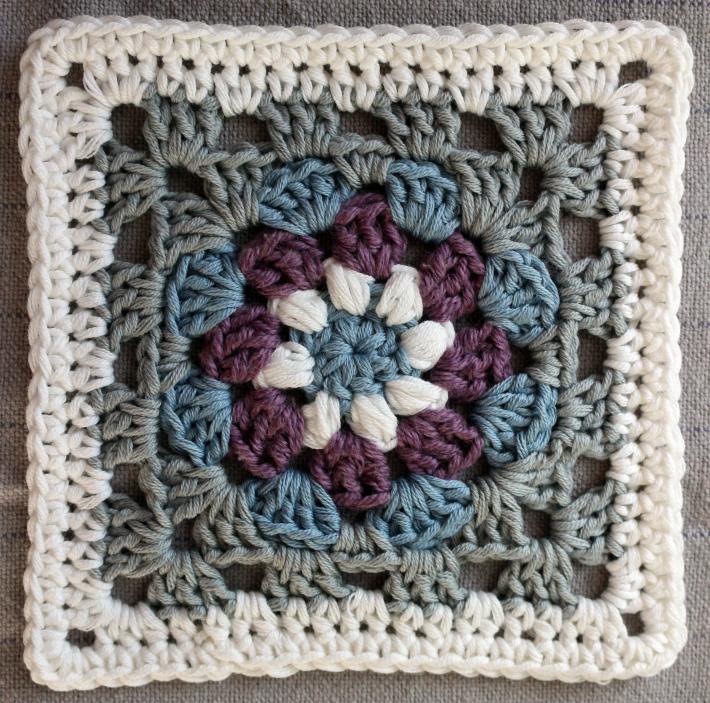 Photo via Eline Alcocer of Pasta & Patchwork
4. Lily pad granny square pattern
This square is unusual because it mixes different weights of yarn and transforms a circle into an octagon and then into a square! The colors look fantastic together, producing a larger motif that has a vintage feel. Although it might look tricky, it's actually really easy to make.
Offset Circles Blanket pattern via Bluprint member BabyLove Brand
5. Offset circles granny square pattern
This totally modern version of the solid granny square is available right here on Bluprint. Many granny square patterns start with a circle that becomes a square, but this design really pushes the limits. Still retro-inspired, this is a long way from the traditional granny square and ideal for those who like their grannies with geometry!

Photos via Sue Rivers of Crochet Again
6. Log cabin granny square pattern
By Sue Rivers of Crochet Again, this looks very like a traditional granny square — but when you look closer you realize that the colors are worked in the shapes used in log cabin quilts. Ingenious!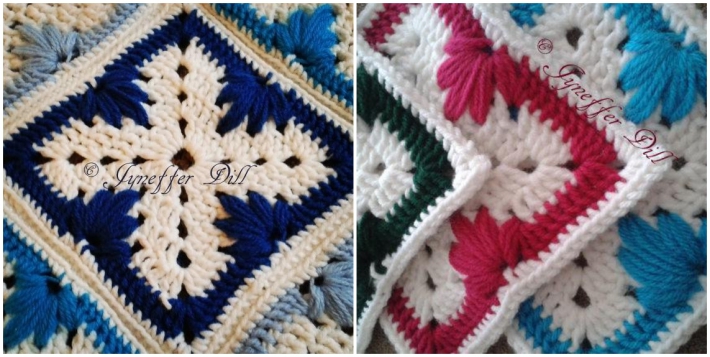 Leaf Stitch Granny Square via Bluprint member Jyneffer
7. Leaf stitch granny square pattern
This unusual granny square design incorporates leaf stitches at the four sides of the square, creating a cross motif in the center. Using only two colors per square, the individual motifs are joined to form a blanket that resembles a stained-glass window.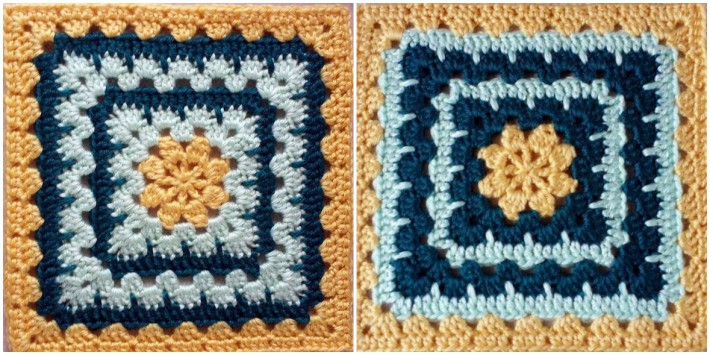 Mother's Heartbeat Granny Square pattern via Bluprint member Inger Soto Design
8. Mother's heartbeat granny square pattern
When worked in a DK weight yarn with a 4 mm hook, this larger granny square comes out at approximately 8″. Then, it be combined into blankets or used to make pillow covers.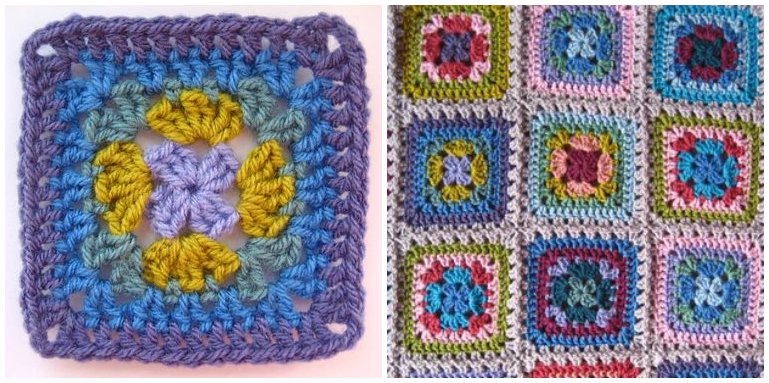 Photo via Lucy of Attic24
9. Harmony granny square pattern
This unusual design turns the first two rounds' squares 45 degrees in the center of the design. Lucy came up with this new take on the granny square earlier in the summer after being inspired by the colors in the beautiful North Yorkshire landscape where she lives. The tones of the yarn really do harmonize together, and the finished blanket looks like a summer meadow.

Granny Stripes Squared pattern via Bluprint member FeltedButton
10. Granny stripes square
This motif is simple and brilliantly unusual. It combines the granny stripe, a favorite among blanket makers, into a neat and appealing square design. Perfect for pillow covers and blankets, it's gorgeous in these bright rainbow colors.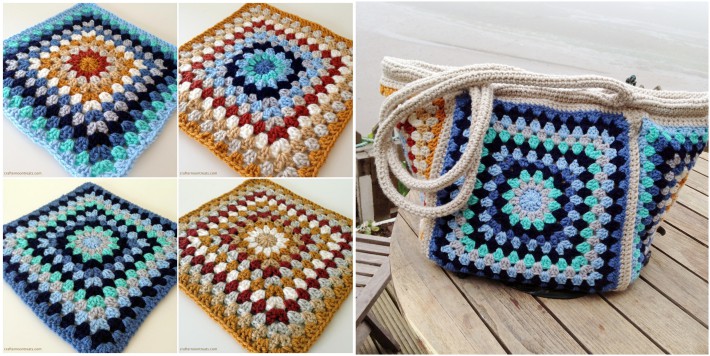 Photo via Kathryn Senior of Crafternoon Treats
11. Chunky retro granny square pattern
And finally, the chunky retro granny square that is my own design. I love the vintage crochet from the 1970s with the bright mix of colors and contrasts of lights and darks, but I also wanted a big and bold granny sturdy and large enough to make a useful stash bag. The chunky retro granny is still one of my favorites — even though it led me thoroughly into a crochet-bag addiction!