Friends don't let friends open presents hungry. Keep things merry and bright this holiday season by baking up a batch of delectable gingerbread buttermilk biscuits! 
Photos via CakeSpy
In this recipe, buttermilk biscuits get a holiday makeover with the addition of cozy, warming spices and rich molasses.
These biscuits boast the best of both worlds: the texture of a traditional biscuit, and the flavor of gingerbread.
These lightly sweetened biscuits are the perfect mid-morning snack and make a great addition to any holiday brunch. 
Gingerbread buttermilk biscuits recipe
Makes 8 biscuits
For the biscuits:
2 cups all-purpose flour, plus more for dusting work surface 
1/3 cup light or dark brown sugar, packed
2 teaspoons ground ginger
2 teaspoons ground cinnamon
1/8 teaspoon ground cloves
½ teaspoon salt
1½ teaspoons baking powder
½ teaspoon baking soda
½ cup cold unsalted butter, cut into pieces
½ cup buttermilk
2 tablespoons molasses
For the glaze (optional): 
½ cup powdered sugar 
1-2 teaspoons whole milk or cream 
Step 1:
Preheat the oven to 400 F. Line a baking sheet with parchment paper or a silicone mat.
Step 2:
In a large bowl, whisk together the flour, brown sugar, spices, baking powder, baking soda and salt until combined. 
Step 3: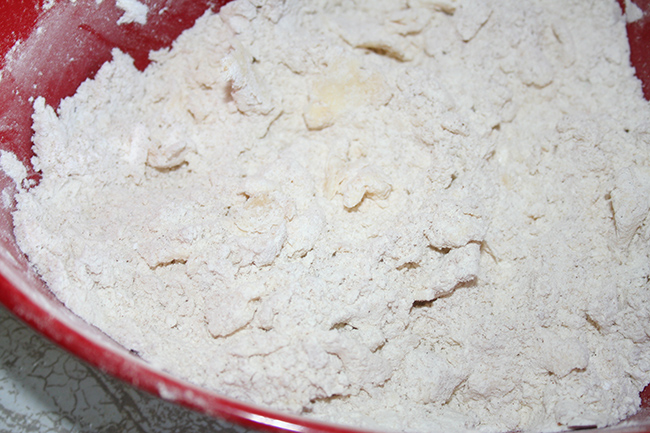 Cut the butter into the mixture using a pastry cutter (if you don't have a pastry cutter, you can also use two forks to work the dough), working the mixture until it looks like coarse crumbs, with no lumps larger than the size of a pea. 
Step 4:
Add the buttermilk and molasses, and stir until the dough comes together and is able to be clumped into a solid mass. Don't overdo it; otherwise, your biscuits can lose their tender flakiness. 
Don't have buttermilk on hand? Don't sweat it! You can make your own with these easy DIY buttermilk hacks.
Step 5: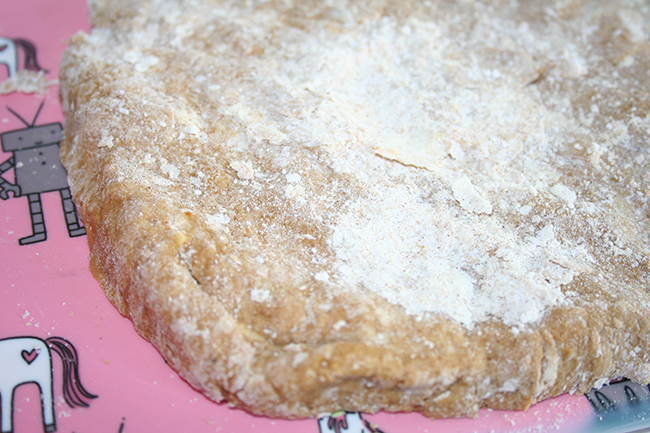 Transfer to a lightly floured work surface, and gently roll the dough into a large square, about 8″ x 8″. Fold the dough over like you would a greeting card, so that you have a 4″ x 8″ rectangle.
Step 6:
Cut the dough into eight 2″ squares. Place them on the prepared baking sheet with a little space around each one to leave room for minimal spreading.
Step 7:
Bake for 16-20 minutes, or until golden brown on top and browned on the bottoms. Remove from the oven; let cool briefly, then transfer to a wire rack to cool completely. 
Step 8: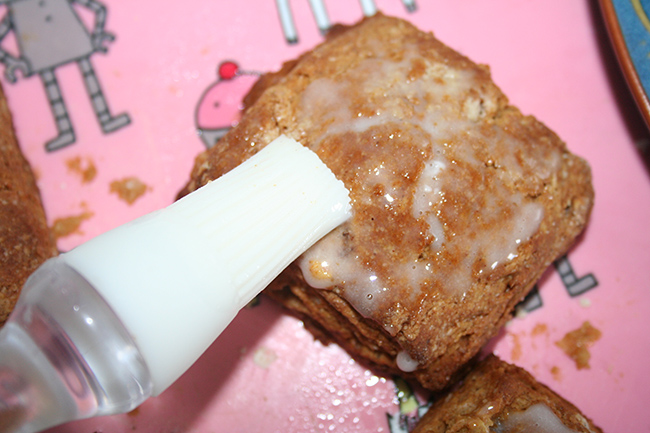 While the biscuits cool, prepare the glaze. Whisk together the powdered sugar and the milk; add a little more milk if it's too thick, a little more sugar if it's too thin. Brush or spoon a small amount on top of each biscuit. 
These biscuits taste best within a day or two of baking. Store well-wrapped biscuits at room temperature for up to 2 days. If you don't think you'll consume the biscuits in short order, freeze leftovers for up to 1 month.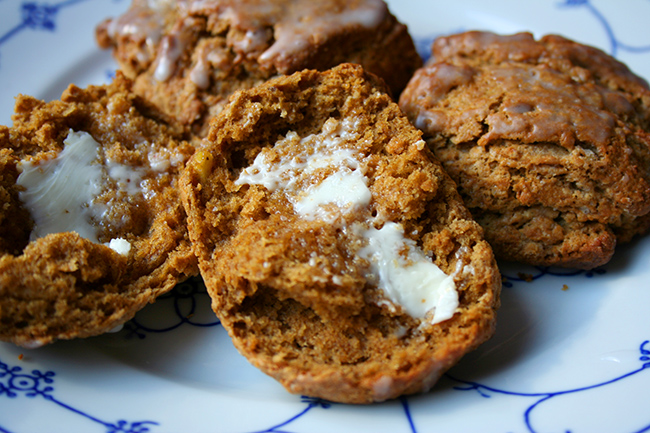 Looking for more sweet treats for your holiday breakfast? You'll love our classic crumb cake recipe and our eggnog pound cake recipe! 
What's your go-to holiday breakfast?