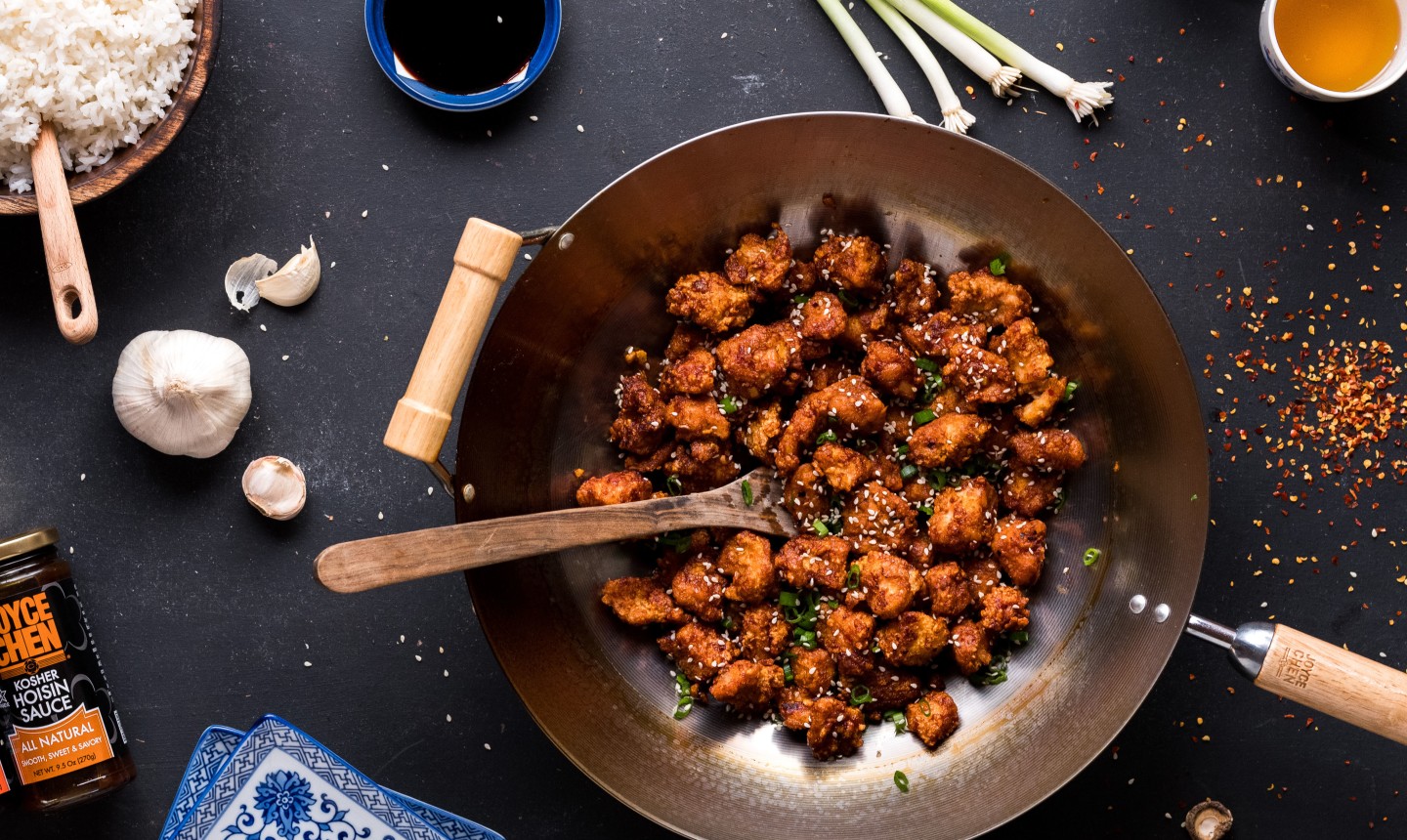 Chinese cravings are borderline impossible to resist, but it doesn't always have to be takeout. Head to the kitchen and whip up your favorites at home, including this to-die-for General Tso's chicken from Diana Kuan's class, Chinese Takeout Favorites: Fresh at Home.
General Tso's Chicken
Yield: Serves 2 or 3 as a main dish or 4 as part of a multi-course meal
Ingredients
For the Marinade
1 tablespoon soy sauce
1 tablespoon Chinese rice wine or dry sherry
2 egg whites
1 pound boneless, skinless chicken thighs, sliced into 1″ cubes
For the Sauce
1½ tablespoons tomato paste
2 tablespoons soy sauce
1 tablespoon apple cider vinegar
1 teaspoon hoisin sauce
1 teaspoon chili garlic sauce
1 teaspoon Asian sesame oil
1 tablespoon granulated sugar
1 teaspoon cornstarch
For Cooking
1 teaspoon white sesame seeds, for garnish
2 cups (8 ounces) cornstarch
½ teaspoon fine sea salt
3-5 cups peanut or vegetable oil for frying, plus 1 tablespoon for stir-frying
8 dried whole red chiles, or ¼ teaspoon crushed red pepper flakes
2 teaspoons minced ginger
2 cloves garlic, minced
3 scallions, green parts thinly sliced for garnish
Directions
1. Start by marinating the chicken. In a large bowl, combine the soy sauce, rice wine and egg whites. Coat the chicken with the marinade mixture and let sit for 10 minutes.
2. While the chicken marinates, prepare the sauce. In a small bowl, combine all sauce ingredients and stir until the sugar and cornstarch are dissolved. Set aside.
3. In a small dry pan, toast the sesame seeds for about 1 minute, until they become lightly brown and aromatic. Transfer to a dish and set aside.
4. In a large bowl or deep plate, toss the cornstarch with the salt and pepper. Coat the marinated chicken in the cornstarch, then shake off any excess.
5. Heat the peanut oil in a wok or heavy-bottomed pot until it registers 350 F on an instant-read oil thermometer. Working in two or three batches, add the first batch of chicken and fry until lightly golden on the outside and cooked through, about 3 to 4 minutes. Remove the chicken with a slotted spoon and drain on paper towels. Repeat with the rest of the chicken.
Pro Tip: If you want to get the chicken extra crispy, let it drain and cool for 5 minutes, then put it back in the wok to fry for another 30 seconds, until golden brown.
6. Heat the wok or skillet over medium-high heat. Add the remaining 1 tablespoon of peanut oil and swirl to coat the base. Add the dried chiles, ginger and the garlic to the wok and stir-fry until just fragrant, about 20 seconds. Return the chicken to the wok. Pour in the sauce mixture and stir continuously until chicken is coated with sauce.
Pro Tip: If you used a wok to deep-fry, you can re-use it to stir-fry the chicken by just wiping down the insides with a paper towel. If you used a heavy-bottomed pot for deep-frying, switch to a large skillet for stir-frying.
7. Transfer the chicken to a serving dish. Garnish with toasted sesame seeds and scallions.
Pro Tip: Transfer the oil to a heatproof container. It'll take about one hour to fully cool, then you can transfer to a container with a tight lid to dispose.