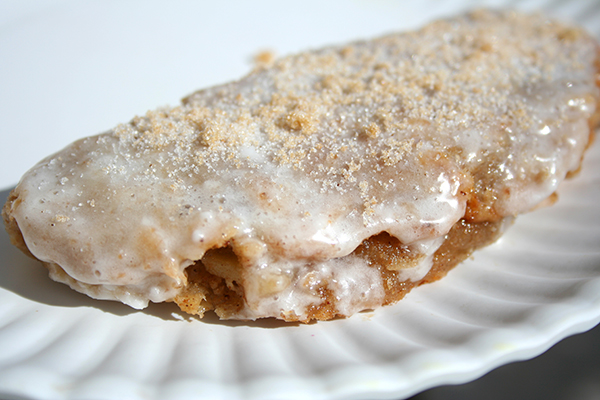 With their crispy fried exterior, flavorful fruit filling and sweet topping, these fried pies have a lot to offer. Think of them as apple pie with a calzone twist. They're not much different than making a traditional pie — you start with the crust and filling, but instead of rolling out a top and bottom crust, you cut out several small portions, make 'em into individual pies and fry. It's that easy!
Fried Apple Mini Pies
Yield: 8 pies
What You Need
For the Crust
1 batch pie dough (sufficient for a double crusted pie)
Flour, for rolling out the dough
For the Filling
4 medium apples (we used Granny Smith), cored, peeled and cut into approximately ½" pieces
1 teaspoon lemon juice
¼ cup brown sugar, divided
2 tablespoons flour 
Pinch of salt
2 teaspoons cinnamon
1 teaspoon nutmeg
1 stick (4 ounces) unsalted butter
¼ cup bourbon or brandy (or substitute water or apple juice)
For the Topping
1½ cups confectioners' sugar
2-3 tablespoons milk or cream 
3 tablespoons granulated sugar
1 teaspoon cinnamon 
Tools
About 1 quart vegetable oil, for frying 
A large, deep saucepan for frying
An instant-read thermometer
Instructions
1. Prep the Dough
Prepare your pie crust dough according to your recipe's instructions.
2. Mix the Filling
In a large bowl, combine the apple pieces, lemon juice, 2 tablespoons of brown sugar, 2 tablespoons of flour, a pinch of salt, the nutmeg and cinnamon. Stir or toss to combine, making sure the apples are evenly coated. Leave them to sit for a few minutes in the bowl while you prepare the next step.
3. Heat
In a large, deep skillet, combine the butter, the remaining 2 tablespoons of brown sugar and the bourbon or brandy over medium-low heat, stirring frequently.
Pro Tip: If you choose to go booze-less, adding water or apple juice is fine here.
Allow the butter to melt, continuing to stir for 2-3 more minutes. This allows the flavors to blend and also lets the mixture thicken. Turn off the heat and let the mixture cool for 5 minutes.
4. Cook the Apples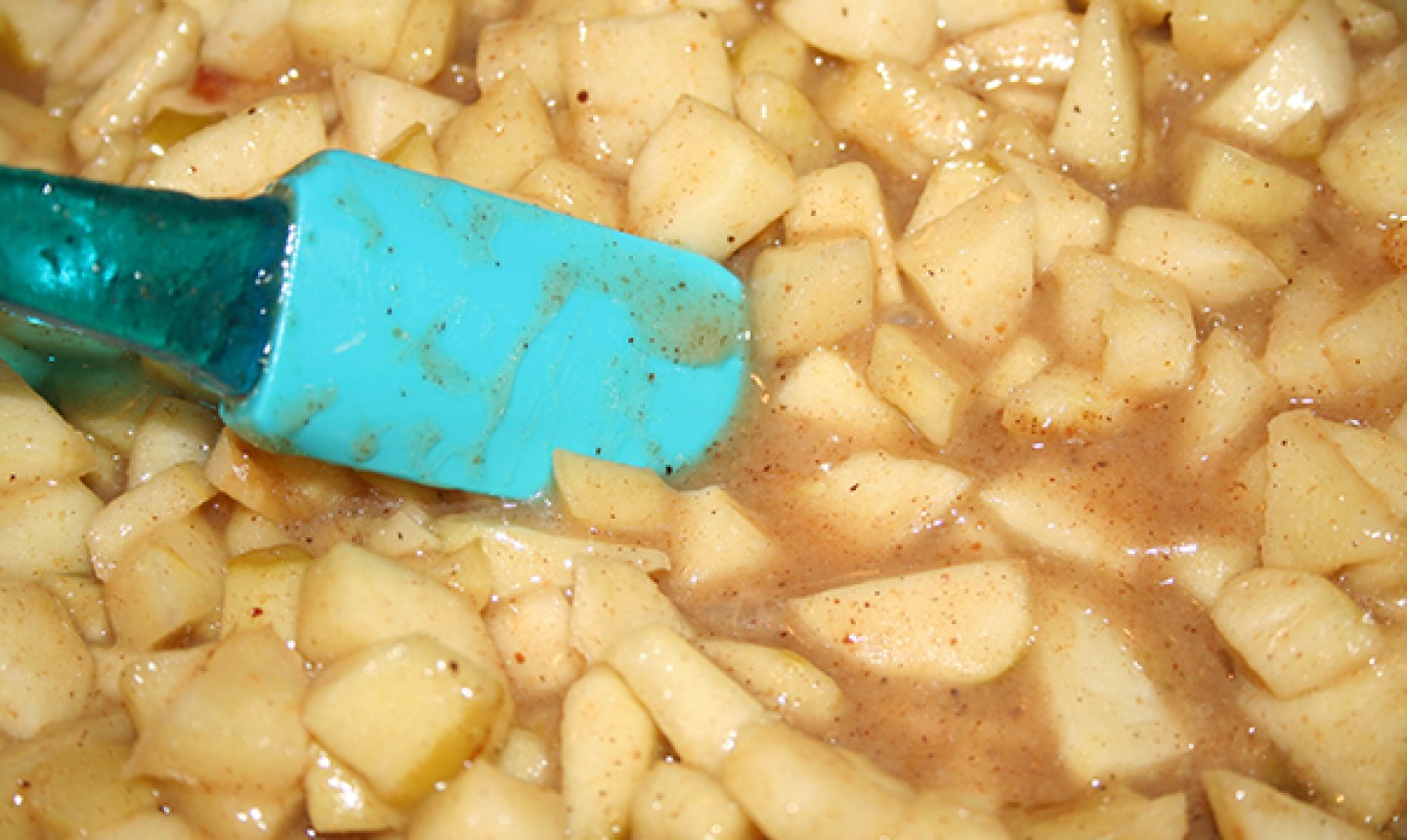 Add the apple mixture to the pan and turn to medium-low heat. Cook, covered, for about 20 minutes, pausing to stir every few minutes. You want the apples to become soft, but not mushy.
Good to Know: The firm Granny Smith apples took 20-25 minutes to soften, but this may vary depending on the apple varietal you use. The apples won't cook for long when the pies are fried, so you want to get them to your desired consistency now.
Once the apples are done, remove the pan from heat and let the mixture cool to room temperature.
5. Roll Out the Dough
Remove your pie dough from the refrigerator and cut each dough portion into 4 equal parts — because you have 2 dough rounds, this will make 8 equal portions of dough. Roll each piece of dough into a circle that's approximately 6″ in diameter and about ⅛" thick. Don't roll the dough too thin or the crust may pop a hole while frying.
6. Fill and Fold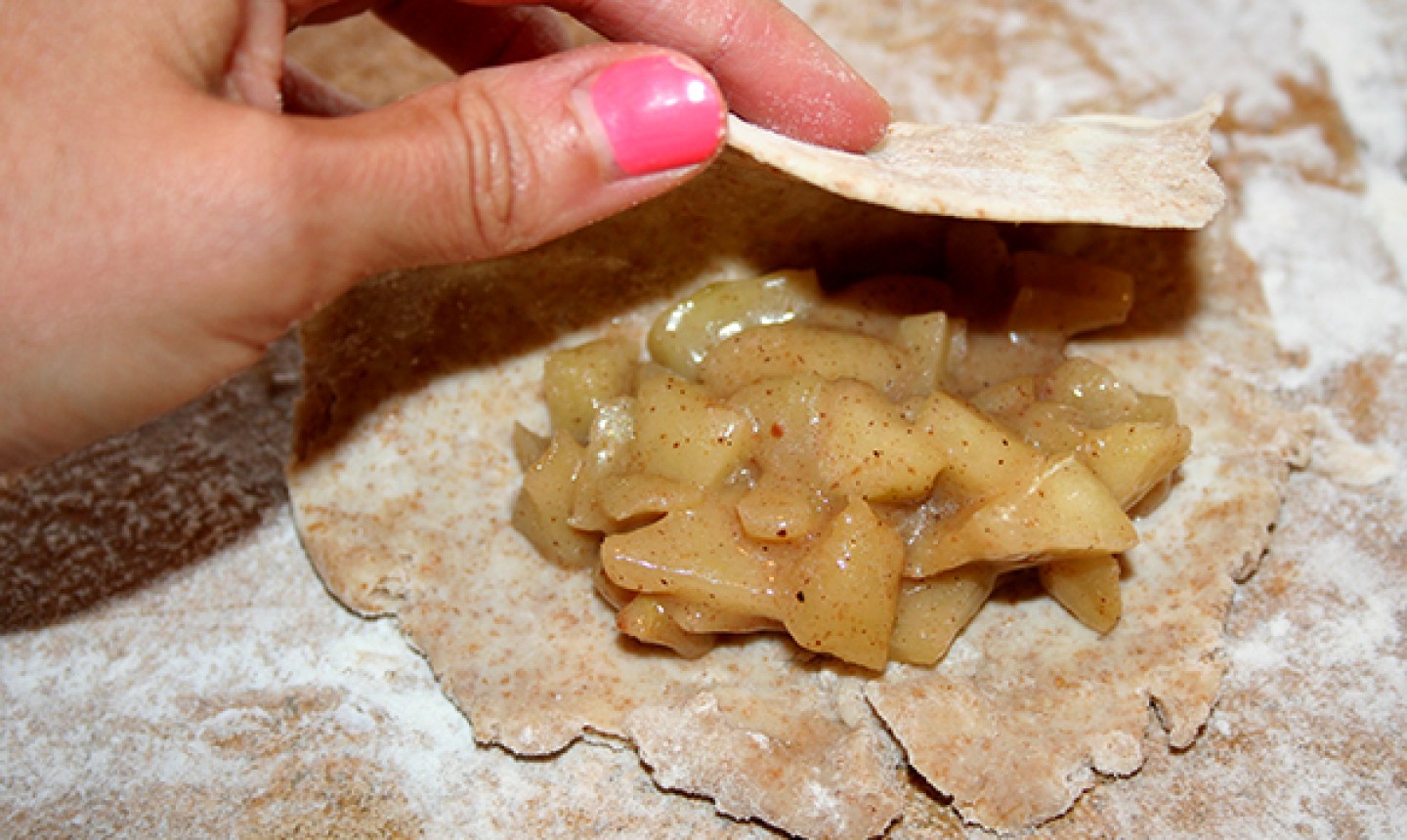 Spoon some filling onto the central lower portion of your dough, leaving a rim of dough around it on all sides. Fold the top over — it should look a bit like a calzone.
Use the tines of a fork to press the seams together, then poke the top of your pie once or twice. If your dough doesn't seal together, moisten the space between the seams with water or a beaten egg white.
Repeat this step with the remaining portions of dough. Place the pies in the refrigerator; you can leave them there for several hours if you're not ready to fry, or just long enough to heat the frying oil.
Good to Know: Depending on the size of your apples, you may end up with a little extra filling. This is a total bonus — because it's completely cooked, you can enjoy it as-is as a side dish, or enjoy it with ice cream and caramel sauce for a sweet treat.
7. Fry
In a large, deep saucepan, heat the oil on medium heat until it registers between 350 and 360 F on an instant-read thermometer. Fry the pies, two at a time, until golden on both sides (approximately 2 minutes). Remove with a slotted spoon. Transfer to paper towels to briefly blot excess oil, then place on a wire rack. Repeat until all of the pies are fried.
Good to Know: If you prefer not to fry, you can alternately bake the pies in a preheated 400 F oven for 20 minutes, or until golden on top.
8. Make the Topping
Place the sifted confectioners' sugar in a large bowl. Add the milk or cream bit by bit until you've reached a pourable consistency. In a separate small bowl, stir together the granulated sugar and cinnamon.
Using a pastry brush or spoon, coat the top of each pie with the glaze and immediately sprinkle with cinnamon-sugar.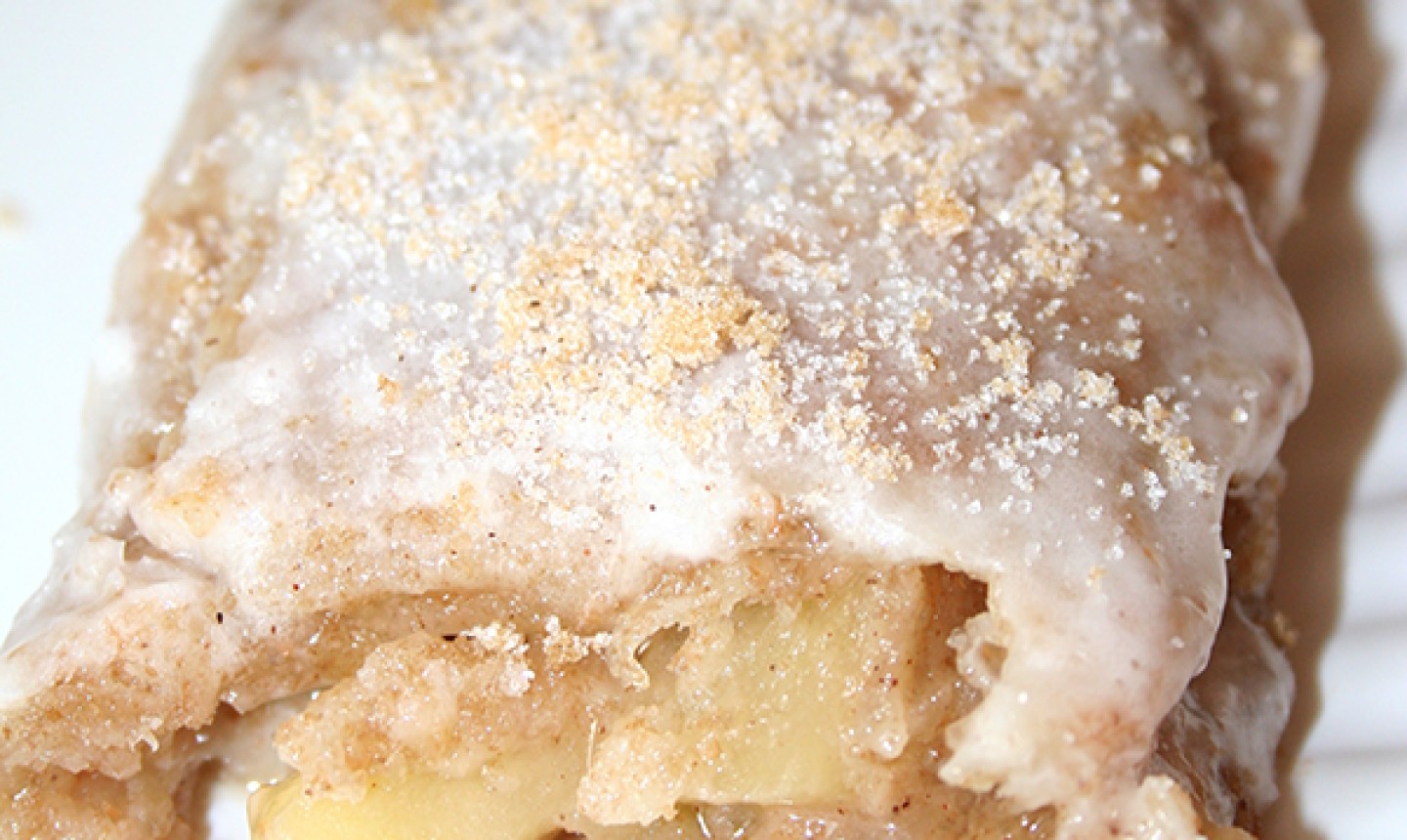 Enjoy the pies while still warm!