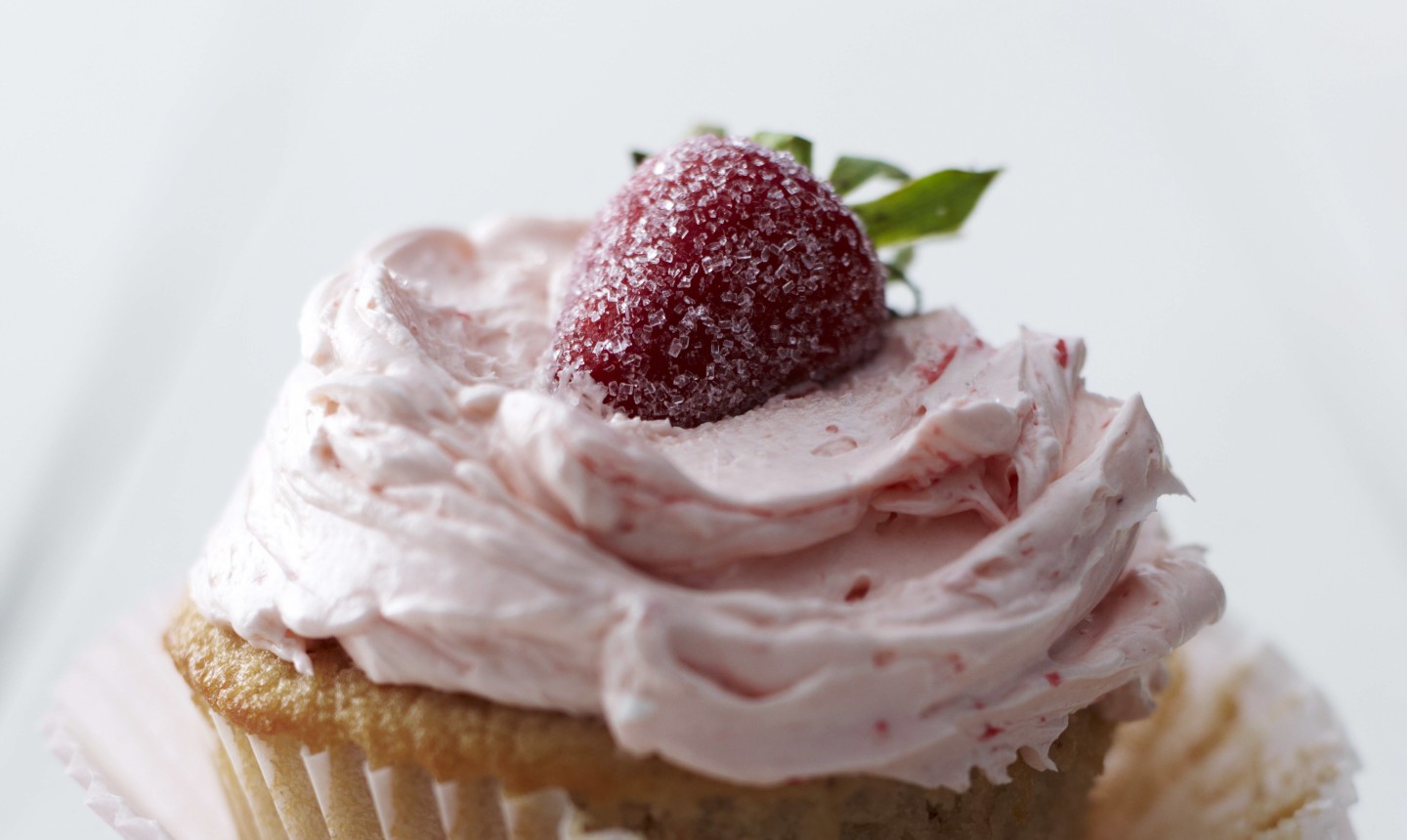 At peak season, why mess around with strawberry-esque or strawberry-flavored recipes when you can treat your taste buds to the real deal? It may take an extra step to make these authentic beauties, but they hit all the marks: moist, delicious, fresh, flavorful. Whip 'em up for Mother's Day, Easter or any random day of the week — when a recipe's this tasty, you don't need an excuse to bake it.
Strawberry Cupcakes With Strawberry Frosting
Yield: approximately 2 dozen cupcakes
Ingredients
For the Cupcakes
¾ cup unsalted butter at room temperature
1¾ cups sugar
2 large eggs
1 teaspoon vanilla extract
2½ cups flour
2½ teaspoons baking powder
½ teaspoon salt
1 cup coconut milk (from can)
¼ cup strawberry puree
1 cup diced fresh strawberries
For the Frosting
¾ cup strawberry purée
1 cup plus 2 tablespoons unsalted butter at room temp
½ teaspoon salt
½ teaspoon vanilla
4 cups powdered sugar; sifted
Pro Tip: Make sure you use canned full-fat coconut milk and not coconut cream. It'll bring out the strawberry notes in full force for a truly delicious cupcake.
Instructions
1. Preheat oven to 350 F and line two muffin tins with cupcake liners.
2. In a large bowl, using a stand mixer with paddle attachment, cream together butter and sugar until well combined. Add the eggs one at a time until incorporated, then add vanilla.
3. In a medium bowl, whisk together flour, baking powder and salt.
4. Add the flour mixture into the wet mixture in three batches, adding half the coconut milk and strawberry puree between each batch. Make sure the wet and dry ingredients have been fully incorporated before adding the next batch, and scrape down the sides of the bowl as needed. Your batter will turn a beautiful pale pink color.
5. Fold in diced strawberries and spoon batter evenly into 24 lined cups. (They should be about ⅔ full.) Bake for 20 to 22 minutes, or until a cake tester or toothpick comes out clean.
6. Place the strawberry puree into a saucepan over medium heat for about 8 to 10 minutes, whisking as it simmers. Once it's thickened and reduced by about half (just over ¼ cup), scrape it into a container and refrigerate for about 20 minutes, until completely cold.
7. Beat butter and salt until it's light and fluffy, then scrape the sides of your bowl. Add vanilla and beat again. Add 1½ cups of powdered sugar and mix until incorporated.
8. Beat in 2 to 3 tablespoons of the reduced and thickened puree, along with another cup of powdered sugar, mixing to combine. Add remaining puree, incorporate, then add remaining powdered sugar.
9. Frost your cooled cupcakes and serve!