I can't resist a buttery shortbread-like cookie and I bet that you can't, either. On the surface, French sables may appear to be just like any other butter cookies, but one bite will tell you that they're not. They're crisp, buttery and seem to melt in your mouth — leaving you with a hint of salt and a slightly savory note that will keep you coming back for more.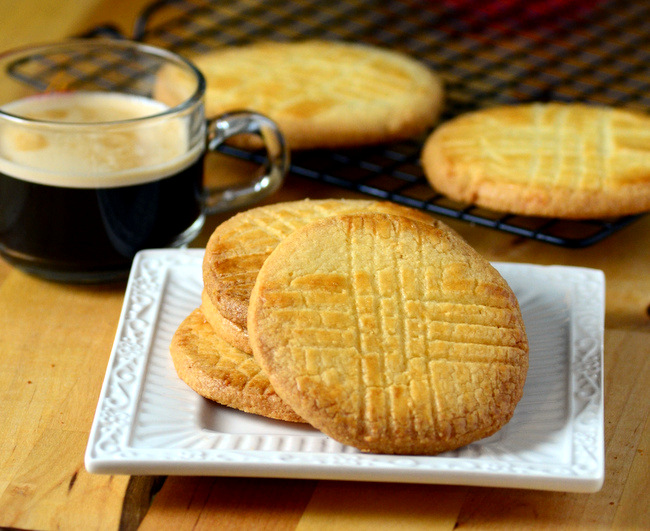 Sables are a buttery French shortbread-like cookie that originated in the Nornady region of France.
The word "sable" in French translates to "sand," so it's no surprise that these cookies have a texture that almost melts in your mouth.
The thing that sets sables apart from other cookies is the butter.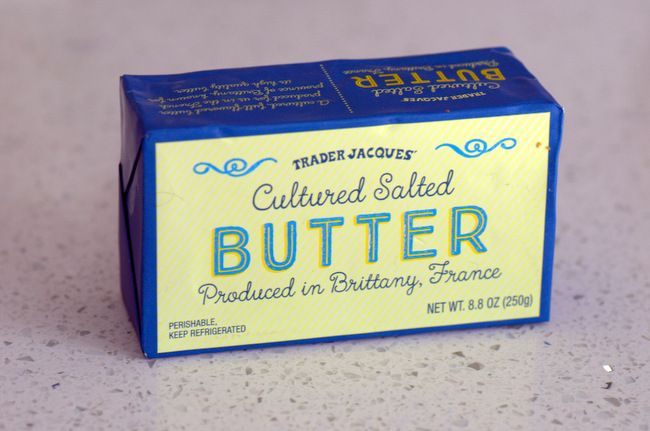 They're made with salted, cultured European-style butter, rather than the regular unsalted butter that we all typically reach for when baking. European-style butters have a higher fat content than standard American butter, so they produce cookies that are even more tender.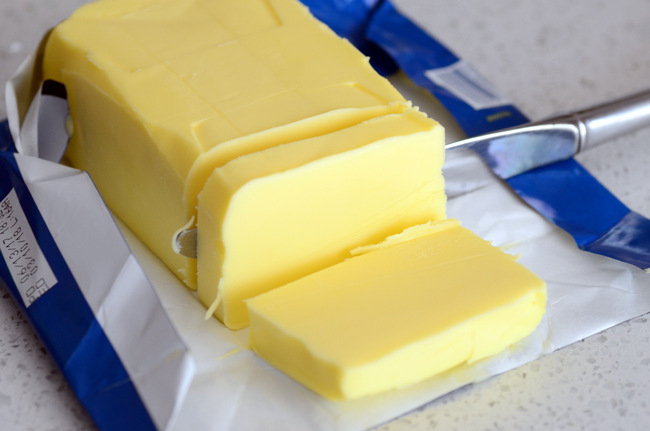 Cultured butter has live, active cultures added to it — just like you might find in yogurt — that give the butter a complex, savory tang. I find that the flavor of cultured butter is slightly reminiscent of buttermilk and it makes the butter feel even more buttery than usual. Salt amplifies the flavor of the cultured butter and the majority of cultured butters have salt added.
Shaping the cookies
The dough for these cookies is extremely buttery and will be quite soft after you've mixed it up. You will need to chill it before baking to make it easier to handle, and there are two options for doing this.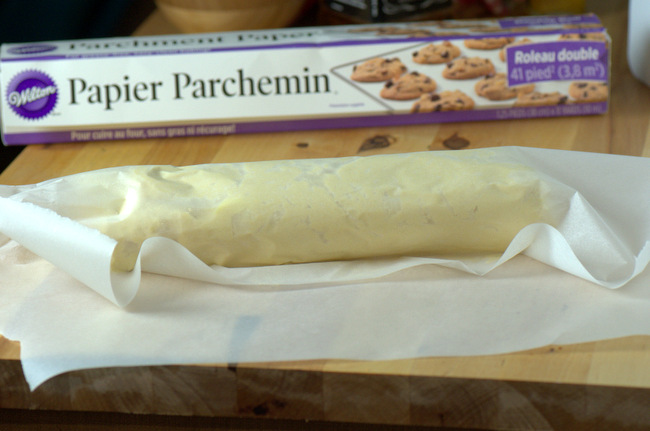 First, you can shape the dough into a log about 2½" in diameter, refrigerate it until firm and cut it into slices to bake. This method is convenient, but the cookies may be slightly irregularly shaped.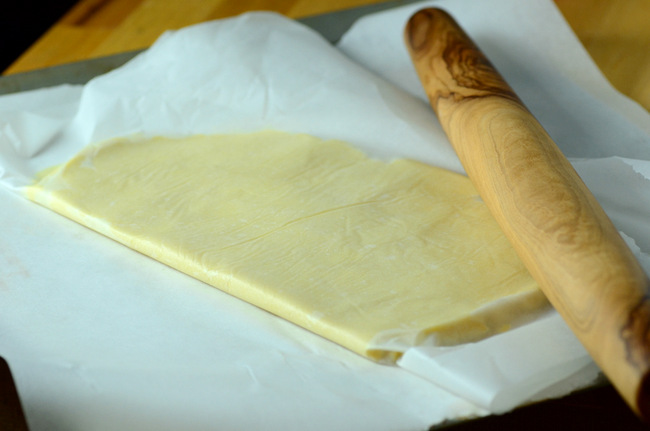 If you want to be a bit more traditional, you can roll out (or pat out) the dough between two sheets of parchment paper before refrigerating it until firm. Once the dough is cold, you can peel back the parchment paper and use a 2½" round cutter to shape your cookies. Extra dough can be rerolled as many times as necessary.
Baking the cookies
The finishing touch on the cookies is to brush them with an egg wash and score them lightly with a fork before baking. Unlike adding a cross-hatch pattern to peanut butter cookies, this design is created by dragging the tines of the fork across the surface of the egg-washed cookie.
The cookies are then baked until they are golden. The baking time might vary based on the size of your cookies, but you can judge doneness quite accurately with color in this recipe. Cool the cookies on a wire rack before eating them or storing them.
French sable cookies recipe
Makes about 2 dozen cookies
Ingredients:
1 cup salted, cultured European-style butter
2/3 cup sugar
¼ teaspoon salt
2 large egg yolks
2 teaspoons vanilla extract
2 cups all-purpose flour
1 egg + 1 tablespoon water (for topping)
Step 1:
In a large mixing bowl, cream together butter, sugar and salt. Beat in egg yolks, followed by vanilla extract. With the mixer on low speed, blend in the flour until the dough comes together.
Step 2: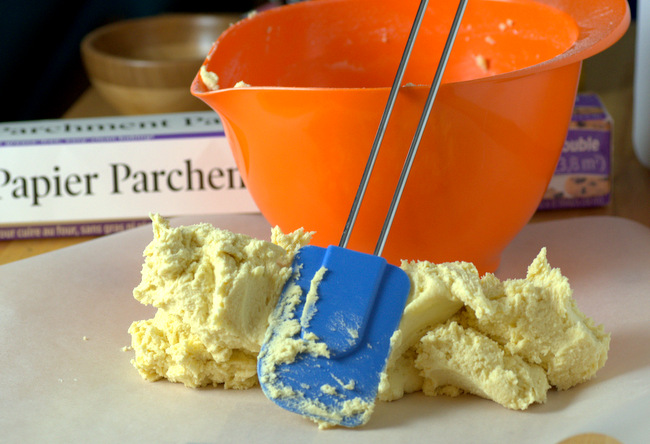 Transfer the dough to a sheet of parchment paper and place a second sheet of parchment paper on top of it. Flatten the dough with a rolling pin until it is roughly ¼" thick. Refrigerate until firm, at least 30 minutes.
Step 3:
Preheat the oven to 350 F. In a small bowl, beat together the egg and water to form the egg wash.
Step 4:
Take the dough out of the refrigerator and even it out with a rolling pin, if necessary. Use a 2½" cookie cutter to cut the dough into rounds and transfer them quickly to the baking sheet.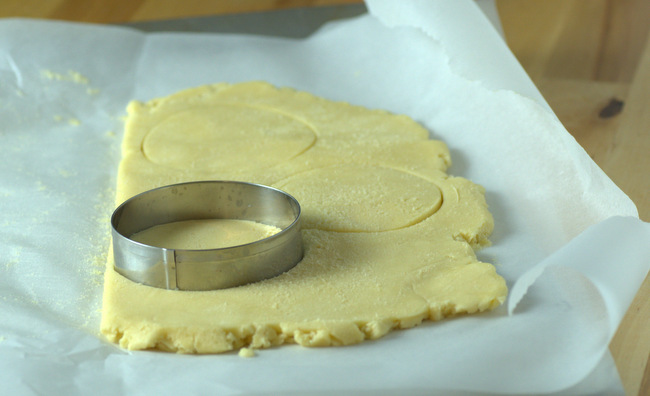 Extra dough can be gathered up and re-rolled, though you may have to chill it between batches. 
Step 5:
Using a pastry brush, brush the cookies with the egg wash.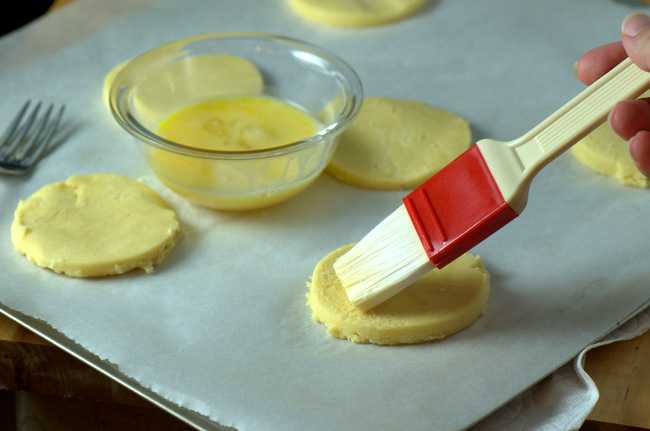 Drag the tines of a fork gently across the surface of the cookie to score the surface.
Step 6:
Bake for 13-16 minutes or until golden brown. Allow cookies to cool on the pan for 2-4 minutes, then transfer to a wire rack to cool completely.