If you think "free and easy" knitting is limited to garter stitch scarves, we have a surprise for you — 14 surprises, in fact! Free can be fashionable and easy can be exciting, as you'll see in these knitting patterns for clothing, accessories, home decor, baby clothes and more.
All these patterns are simple for beginners to follow (and they'll make you look like an expert!). More advanced knitters will find relaxing projects to knit while watching TV or talking with friends.
Photo via Craftsy member RedHerringKnits
1. Tout Boutonné Leg Warmers
These chic leg warmers are knit flat in one piece and then seamed. Ribbing on the calf (hidden underneath the cuff and at the ankle) ensures a perfect fit. The buttons are decorative, which means you don't have to knit buttonholes. You'll just need to know stockinette stitch, ribbing and the waffle stitch, which is an easy combination of knit and purl stitches that you can learn in our FREE guide "Knitting Stitches You Need to Know."
Photo via Craftsy member BeSweet
2. Bamboo Spring Garden Tee
This top is perfect for layering under a cardigan or over a long-sleeved top — and perfect for your first sweater project. The back and sleeves are simple stockinette rectangles knit flat without any shaping. The front is also knit flat, with just a bit of shaping at the neck. Clear instructions are provided for moving the collar stitches to a stitch holder and then knitting the shoulders separately. No picking up stitches is required! Be sure to select a quality DK weight yarn that drapes well to get the most from this simple blouse design.
3. 
Puff Bowl-y
This bowl is knit with a recycled sheet, and the instructions tell you how to make your "yarn" from sheets and then knit the bowl in the round. This is a great first pattern to learn knitting in the round using two circular needles.
4. 
Smart Phone Case
Your phone will be looking smart with this stylish protective case. The dimensions of 4½" x 2¼" will stretch to work with most phones. The pattern is worked in simple seed stitch in fingering weight yarn. Stitches are cast on at the end of rows to create the flaps that are then folded and seamed to construct the case. Great for gifts, the case can also be used as a small clutch.
5. Buddy the Bunny
This 15 inch–tall toy is knit flat on straight needles with simple increases and decreases to create the shape. Add felt, bead eyes and stuffing and you have a cheerful new friend.
6. Zarina Hat
Knit flat on straight needles and seamed, this stylish hat pattern for bulky yarn is so easy you can finish it in about an hour. The wide textured brim is created from knit and purl stitches bordered with garter stitch.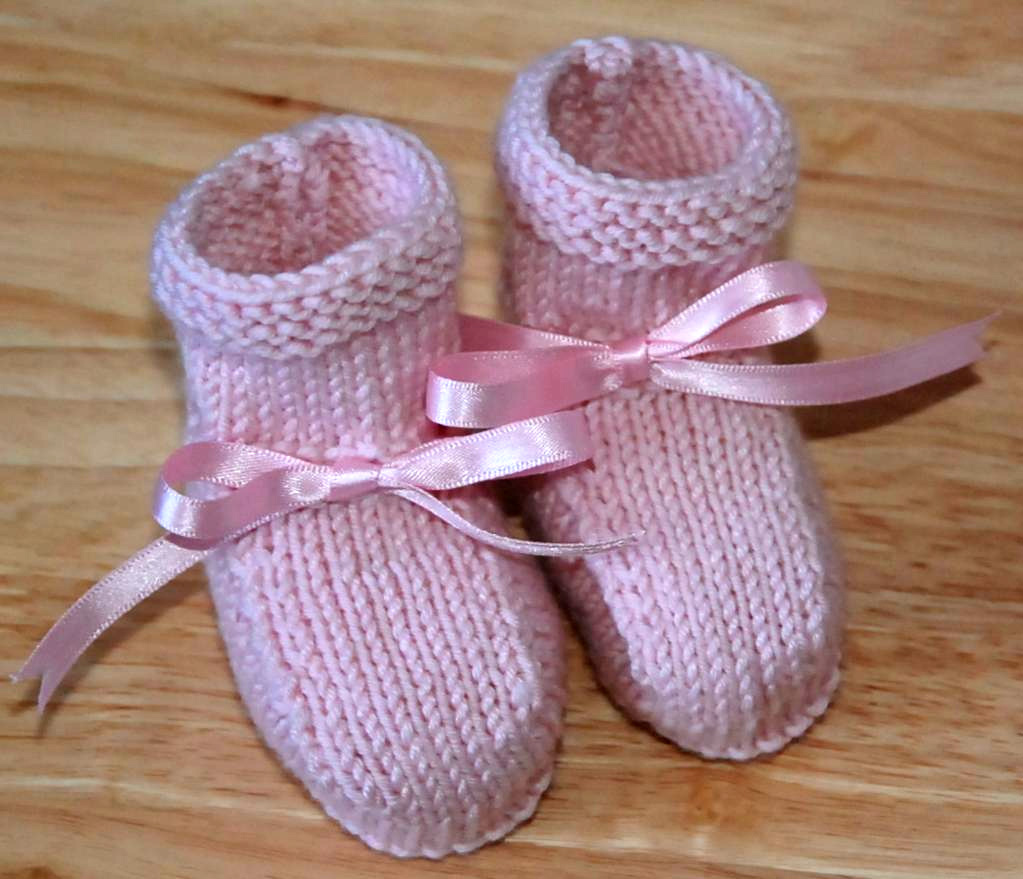 Photo via Craftsy member HayleyUK
7. 
Pretty Simple Baby Booties
A perfect gift for a baby shower, these booties are knit flat in sport weight yarn and shaped with easy instructions. In addition to stockinette, you will need to knit basic decreases, yarn overs and knit through the back loops. 
8. Catherine Jacket
This flowing cardigan is just a large knit rectangle in stockinette with armholes created by seaming. The airy drape is created by knitting a worsted weight mohair blend yarn on size 11 needles, using three different yarn colors in blocks. If this is your first project with mohair, check out these tips for knitting with mohair yarn.
9. Asymmetrical Shawl
This easy pattern is knit in garter stitch with basic increases. A simple 10-row repeat creates the scallop edge and increases the width of the shawl as you go. The multi-color effect is created with self-striping worsted weight yarn. 
10. Boulevard Blanket
A simple repeat of 3 purl and 3 knit stitches creates an subtle striping that's more interesting than plain old garter stitch. Instructions are included for six blanket sizes, though it's easy to make yours larger or smaller
11. Little Lamb Hat
Finally, a hat as cute as your baby and yet super easy to knit! This cuddly baby bonnet is knit flat on straight needles in garter stitch. The ears are knit separately and the pink felt is sewn in. This easy pattern in DK weight yarn includes instructions for sizes 2 months, 2 years or 3–4 years, as well as plenty of photos of the assembly.
12. Very Simple Rug
The name of this pattern says it all! Knit in garter stitch, the pattern is customizable with any yarn you want, as long as it is washable and durable! Though the rug is knit flat, the large number of stitches might be easier to handle with a long circular needle instead of straight needles.
13. Cerus Scarf
This easy pattern creates a sophisticated scarf for the men in your life. The woven texture is created by the linen stitch, which slips every other stitch in two-row pattern. The scarf is worked lengthwise, so there are a lot of stitches to cast on, but after that, it is an easy repeat. Select a subtle variegated or tweed yarn to enhance the texture.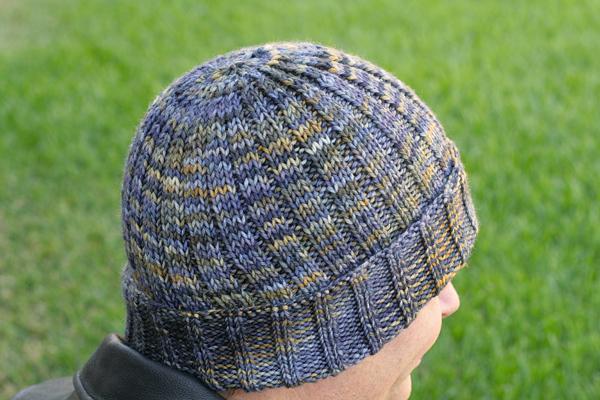 Photo via Craftsy member msmamabear
14. Be Kind Hat
You don't have to worry about exact fit with this cozy unisex beanie because it is knit in elastic rib and worn with brim folded up or down. It's a great first project to practice knitting in the round and to learn how to decrease within a rib pattern.