I always have salsa on hand for snacking, whether I'm snacking by myself at my desk or entertaining friends. Homemade salsa is even more delicious than store-bought, especially when you have top-notch tomatoes and other produce in your kitchen. I make it all the time with a little help from my food processor, which streamlines the vegetable-chopping process and lets you make fresh salsa in no time at all.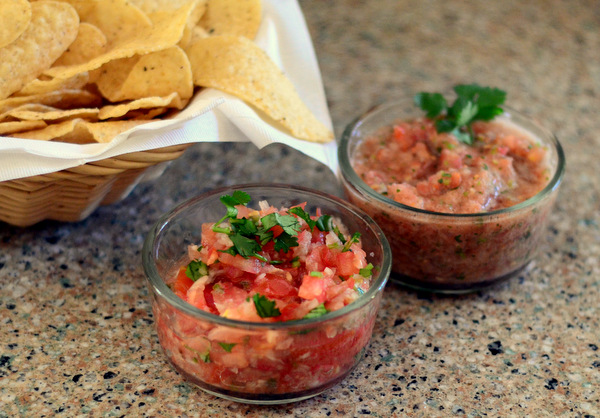 Pico de gallo is a classic salsa fresca, meaning that the ingredients that go into it are not cooked.
Salsa frescas are typically made either by chopping ingredients finely and stirring them together or by pureeing them. Using a food processor allows you to easily make both styles of salsa. For a chunky salsa, you can pulse the ingredients together until they are evenly chopped. For a non-chunky salsa, simply keep the food processor running until the mixture becomes smooth.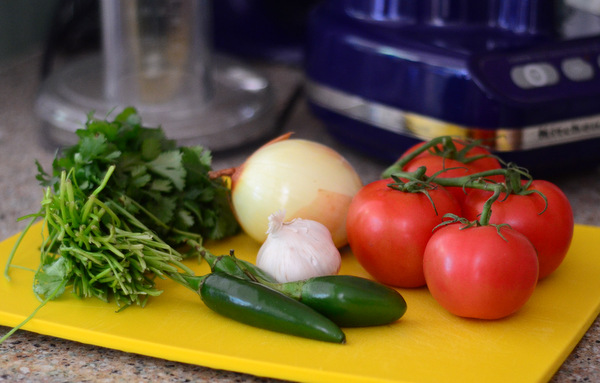 About this food processor salsa recipe
This food processor salsa is made with onions, tomatoes, garlic and jalapeños, though other peppers can be used. Chipotle peppers will give your salsa a smoky flavor, while serrano peppers can make an even spicier salsa. I like the flavor of fresh jalapeños, so I often reach for them when I'm making my salsas. Be sure to remove the seeds and ribs before adding the pepper to the salsa unless you like yours really hot!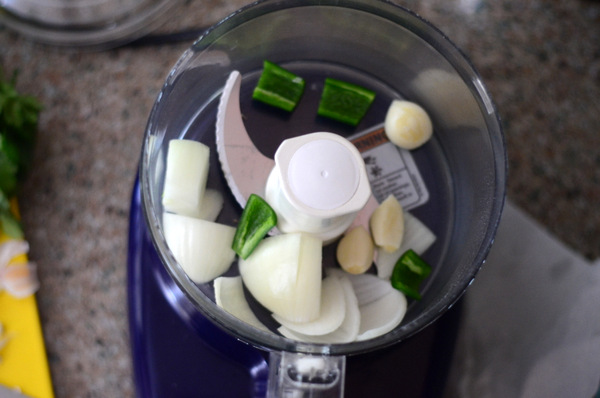 I combine the onions, garlic and pepper in my food processor first and process them until they are very finely chopped.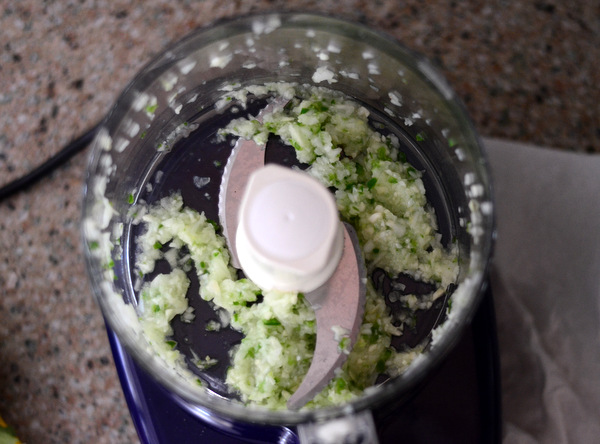 While I don't mind chunks of onion in my salsa, it's not that pleasant to bite into a big chunk of garlic and chopping these ingredients as finely as possible will allow you to build a more balanced pico de gallo.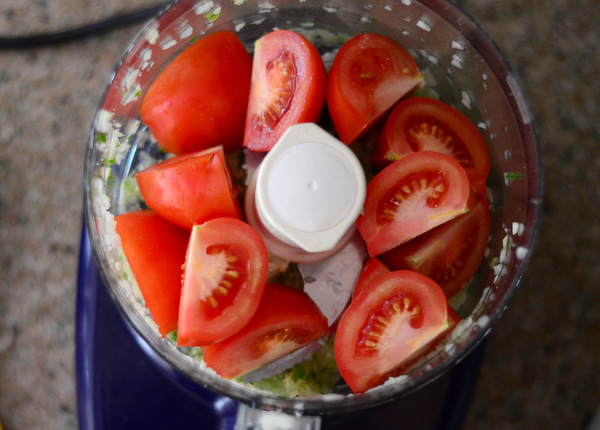 Once the tomatoes are added, I pulse the food processor to chop them coarsely. I also add a squeeze of lime juice, which goes nicely with the other flavors in the salsa. A few pulses is usually all that it takes to get the proper consistency. If you prefer a smoother salsa, one that might be better for drizzling over carne asada or homemade tacos, you can keep the food processor running until the ingredients are smooth.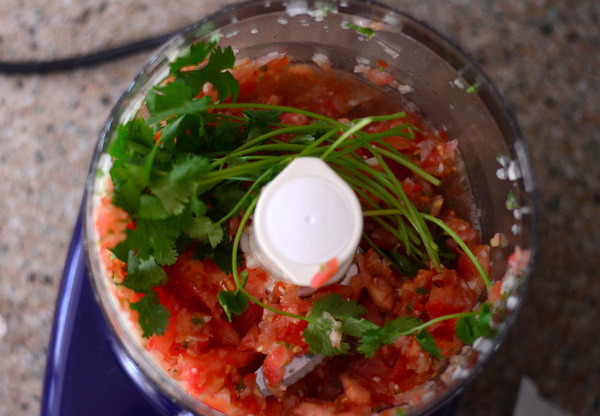 Cilantro isn't a flavor that everyone enjoys, but it is often incorporated into fresh salsas. I happen to like it and will always add a handful to my pico de gallo. If you don't like it, feel free to omit it. I chop the cilantro – stems and all – coarsely and stir them into a chunky salsa, but I'll puree it along with the rest of the ingredients if I'm preparing a smoother salsa.
Food processor salsa
Makes approx 3-4 cups
Ingredients:
16 oz tomatoes
1/2 yellow onion
3 cloves garlic
1/2 – 3/4 medium sized jalapeño pepper
1/2 tbsp lime juice
1/4 cup cilantro, coarsely chopped (optional)
Salt, to taste
Step 1:
Coarsely chop tomatoes and onion. Smash garlic cloves by placing the side a large kitchen knife against them and hitting the knife (carefully) with your hand.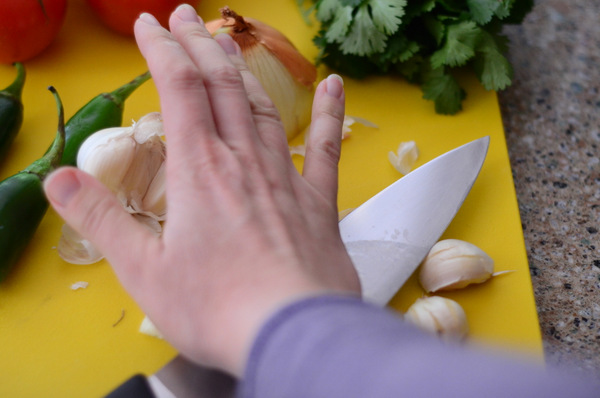 Remove the skin of the garlic. Cut the jalapeño in half and remove the seeds.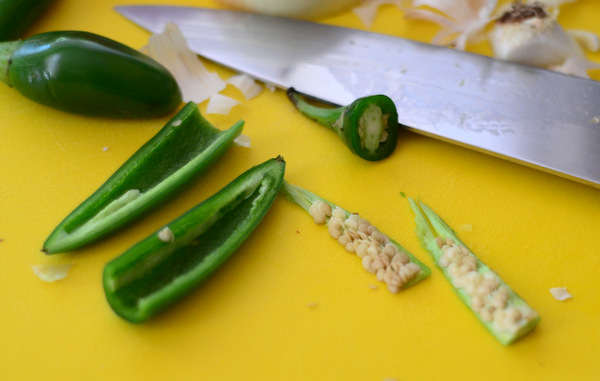 Step 2:
Combine onion, garlic and jalapeños in the food processor. Process until very finely chopped. Add in lime juice, salt and tomatoes and pulse 5-7 times to combine and coarsely chop the tomatoes. Season with additional salt, if using, and stir in cilantro.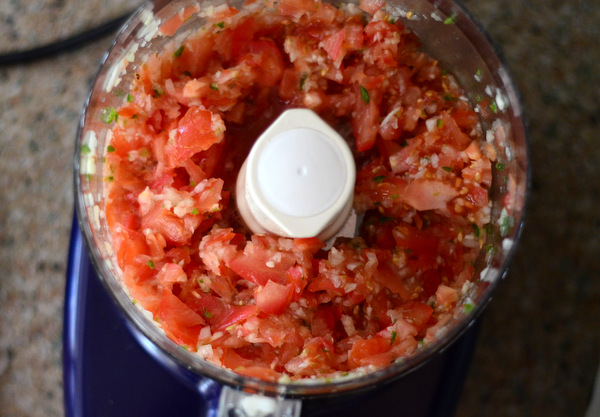 For a less chunky salsa, process the tomatoes with the other ingredients, including the cilantro, until pureed.
Serve immediately or store in the refrigerator until ready to serve. Salsa will keep for at least 1-2 days in an airtight container.