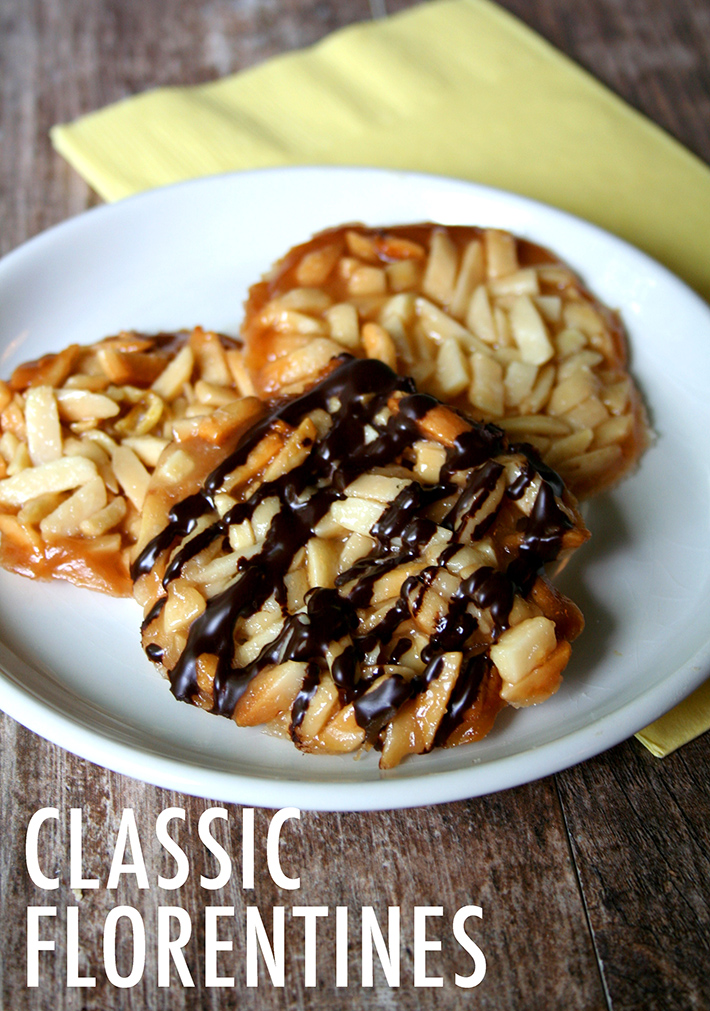 Not quite cookie, not quite candy, florentines are unique, delicious Italian confections. In this florentines recipe, chopped nuts are held together with a thin batter of sugar, butter, honey, citrus zest and just a bit of flour, giving these cookies a delicate, lacy texture.
Learning how to make florentines is an unusual baking project, because they are meant to flatten and spread as they bake. This is usually the opposite of what you want in a cookie, but it's what makes these ones special!
While slim in profile, these cookies are assertive in flavor, with rich, caramel undertones complementing the nutty flavor. They're extra-special when generously drizzled with chocolate (though it's not, strictly speaking, a required step in the recipe).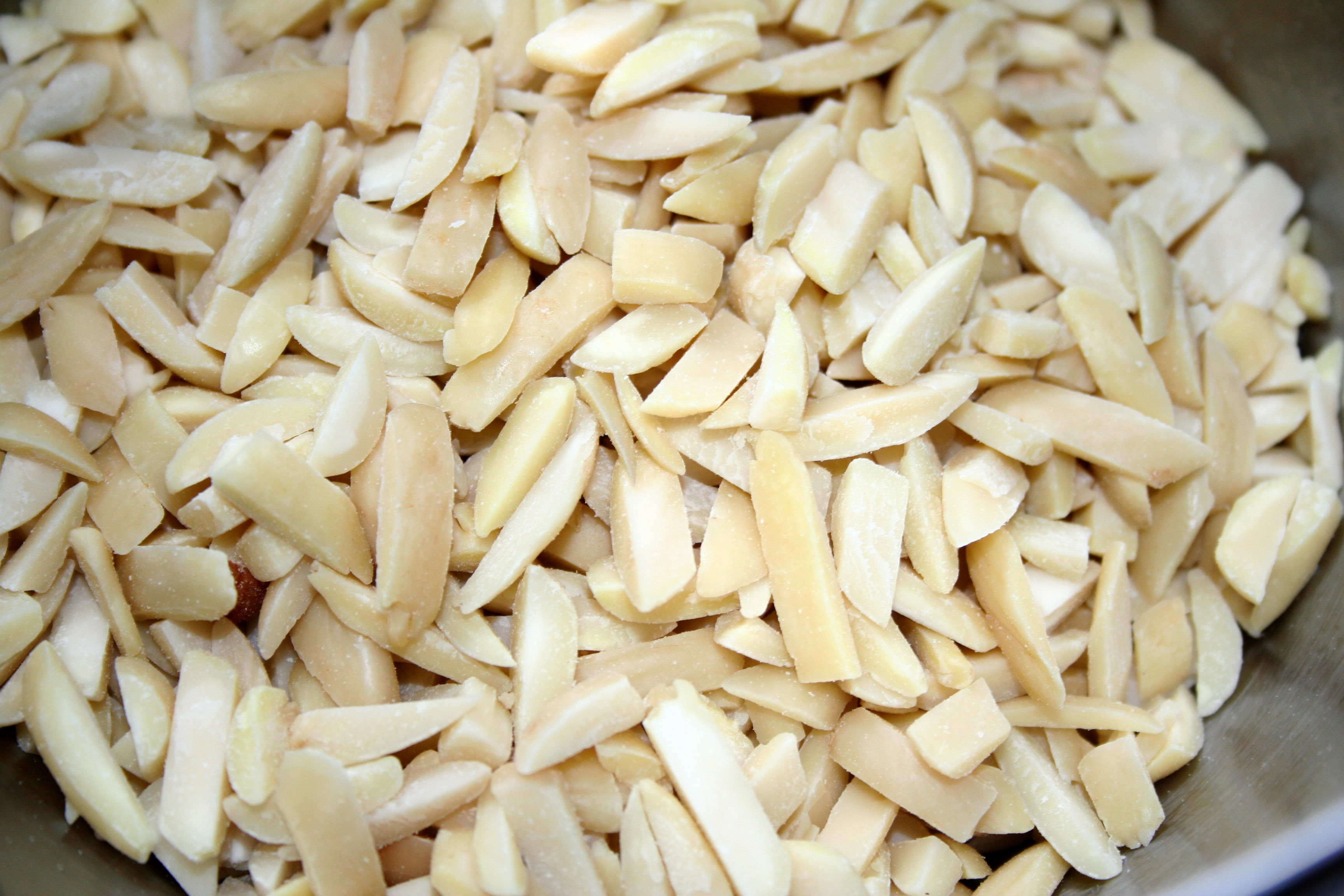 Florentines recipe variations
This basic florentines recipe is open to substitutions. Here are just a few of the ways you can alter this recipe to your liking:
Citrus zest
This recipe calls for lemon zest, but for a different flavor variation, try orange, lime or Meyer lemon zest. 
Nuts
While this recipe uses sliced, blanched almonds, you can choose a different type of nut to tailor your cookie experience. Coarsely chopped pistachios, peanuts, hazelnuts or pecans would all work well. 
The texture of the cookies can be adjusted by chopping the nuts finer or more coarsely, depending on your preference. 
Garnish 
Garnishing florentines with a drizzle of chocolate is a classy way to finish off your cookies. Use high-quality dark, milk or white chocolate to personalize your treats. 
Vegan
This recipe can be made vegan-friendly by substituting olive or coconut oil for the butter and corn syrup for the honey.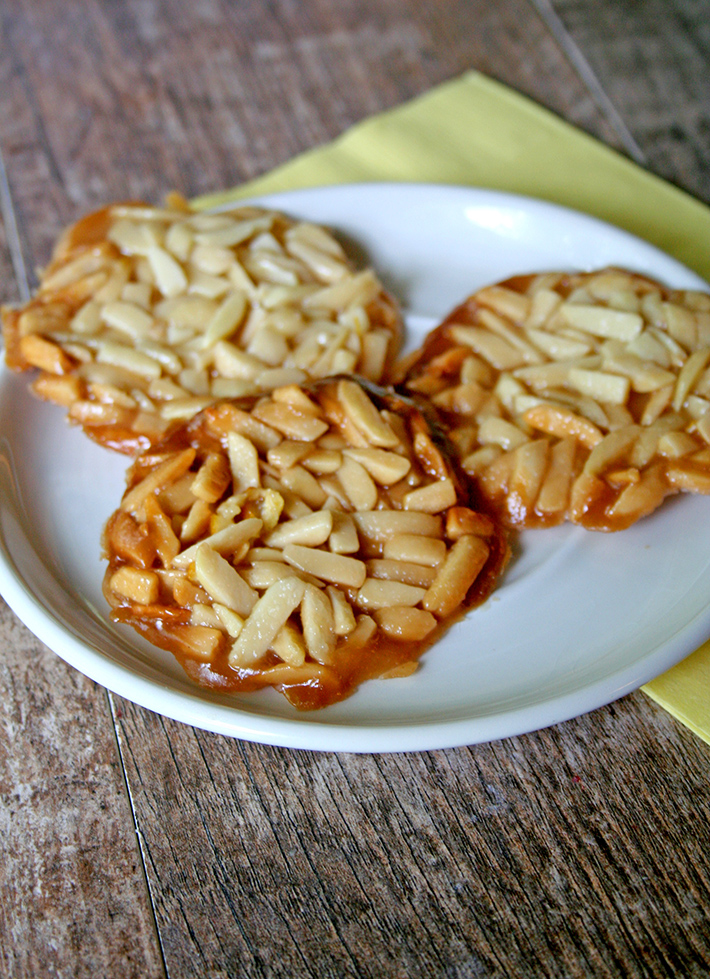 Classic, simple florentines
Makes about 2 dozen cookies
1½ cups sliced blanched almonds
1½ tablespoons all-purpose flour
1 teaspoon finely chopped lemon zest
1/8 teaspoon salt
½ cup granulated sugar
⅓ cup unsalted butter, cut into pieces
1 tablespoon honey
2 ounces high-quality chocolate, coarsely chopped (optional)
Step 1:
In a large bowl, combine the almonds, flour, lemon zest and salt. Stir to combine; set aside.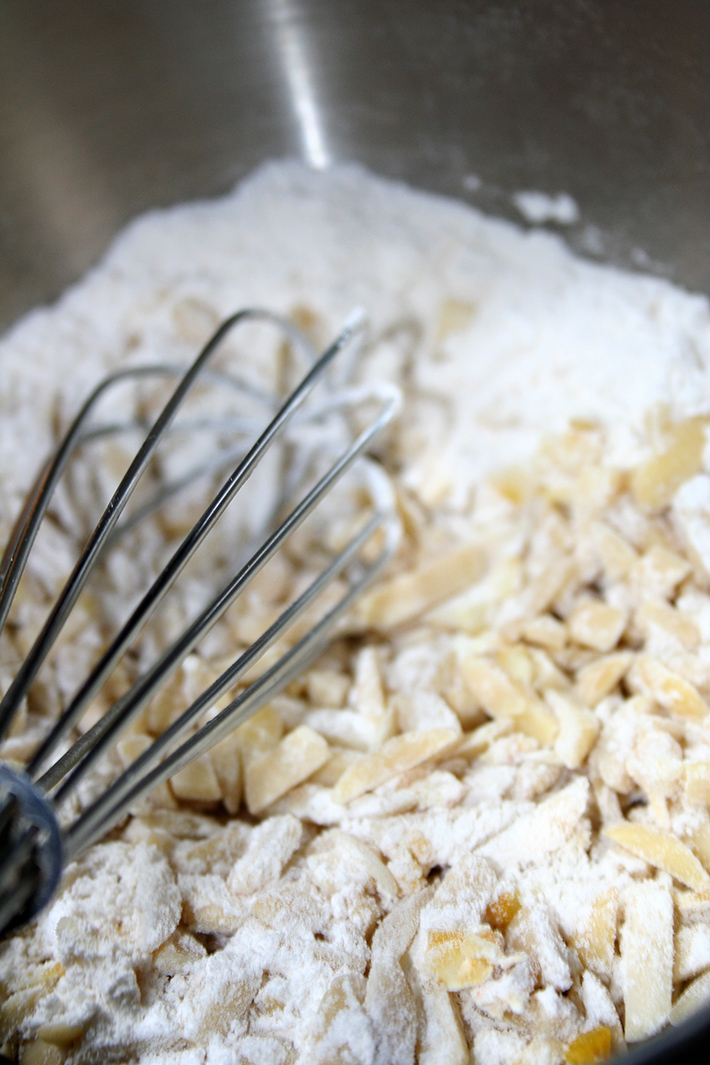 Step 2:
In a large, heavy-bottomed saucepan, combine the sugar, butter and honey. Heat on low, stirring frequently, until the mixture begins to bubble and the sugar begins to dissolve.
Once the sugar is mostly dissolved (it doesn't need to be completely dissolved) and the mixture is bubbling, remove from heat. Add the almond mixture to the pot. Stir to combine; the mixture will be somewhat loose but sticky. Let the mixture cool for about 20 minutes at room temperature, stirring every few minutes.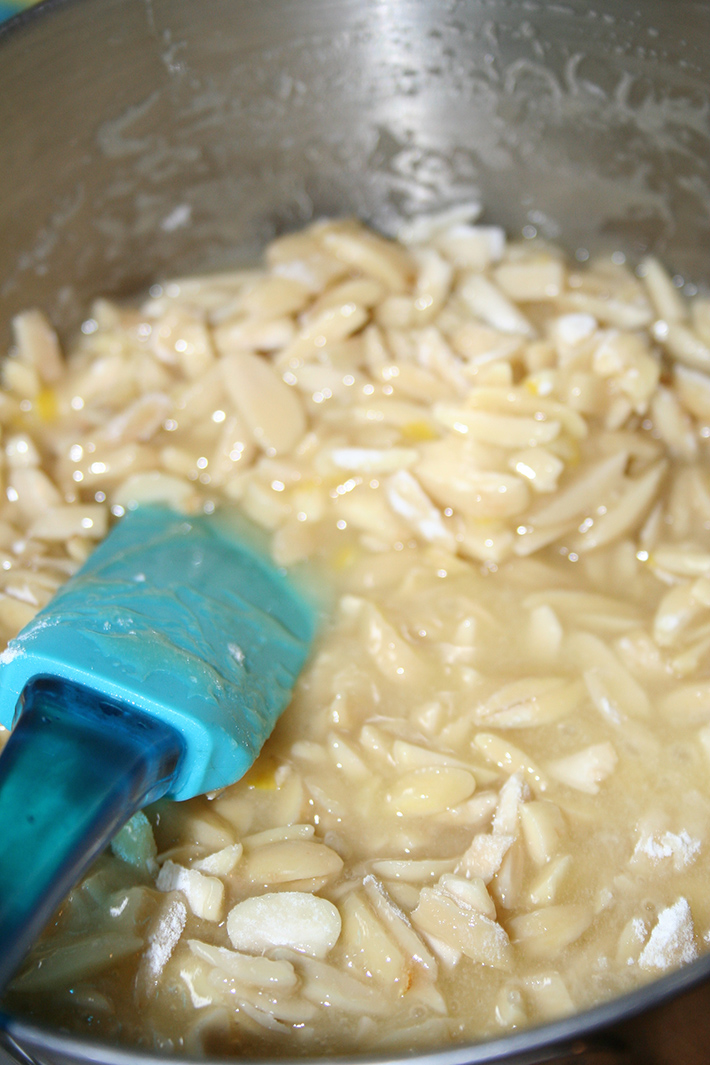 Step 3:
While the cookie mixture cools, position a rack in the middle position of the oven, and preheat the oven to 350 F. Line two baking sheets with parchment paper and set two wire racks out on your countertop.
Step 4:
Once the cookie mixture has cooled (so it's slightly warm to the touch or room temperature), spoon about 2 teaspoons of batter into even, mounds on the prepared baking sheet. Gently flatten each mound of batter.Leave a full 2 inches around each cookie to allow for spreading. Expect to get about 8 cookies per sheet.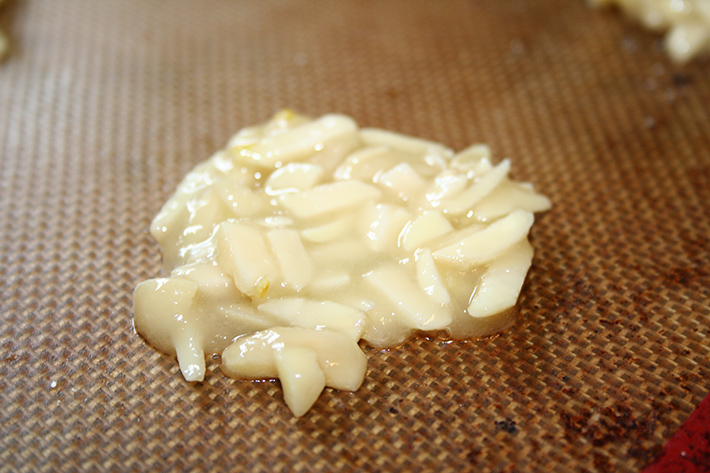 Step 5:
Bake the cookies until golden, flattened and lacy-looking, about 6-10 minutes (keep a very close eye on them). Remove the baking sheets from the oven, and slide the entire sheet of parchment paper (with the cookies right on it!) on to the wire racks. Allow the cookies to "set" for several minutes; they will harden as they cool.
Tip: If your cookies spread slightly more than you like or aren't quite circular, use a rubber spatula to gently finesse the cookies back into shape. The window to do this is very short, when the cookies are just out of the oven and still quite soft, but it is very effective.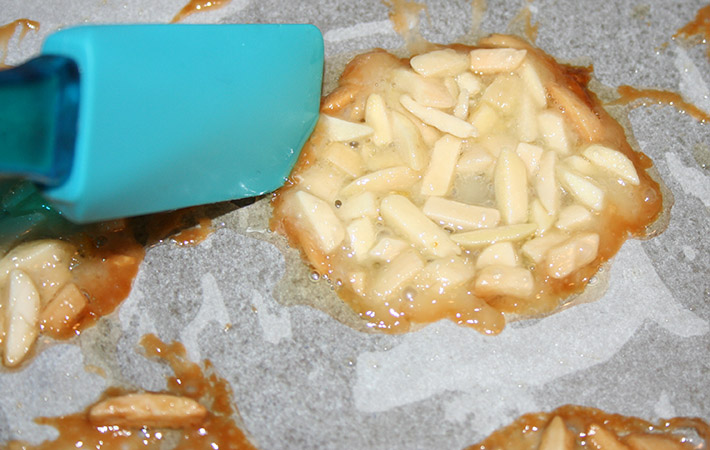 Step 6:
Repeat baking with the remaining batter, using fresh parchment paper for each batch. Let the cookies cool completely before proceeding.
Step 7:
When you're ready to garnish, melt the chocolate in the top of a double boiler or in the microwave. Drizzle on top of the finished cookies.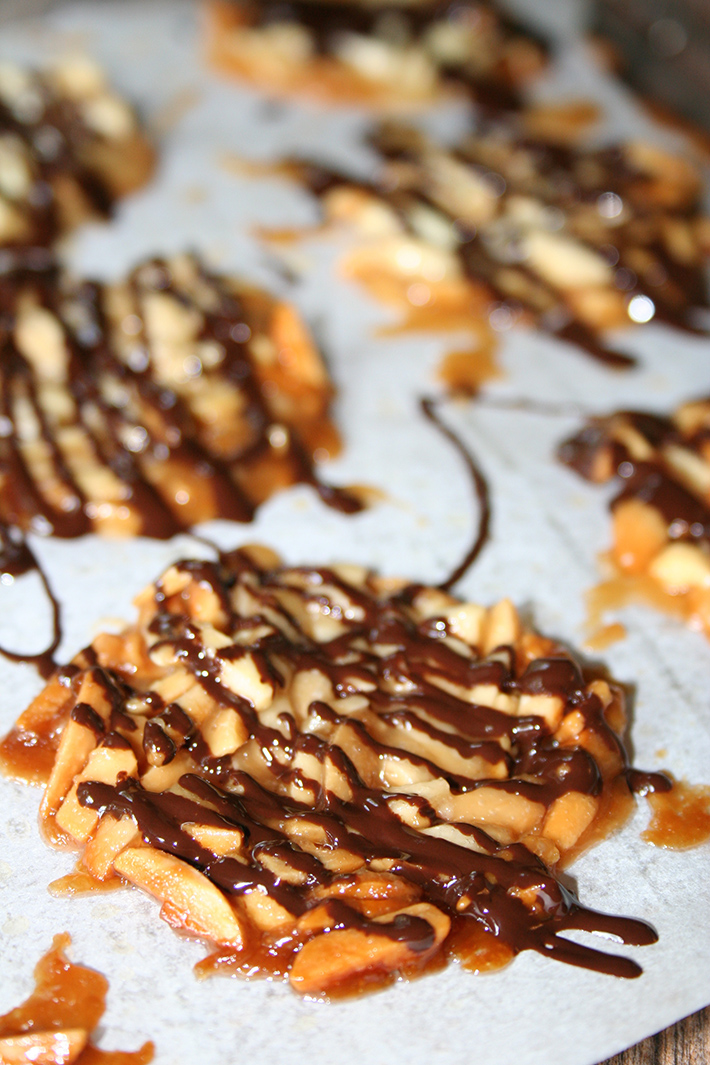 Store leftover cookies in a single layer (or in layers divided by parchment paper) at room temperature for up to 1 week. The cookies can also be frozen for a month, though it's best to add the chocolate drizzle after defrosting the cookies for best results.
Is it all about the cookie for you? Increase your cookie knowledge with the Craftsy class Rose's Heavenly Cookies. From cookie basics to an all-star roster of recipes from rolled cookies to slice-and-bake creations to cookie confections, this course offers the ultimate cookie education.