Fall is a good time to get that garden planted that you never got around to in the spring. No matter what style of gardening you practice, or what zone you are in, fall plantings give you the opportunity to expand your garden options. From vegetables to trees and shrubs, there's still time to tuck in many plants to enjoy this year and to get ready for next year. Let's all get out there and grow the gardens of our dreams with these fall planting tips.
Planting fall vegetable gardens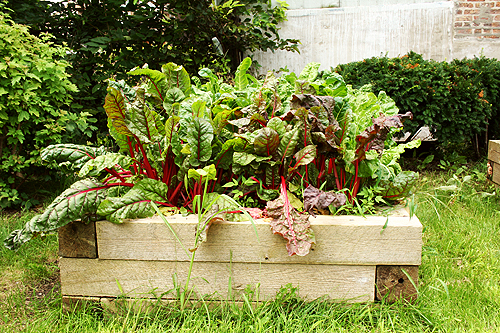 Fall planting of Swiss chard
Unless you live in Southern states, it is too late to plant tomatoes, but there are still a lot of vegetables and herbs that give you a second chance at a garden harvest. Check out the recommendations for fall vegetable plantings in our second season sowing post.
Basically, determine the day of the first frost in your zone. Everything you plant in the fall should be ready to harvest before the day of your first frost to ensure a harvest. A lot of people think that kale, collards and Swiss chard taste best when they have been touched by frost, so do not stress too much if these are not harvested before the first frost.
Fall is also a good time to get some garlic in the ground. If you are not interested in extending the fall garden season, plant a cover crop. Cover crops, also called green manures, are just plants that you grow over the fall and winter in your plots and raised beds. Some cover crops are spaded into the soil, while others cover crops have their green tops removed and only the roots are left behind in the soil.
In colder zones you can plant cover crops like alfalfa, white clover, purple vetch, wheat, oats and lupines that are turned into the soil in spring. In Zone 7 and warmer, plants in the legume family can be used to fix nitrogen into the soil. Plant crops like cowpeas, bell beans, or hairy indigo, lupines and purple clover.
Fall planting in ornamental gardens
Plant discounted perennials like coneflowers
There's no reason why edible gardeners should have all the fall planting fun. Fall is a great time to add more plants to the garden no matter what zone you are in. As mentioned in our post on 5 easy landscaping ideas for gardeners on a budget, trees (decorative and fruiting), shrubs and perennials are usually heavily discounted at garden centers in late summer and early fall. The soil has been warmed all summer long and it is a perfect environment for roots to establish themselves in. If attracting pollinators and wildlife to your garden is your goal, plant coneflowers, as they attract bees and butterflies and the seeds feed birds in winter.
Decorative container gardens
When summer flowers have faded away, there is still an opportunity to decorate your garden for fall. There are plenty of hardy chrysanthemums, ornamental cabbages, kale and pansies that can fill in the bare spots left behind by summer's faded blooms.
Planting spring bulbs in fall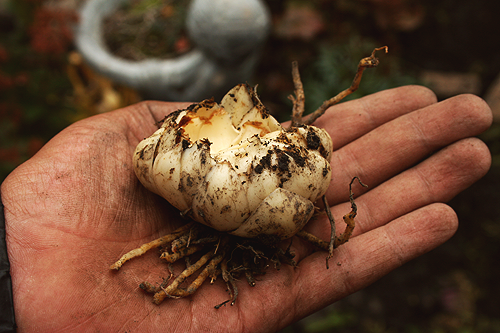 Lily bulb ready to transplant
Nothing makes it feel like spring has arrived more than some cheery tulips and daffodils. If you want spring blooming bulbs, fall is the time to go out into the garden and bury a bunch of bulbs. Tip: Plant more than you think are necessary to account to losing some to squirrels. It is also a good time to plant and transplant summer blooming bulbs like these lovely lilies.
Planting grass
By the time you have finished all your fall planting tasks, you may have some bare or funky patch of grasses. Fortunately, fall is also a good time to plant grass seed. The warm soil and cool air are good for establishing new grass. Take this time to eliminate weeds manually in your lawn, then filling in the bare spots with grass seed and have your lawn reseed by the middle and end of September.
I also like to plant seeds in the fall for perennials and biennials in the garden. The normal freeze and thaw cycle of winter does a good job is winterizing seeds so they germinate in the spring. I simply take the seeds and seed heads of perennials and plant them directly in the ground where I want them to grow in subsequent years.
For vegetable gardeners, fall planting is a way to extend the last of the season and have homemade ingredients available into winter. Ornamental gardeners can take advantage of fall plantings to expand their gardens and add plants that maybe spring budgets didn't allow. No matter your garden budget–or your garden style–there is something you can add to your garden in the fall that will enhance it in the spring and summer.
What's your favorite thing to plant in the fall?