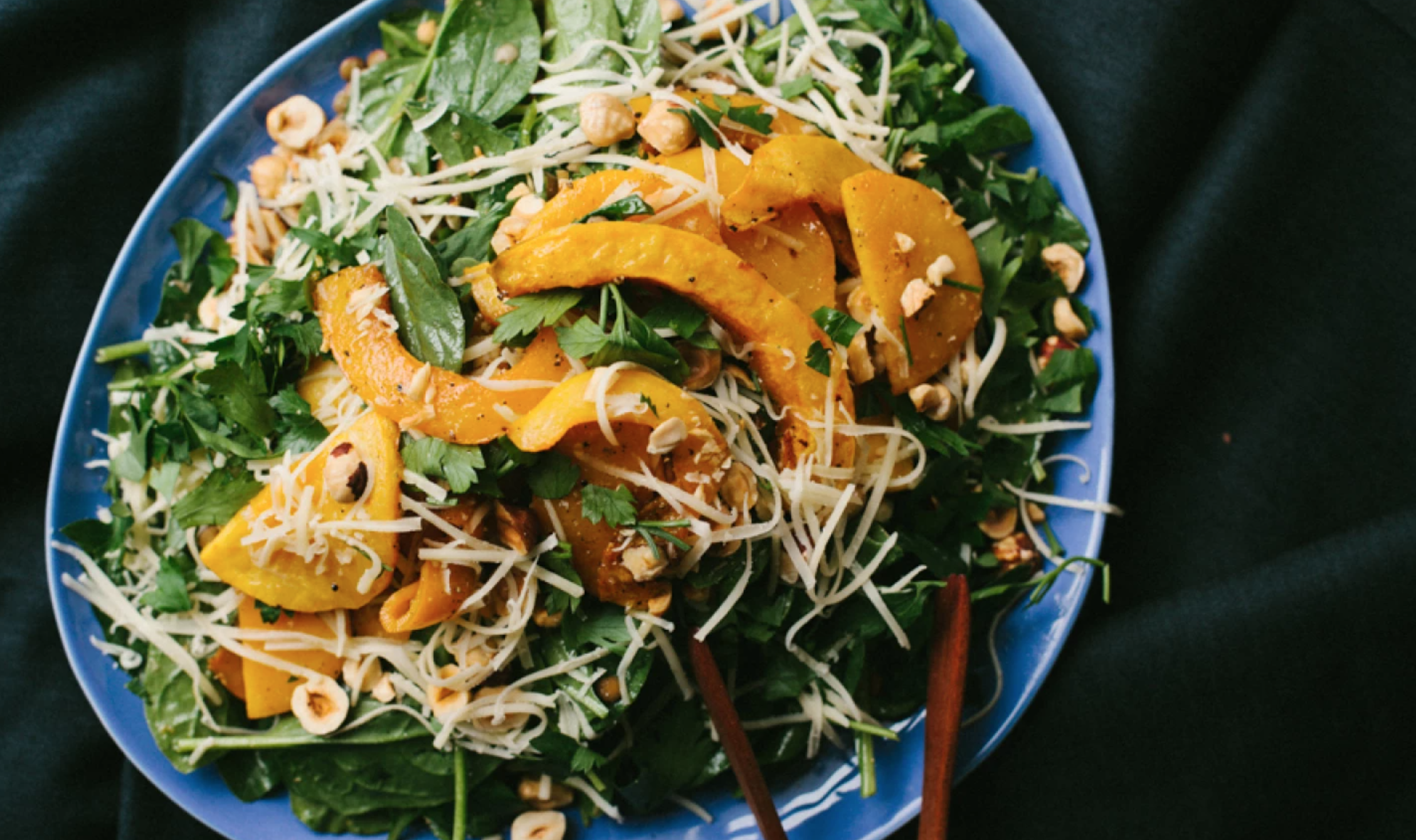 It's official: fall is here. I know because I just roasted a squash. And of all the many rituals that mark the change of seasons, this one seals the deal for me. Once you roast a squash, there's no going back.
I'll be honest, sometimes my love of butternut squash is threatened by the tough task of hacking into its thick skin. This is no easy-prep vegetable. But it's so worth it; pre-packaged and peeled squash just can't compare to the flavor and texture of the kind you prepare yourself.
Here's how to get it done: peel the squash with a vegetable peeler until the deep orange flesh appears. Then lop off the top and bottom and slice slice right through the middle, long-wise. Clean out the seeds with a spoon, then lay the squash cut-side down on a board and slice it up.
Once you've finished that task, the rest of the work on this salad is quick and easy.
Maple Roasted Squash and Lentil Salad
Yield: serves 4
Maple Roasted Squash
½ small butternut squash peeled, seeded and sliced
2 tablespoons olive oil
¼ teaspoon kosher salt
¼ teaspoon black pepper
1½ tablespoons maple syrup
½ teaspoon orange zest
Instructions
1. Preheat the oven to 425 F.
2. Toss the squash with the olive oil, salt, black pepper, maple syrup and orange zest.
3. Roast in the oven for 25 – 30 minutes, until it's tender throughout and parts have become golden and crisp. You can place the roast squash on the salad while warm, or prep ahead and serve at room temperature. Both ways are delicious!
---
Dressing
Yield: about ½ cup
1 garlic clove, minced
1 teaspoon fresh thyme leaves
2 teaspoons honey
2 teaspoons Dijon mustard
2 tablespoons Champagne vinegar
¼ cup extra-virgin olive oil
Kosher salt and pepper to taste
Instructions
1. Whisk together garlic, thyme, honey, mustard and vinegar.
2. Continue to whisk while pouring in the oil until well combined. Alternately, you can combine all of the ingredients in a jar and shake until well blended. Add salt and pepper to taste.
---
For the Salad
2 cups cooked lentils
4 ounces (about 5 cups) fresh spinach
⅓ cup chopped hazelnuts, toasted
⅓ cup finely grated Gruyère
2 tablespoons chopped parsley
Instructions
1. Toss the spinach and lentils with the dressing and place on a large platter.
2. Top with the hazelnuts, Gruyère and parsley, then finish with the roasted squash.
3. Serve immediately.