So, you've decided to sew a slipcover – but where do you start? Since you may be investing significant time and money into this project, you should begin by taking a moment to determine the correct fabric for your needs.
Amazingly, there are only two important things to keep in mind when selecting the perfect slipcover fabric for your needs! 
Photo via Linda Reynolds
Ask yourself:
Will this piece of furniture be in a low or heavy traffic area?

Will this piece need to have a casual or a formal look?
Once you have determined your answer to these two questions, check out the 5 categories below to find out which type of fabric meets your needs best. 
Compare these five fabric options: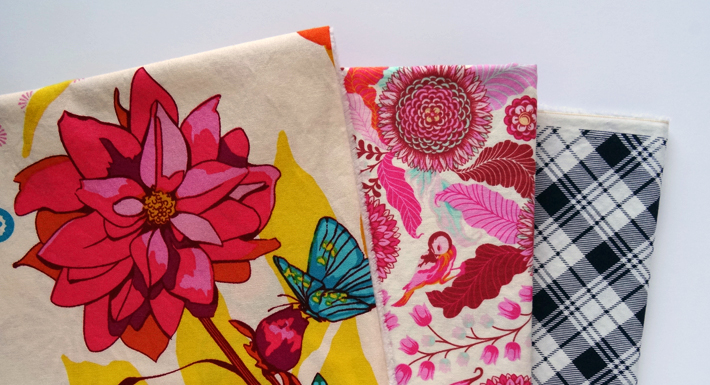 Quilting cotton
The myriad of prints and patterns available in quilting cotton make it a desirable place to begin your slipcover fabric search. Though it has enough stretch and drape to create a great slipcover, quilting cotton is not extremely durable as a slipcover. This makes it a good choice only in very low traffic areas. 
Quilting cotton is lighter weight, so a dark or very patterned fabric underneath may show through more easily. Pre-washed or not, your slipcover will tend to wrinkle and stretch with use, so it is best used when you want a casual look, and will not likely last past one or two seasons of wear.

High quality silk/wool blend
This type of fabric is great for a more formal, low traffic project — one in a formal living or dining room, or a special chair in a guest room. The silk gives the fabric shine and the wool is hard wearing. Since it needs to be dry cleaned, the fabric will keep its crisp, tailored look. But be careful, dry cleaners are not always able to remove stains, making it best for areas with limited access for pets and children.
There are lots of prints to choose from, and you will need to find a specialty shop to ensure you are purchasing a good-quality product. 

Linen-cotton blend
Linen-cotton blend slipcovers are a popular choice. When washed the linen becomes soft and comfortable with a natural wrinkle, a great casual option. Unwashed linen will stay smoother and flatter, though they will still wrinkle with use. Unwashed linen will require dry cleaning, where as washed linen can be cleaned at home. 
Choose a medium weight linen with a tight weave for durability, and take extra care to finish your edges when sewing to prevent fraying.

Canvas, cotton duck, twill blend, medium weight denim
Canvas, cotton duck, denim and twill blends are by far the most common choices for slipcovers. They are very durable and can be easily washed at home. There are many options available and these options can generally be found at your local fabric shop, not a specialty store. This also makes them a great budget-friendly option.
Make sure you search out good quality fabric, low-quality versions can pill and wear quickly when washed frequently. Light colours could cause the prints underneath to show through, a good thing to check before buying your yardage. 
Since these fabrics are thicker, make sure your sewing machine can stitch through multiple layers before buying them. A typical seam could include two top layers, cording and one or two bottom layers.

Exterior or coated fabric
For extra stain-resistance you might want to try an outdoor or coated fabric. These fabrics are generally very durable and have a water and/or stain-resistant coating. If you would like an extra layer of stain resistance on a regular fabric, you can purchase spray-on products like Scotchgard at your local fabric or hardware store.
Go shopping!
Now that you know what type of fabric works for your slipcovers, you can start the fun part – looking for that perfect fabric! Keep in mind, that a patterned or solid fabric will affect how long your project lasts. A bright pattern or trendy print is a better short-term or seasonal option. Whereas a solid colour is best for long-term projects because the finished piece will stay current longer. With solids you can use accent/throw pillows to change your style quickly and easily.