English paper piecing is a classic technique that continues to thrill modern day quilters. It is one of those beloved quilting practices that can be incorporated into so many different kinds of projects. Need a quick refresher?
English paper piecing (commonly called EPP) is the technique of wrapping fabric around a paper piece to stabilize and form a specific shape. More often than not, hexagons are what first comes to mind when addressing this topic. The fabric is basted around pre-cut paper shapes and then sewn together by hand, usually with a whipstitch or a ladder stitch. After the pieces are all sewn together, the foundation papers and bastings stitches are removed. This is a fun and simple way to create complex blocks. For more information and detailed directions on how to English paper piece, check out this post.
What is so great about EPP? Here are just a few reasons why people love it!
Accuracy: Since the small pieces are sewn together by hand, the accuracy of EPP is very great. Precision piecing and tricky seams (think Y or set in seams) are easily obtainable through this technique.
Portability: With just a little bit of prep work, English paper piecing hand work is easy to take along with you. Once you collect the necessary components, they can be packed up and carried anywhere you go! It is the ideal project for sewing on the couch, in the yard, and on road trips.
Scraps: Many EPP projects are comprised of little pieces of fabric. It is the perfect way to use up those small scraps you can't let go of!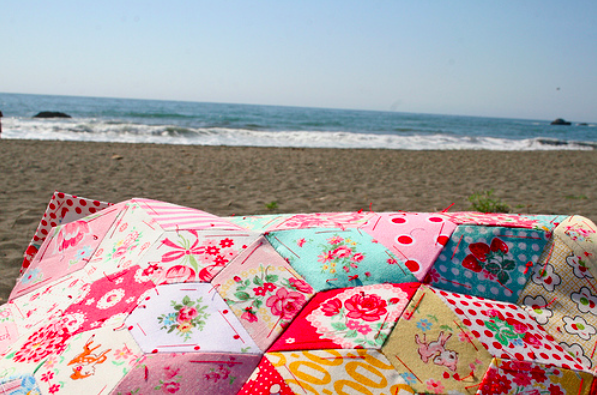 6 point stars by sewdeerlyloved
You are sold on the wonderfulness of English paper piecing…now what? Time to decide on a pattern and project! There are so many options available, so let's take a look at just a few inspiring EPP designs to get you started.
Hexagon Patterns
The classic hexagon is likely to be the most well-known and popular EPP pattern. Piece hexagons in the timeless Grandmother's flower garden pattern, or arrange them randomly in a pattern that is pleasing to the eye. The pillow above is an example of this.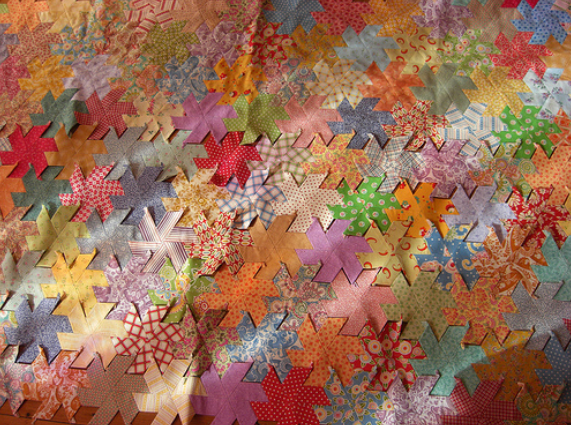 Hexagon pinwheel by flossyblossy
To create each pinwheel in this stunning quilt, Brioni Greenburg made three hexagon paper templates, cut them in half to form six-half hexagons, covered them with fabric, then sewed them together. The finished quilt consists of 1700 English paper pieces, all made on the train during her work commute.
Inspired by a fellow bloggers quilt, Clare created her own version of the Rose Star block using English paper piecing. She printed out hexagons, cut them into kite and petals shapes, wrapped them in fabric, and sewed them back together to form her Rose Stars. Be sure to click on the photo to find directions and a quilt along for this project!

Spring Carnival by I'm a Ginger Monkey
For more EPP inspiration, be sure to check out the work of Katy Jones. She often shares her love of English paper piecing over at her blog, including templates to piece the Spring Carnival block above. Check out more of her EPP projects right here.
Whether you are new to English paper piecing or ready to take your piecework to the next level, check out Quick & Easy English Paper Piecing. Here you will learn how to accurately piece and assemble hexagons into a myriad of stunning designs.