With the holidays quickly approaching, it's that time to send out cards to your friends and family. Of course, you can always buy your cards at the store, but wouldn't it be more special to make some of your own? Today, we're going to do just that.
Use embroidery on cards to give your holiday cards some extra pizazz!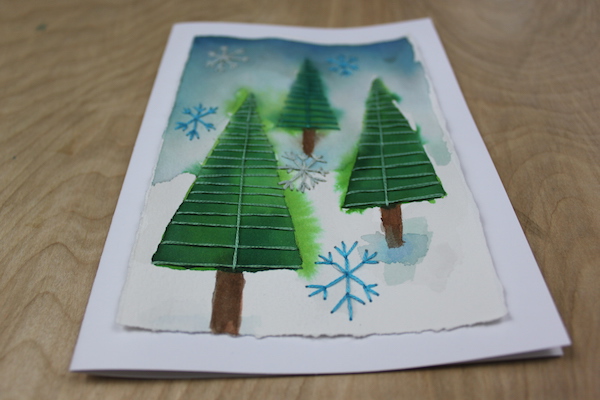 Our main focus today will be on stitching. Specifically, designs that create a unique 3-D element to a 2-D surface. But before that, I want to discuss the type of image you'll want to use.
Maybe you have a photograph that you took and want to sew on top of that. I think that's a great idea! There's another alternative, though, and that's to create your own drawing, painting, or collage. Since I don't have a photograph, I'm painting my own picture and embroidering over it.
1. Craft a holiday scene.
What do you think of when you imagine the winter? Hot cocoa? Evergreen trees? Santa claus on the roof? I thought about it, and I came up with idyllic snow-covered scene. Here's my sketch (I love sketching!):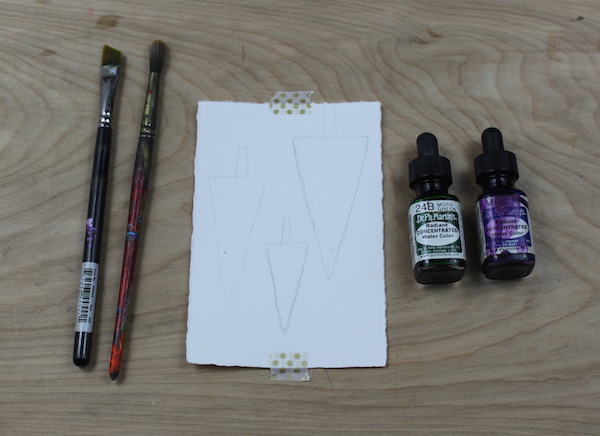 I'm using inks and keeping my style loose, employing one of my favorite ink techniques – wet on wet. To do this, I brush water over an area of my paper and then apply ink to it. The pigment instantly spreads on its own and creates lovely, diffused edges.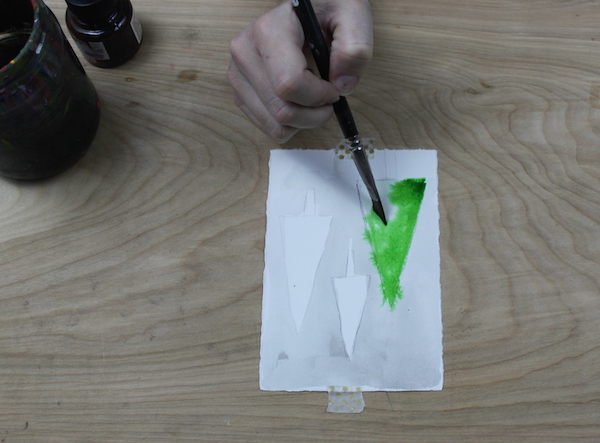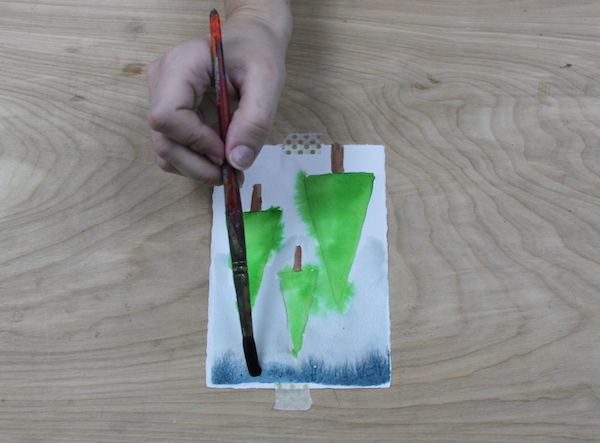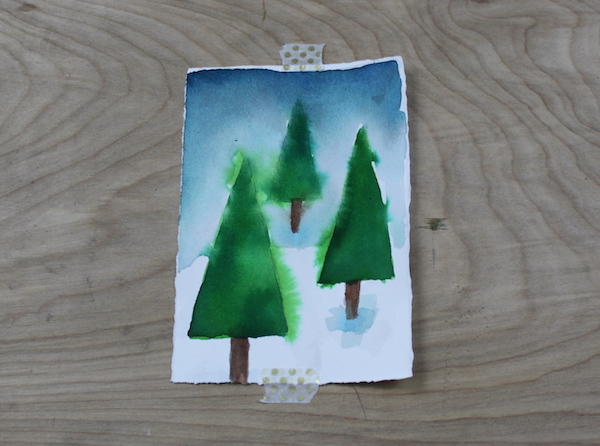 This 4" x 6" painting is pretty small. I'm going to attach it to the card later, so be sure to keep size in mind with your image. How big will it be compared to your card?
2. It's time to embroider!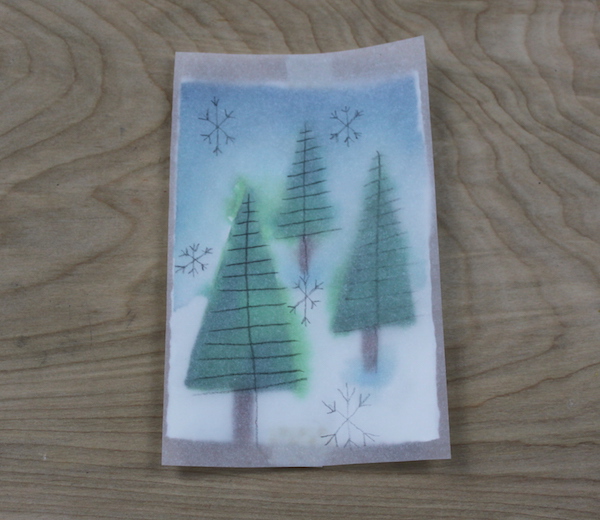 My painting has dried, and I can start stitching. Before I do that, though, I'm putting a piece tracing paper over my image and sketching where I wanted the threaded designs to go. Embroidery on paper is unforgiving, so the mantra of "measure twice, cut once," is applicable here. Decide where you want to poke holes so you won't make any mistakes later.
Once I'm comfortable with my design, I'll use it as a guide for where to start. Since I'm making snowflake patterns, I scattered them over the sky and the trees. Using an unthreaded needle, I poke the holes for one snowflake.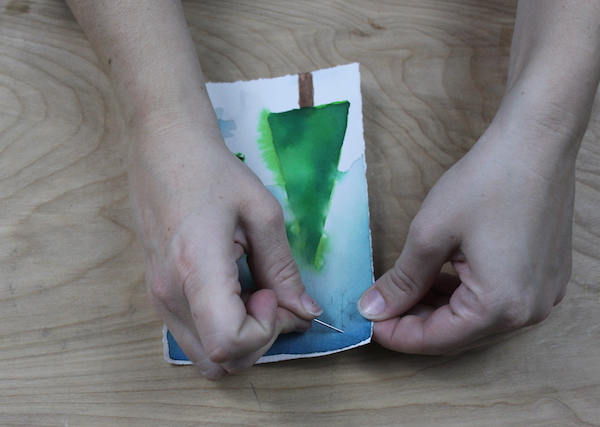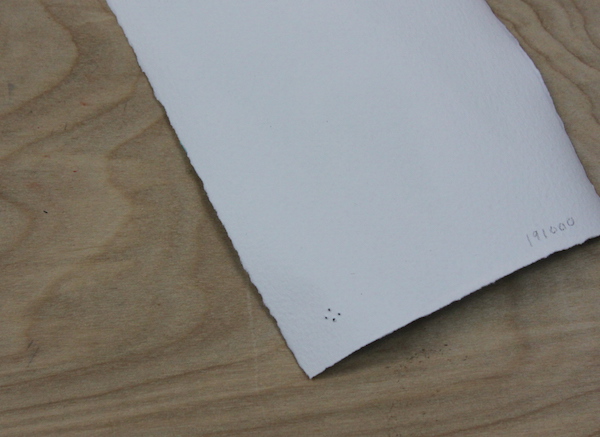 Tip: Don't make your holes too close together, or you'll have a large hole and your thread won't stay in place!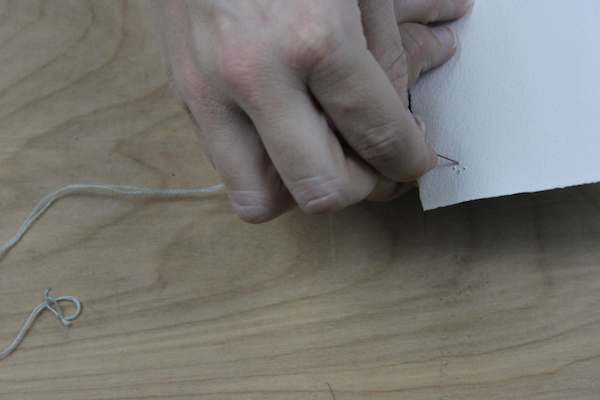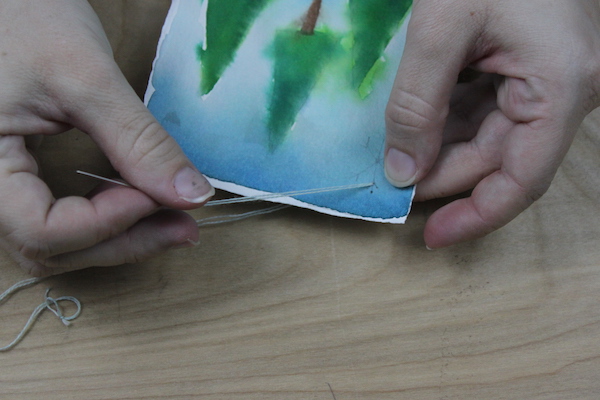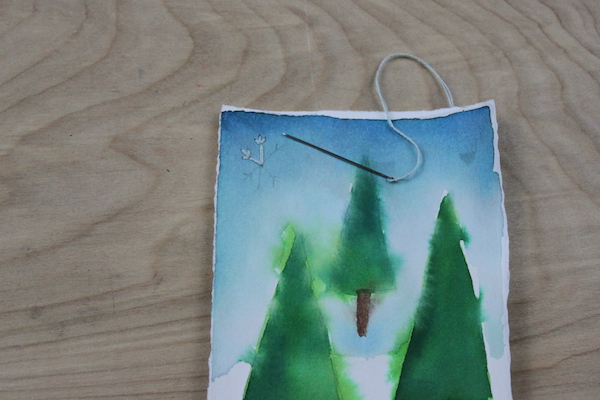 I threaded the needle using 100 percent cotton floss and started playing connect the dots, only instead of a pen, I used a needle and thread. Do this until you've completed your design. It doesn't need to be over the top — just enough to give a fun accent to your image. What if you used sparkly thread?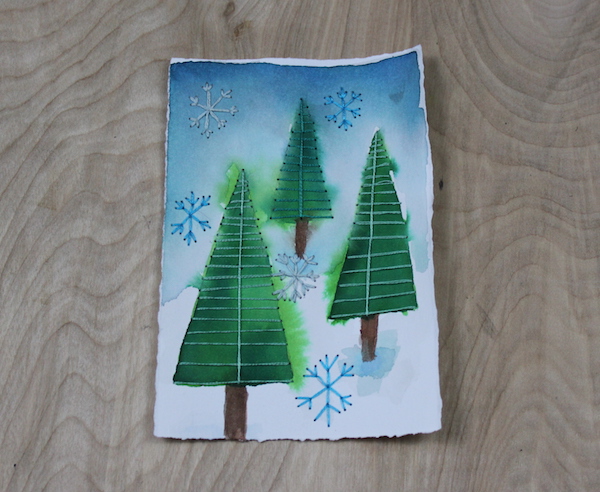 3. Attach your image to a card.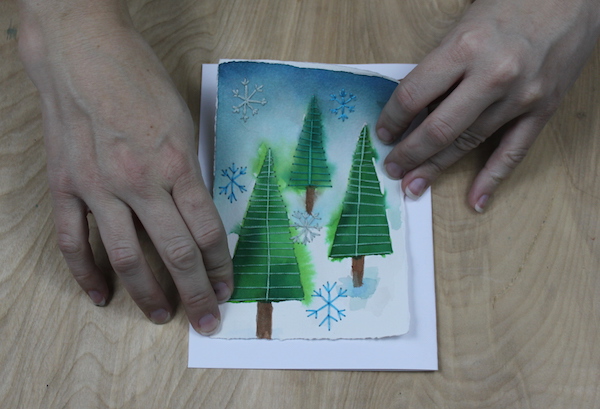 Once I finish embroidering, I'm not done yet. I still need to assemble the card! This part is easy. Just take a piece of paper and fold it in half, being mindful of the size and potential border. Since my painting was 4" x 6", a 5" x 7" card will give it a half-inch border all around. Maybe you want more of a border, maybe less. It's up to you!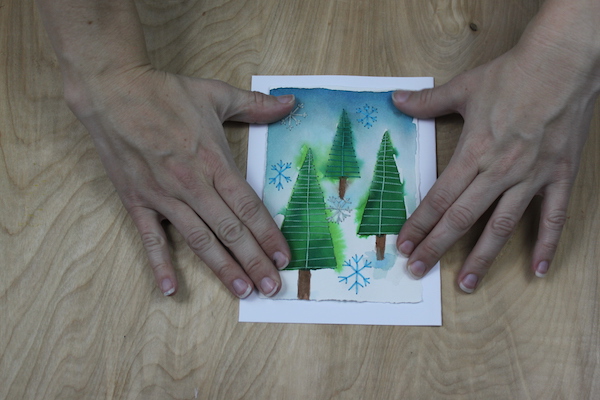 I'm using Zots, strong, adhesive glue dots, to attach my artwork. You can find them at your local craft store. Tape and glue will also work.
4. Spread holiday cheer!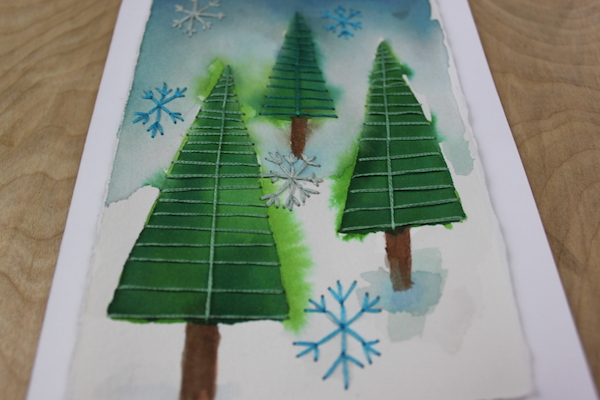 Congratulations, your card is done! Write a special message in it and spread the good cheer.
Have you ever embroidered on a card before?