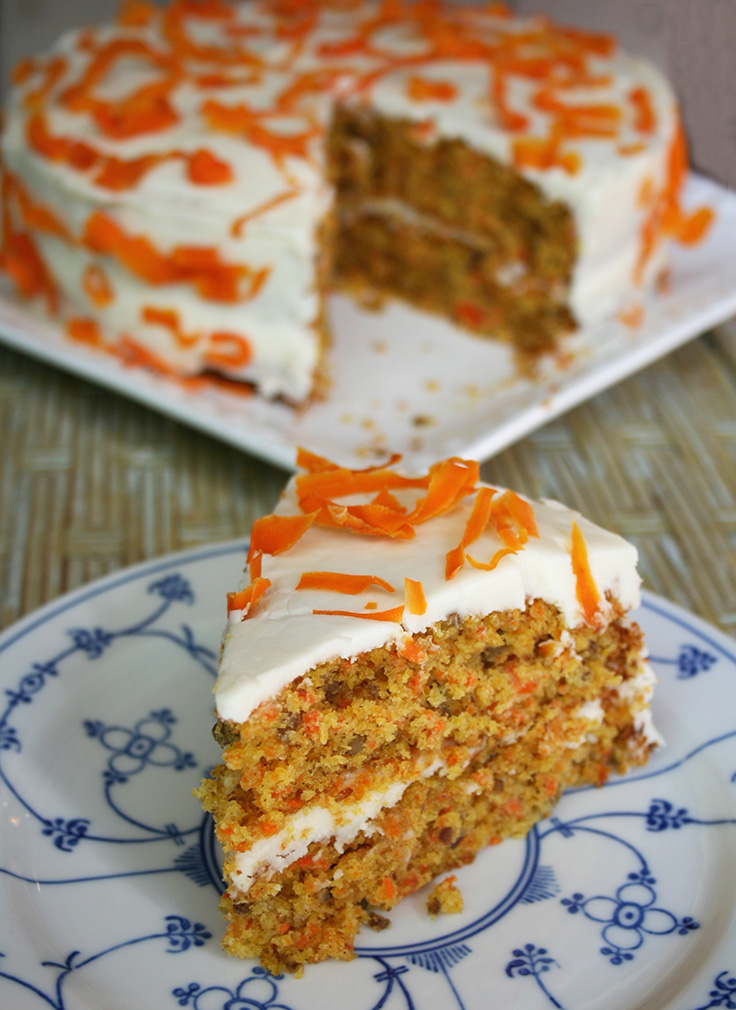 Hearty, subtly spicy and topped with cream cheese frosting: there is so much to love about carrot cake. And while it's an Easter staple, you definitely don't need to save it for the holiday — especially when it's this easy to bake.
Easy Carrot Cake
Yields: two 9″ cakes
Adapted from The Secret Lives of Baked Goods
Ingredients
For the Cake
2 cups all-purpose flour
1 teaspoon baking soda
1 teaspoon baking powder
½ teaspoon salt
2 teaspoons cinnamon
3 eggs
1 cup plus 2 tablespoons vegetable oil
1 cup granulated sugar
½ cup light brown sugar, packed
2 teaspoons vanilla extract
3 cups grated carrots
1 cup chopped toasted pecans
½ cup raisins (optional)
For the Cream Cheese Frosting
½ cup butter, softened
8 ounces cream cheese, softened
1 teaspoon vanilla extract
4 cups confectioners' sugar
Instructions
1. Preheat the oven to 350 F. Prepare your two 9″ cake pans by greasing and flouring them and line the bottoms with parchment paper.
2. In a medium bowl, sift together the flour, baking soda, baking powder, salt and cinnamon. Set aside.
3. In the bowl of a stand mixer, combine the eggs, oil, sugar, brown sugar and vanilla. Beat on low speed for about 30 seconds, then turn up to medium for about 2-3 minutes, or until combined and lightly frothy.
4. Reduce the speed to low and add the flour mixture in 2-3 increments, pausing to scrape down the sides of the bowl with a rubber spatula with each addition.
5. Stir in carrots, mixing on low speed until combined. Fold in the toasted pecans and (if using) raisins.
6. Pour an even amount of batter into each of the prepared pans and bake for 35-45 minutes, or until a toothpick inserted into the center of the cake comes out clean. Let the cakes cool in pan for 10 minutes, then turn out onto a wire rack, remove the parchment paper and let cool completely.
7. While the cake cools, prepare the cream cheese frosting. Cream the cream cheese and butter in the bowl of a stand mixer on medium speed until completely combined and fluffy. Stir in the vanilla and 2 cups of the confectioners' sugar. Mix on low speed, pausing to scrape down the sides of the bowl. Add the remaining sugar and mix until the icing has reached your desired consistency.
8. Once the cake is cooled completely, place one flat-side up on a serving platter. Spread ½-¾ cup frosting on top. Place the second cake, flat-side up, on top.
9. Apply a thin crumb coat to the cake and let it chill in the refrigerator for 10 minutes.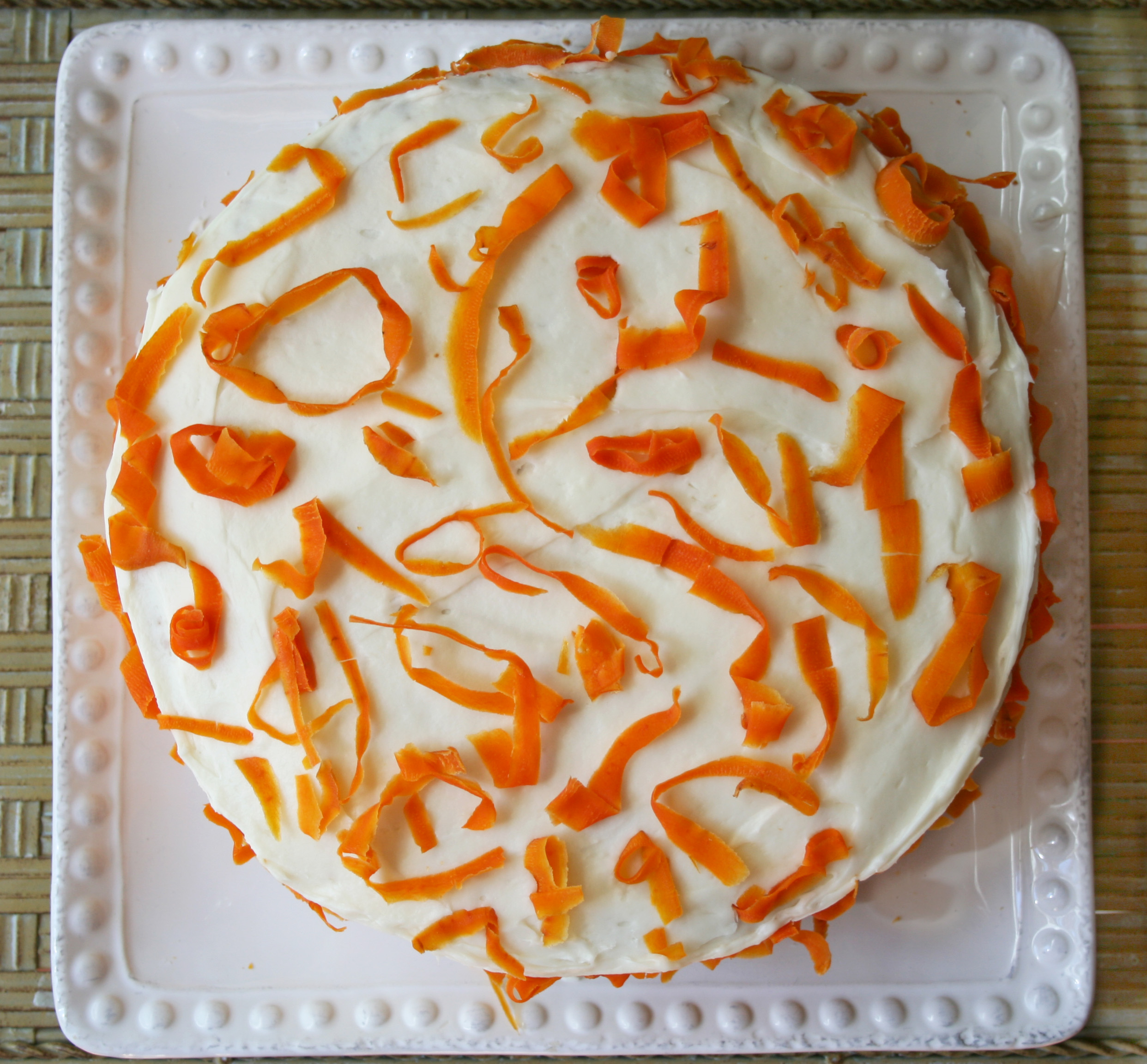 Apply the final layer of frosting to the cake top and around the sides, then decorate however you want! We topped ours with candied carrot peels.