The Dresden Plate is a classic quilt block that continues to thrive in popularity. It can be effectively made in both traditional and contemporary fabrics. Patchwork and appliqué work together to create stunning works of art.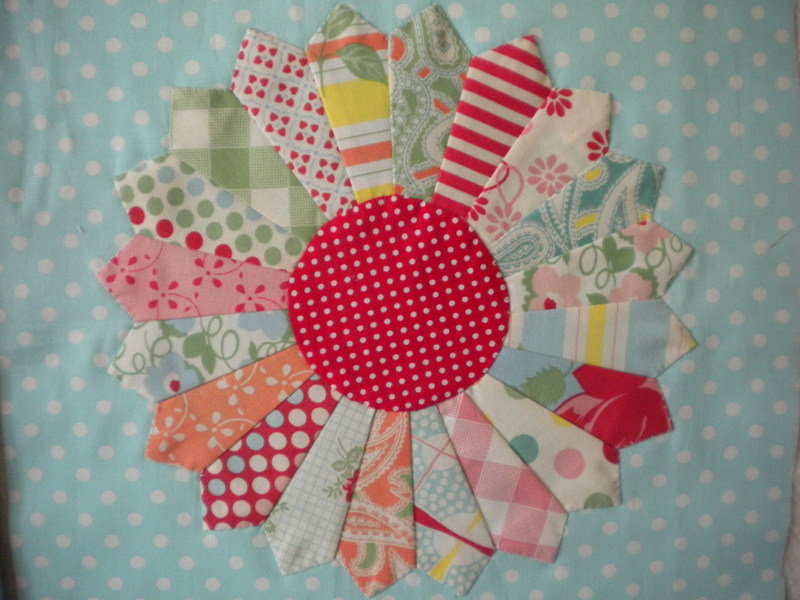 Photo via Sherri McConnell
A brief background on the Dresden Plate
This block has been around for centuries and was originally named after the German city of Dresden. The popularity of the Dresden Plate went through the roof in the United States during the 1920s and '30s. At that time, it was often sewn with feedsacks and solid fabrics. This block was known by many different names back in the day, including Sunburst, Friendship Ring and Sunflower, among others.
There are three main components to a Dresden plate: a circle, petals (or blades) and background fabric.
The petals have flat sides that are sewn together into a large circle and then appliquéd onto the background. Once joined, they radiate out from the center. After that step is complete, the circle is appliquéd directly on top of the petals. This is the traditional layout of the Dresden Plate block, and there are many variations. The petal shape is one of the most common places to see variation. Oftentimes you will see the ends of the blades finished into a point or a curve. Sometimes the edges of the blade are left alone and form a smooth circle when sewn together.
Though they are formed by the same basic components, the Dresden Plate is a versatile block that can be sewn in many different designs.
Here are few beautiful projects that showcase this block and its numerous possibilities.

Photo via Katy Jones
A traditional layout and striking fabrics were used to create this remarkable Dresden Plate quilt. The pointed plates and circles were machine appliquéd onto a solid background fabric.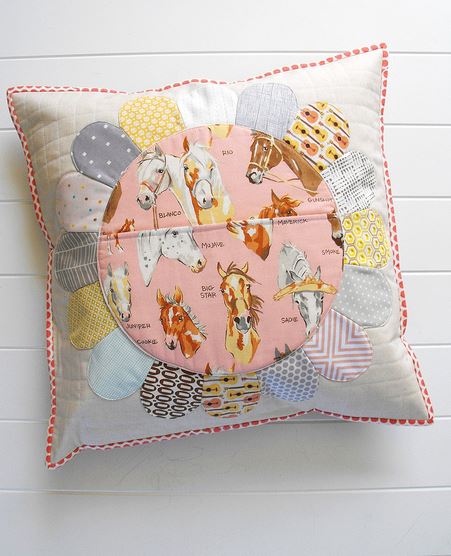 Photo via Fussy Cut
If you aren't ready to commit to an entire quilt comprised of Dresden Plates, then you should give this pillow pattern a try! The charming Petal Pocket and Pillow Pocket pattern by Nova Flitter will teach you how to make Dresden Plates with both rounded and pointed ends. The finished object is the sweetest pillow, which has a quilted pocket hidden in the center of the Dresden Plate. The pocket is fully lined and ready to be stuffed with small toys and treats!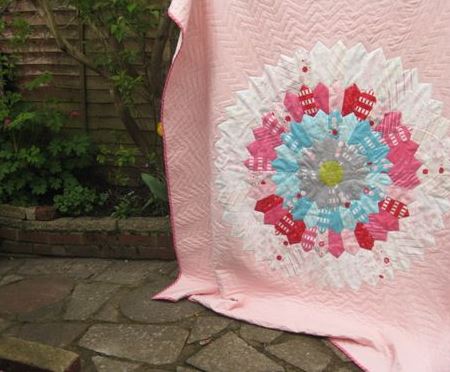 Photo via Aneela Hoey
The Bloom quilt by Aneela Hoey is a stunning display of Dresden Plates. Blades upon blades are layered to create this beauty. The finished Dresden Plate along with negative background space and radiant quilting makes for an eye-catching work of art.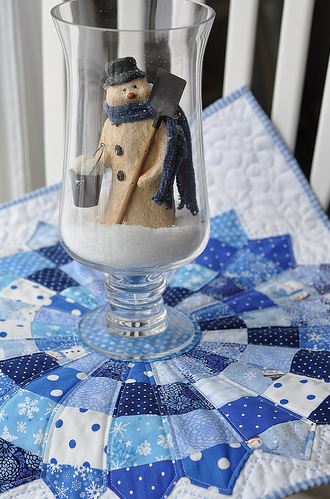 Photo via Jodi of Pleasant Home
Switch up regular Dresden blades with pieced ones. Jodi of Pleasant Home created this seasonal snowman mini quilt out of blades that were cut from strip-pieced fabric rather than individual prints. The bit of extra work is well worth it when the outcome is this lovely!
Have you ever made a Dresden Plate quilt?