Sometime during the late 1800s, fabric bags began to be used for the transport of grains and other staples in the United States. It was easier to transport these products in fabric rather than in wood and metal grain storage containers.
Early bags were made with white cotton and often bore a mill logo. Soon, those bags were manufactured using popular dress prints. It didn't take long for industrious women to realize these bags could be used for many household projects once their contents were used, and they started using these feedsacks for quilting.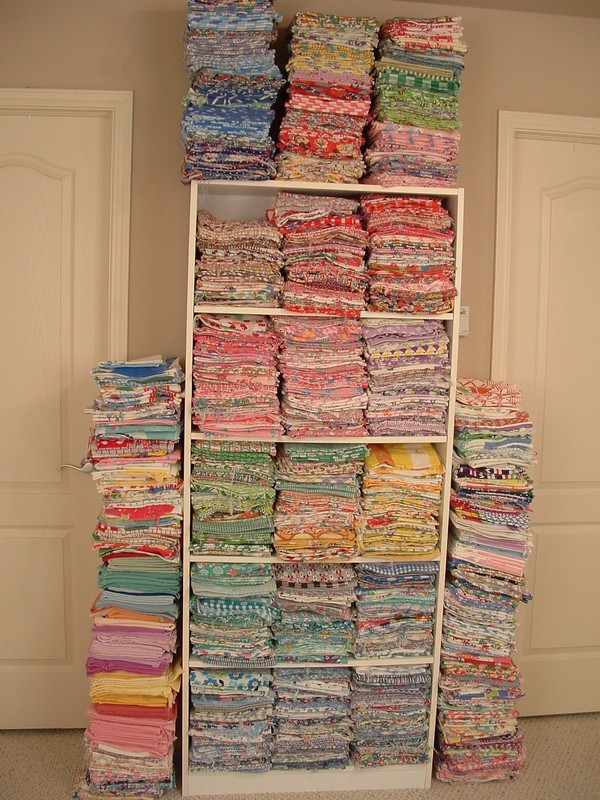 The word "feedsack" often makes quilters think of small prints and floral designs, however, there were actually a wide variety of fabric styles produced in the cotton bags.
Medium florals, large florals, polka dots, stripes, plaids, solids and toile designs were manufactured. Themed prints for gardening and kitchens were common, along with hankie and border print feedsacks as well.
Some feedsack prints were designed for specific seasons and months, and there were even prints highlighting different geographic areas.
Pop culture was not ignored by the feedsack fabric manufacturers either — it's possible to find Disney-themed feedsacks, including Alice in Wonderland, Mickey Mouse and Donald Duck. A Gone with the Wind was even created!
The fabric from these bags was used to make clothing, quilts and items such as dishtowels and aprons, up until the early 1960s, when most of the fabric bags were replaced with paper ones.
Not only were wonderful feedsack quilts created during this era, but feedsack quilting continues to be a popular trend today.
Many quilters now collect these feedsacks from the past to use for their current projects. They can be found in antique shops, flea markets and on the Web through eBay and Etsy shops.
Glenna Hailey is a quilter, author, designer and feedsack collector who has created many beautiful designs with these feedsack fabrics from earlier days. Her delightful book, Sugar Sack Quilts, gives basic historical information on these quilts, offers tips for sewing with vintage fabrics, and also includes quilts and patterns created with feedsacks.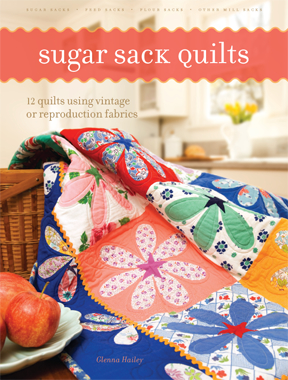 Hearts and Flowers, seen below, is a quilt design from Sugar Sack Quilts. This pattern is perfect for showcasing feedsack fabrics and is easy enough for a beginner to work on. Feedsack fabrics can be used for the setting squares as well as for the easy appliqué hearts.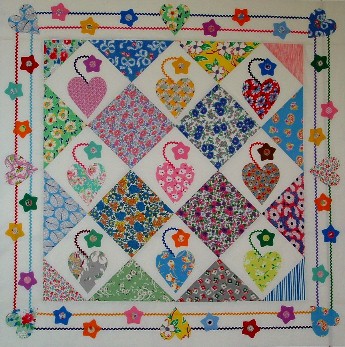 Rickrack Baskets, also from Sugar Sack Quilts, is another quilt design perfect for feedsack quilting. All of the baskets and setting triangles in the quilt can be cut from feedsacks, making this a delightful feedsack quilting project.
Kaleidoscope, below, is another feedsack quilting project designed by Glenna Hailey. This quilt design perfectly showcases a variety of feedsack prints. This pattern features 25 blocks, but the quilt can be made larger or smaller depending on the number of blocks you choose to make.

If you love learning about historical quilts, you'll also enjoy our posts on sampler quilts of yesterday and today and Dear Jane quilts.
Feedsack quilting is a delightful way to use vintage fabrics. Which feedsack quilt would you like to make?