To artists, the term negative space refers to the area surrounding the object, or subject, of an image. This could refer to a light or dark background with or without symmetry.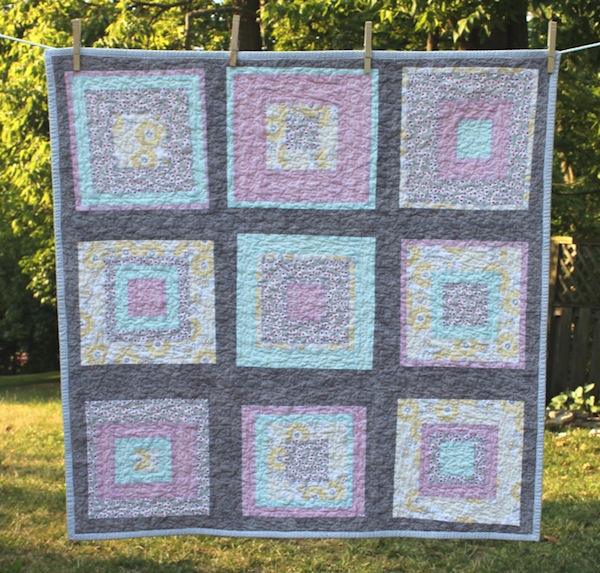 In quilting, negative space can refer to the sashing, borders and background of a quilt made of many blocks.
This is most often a solid fabric. Heather Jones created the Willow Improv Log Cabin quilt for Riley Blake Designs, and you can see that the gray sashing and border help to frame each of the blocks, working as negative space in the design.
Also see Heather's Gelassinheit quilt, where the light blue and white stripes in the background almost create a secondary segment of negative space, drawing the viewer's primary focus to the patterned Dresden block in the center.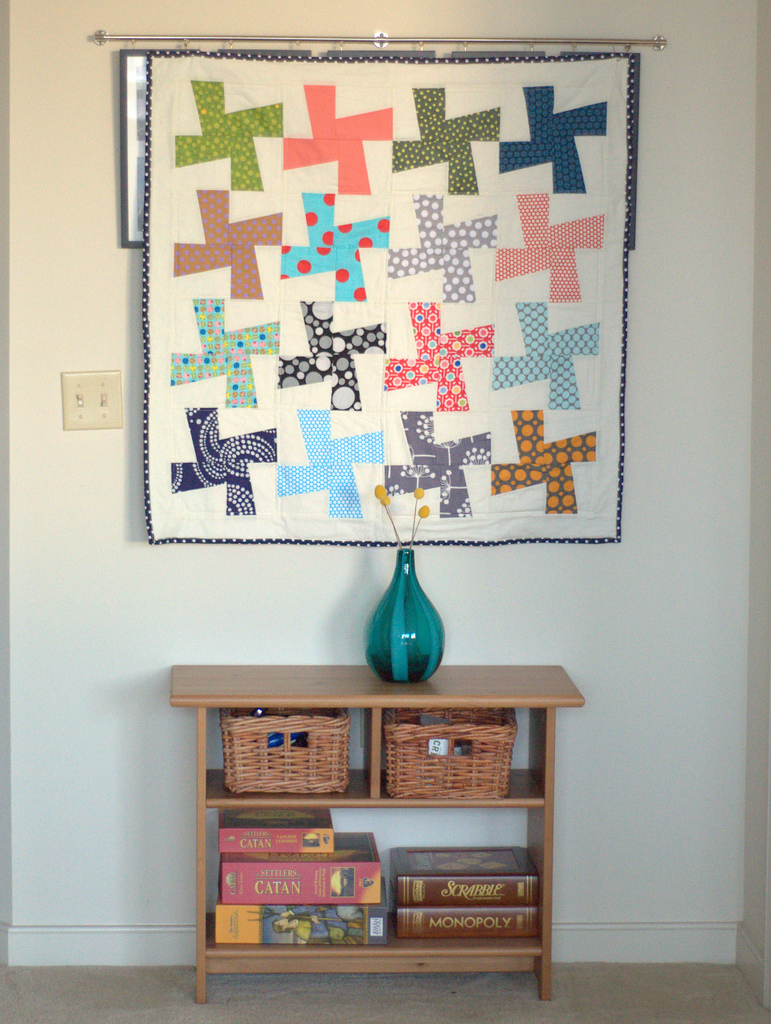 Negative space in quilts can also refer to the solid fabric between quilt blocks that creates a secondary design.
For example the whirligig pattern in this quilt shared by Heather at Quilts in the Queue. Notice how the white background creates whirligig blocks in between the printed fabrics. Imagine how different the quilt would look if patterned fabric were used in each of the white sections, and you'll begin to recognize the use of negative space in quilt patterns.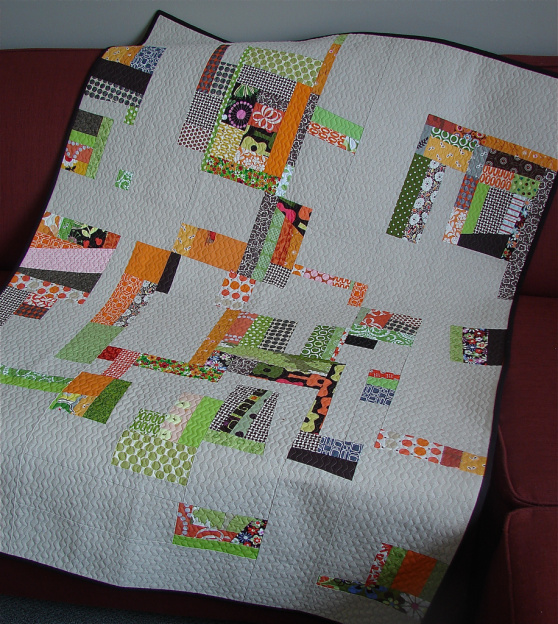 One the defining traits of modern quilts is a creative use of negative space.
In this post on negative space from the Modern Quilt Guild, several examples are used to display how negative space in quilting helps to provide composition as well as movement in a quilt design. In the Urban Garden quilt by Jacquie Gering, the gray negative space in the background preserves the abstract quality to her patchwork design, while also giving the eye a place to rest.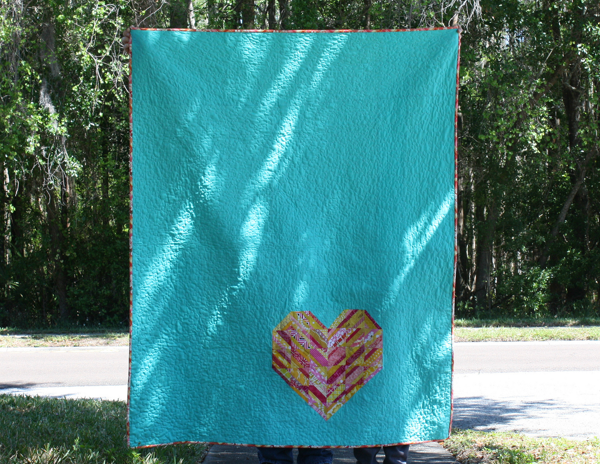 Working with negative space in quilts is one way to draw attention to a special quilt block and create a modern and minimalistic design.
Made for a friend undergoing cancer treatment, this quilt features a single string heart block surrounded by solid fabric for an off-center design. The quilt back also features plenty of negative space, giving it a modern and bold look. Learn more about the finished quilt at Elizabeth's blog, Don't Call Me Betsy.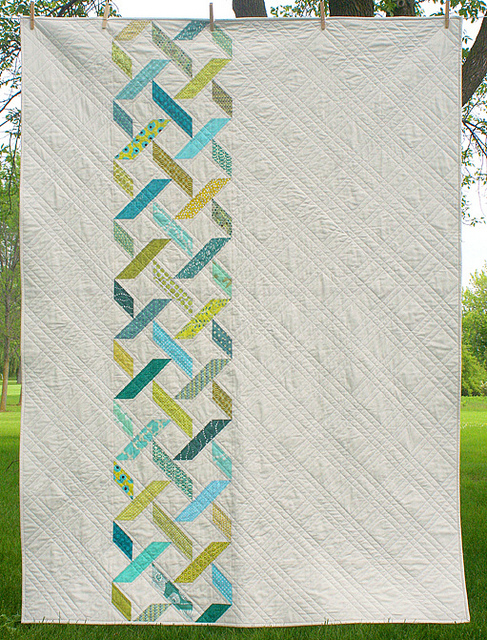 Blogged at Freshly Pieced, Lee's new Diamond Tread quilt pattern features options to make two different versions: one with negative space and another with an all-over patchwork design. The version with wide side borders to the left and the right draws your eye to focus on the interlocking "tread" pattern, created with squares and half-square triangles. The quilt with negative space is also quicker to piece.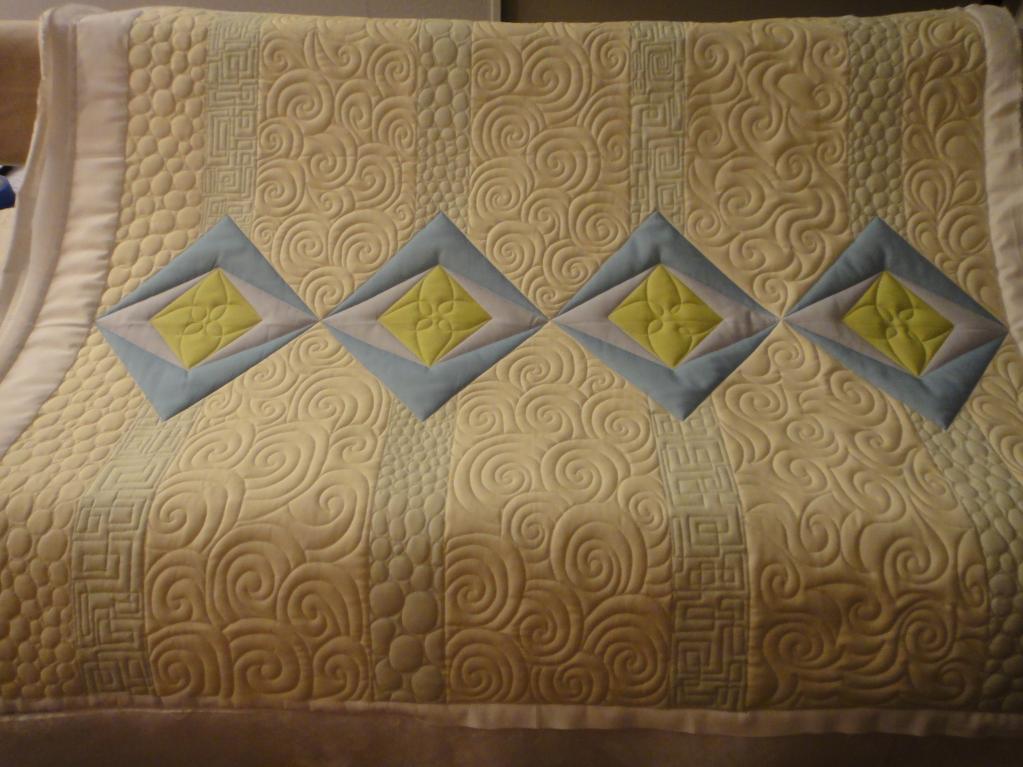 Once you've pieced your quilt with lots of solid background areas, you might be wondering, "How should I quilt it?"
In her Bluprint class Machine Quilting Negative Space, Angela Walters shares how to make the best use of negative space in quilts by implementing free-motion designs in a variety of motifs. You'll learn how to sketch your quilting designs and how to work those designs into actual quilts. The above project by Bluprint member SewWhatsUp incorporates many of the techniques taught in the class.
Come back to the Bluprint blog tomorrow for more quilting fun with table runners!
How do you use negative space in your quilts? Do you prefer quilt designs with symmetry or asymmetrical quilt patterns?