How does the saying go? Every girl needs a little black dress? Well, in our cake decorating world, it's more applicable to say that every girl needs a fondant dress!
Dress up your cakes, cupcakes and sweet treats with these fashion-inspired works of sugar art!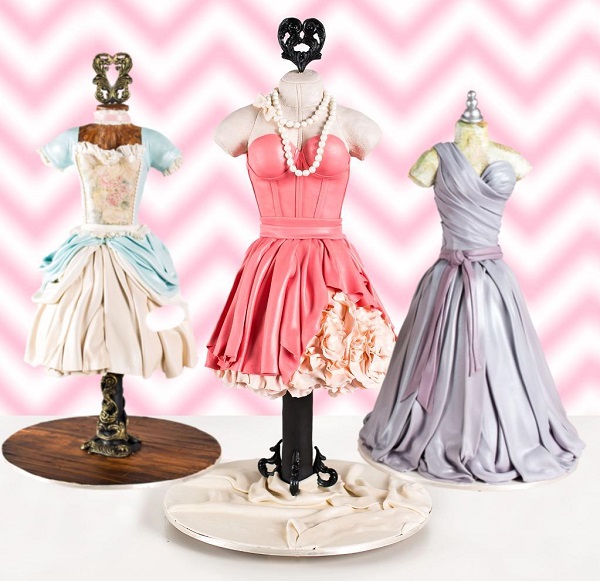 Photo via Craftsy instructor Anne Heap
Fashion dress cakes
In Anne Heap's brand new class Little Pink Dress Cake, you will learn how to create these absolutely incredible three-dimensional dress figures out of cake!
From building the structure to carving the cake and rice cereal treats to the breathtaking fondant fabric effects, Anne walks you through every step to sculpting the dress and bodice, as well as adding details, transforming your cake into a marvelous fashion piece! Traditional or modern, long or short… the variations taught will allow you to create an edible dress sure to please anyone's style!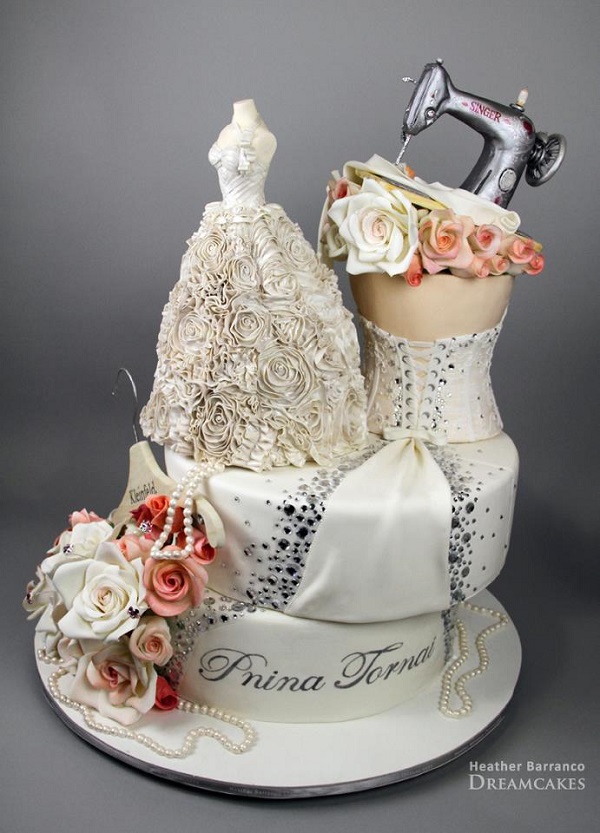 Photo via Heather Barranco Dreamcakes
Bridal shop cake
This bridal shop cake by Heather Barranco Dreamcakes is absolutely spectacular! The bodice of the dress cake is decorated with a lace-up back and edible jewels, which the body cascades down into two round cakes. An entirely separate dress with the most gorgeous rose ruffled skirt sits atop the cake, while beautiful roses are meticulously placed on the cake. Finally, an old-fashioned sewing machine tops the majestic cake, bringing the entire theme together.
Learn different elements in the Craftsy course Designer Fondant Textures with Marina Sousa to add dimension and fabric-like designs to your elegant dress cakes and Cake Design Made Simple: The Wedding Dress with Rachael Teufel to learn how to draw inspiration from wedding dresses and transforming them into sugar form with gum paste and modeling chocolate.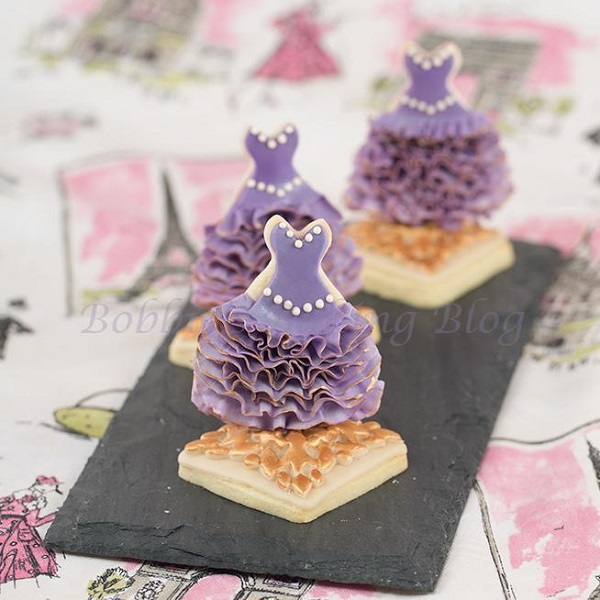 Photo via Craftsy member Bobbiesbaking
3-D ruffled ombre dress cookie
Craftsy member and cake artist Bobbiesbaking utilized techniques to forming fondant ruffles and added the decorations to create dresses for these precious 3-D ruffled ombre dress cookies! The sweet dresses are further embellished with edible pearl candies and hand-painted with gold accents and attached with royal icing.
Want to add ruffles and frills to your next cake project? Enroll in Fondant Frills with Maggie Austin to master making gorgeous frills and the techniques to achieving the beautiful ombre look.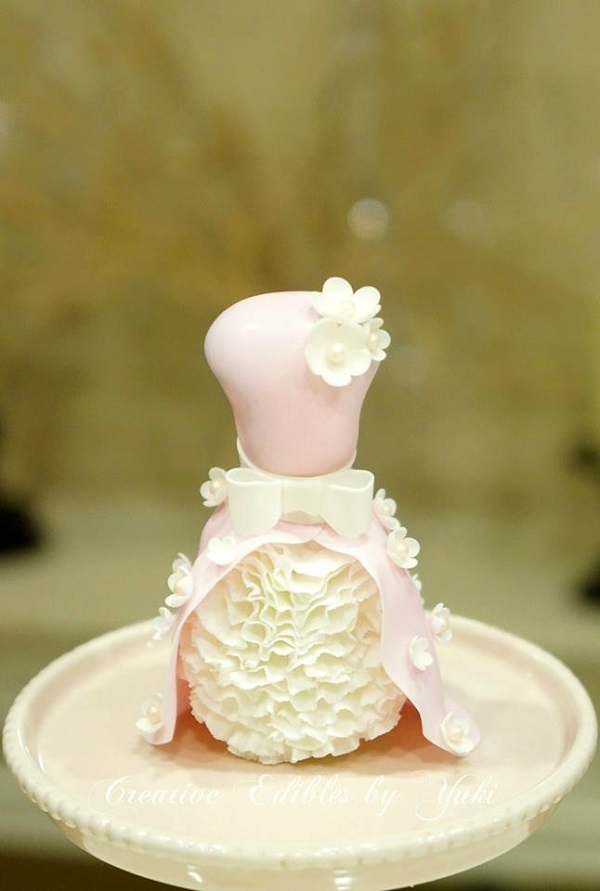 Photo via Creative Edibles by Yuki
Princess dress cake pop
Instead of adding ruffle details to cookies, Creative Edibles by Yuki added these elegant designs to a cake pop, creating a darling princess dress! Further fondant details were added, including a delicate bow and miniature flowers to add to the sweet look. And if you are not a fan of the taste of fondant, all the dress accessories are easily removable prior to consumption!
Learn to make cake pops in Crafty's free course The Wilton Method®: Cake Pops with Valerie Pradhan to feel comfortable with shaping, dipping and decorating these small confections. If you are new to fondant, check out The Wilton Method®: Decorating with Fondant to learn the basic skills and utilize them to further embellish your cake pops!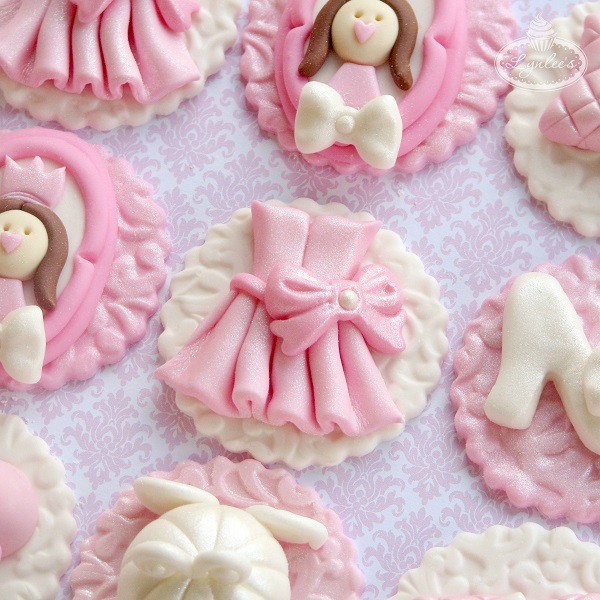 Photo via Lynlee's
Princess dress fondant cupcake topper
These sweet little princess fondant cupcake toppers are easily made with some gentle pleats, the addition of a bow created with a mold, and a brushing of pink shimmer dust! Add to the dress design by giving the background fondant added texture and embellishing it with an edible pearl.
In the course Fashion-Inspired Fondant with Joshua John-Russell, learn to dress up your cakes and fondant toppers with couture patterns, textures and designs to take your sugar fashion to the next level!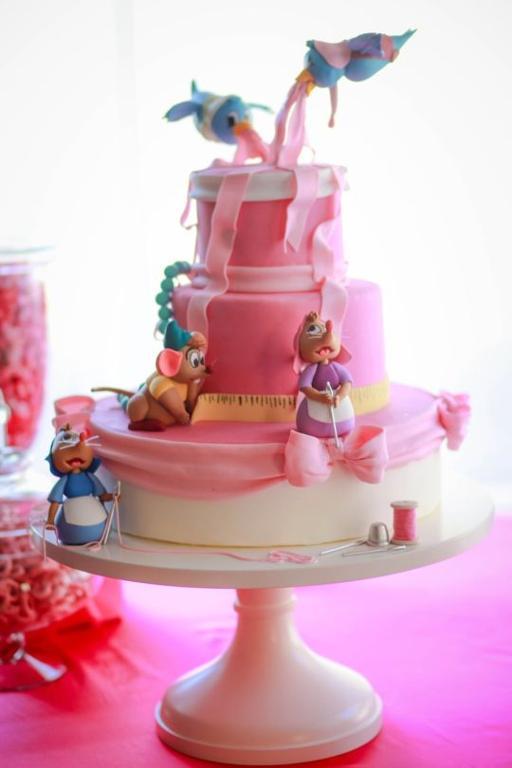 Photo via Craftsy member Alex Narramore
Cinderella cake
This darling Cinderella cake with sugar figures by Craftsy member Alex Narramore utilizes elements of the dress from the animated film into the cake design, all being constructed with the help of Cinderella's mouse and bird friends! The adorable fondant mice are adding bows, fabric and thread to the dress cake, while the birds carrying the ribbon were added with techniques learned in the course Gravity-Defying Cake Designs with Lauren Kitchens.
To further your abilities to transform fondant into beautiful fabric-like effects, be sure to check out Fondant Ruffles, Pleats & Drapes with Marsha Winbeckler who teaches you to design your dream dress into cake form!
With which sugar medium would you like to try to play dress up?