If you're looking for one-of-a-kind treats for your kids to hand out this year, you'll love these fast and fun DIY Valentine ideas that come together with supplies you likely already have in your stash!

Valentine pencil packs
I love finding items other than candy to give out as a Valentine treat. You can create these adorable Valentine pencil packs in just a few easy steps, and with minimal paper craft supplies.
Supplies needed:
Valentine stamp sets
Markers, crayons or color pencils
Scrap card stock
Paper punchers
Stapler
Valentine pencils (I found mine at the dollar store)
Plastic or glassine bags to hold the pencils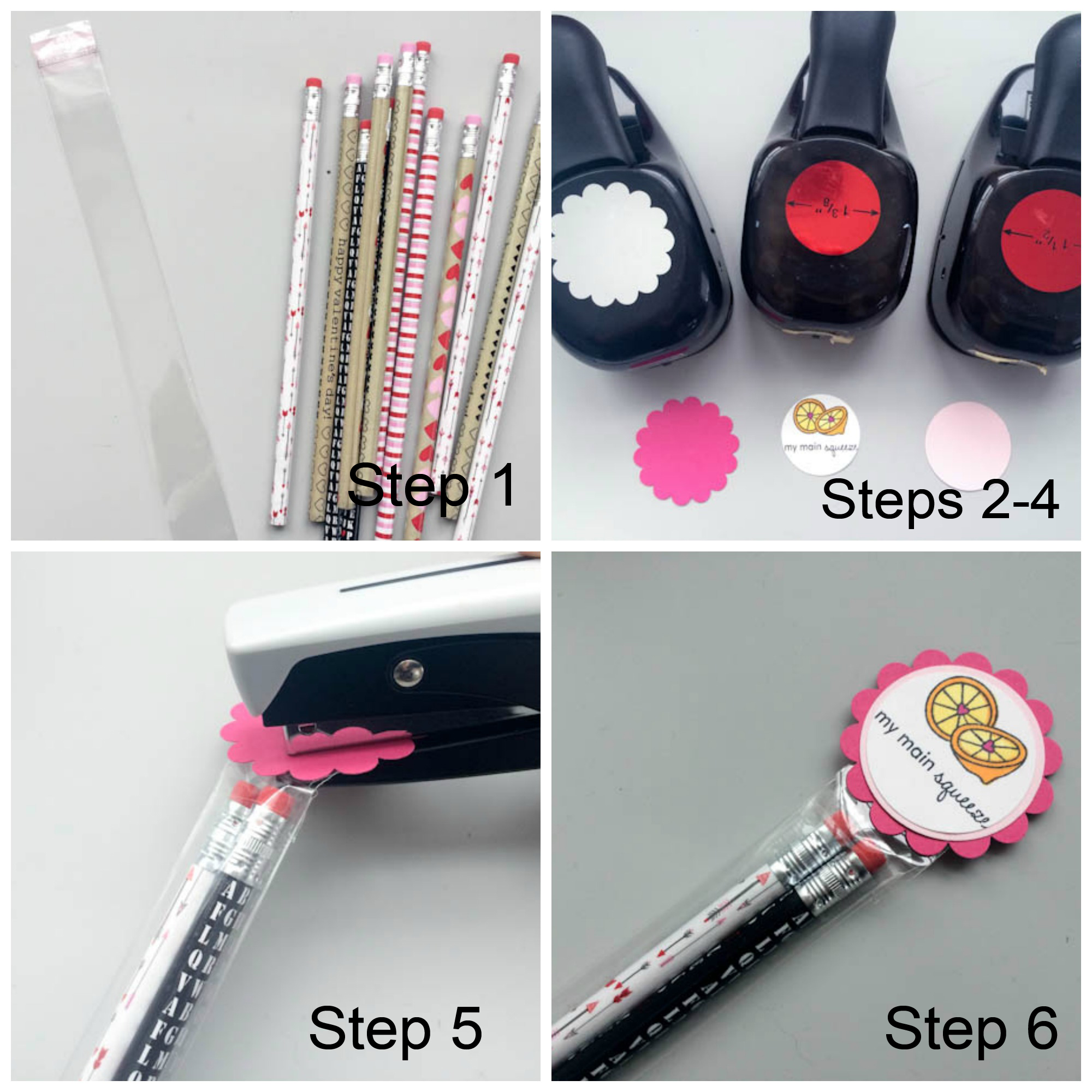 Step 1:
Add one or two Valentine pencils to a thin plastic bag. Pretzel rod bags are great for these, and are super easy to find at your local craft store.
Step 2:
Stamp a Valentine image onto some white card stock. Color in your image using markers, crayons or color pencils. This is a great way to involve the kids — they will LOVE helping and it adds a personal touch to this project.
Step 3:
Use nested circle punches to punch out your design. In this project, I used my 1 3/8″ circle punch for my stamped image. I then used a 1 1/2″ punch to cut out a larger circle from some coordinating light pink card stock. Adhere your stamped image to the backer circle for added dimension.
Step 4:
Use a decorative shaped punch as your bag topper. I used my scallop punch and some colorful bright pink card stock — this is a great way to use up those scraps!
Step 5:
Staple your bag topper to the top of the plastic bag.
Step 6:
Lastly, hide your staple by adding your stamped image to the bag topper with some strong adhesive.
Your child's' classmates are sure to love these fun gifts instead of the usual bag of candy on Valentine's Day.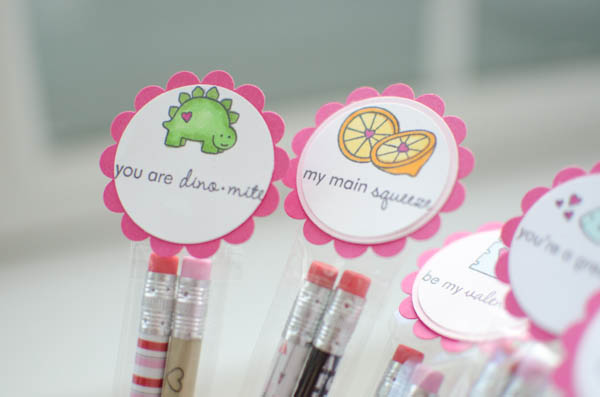 Digital stamped Valentine treat bags
If you aren't an avid rubber stamper or don't have any Valentine themed rubber stamps, give digital stamping a try! You can download wonderful digital stamps and use them to create super unique (and simple) Valentine goodies!

Step 1:
Fill a small plastic bag with your favorite treat. In my project, I used a small box of Valentine stickers.
Step 2:
Print out your digital stamps onto card stock. (Digital stamps used in these projects are from Whimsie Doodles Designs) You can even print these in black and white ink — no need to use color! Use color card stock to add some color to the images.
Step 3:
Punch out the stamps using your favorite shaped punches, or simply use scissors to trim.
Step 4:
Cut a piece of white card stock to 6″ x 3″. Fold in half to create a 3″ x 3″ square bag topper. Adhere your digital stamp, and/or some coordinating patterned paper.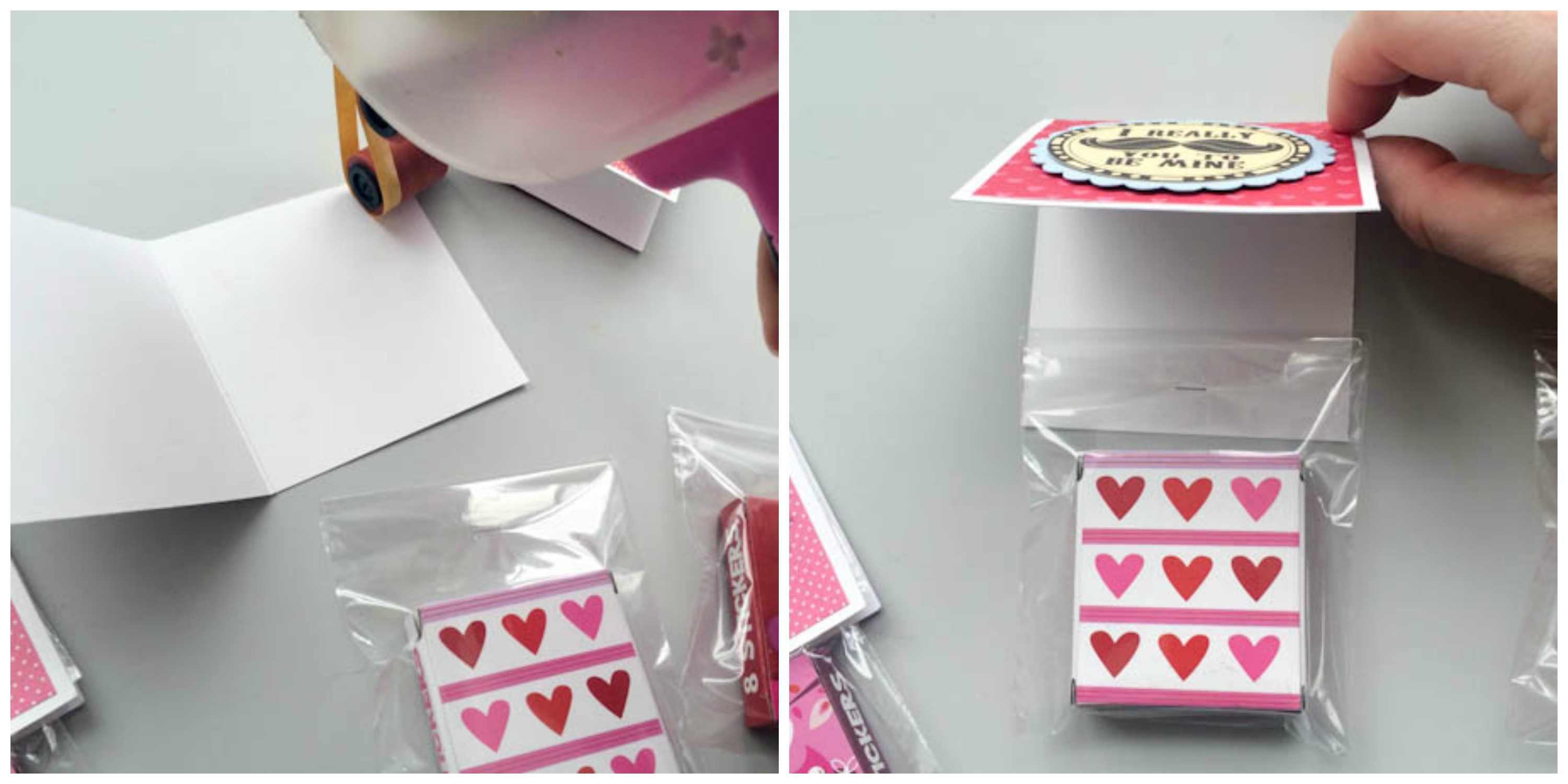 Step 5:
Place your treat bag inside the bag topper. Use strong adhesive to adhere the topper to the bag. Close it up and you're all done! These come together super quick and can be filled with almost anything.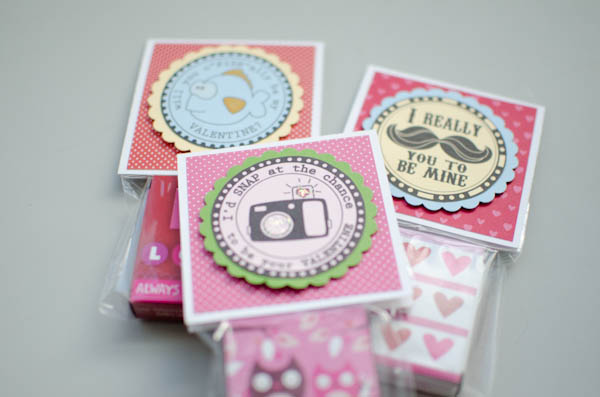 Below is another example of simple DIY Valentine treats that I made using some digital stamps. You can print these in color, or simply print the images and have your child color them in. There are SO many possibilities when it comes to paper crafting your own Valentines.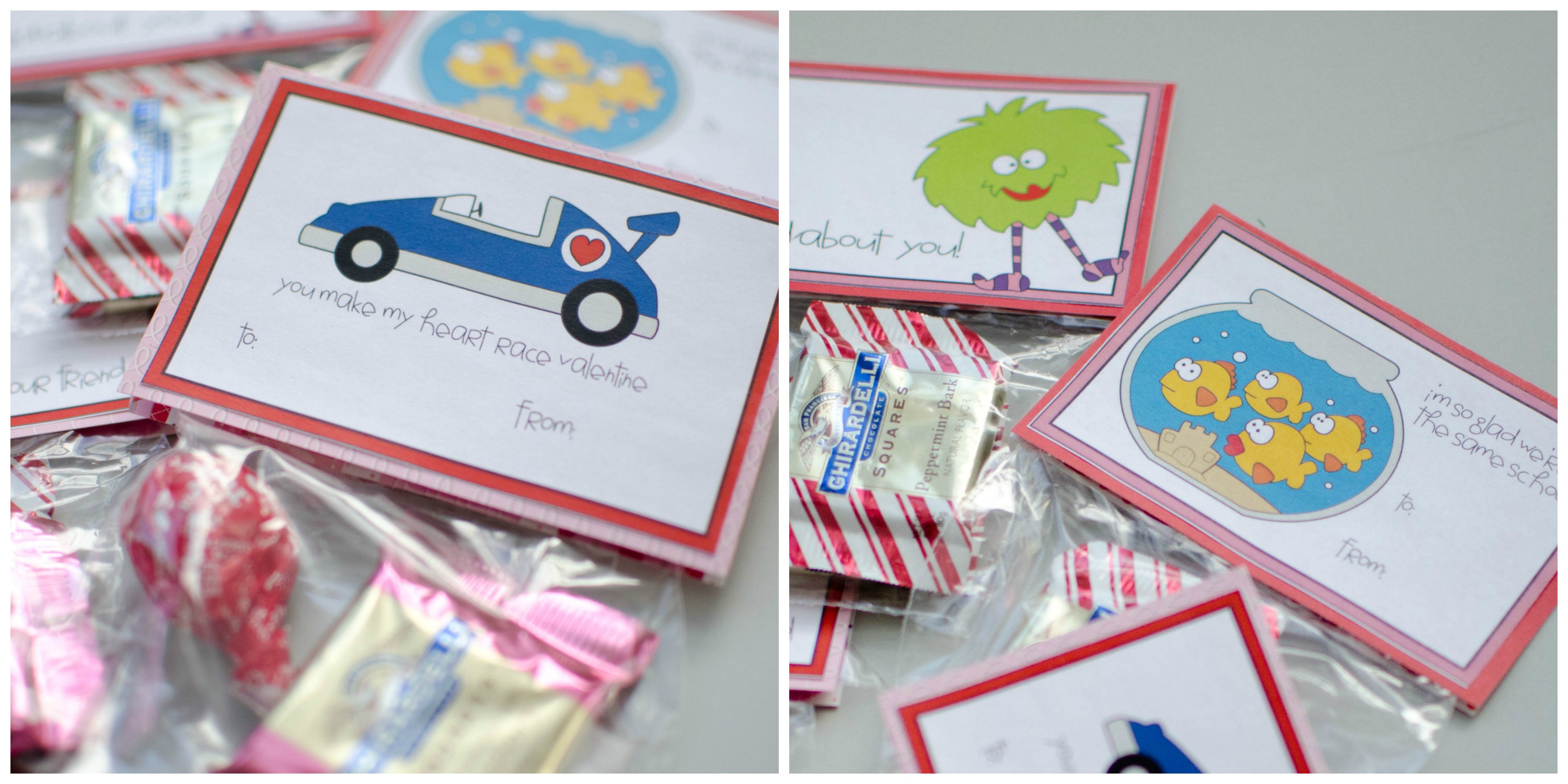 What will your kids be handing out this year?
NEW! Paper Crafts Kits + Lessons
Create your best paper craft projects with supplies plus video lessons!Shop Now »