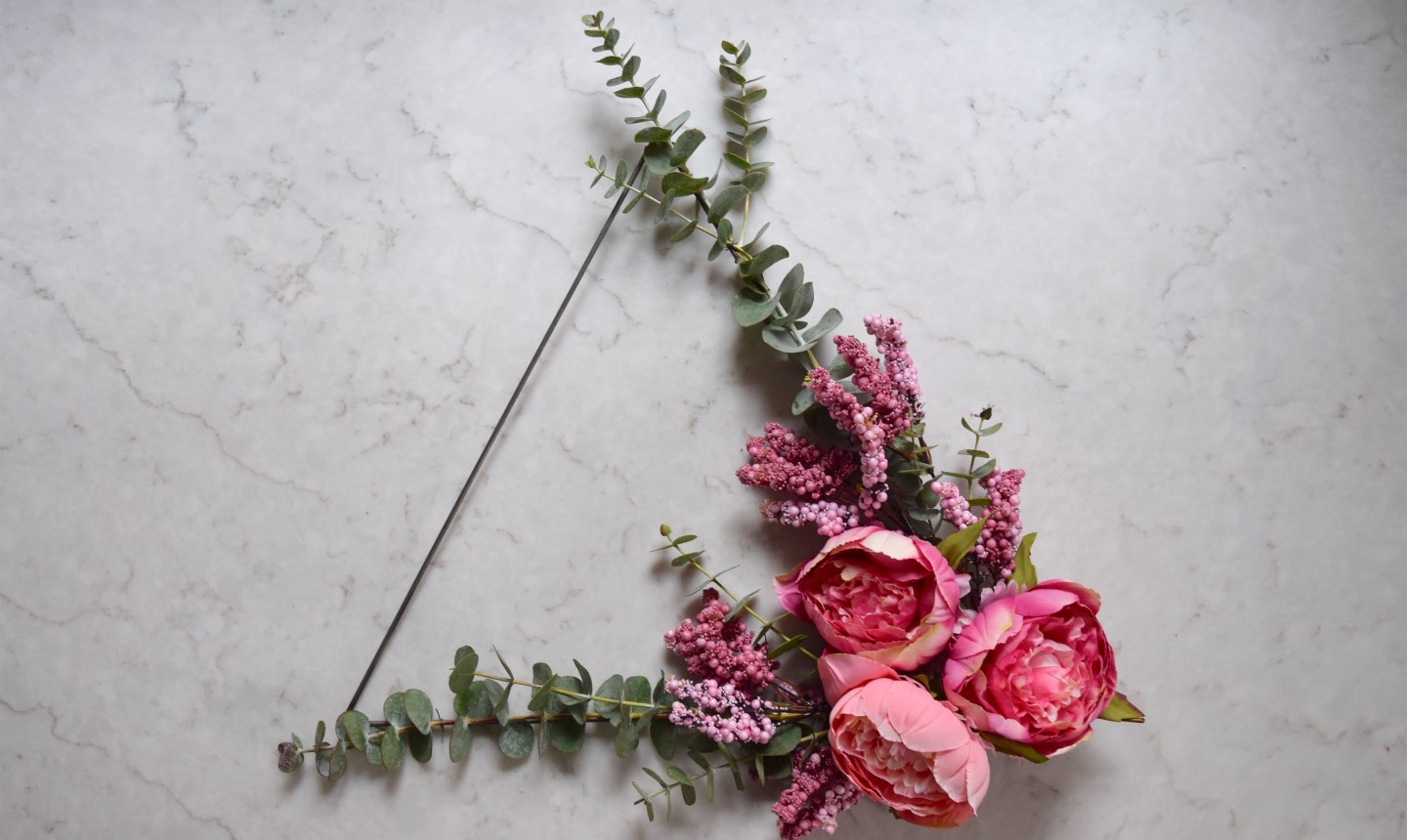 This wreath throws all the rules out the window — and that's why we love it. Instead of pine, try fragrant eucalyptus. Instead of predictable pine cones, go rich and romantic with peonies (don't worry, they're fake). And best of all, this DIY shakes it up shape-wise with a totally modern triangle.
The eucalyptus looks just as gorgeous dried as it does fresh, so you can enjoy this wreath season after season.
DIY Triangle Wreath
Level: Easy
What You Need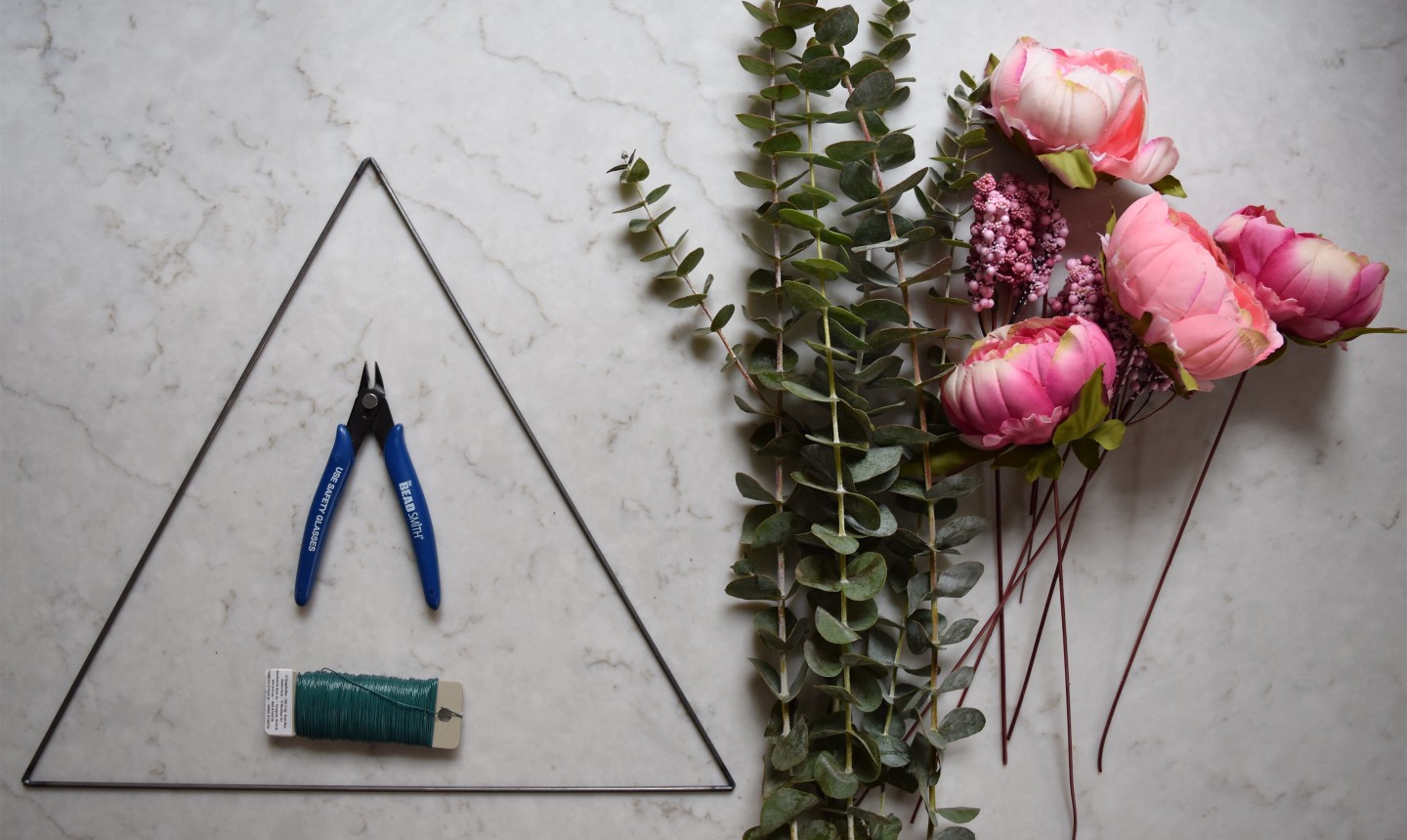 22-gauge green paddle wire
Wire cutters
2 bunches of eucalyptus
1 bunch of fake flowers (including big "star" flowers and smaller filler flowers)
Triangle metal macrame hoop
Gloves (optional, but eucalyptus resin can be tough to remove from the skin)
Ingredients
1. Lay Out Your Base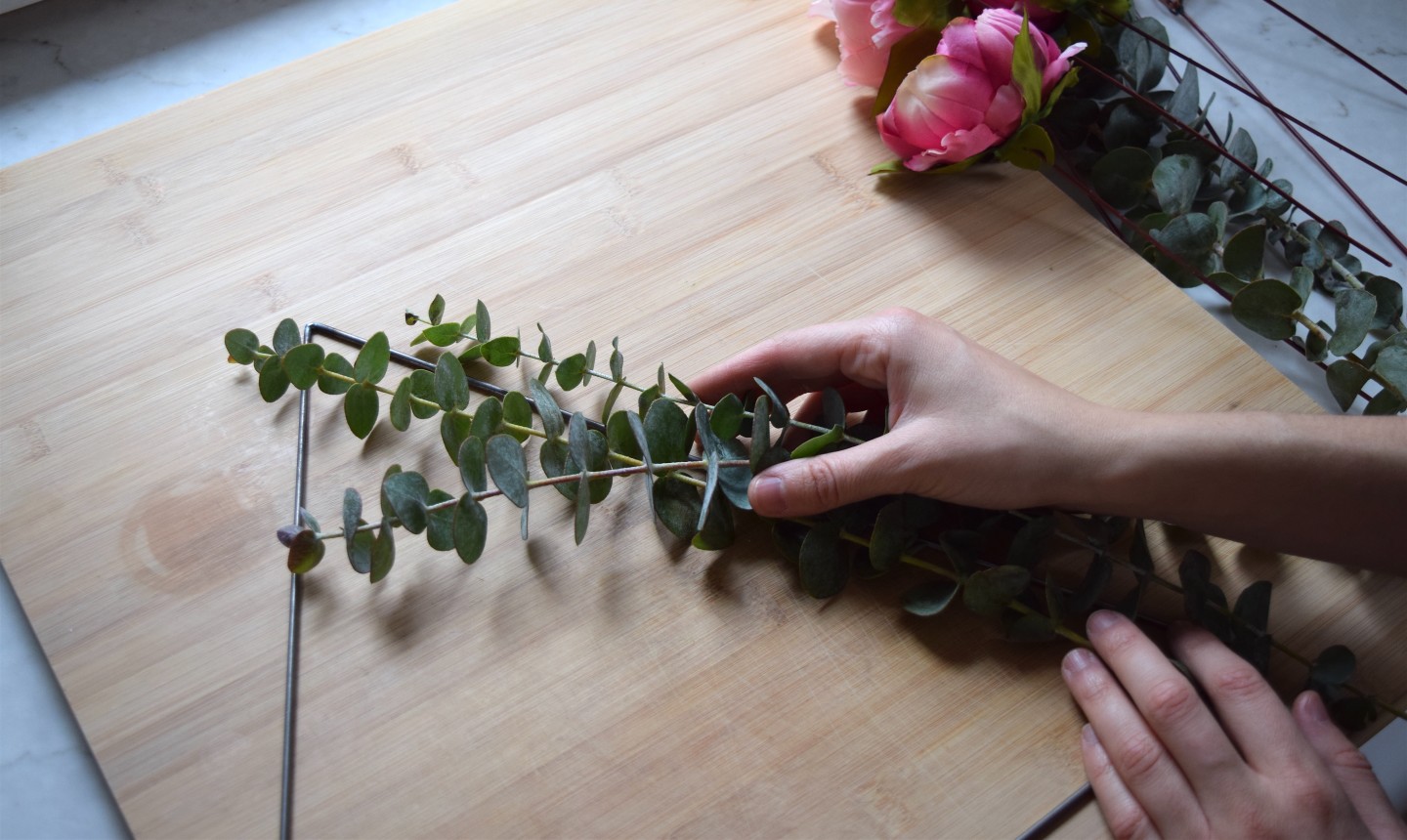 Before you start building your wreath, play around with your materials to get a sense of the shape you want it to have. Hold various long sprigs of eucalyptus against the triangle macrame hoop (which will serve as your wreath frame) to see what looks best.
For this wreath, we decided to only have greenery on two sides of the triangle, but you can totally do what feels right for you here (and that could mean greenery on just one side, or all three sides!).
2. Secure the Base Branches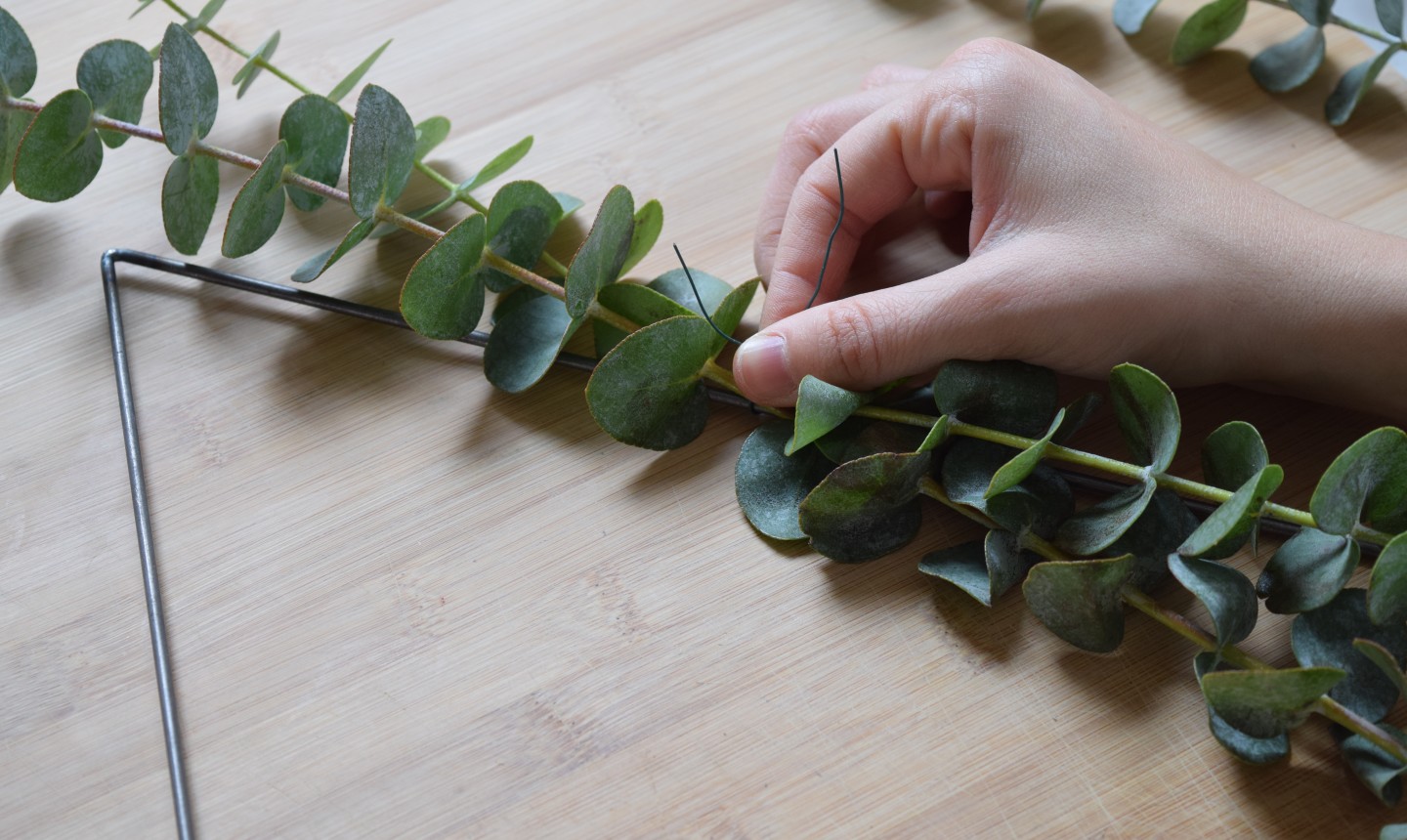 Once you decide on the branches you want as your base, secure them to the wreath frame using one-inch pieces of paddle wire. To secure, wrap the paddle wire around the stem and the frame, and twist two or three times at the back of the wreath. Repeat this every two inches along the stem so it's nice and secure.
For ours, we let the branches extend beyond the corners of our triangle for a wilder, freer look.
3. Build It Up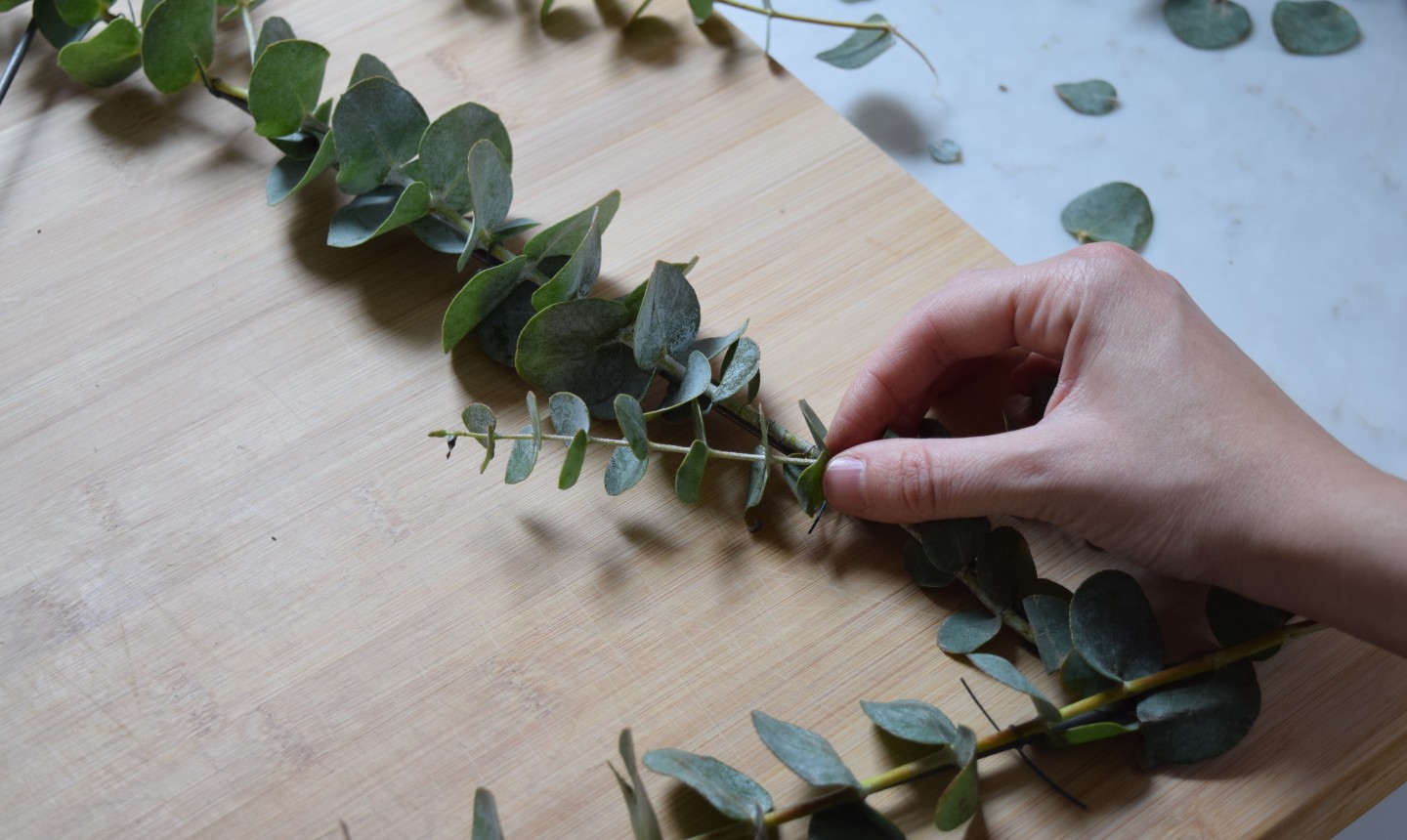 Now that your main branches are secure, you can fill out the wreath with smaller sprigs, attaching the same way with wire.

Using a combination of bigger branches and smaller sprigs is key to getting a pretty look. If you attach lots of big branches together, there's too much crowding and overlap, and you lose the beautiful shape of the leaves.
4. Add Flowers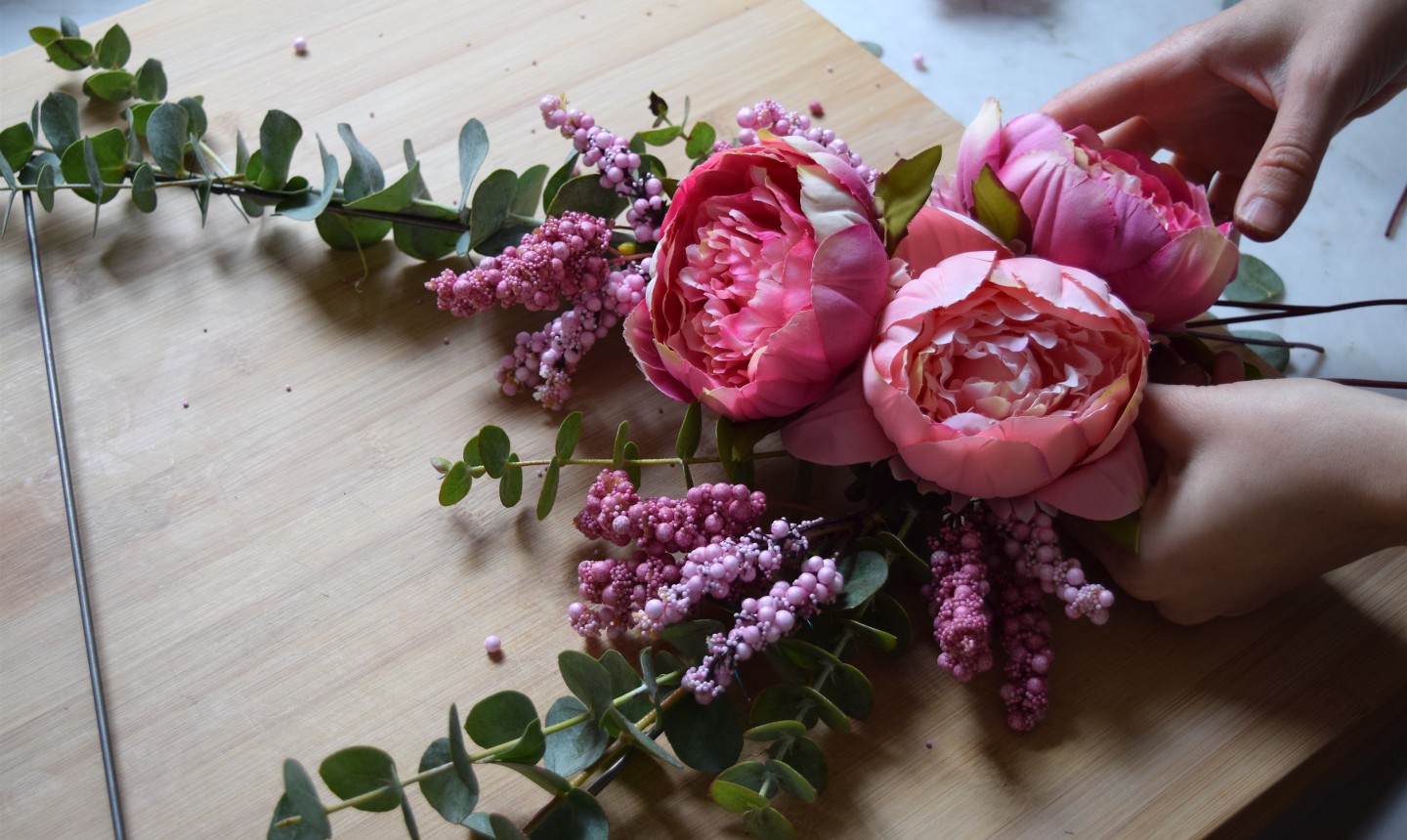 Before you place big flowers, start by laying down and securing your filler flowers. Use your wire cutters to snap the flower stem so that only one inch of it remains, then secure it in place with a small piece of wire.
These filler flowers are great for hiding mistakes, so if there's an area that seems a little more bare than you wanted, just fill it in with a spray of fake flowers.
Now, you're ready to put the large flowers in place. Use your wire cutters to snap the fake flower stem so that only one inch of it remains, then secure it firmly against the wreath frame with a one-inch piece of paddle wire.
Pro Tip: It's hard to get fake flowers that look convincing, but peonies work far better than many other kinds. Their naturally full blooms already look extra dramatic and even a little cartoonish, so the imposter varieties feel a lot closer to the real thing. The bundle we bought included the filler flowers along with the peonies, which was a score.
5. Remove Excess Wire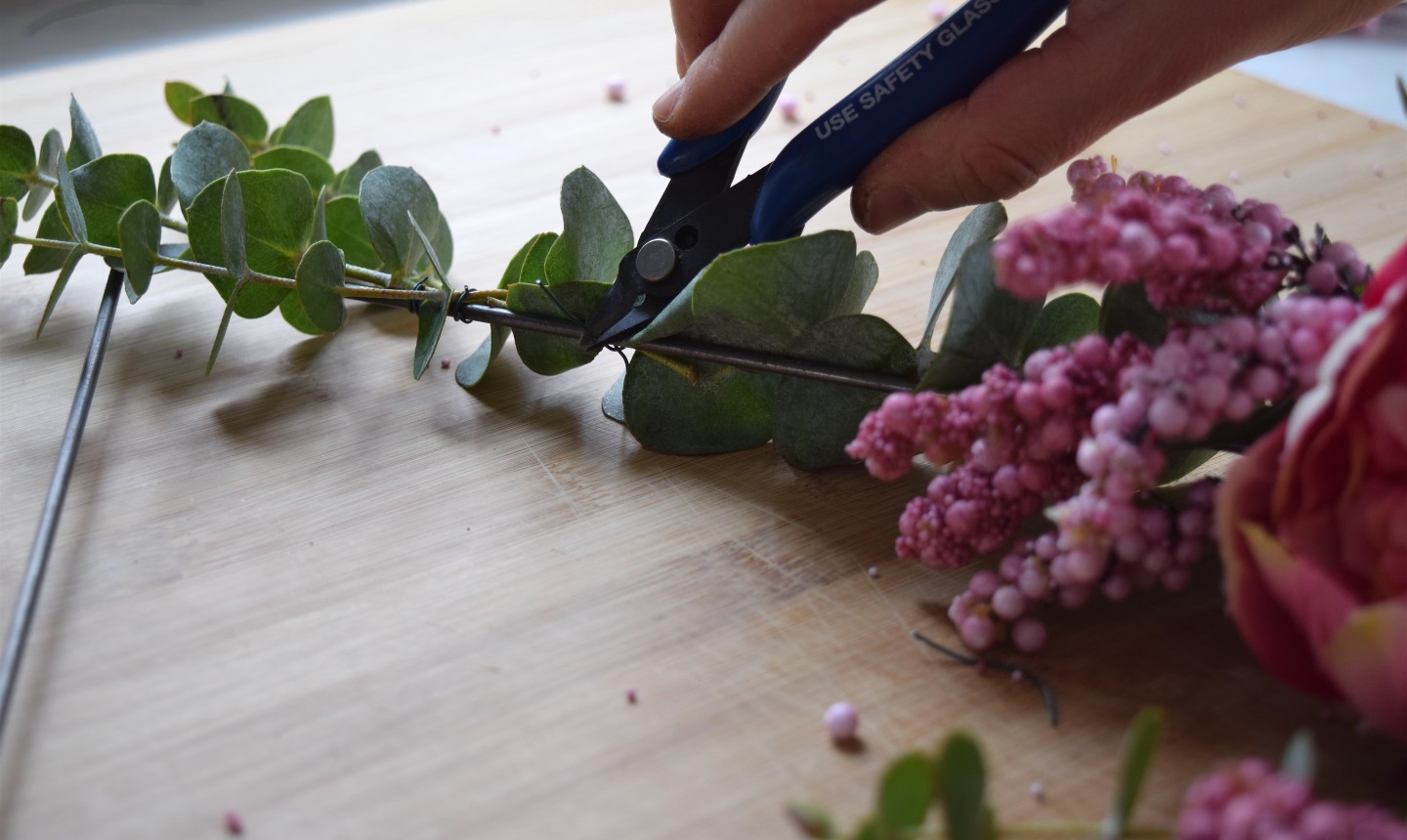 Once your flowers are secure, snip any excess wire in the back using your wire cutters. Then hang and enjoy!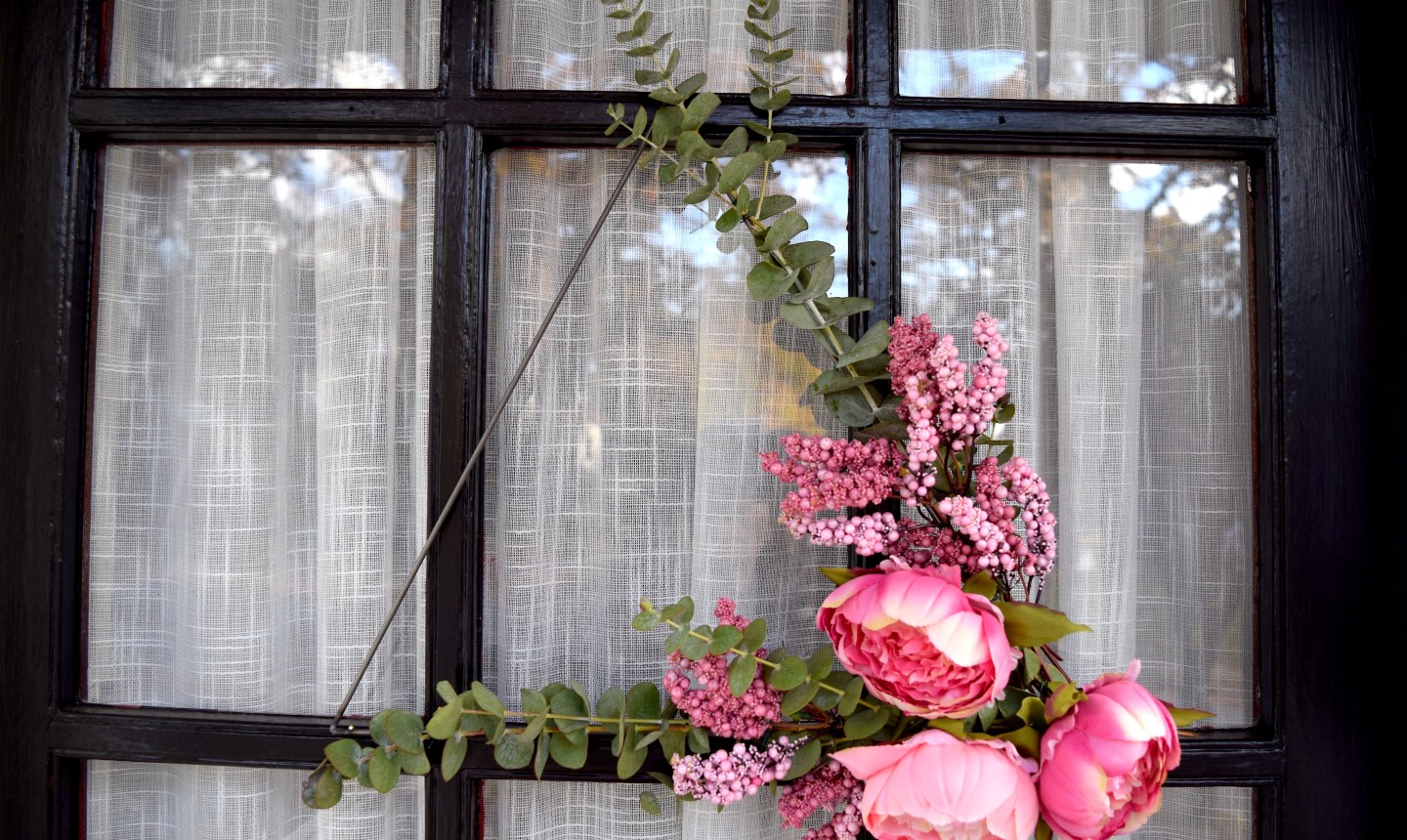 Bonus Tips
If you decide to do this project gloveless and find yourself with super sticky hands, massage a few drops of olive oil in between your fingers and use a soapy washcloth to clean your hands.
You may need two nails to hang your wreath. If you focus the flowers in the corner of the wreath (like we did), you may notice the wreath slanting to the heavier side when you hang it. But fear not — use a small nail to hold down the corner opposite the flower-filled one, and it'll stay in place.
Photos by Alison Caporimo