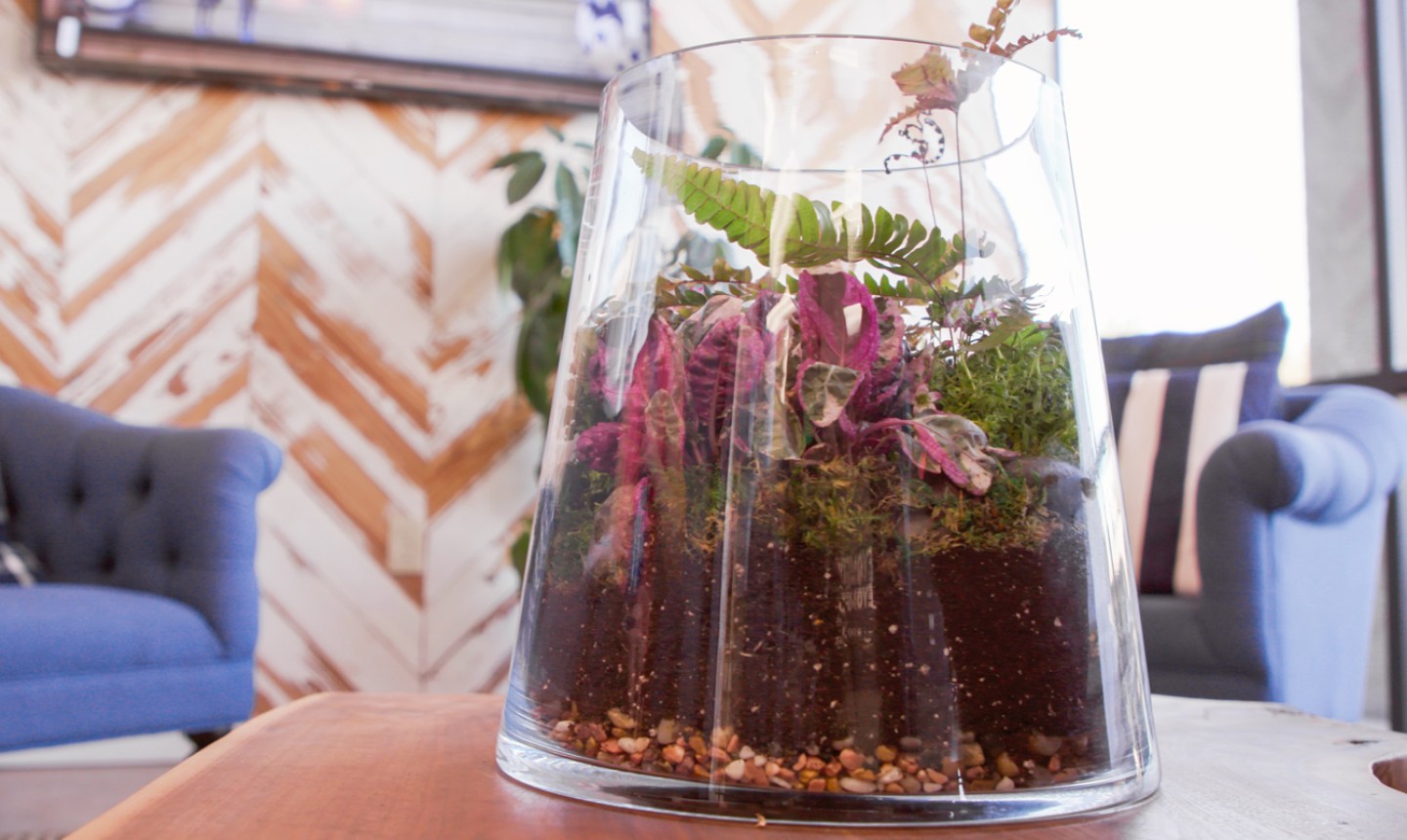 You don't need a lot of room — or even a seasoned green thumb — to create a dreamy green space. A DIY terrarium lets you create an entire garden, or even a whole mini ecosystem, within the walls of a glass container. Plus, it's super easy to make and care for. Triple win!
Two-Minute Terrarium
Level: Easy
What You Need
Glass container
Small rocks or gravel
Activated charcoal
Succulent potting soil
Decorative stones
Sheet moss
Alternanthera
Snow White waffle plant
Tricolor brake fern
Rose shades saxifrage
Good to Know: There are two types of terrariums: open (which have open tops) and closed (which have a lid). Open terrariums are better for dry-weather plants like cacti and succulents, and they need to be misted with water a few times a week. A closed terrarium has a lid that allows moisture to build inside, creating a self-sufficient ecosystem for humidity-loving plants. In this tutorial, we're making an open terrarium.
Instructions
1. Build a Drainage Layer
We used living water-dependent plants in our terrarium, which means the roots need to be protected from excess water. To do this, place small rocks or gravel across the bottom of the glass container until the layer is about 2″ thick. Sprinkle a spoonful of activated charcoal on top to separate and absorb any lingering water.
2. Add the Potting Soil
Pour potting soil on top of your drainage layer. Pack the soil gently by pressing down with your hands.

Pro Tip: Make sure to use soil that's specifically designed for succulents — otherwise, it could retain too much water.
3. Plant Away
Arrange your alternanthera, Snow White waffle plant, tricolor brake fern and rose shades saxifrage in the glass container, then plant them in the soil. There's no right or wrong way to do this — just place them how you like!
4. Cover the Soil
Lay pieces of sheet moss wherever soil is visible between the plants. Add decorative stones as accents — and maybe even a gnome for good measure.

Now just water your plants, place the terrarium in a sunny spot and watch it thrive!