Since sewing involves so many materials (scissors, thread, your overflowing fabric stash…) keeping your sewing materials organized is key. A homemade sewing box is your answer! Find out how to make a sewing box with essential items. Have a box on hand already? Double check that you have these key supplies!
Aside from a sewing machine, there are only 10 items you need to fill your DIY sewing box. They are all readily available and easy to find!
10 basic, must-have sewing box items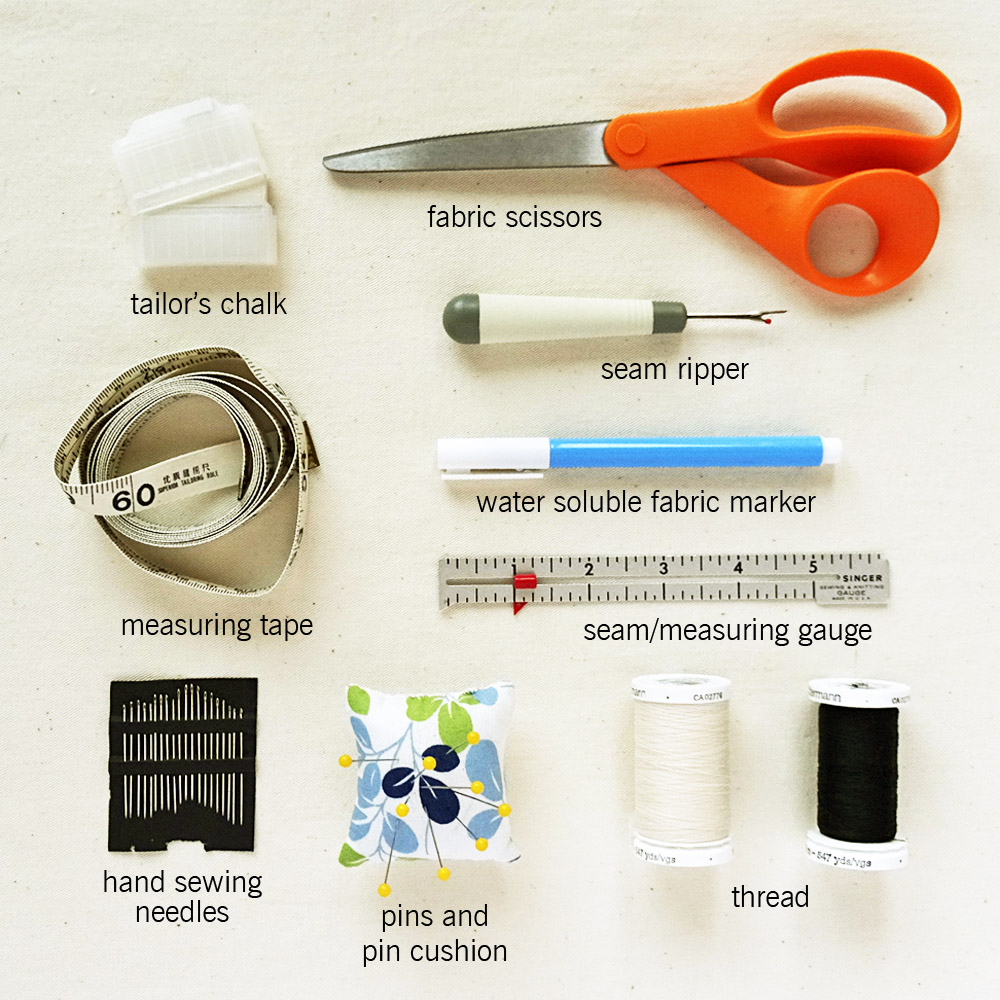 Fabric scissors
It is important to have sharp scissors that are only used for fabric. Cutting through other surfaces, even paper, will dull the blades, making them less effective on fabric. Be sure to sharpen them as needed.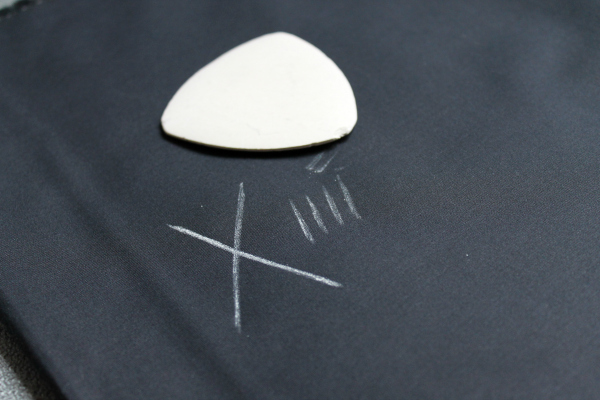 Tailor's chalk
Tailor's chalk is used to transfer pattern markings onto their corresponding fabric pieces, particularly on dark fabrics. You can easily remove the marks after you have finished a project by rubbing them gently with a second piece of fabric.
Seam ripper
Primarily used for machine sewing, a seam ripper is your best friend! Though it is not fun to remove stitches, a sharp seam ripper will work quickly. Don't hesitate to get a good one with a long handle, and replace it when it seems dull.
Measuring tape
This basic sewing tool is essential for taking body measurements in preparation for sewing garments. It can also be used to measure fabric width and items longer than your sewing gauge or clear ruler. (See below!)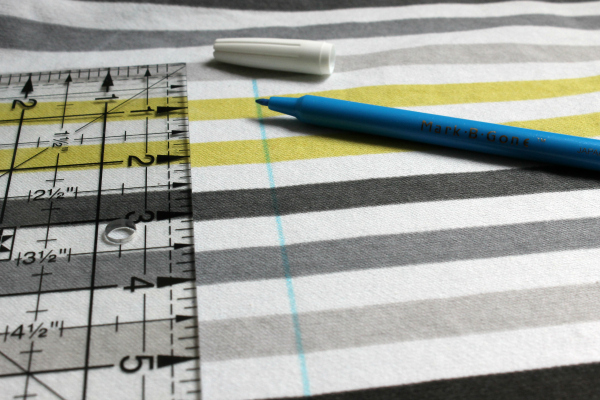 Water-soluble fabric marker
A fabric marker is used in the same way as tailor's chalk, but its blue (or sometimes purple) color allows it to mark light or white fabrics with a crisp, fine line. Most are easily removed with water. 
Dritz 7″ Seam Gauge with Point Turner
Seam/measuring gauge
This little ruler is great for pressing perfect, even hems and taking small measurements. The plastic arrow slider can move the length of the ruler. Set it to your desired measurement to quickly and easily mark a set length in multiple areas, such as marking a hem.
Hand sewing needles
Purchase a package with a variety of needle sizes, which will be useful in different weights of fabric. Hand sewing needles can be used to sew entire projects. However, they are now most commonly used when basting, mending, sewing on buttons and blind hemming by hand.
Pins
Use pins to hold multiple layers of fabric together until they are sewn. The length and type are up to you. Some pins are thin and meant for fine fabric while others are longer for use in quilting. General-purpose glass or plastic round-head pins are very common.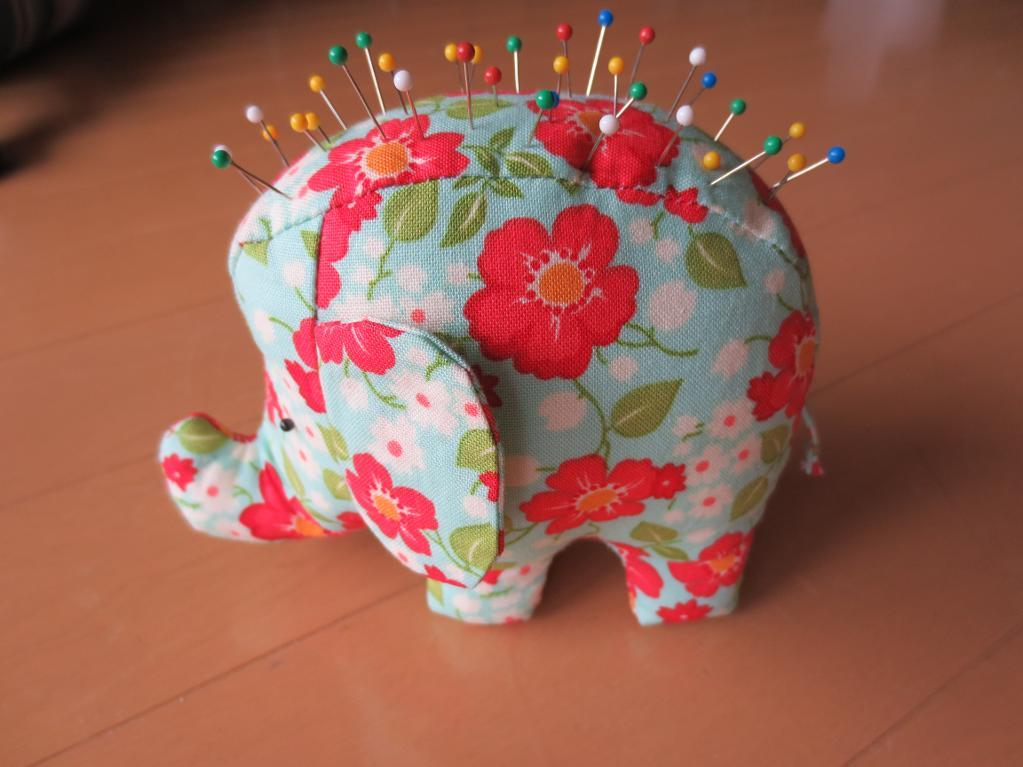 Elephant Pin Cushion via DatPixieGirl
Pincushion
You will need somewhere to place your pins as you remove them. A pincushion can keep them sharp and store them until you need them again. A DIY pincushion is also great first sewing project! 
Thread
Match your thread color to your sewing project for a professional finish. That said, it is always good to store cream and black thread in your sewing box as back-up for emergencies. Make sure your thread is high quality — poor quality thread may break easily, causing sewing machine (or wardrobe!) malfunctions.
6 advanced sewing box essentials
While these tools and notions are certainly not needed to get started sewing, the more you advance, the more frequently you will need these materials.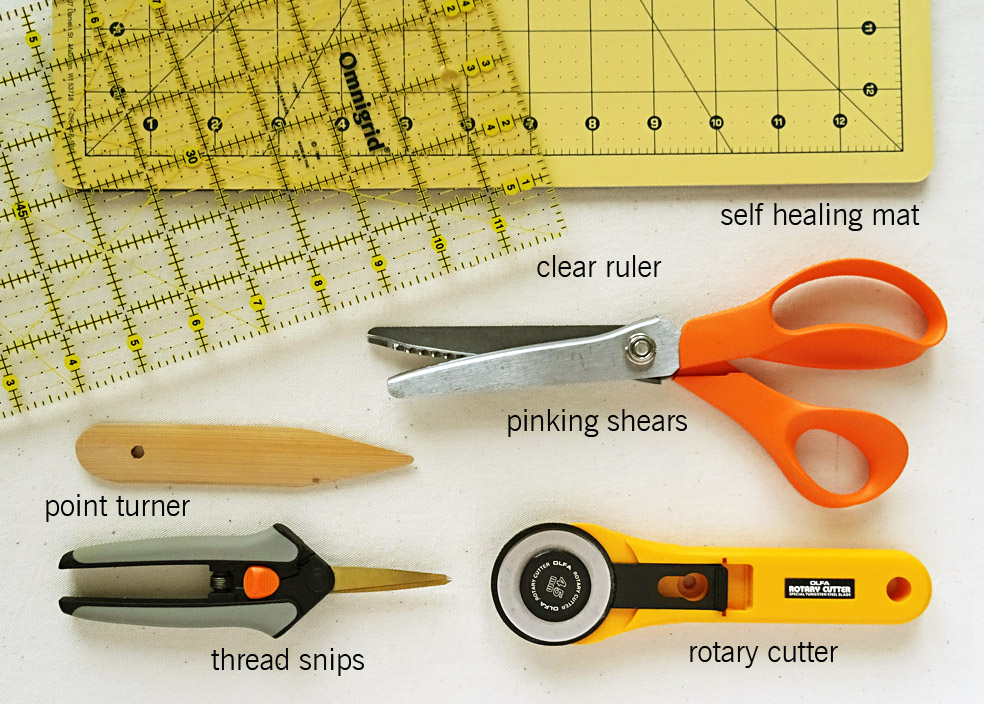 Self-healing cutting mat
A large or small cutting mat is essential when using a rotary cutter to measure and cut fabric. The mat will protect your sewing surface and keep your blades sharp longer.
Clear ruler
Transparent rulers can be purchased in many sizes, and the best size for you will depend on the types of projects you make. They're mainly used for cutting quilt blocks into even and consistent sizes.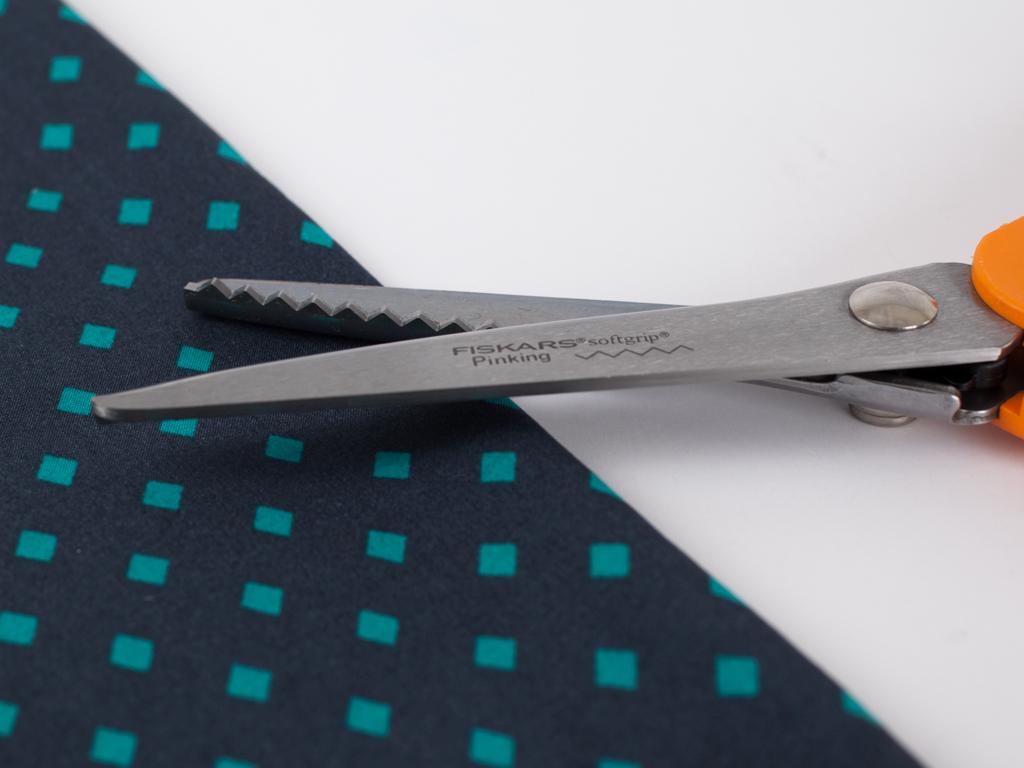 Fiskars 8 Inch Softgrip Pinking Scissor
Pinking shears
Pinking scissors leave a line of zigzags as they cut through fabric. The angled cuts are less likely to fray, providing better and more durable finished edges inside your sewing projects.
Point turner
This wooden tool has a slightly rounded tip to gently push fabric when turning corners right-side out. It's a must-have for projects like stuffed animals, bags or shirt collars.
Thread snips
These easy-to-grab scissors generally have spring-loaded blades and are used primarily for cutting threads when machine stitching. The pointed tips are also great for trimming threads close to the fabric and clipping curved edges.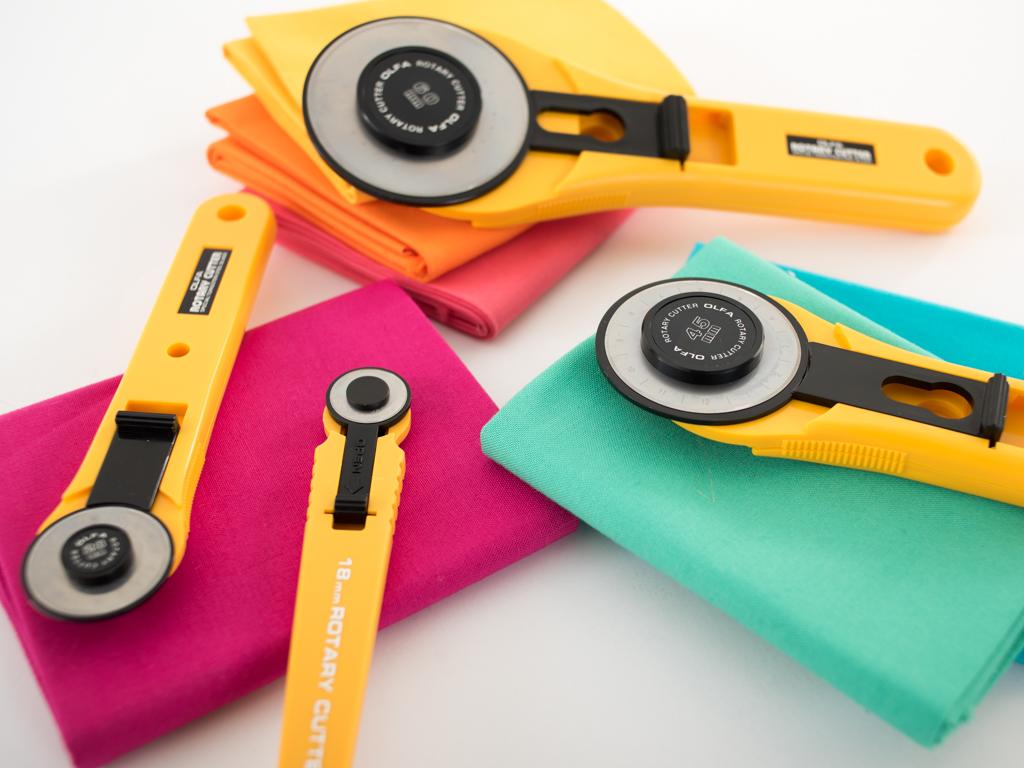 Olaf Rotary Cutters
Rotary cutter
Rounded blades allow you to make more accurate straight cuts with a ruler (like the clear one above). They are perfect for cutting quilt blocks and can cut through multiple layers if desired. A rotary cutter can also be used to cut curves, and some sewers use them exclusively (instead of fabric scissors) when cutting pattern pieces.