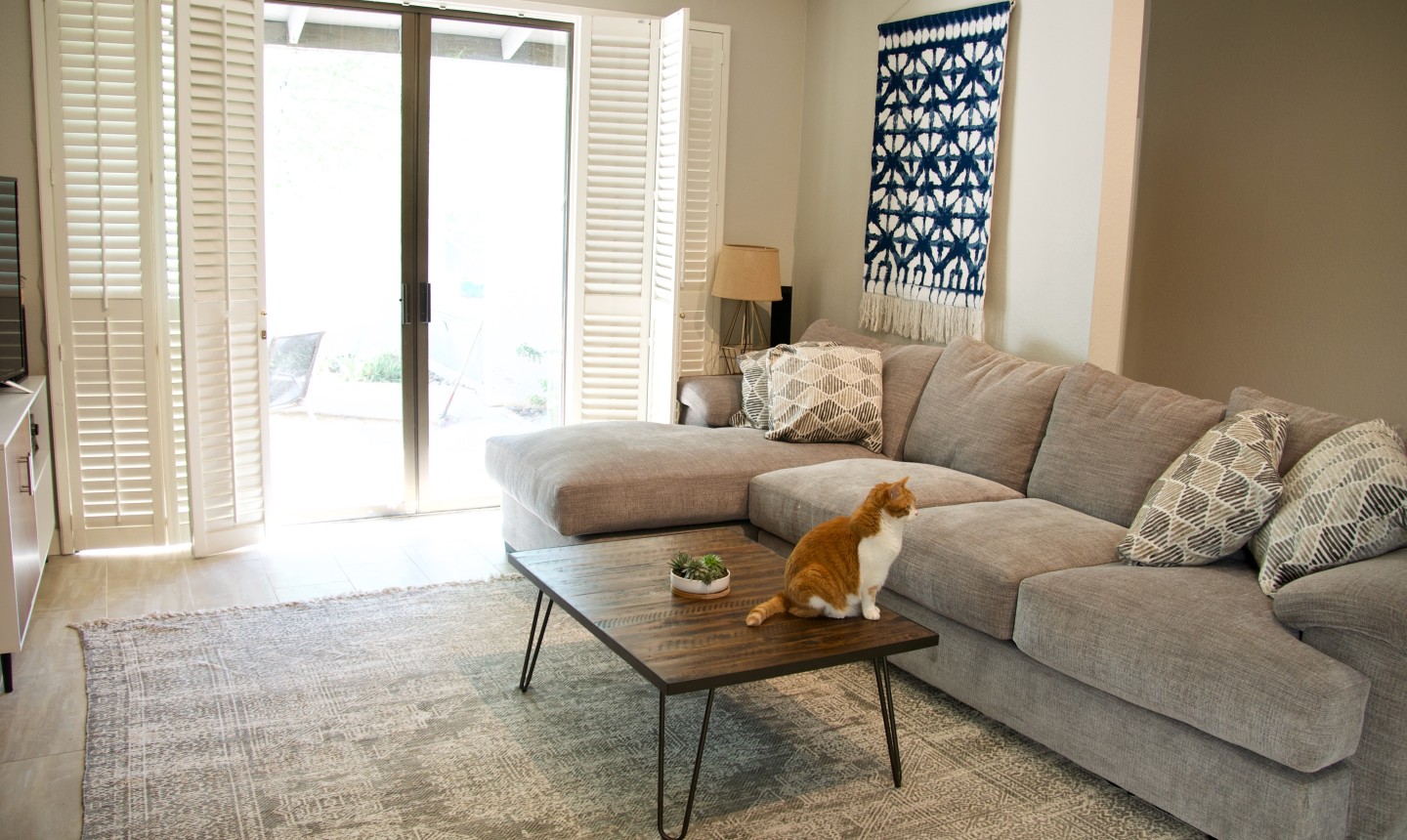 Moving in with your significant other is a big deal. For us, it required many conversations, some back-and-forthing, an acknowledged relinquishment of our existing beloved spaces, and a full-blown commitment to making the whole "living together" thing work.
It's been a year and a half since a moving truck dropped off all our stuff, and things have been great. The only issue that we really didn't plan for — and I bet this is a common problem — was the stark difference between his decorating style and mine.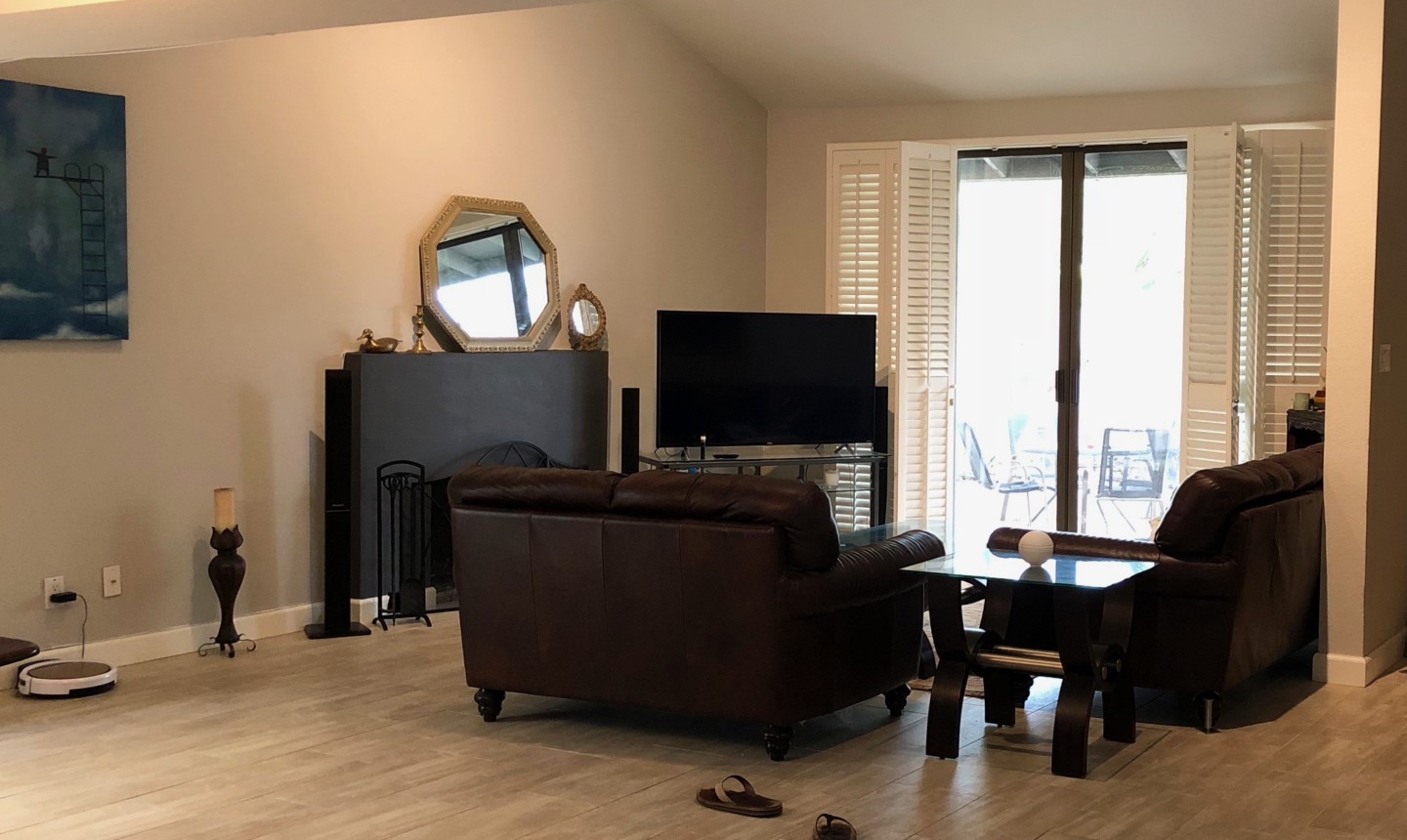 As you can see, his interior design aesthetic is very… well, bachelor — leather, glass, minimalism, a desire to keep things as they are. My style is more "antique enthusiast with a penchant for collecting trinkets." The two obviously do not combine well. After living in this dual-personality space for over a year, we finally decided it was time to drop the "his stuff" and "her stuff" vibe and instead invest in our space. Overwhelmed, we enlisted some help.
How a "Digital Interior Designer" Worked For Us
Not really interested in bickering about design details in front of a real life person — and eager to find an easy way where we could both voice our design needs and wants — we opted to take advantage of Modsy. For those unfamiliar, Modsy hires real interior designers, but you work with them through a digital platform. The cost is $59 (standard) to $149 (includes live consultations) per room.
Before beginning, you answer a series of questions about your aesthetic, design goals and budget. My partner and I did this together and the process was surprisingly easy. I think being able to visualize all the different styles out there really helped us figure out what we did and didn't want.
After answering questions, you provide images and dimensions of your space. Modsy then creates a 3D replica and their interior designer fills it with furniture given your aesthetic and budget. You can buy all the furniture through websites like as AllModern, West Elm, WayFair and more. Modsy even negotiates discounts when you reach certain purchase thresholds.
We were given two different style options, which immediately filled us with inspiration.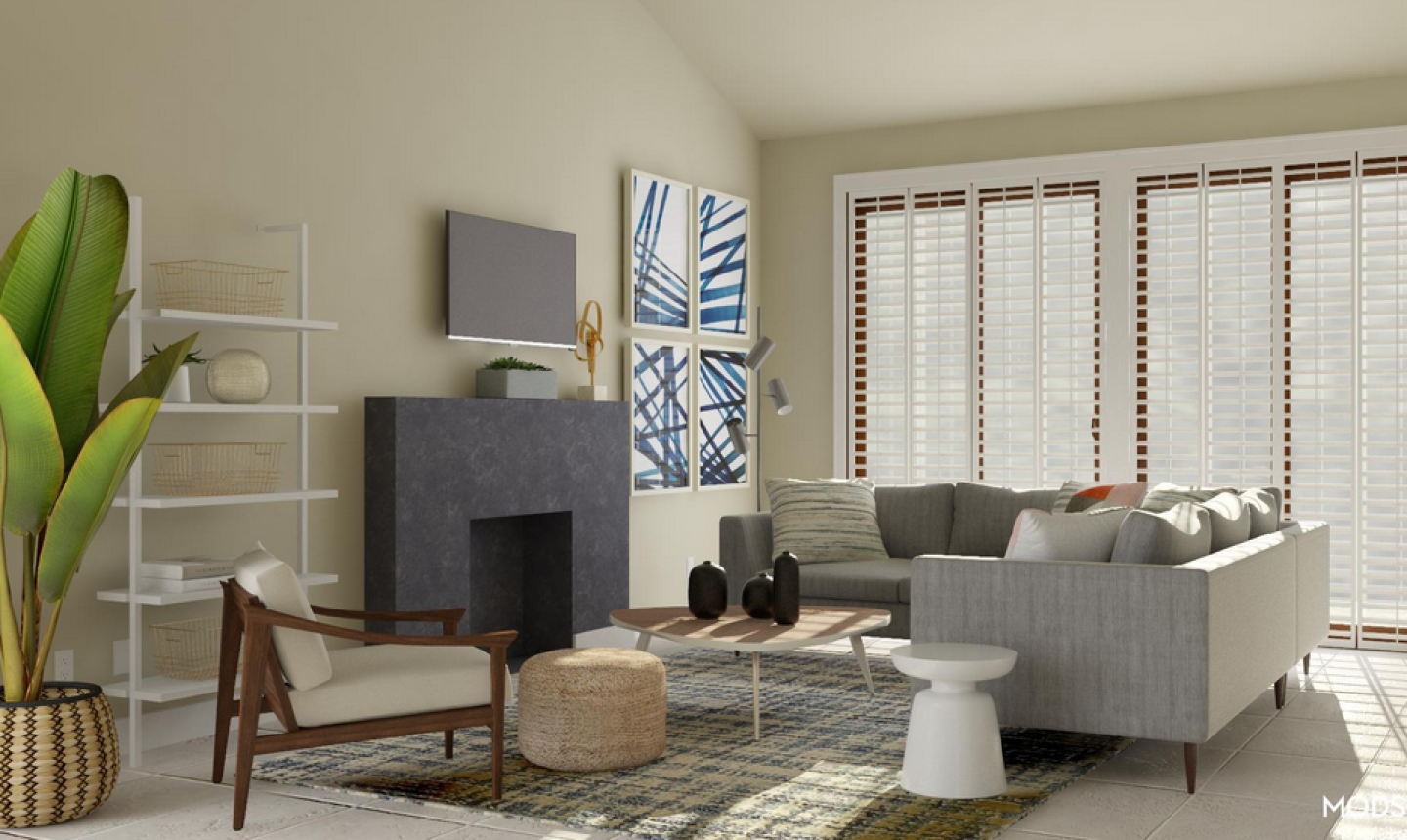 The 3D renderings (which is what you see above!) were identical to our living room, which helped us better visualize our awkward space and combine both our tastes.
Taking Action and Redesigning Our Space
After getting our designs and speaking with a Modsy stylist via video chat, my partner and I outlined three musts:
1. Furniture must be comfortable and it must be high quality. These are purchases that ought to last, but we will not go over our $2,000 budget.
2. We must cut down on "clutter," which includes: cord exposure, vintage trinkets, disorganization.
3. The space must feel light, welcoming and approachable. Goodbye dark leather and closed-off spaces!
From start to finish, we probably spent two months shopping for furniture and recreating our living room together. Admittedly, we ended up not using any of the furniture from the Modsy designs, but we did purchase pieces that were very similar. (We're both hesitant when it comes to large purchases, so being able to see and test the furniture in person was very important.)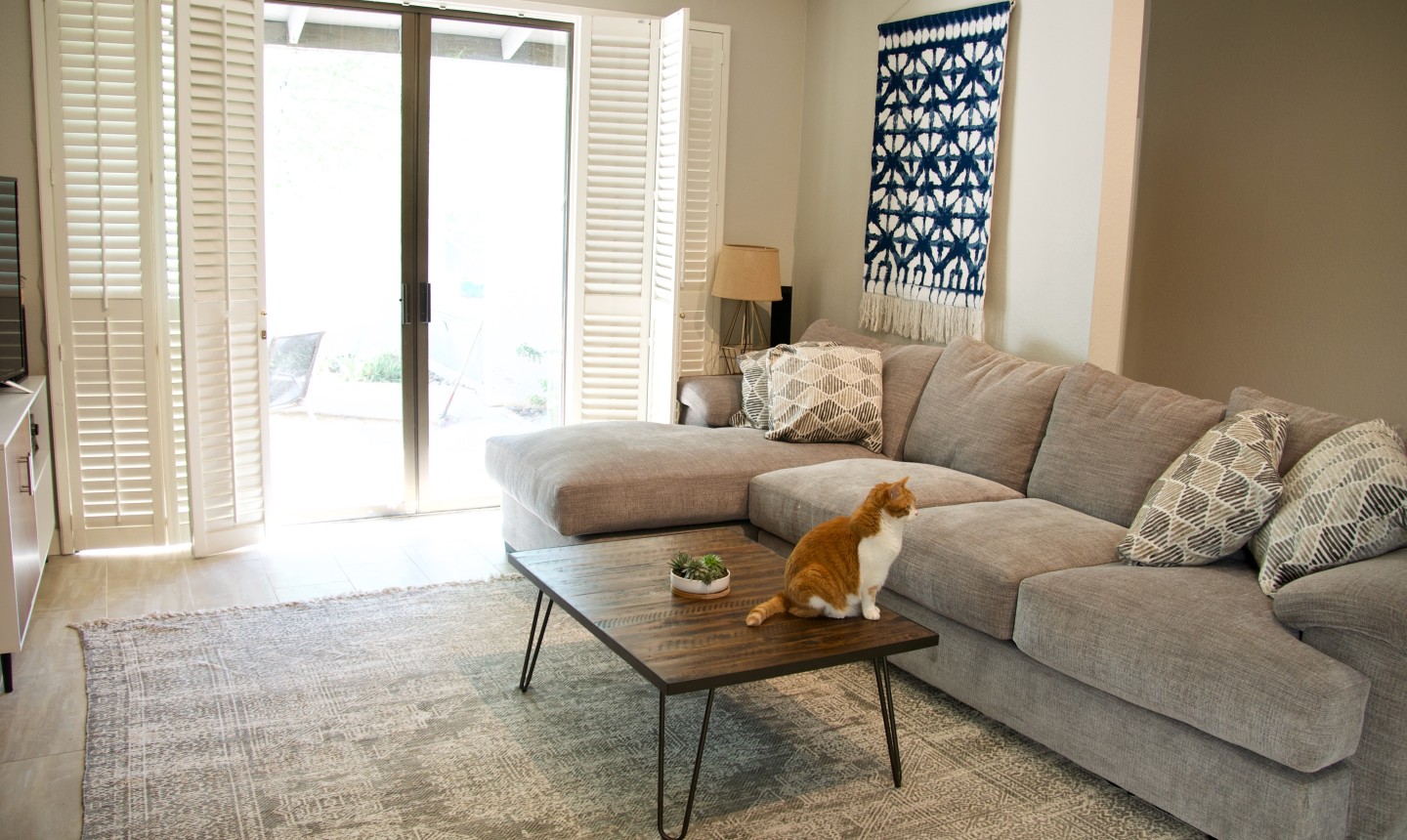 We hit local furniture stores, utilized some of our existing pieces (my beloved vintage wingback chair and gilded mirror), did some online shopping for less expensive items (like our cord-concealing TV stand from AllModern for $150), and took advantage of apps like OfferUp and Facebook Marketplace that allow you to shop for gently used furniture (we found our coffee table, originally from World Market, for $50!).
In the end, we were able to meet all of our goals. I compromised on the trinkets by instead incorporating plants into the space, which I honestly think I prefer. We also cut back on clutter by getting smart with storage. The best part? We're both in love with the space.
We still have a bit of work to do in our home, but things are coming along well. One other thing we spoke to the Modsy designer about was the space at the far end of the living room, which is where we had our dining table (we're moving dining into a new space). They offered some wonderful solutions, and we're still figuring out the best plan of action.
Maybe we'll incorporate a desk for a small working space, or we'll finally get that piano I've been dreaming about owning since I was a little girl… Right now, it's a tucked away reading/lounge area, and that works for us. Whenever we're ready, though, we know where to turn if we need more advice!