Even with years of dedicated pizza-eating under your belt, it's possible that you've never tried anything quite like this Detroit-style pizza recipe.
Photos via CakeSpy
Detroit-style pizza is deceptively simple. Visually, it resembles a tomato pie or a particularly saucy Sicilian slice. But actually, it has its own unique construction, including cheese secretly hidden below.
In a nutshell, here's how a Detroit-style pizza works.
First, dough is pressed into a sheet pan and then topped all the way to the brim with a mixture of cheeses. It's baked, sans sauce, which allows the cheese and crust to caramelize together, giving the pie a distinctly buttery flavor (though there's no actual butter in the recipe!). Once baked, it's topped with warm tomato sauce. The cheese forms a barrier, keeping the crust soft and fluffy but still yielding a recognizable pizza experience.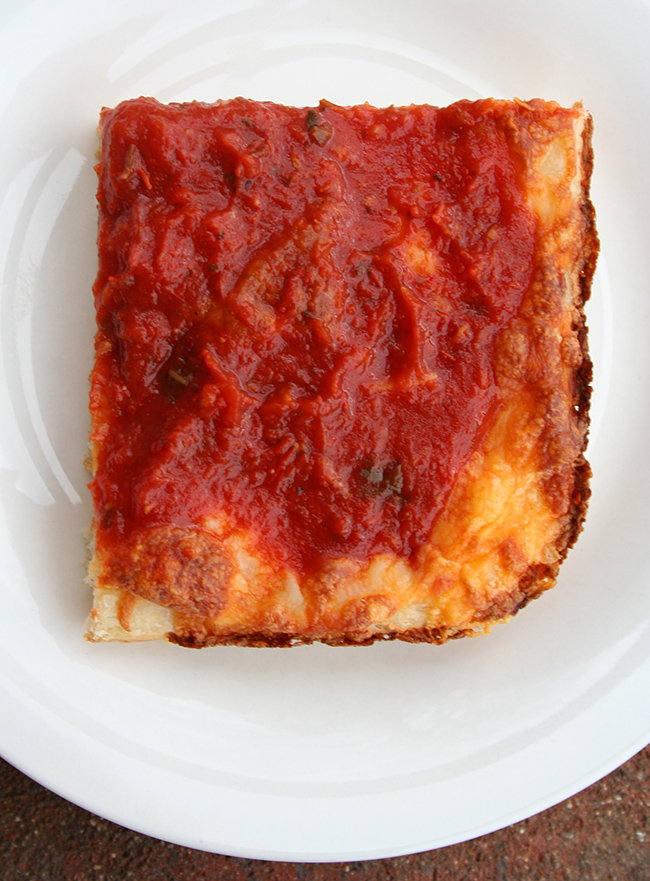 Detroit-style pizza recipe
Adapted from The Washington Post
Makes one 9-by-14-inch pizza (10 servings)
For the dough:
1 teaspoon active dry yeast 
1 teaspoon sugar (see recipe notes)
1 cup warm (105 degrees F) water 
2¼ cups bread flour
1½ teaspoons salt 
1 teaspoon olive oil, plus more for oiling your hands and the bowl 
For the topping:
1

½

to 2 cups tomato sauce, spiced to your liking 
6 ounces "Brick" style cheese or sharp cheddar cheese, grated (see recipe notes, below) 
6 ounces mozzarella cheese, grated 
Other toppings of your choice (see recipe notes, below) 
Special equipment: 9-by-14-inch rimmed sheet pan (see recipe notes, below) 
Step 1:
Make the dough. In a large bowl, combine the sugar and yeast. Pour the water on top, and let the mixture sit for a few minutes, or until bubbly/foamy. 
Step 2: 
Add the flour, salt and olive oil, and stir to combine. Once it looks somewhat "shaggy" yet cohesive (as pictured below), oil your hands with olive oil and knead the dough until no clumps remain. Form the dough into a ball, place in a lightly oiled bowl and cover with either plastic wrap or a slightly damp, clean kitchen towel. Let the dough rise until doubled in size, about one to two hours.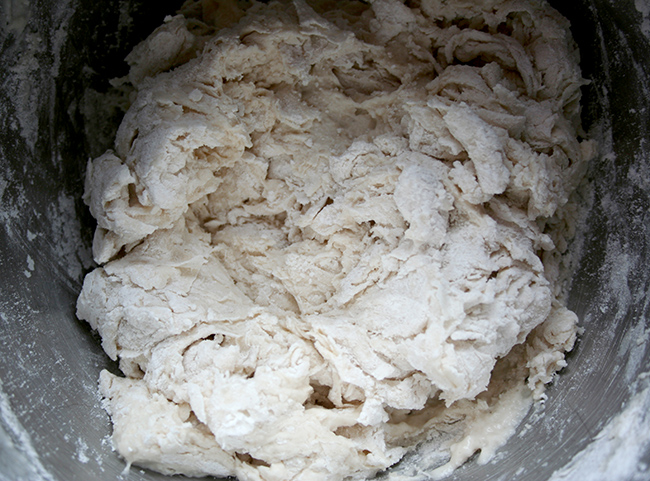 Step 3: 
Punch the dough down and re-form into a ball. If you're not making your pizza immediately, place the dough in an oiled, airtight container and put it in the refrigerator. When ready to bake, follow the instructions below.
If you're going to make pizza right away, generously oil a 9-by-14-inch rimmed baking sheet and place the dough on top. Use your fingers to gently press and spread the dough to fill out the pan. Drizzle olive oil on top, then cover with plastic wrap (the oil will discourage sticking). Let the dough rise until puffy and nearly doubled in size again, about 2 hours.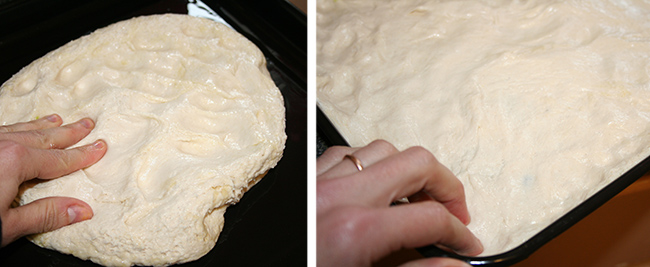 Step 4: 
Preheat your oven to 450 F.
While the oven preheats, scatter both cheeses evenly on top of the dough, going all the way to the edges. Place the pizza in the oven (no sauce yet!) and bake for 15 to 20 minutes, or until the cheese is nicely browned and bubbling. Rotate the pan after about 8 minutes for even baking.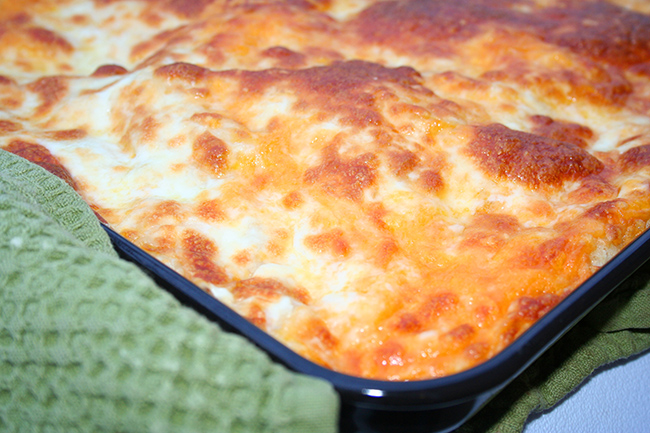 Step 5:
While the dough and cheese cook, heat the tomato sauce in a medium saucepan over low heat; this is just to warm it up. Stir in whatever spices or seasonings you like. I added a spoonful of chili flakes.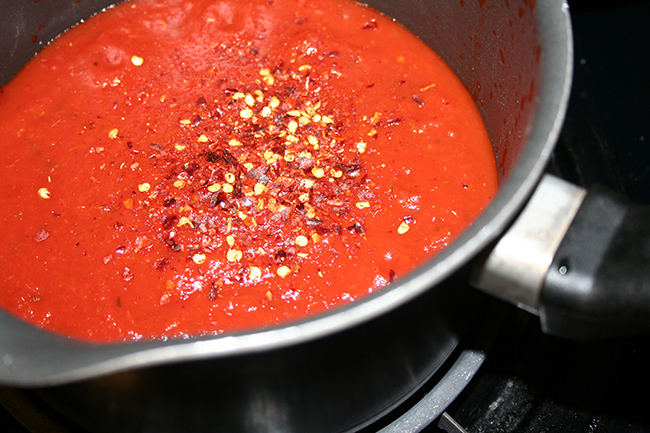 Step 6:
Remove the pizza from the oven and let cool briefly on a wire rack. To serve, smother the top of the pizza with your warm sauce, slice it into squares or rectangles and enjoy a sweet slice of the Motor City. 
Recipe notes 
Why do you need sugar?
Some recipes for Detroit-style pizza employ diastatic malt powder, which helps promote rising and perfect browning in breads and pizza crust. It's not vital, in my opinion; sugar does a thoroughly decent job in this recipe. 
What's brick cheese?
A hallmark of the Detroit-style pizza is brick cheese: a strong, ripe cheese sold in brick-like portions (hence the name). Brick cheese is native to Wisconsin and relatively little-known elsewhere. I wasn't able to find brick cheese locally, so I used a sharp cheddar cheese. While I don't have a basis of true comparison, I humbly submit that my recipe came out quite delicious with this small substitution.
What about toppings?
Apparently, there's an accepted method to applying toppings to a Detroit-style pizza. If using pepperoni, the etiquette is to place it below the cheese during preparation. aAl other toppings go on top of the cheese but below the sauce. 
Can I use a different baking pan?
Originally, Detroit-style pizzas were made in a specific steel pan, allegedly made with leftover materials from the automobile industry. These pans can be purchased online, but you can also use a 9-by-14-inch or 10-by-14-inch rimmed baking sheet.