Colorful, flavorful heirloom tomatoes are one of my ingredients, especially when they're at their peak (June through September). This Rainbow Tomato Pie is loaded with red, orange, yellow, green and purple heirloom tomatoes in a dish that will give you a whole new way to enjoy them.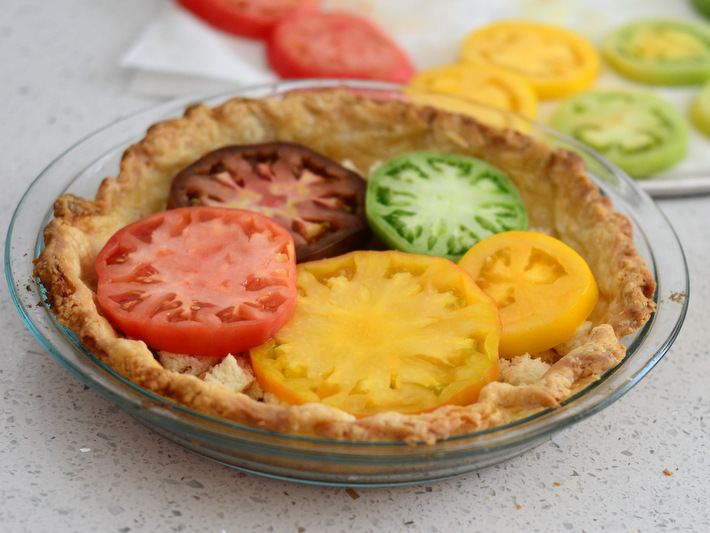 About this rainbow tomato pie
This tomato pie is nothing like the style of pizza that shares its name. It's a savory pie that is filled with fresh sliced tomatoes and topped with a cheesy, herbed topping. I've seen many variations for this style of pie over the years, many of which add ingredients like onions or garlic. When I'm working with top-notch tomatoes, I like to keep things simple by making them the star of the pie and not adding other ingredients to the filling.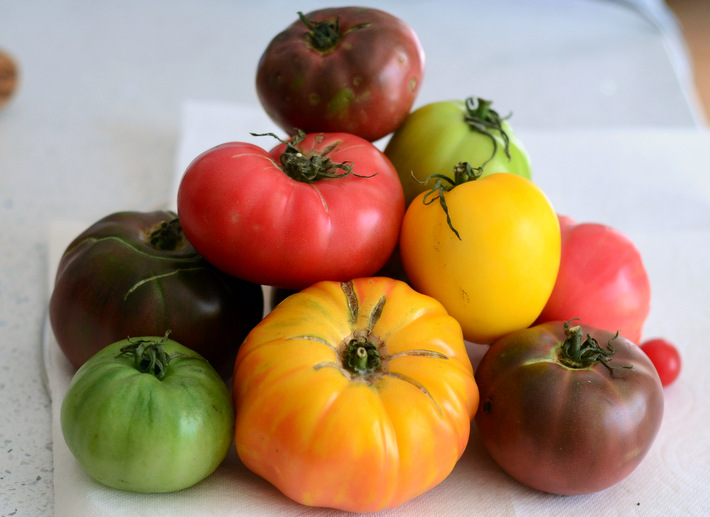 Choosing and using the best heirloom tomatoes
Go to the farmers market to pick out individual tomatoes for this pie for best results. Get a variety of colors and sizes, so they fill up the pie shell nicely. And get a few extras — you can always put them in a salad if you run out of room in the pie.
The tomatoes should be cut into 1/4-inch thick slices and drained before being layered into the pie shell. Though heirloom tomatoes are often "meatier" than some other varieties, they still have a lot of extra liquid, and you don't want your pie to be runny.
I arrange the slices on a baking sheet lined with one or two paper towels, lightly salt the tomatoes and let them drain, then flip them over and repeat the process.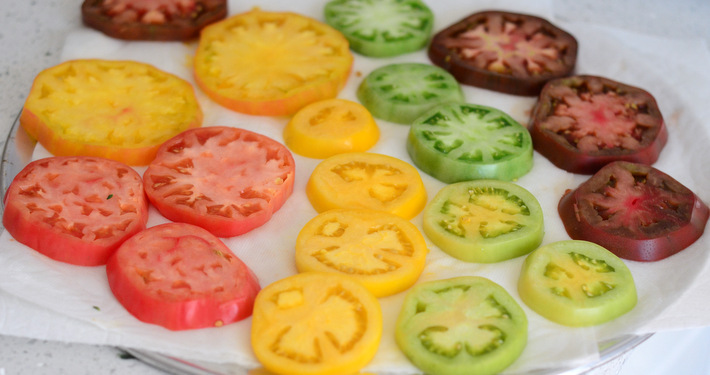 Preparing your tomato pie
Arrange the tomatoes into a pre-baked pie crust. Make sure to mix up the colors as you layer your tomato slices, because you want each piece of the pie to be as colorful as possible!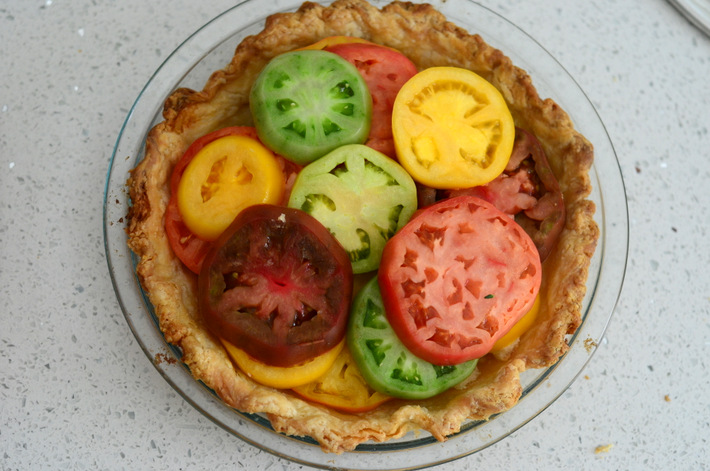 After the tomatoes are in place, you can spread on the topping, which is made with mayonnaise, sharp cheddar cheese, thyme and a bit of hot sauce. That may sound like an unusual combination, but it pairs surprisingly well with the tomatoes, yielding a delicious finished product.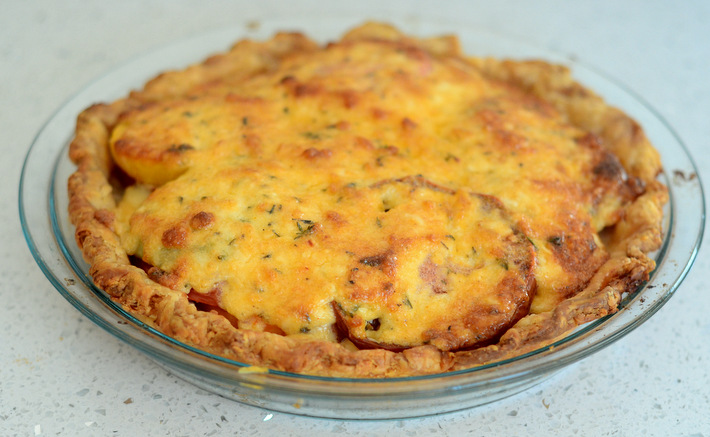 The pie is best served on the day that it is baked, when the crust is perfectly flaky, the tomatoes are tender and the topping has just melted. Leftovers should be stored in the refrigerator and served cold.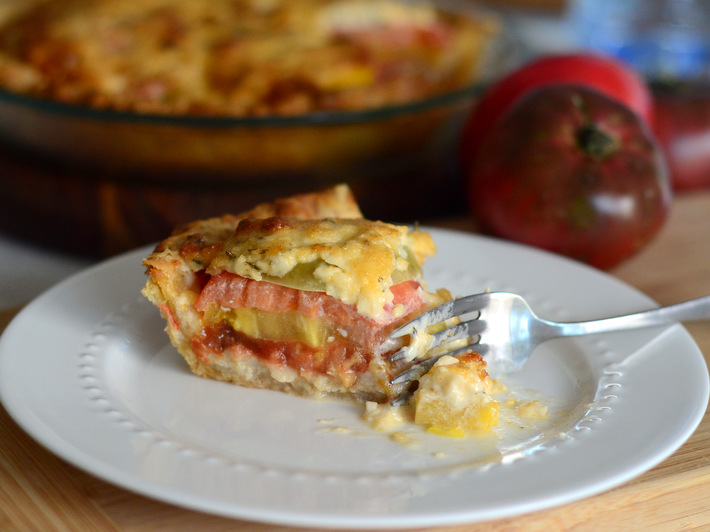 Rainbow heirloom tomato pie
Serves 8 people
Ingredients
½ cup bread crumbs
1

½

pounds heirloom tomatoes

½

 teaspoon salt

½

cup mayonnaise
1 cup shredded sharp cheddar cheese (about 3 ounces)

½

teaspoon dried thyme or 1 tablespoon fresh thyme
1

½

 teaspoons hot sauce
Salt and pepper, to taste
Step 1:
Preheat oven to 400 F. Roll out the pie crust on a lightly floured surface, press it into a 9-inch pie plate and crimp the edges. Chill for 15 minutes. 
Fill pie crust with pie weights and bake crust for 20 minutes, until the crust is set. Remove pie weights and dock the bottom of the pie crust using a fork. Bake for an additional 20 minutes, until pie crust is set and golden brown. Allow crust to cool to room temperature.
Step 2:
Slice tomatoes into ¼" thick rounds and arrange in a single layer on a baking sheet lined with paper towels. Sprinkle tomatoes with ¼ teaspoon salt. Let tomatoes sit for 15 minutes, then flip them over and sprinkle with another ¼ teaspoon salt, then wait another 15 minutes. 
Step 3:
Preheat oven to 350 F. Line the bottom of the pie crust with breadcrumbs. Layer tomatoes into the crust, mixing up the colors as you go.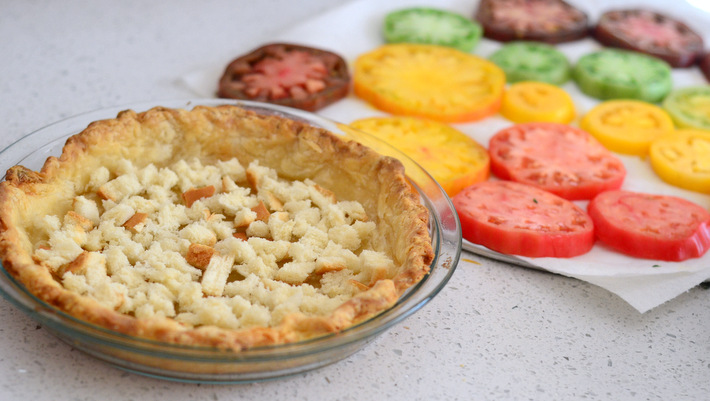 Step 4:
In a small bowl, whisk together mayonnaise, cheese, thyme, hot sauce and salt and pepper. Mixture will be very thick. Carefully spread mixture over the top of the tomatoes.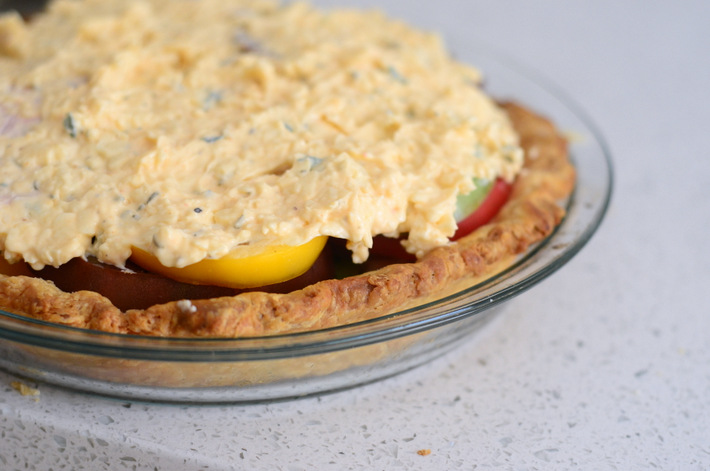 Step 5:
Bake for 35 minutes, or until the top of the pie is golden brown. Allow pie to cool to room temperature before slicing.