With Easter right around the corner, we're sure you can't wait to start making gorgeous, pastel-colored decorated Easter cookies for friends and family! It's the perfect time of year for sugary treats adorned with cute animals, edible decorations and soft color palettes.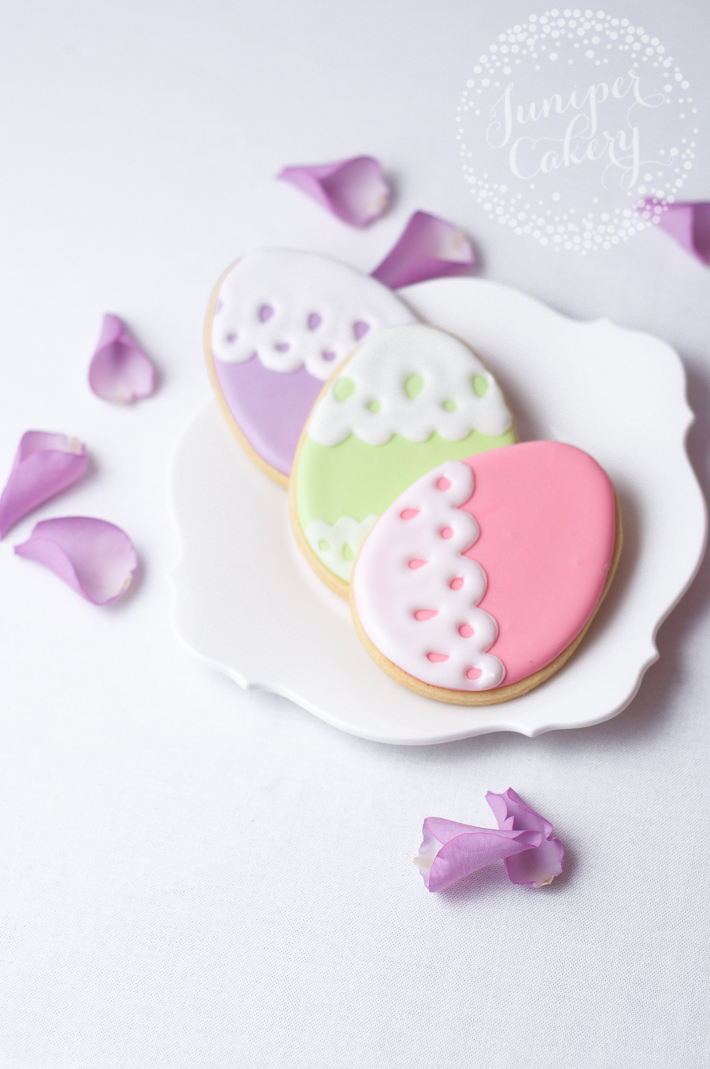 These simple and sweet Broderie Anglais (or eyelet lace) Easter cookies are bound to wow your loved ones.
Decorate Delicate, Elegant Cookies!
Make the most enticing treats at the table by learning new and classic cookie-decorating techniques in this on-demand video class.Enroll Now »
How to make delicate, lacy decorated Easter cookies
What you need:
Egg-shaped sugar cookies
White royal icing in outlining consistency
White royal icing in flooding consistency
Tinted royal icing in outlining consistency
Tinted royal icing in flooding consistency
PME Supatube piping tip in size 1
Cocktail sticks or toothpicks
Step 1: Outline the cookie
First outline your sugar cookie egg with some of your thicker (outlining consistency) tinted royal icing. Remember that you should work one cookie at a time instead decorating them in batches. Working one at a time means that you can concentrate better on the design and also blend your flooding icing in with your outline.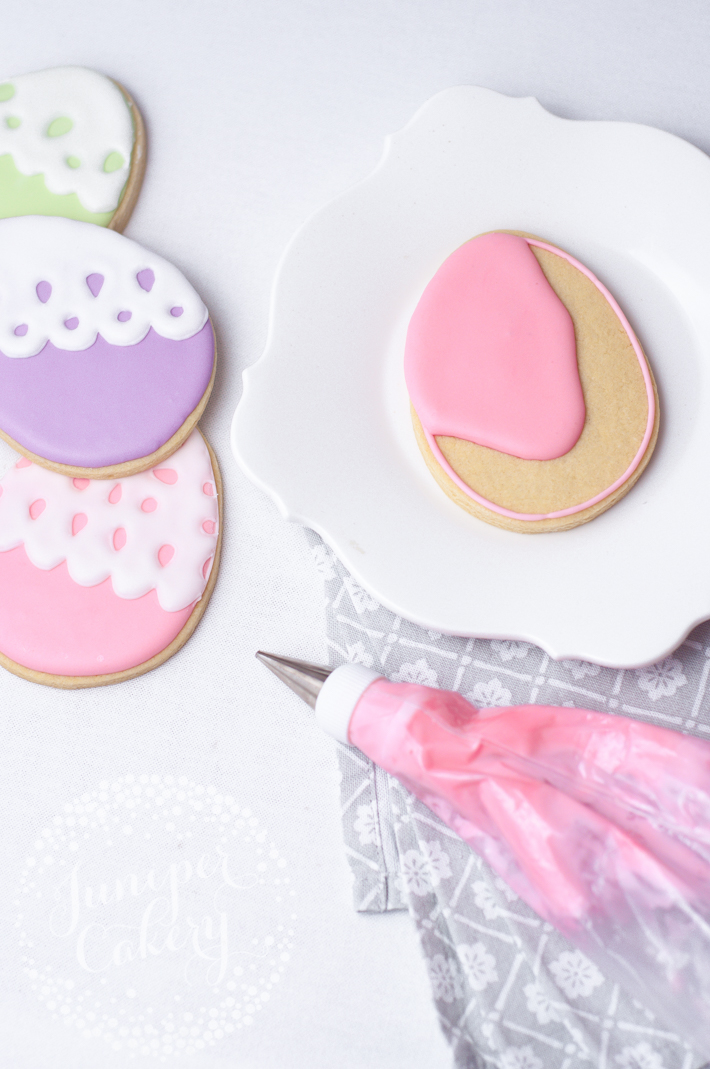 Step 2: Flood the cookie with icing
Now flood your cookie in with some of your thinner (flooding consistency) tinted royal icing. For simple shapes like this, we simply dollop our royal icing on with a teaspoon and move it out to the edges with a cocktail stick in small, circular motions. 
If you see any darker circles lurking under your icing, these are likely pesky little air bubbles that form when working with the icing. You can easily remove these with a clean cocktail stick. Lightly jab into the wet royal icing wherever you spot one to pop the bubble.
Once flooded, leave your cookie to dry. This should take 6 to 24, hours depending on the humidity of where you live. 
Top tip: To help your flooded icing settle and even out, gently tap the entire cookie on a flat, level surface a few times.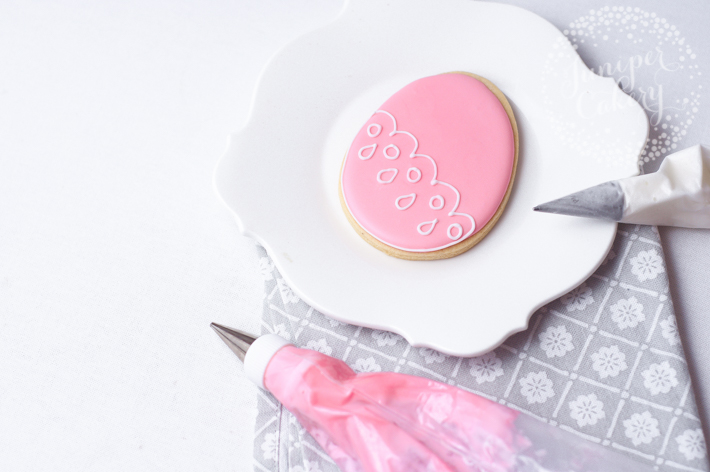 Step 3: Outline the lace detail
To begin adding your pretty Broderie Anglais lace detail, take the thicker white royal icing and create a lacy edging outline. To demonstrate this step, we outline around the outer edge of the cookie before adding in an angled scallop "trim" about three-quarters of the way down the cookie.
Add in the eyelet details inside the lace area. Typical eyelets include circles and teardrop shapes. Mix and match these to create lace-like designs. Remember to keep your design simple, and pipe the circles and teardrop shapes large enough so that they don't spread and become unrecognizable later.
Leave to one side for a few minutes for the outlines to set a little. This makes them easier and less stubborn to handle when you're flooding in the lace section.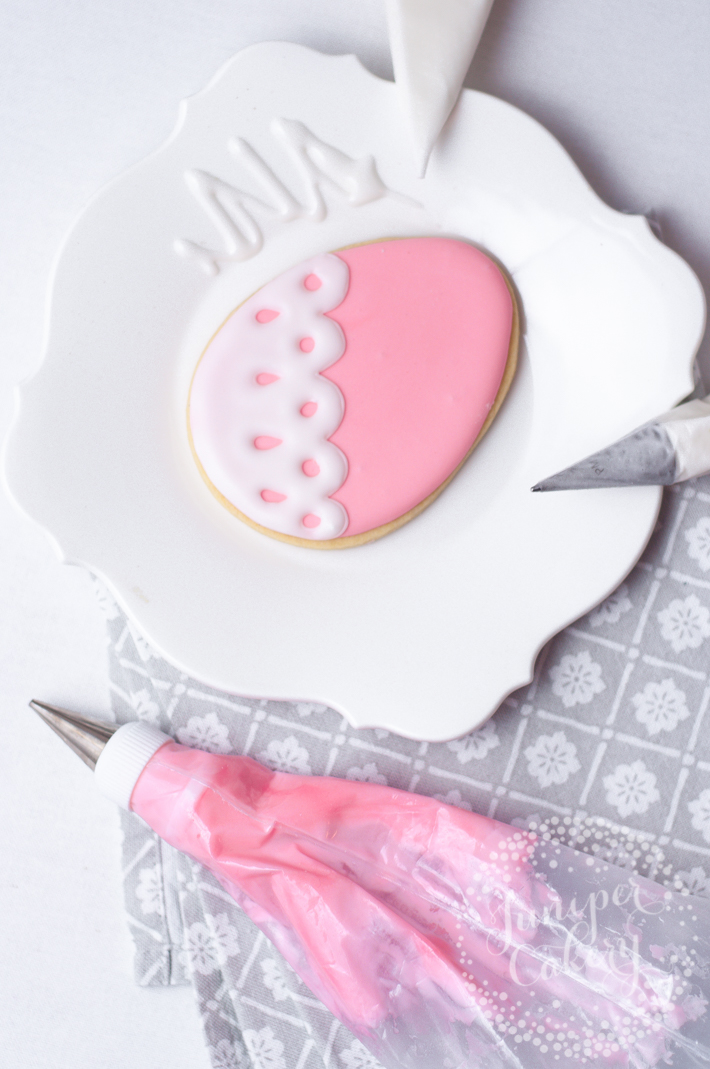 Step 4: Flood the lace detail
Now flood in the lace part of your cookie with thinner white royal icing. To flood in trickier sections around the eyelets, use a piping bag rather than a teaspoon like we did earlier. Use a cocktail stick to push the icing out to the edges.
Leave your cookie to set again fully before.
When all your cookies are set and ready, slide them into bow-finished bags or nestle them into cookies boxes filled with green tissue paper "grass."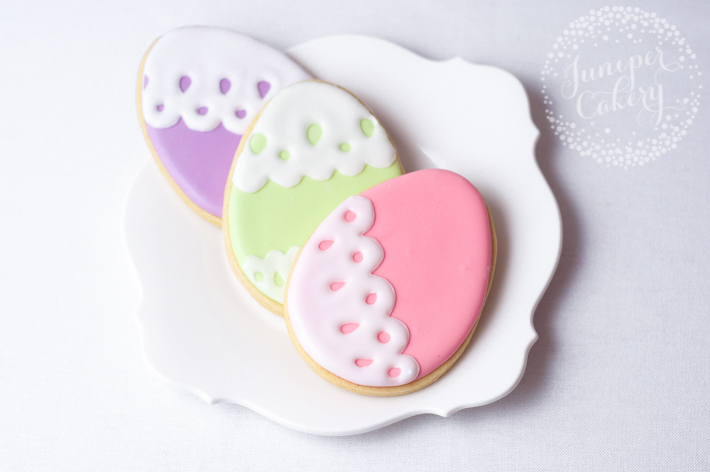 Decorate Delicate, Elegant Cookies!
Make the most enticing treats at the table by learning new and classic cookie-decorating techniques in this on-demand video class.Enroll Now »