Do you always make a muslin when you are starting out with a new sewing pattern? Sewing means you can have custom fit clothing in just the fabric you want. Sometimes called a toile, a muslin refers to a test garment sewn from inexpensive fabric created so you can check the fit of the garment. But a muslin is worthwhile for so many other reasons!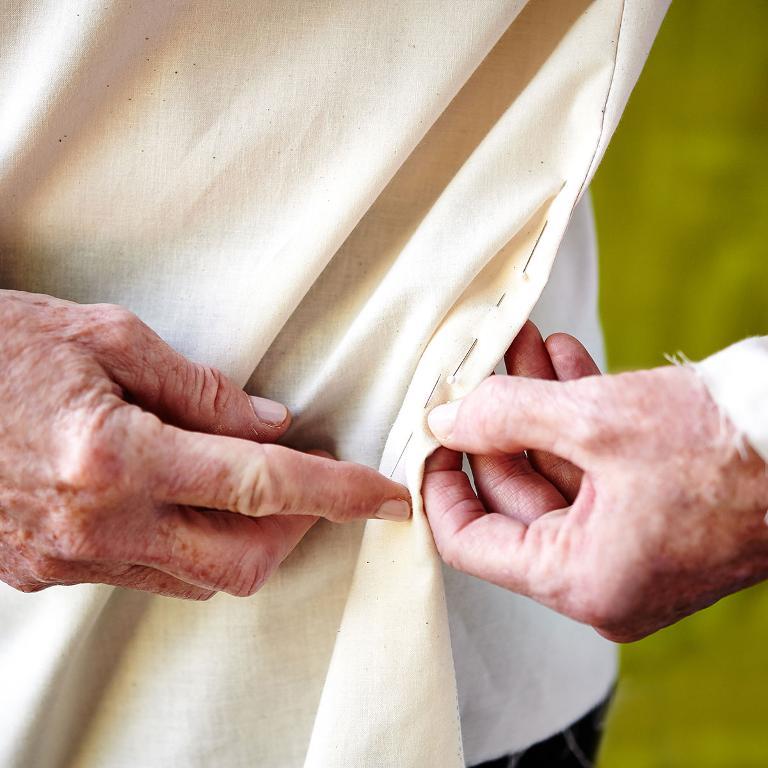 Here are reasons to consider making a muslin for custom fit clothing.
1. Fit, of course!
It has to be said first that the top reason for making a muslin is to check the fit of the garment. Does the garment close properly? Is there the right amount of room at bust, waist and hip? Are the darts in the right place?
Making a muslin for fit is essential if you feel that commercial patterns never fit correctly. Remember that no one person is shaped in a standard way — everyone needs to adjust a pattern somewhat. A muslin gives you a chance to adjust the size, correct drag lines, change curves and shorten or lengthen as needed.
2. Check style and shape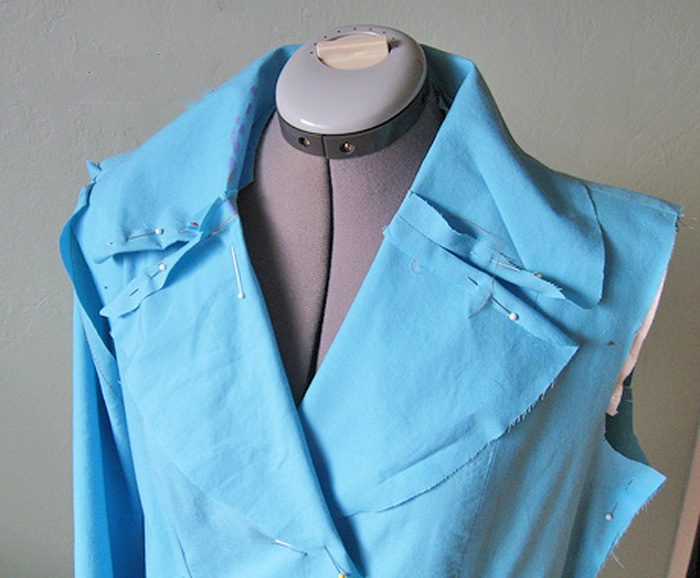 Muslins let you to see how those pattern drawings or photos to translate to real life. You can check the size of a lapel, pocket or collar. You can determine if the shape of the garment suits you or needs some adjustment to create your vision. A muslin means you don't have to follow the pattern design exactly — you can get creative with your changes while using the basic pattern as the starting point.
In the blue cotton muslin shown above, I was testing a coat pattern and had some concern on the size of the collar and lapel — it seemed a bit big when looking at the pattern pieces, but worked beautifully to make a classic coat. Note that you have to cut away or pin out the seam allowances to get the exact version that would be in your finished garment.
3. Test the pattern ease
Based on the listed measurements or ones you've taken, it may seem that the custom fit clothing will fit well — however, this may not take into consideration how much ease is available. Ease is necessary for movement and comfort; plus, a style can include design ease to create drape or shaping. Sometimes it is difficult to know just how much ease is built into a pattern unless you make a muslin. There can be too much ease for your personal taste, or not enough ease to make movement possible. Either way, a muslin can let you check that the ease is correct.
4. Check for suitable fabrics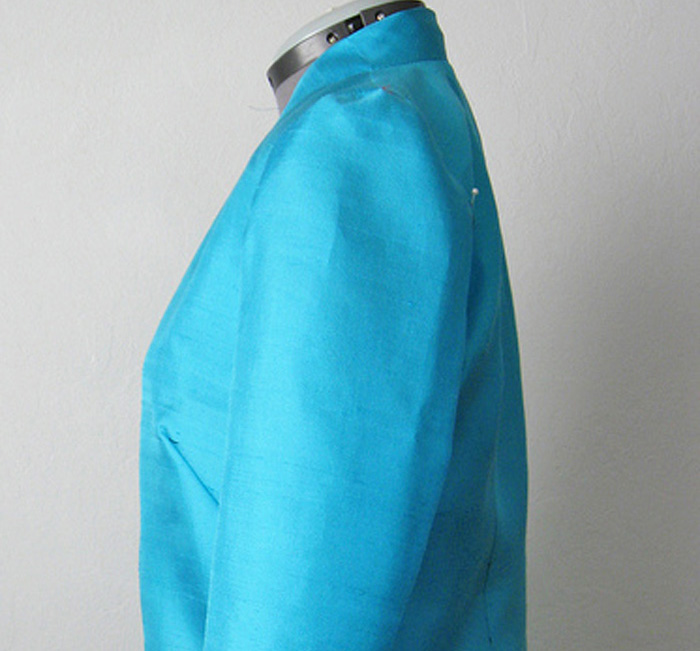 Consider sewing up the muslin in a fabric very similar to the fabric you intend to use for your final garment. Often patterns indicate suggested fabrics, but that doesn't mean you can't try something else. The fabrics suggested for this jacket were rayon and linen. However, I made this test version in a lightweight but stiff scrap of silk that I found at a yard sale. It was a good mimic for the final fabric, which was an embroidered silk organza.
5. Practice tricky techniques.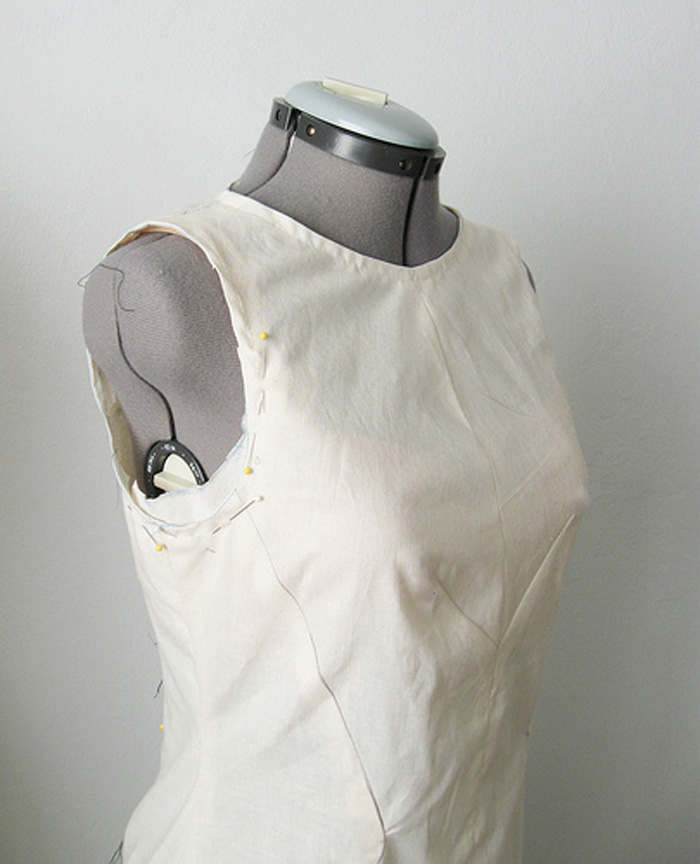 Some patterns are quite advanced or just a bit confusing, so making a muslin is a great way to practice the tricky parts before you get to your final fabric. Be sure to place all the pattern markings on your muslin — you want to sew it up just as you would the fashion fabric. Jackets with lapels or a pattern with a lot of angles or insets call for precise sewing technique, so you can go through the steps on the muslin and be ready to go on the real thing.
6. Check pocket and button placement.
Have you ever made a dress, skirt or coat and wished the pockets were in a different location? Too high, too low, too small? Just like Goldilocks, we want our sewing to be just right! It might seem like a small detail, but it could make the difference between a garment you love to wear and one that always annoys you. Same goes for button placement. You don't have to follow the pattern's button placement — test them on the muslin and place the closures where they make sense for your figure.
7. Find your comfort level.
A muslin might fit you to perfection but just not seem right for you. Perhaps you will find the neckline is too low or the waistline is too high. The muslin process provides the opportunity to adjust that to a more comfortable place. Maybe the style just doesn't suit you — sewing up a muslin can show you that you would be happier with a different pattern.
8. Save time.
Sewing a muslin does take some time, but can be really worthwhile if you like the pattern. Once you have all your adjustments done, you can sew the pattern over and over in different fabrics, sewing quickly and saving lots of time.
9. Save money.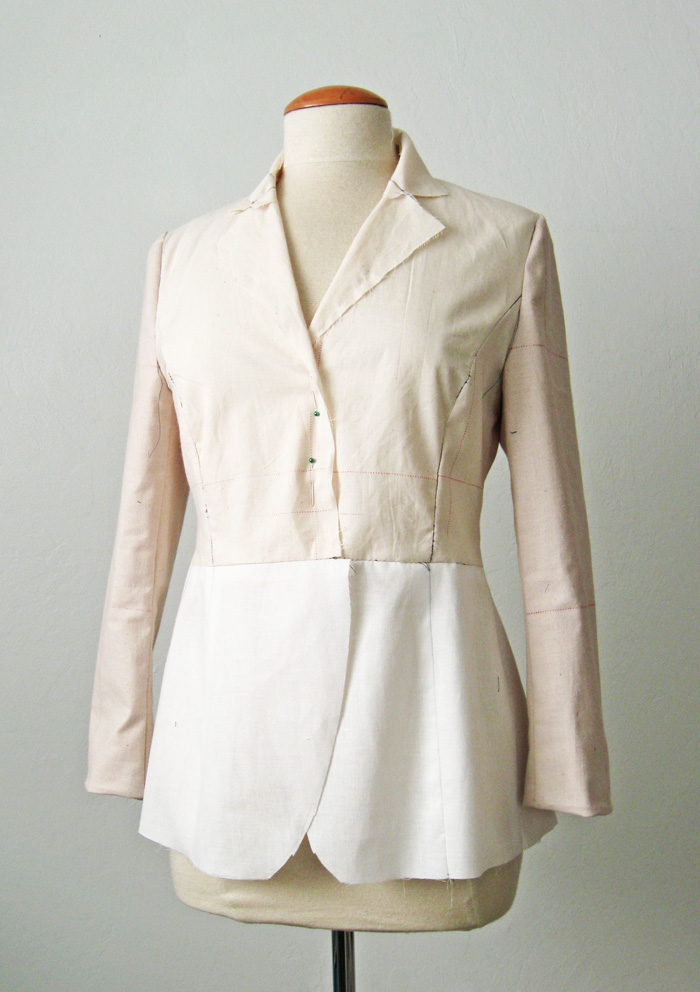 A muslin can definitely save money! Quality fabrics are quite an investment, particularly for a coat, which takes more yardage than something like a skirt or simple dress. If you have the perfect fabric but are just a little bit nervous about cutting into it, making a muslin will work out all the quirks and give you the confidence to use your fabulous fabric without fear of a mistake.
10. Make a wearable muslin.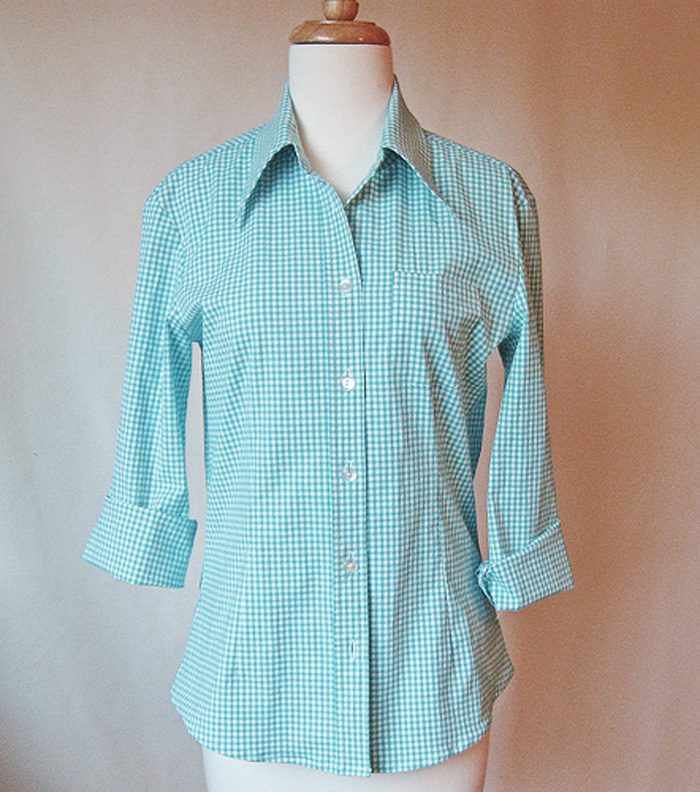 If you have adjusted your pattern and think it is close to perfect, try a wearable muslin. A wearable muslin is a garment sewn from a fabric that you would wear if it turns out well but won't make you too sorry if it doesn't. Fabrics for this type of garment could be things you bought at a great sale price, fabric given to you by a friend, or maybe even something that has been in your stash so long that you will never sew it up as intended. Sometimes the wearable muslin turns out so well that it becomes the final version. And that is the best muslin of all!