I learned how to crochet and knit when I was a young teenager. I don't know why, but crochet always came much more naturally. Knitting seemed far too difficult and slow by comparison — but recently, I have come back to the needles. I am not yet a confident knitter, but I am desperate to improve.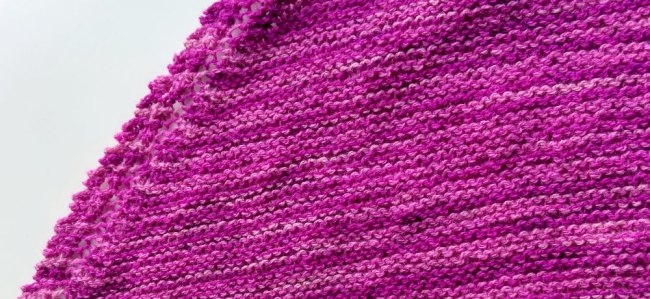 In this post, I'd like to tell you a bit about my knitting journey as a crocheter. I'll share why I decided to pursue knitting, some of the insights I've gained along the way, and a few reasons I think other crocheters should learn to knit, too.
It started with a simple moss stitch scarf.
My main passion is crochet, and a couple of years ago, I laved making crochet blankets and bags. But then my daughter asked for a scarf to keep her warm on her study year in Boston during a particularly hard winter. She had seen one made in moss stitch and loved the texture. I thought, "OK, how hard can this be?"
As it turns out, it wasn't actually that hard! Plus, the rhythmic movements of basic knit and purl stitches came back to me quickly.
I put aside an hour a day to finish it. Although I will probably never knit as fast as I crochet, it was very satisfying to see it grow and to enjoy its texture. Even with quite intense searching, I've never found a crochet stitch that comes close to reproducing moss stitch.
Reason to Learn Knitting #1:
Some of the textures that you can achieve with knitting are just not possible with crochet.
Then, there was the "need" to knit socks.
Learning or improving any craft or skill takes time, commitment and work. For me, things go well when I want to achieve something so much that it becomes a "need." It was like that with hand-knitted socks. After seeing pictures of hand-made socks on Pinterest and Instagram, I just couldn't get them out of my mind.
Looking back now, going straight from a simple scarf to knitted socks was a bit of a leap. My first pair took 16 months because I spent weeks and months completely ignoring them. They were also thrown to the floor, stamped on and sworn at many times.
I don't want to pretend that learning to knit after years of happy crocheting is easy sailing — but if you keep going, things will start to click into place. If I can do this, anyone can!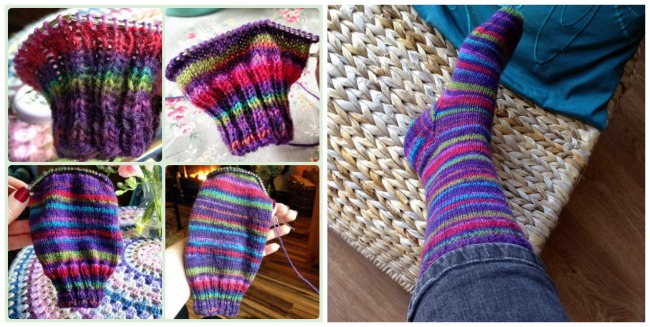 I really loved using small circular needles to make my socks. The main sections were easy once I got used to the needles. The heel wasn't too bad… but I just couldn't get the hang of the gusset and toe decreases. In the end, the critical step was signing up for the class My First Socks with Lucy Neatby.
Watching the entire process, with Lucy's hints and tips, made everything so much clearer. After stalling on my second sock, I went back to it with new enthusiasm and, without too much more drama, my first pair of knitted socks were complete.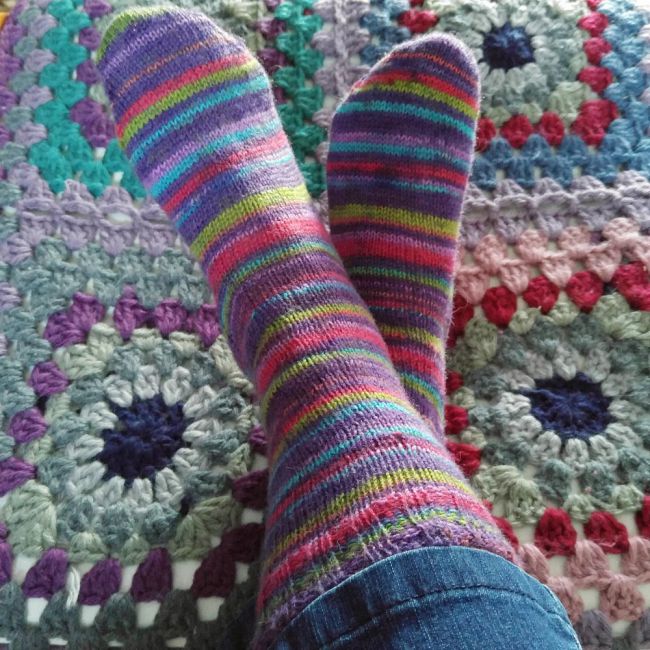 During my battle with knitted socks, I diverted off to making crochet socks, trying out various techniques and patterns and producing wearable socks that fitted well. I even published my own Supersonic crochet sock pattern here on Craftsy.
I think my crochet socks came pretty close to looking like knitted socks, particularly when they are on my feet. However, crochet fabric does not stretch in the same way as knitted fabric and, with socks, stretch is everything. I was less convinced by my later efforts, even when I experimented with knitted cuffs:

Once I'd made one pair of knitted socks, I went on to make a second pair, using a more complex pattern, in just six weeks.
Reason to Learn Knitting #2:
Although both knitted and crochet socks are possible and wearable, if you really want great looking hand-made socks, I think knitting has the edge.
And then… I discovered knitted shawls
As a crocheter, I love making and wearing shawls. I think you can achieve good drape, intricate lace, beautiful shapes and warmth by crocheting a shawl, so I didn't feel the same "need" to knit one.
The reason I did is that shawls are so much easier than socks! During my 16-month love/hate relationship with my first pair of socks, I made two shawls just so I could become more confident in the process of knitting.
The first was the Linus shawl, a free pattern by Annett Cordes that's made purely garter stitch. I used a self-striping yarn, so I didn't have to handle any tricky color changes. To my surprise, I loved making it! It was more interesting than the moss stitch scarf (which did get just a bit boring by the end) and nowhere near as tricky as socks. It was quick to make, and it felt great to knit something that I could wear with pride.
My next shawl took me into the world of lace knitting for the first time — and again I loved it. The pattern, by Susan Ashcroft, is similar to the Linus shawl except for a short edging of knitted lace. This felt like the right step to to extend my knitting skills and confidence.
I'm just starting a third shawl, this time with a much larger lace section so that I can keep my skill level moving forward, while making something gorgeous.

My next steps in knitting
In 2017, I've set myself two specific knitting challenges for myself:
To tackle some colorwork in knitting
To knit a garment
Why colorwork?
Almost everyone is impressed by elaborate knitted colorwork. Fair Isle, Norwegian and Scandinavian designs just look fabulous, and they're very difficult to recreate using crochet. Tapestry crochet is a fun technique, but it doesn't really lend itself well to making more intricate colorwork designs in garments.
Reason to Learn Knitting #3:
Knitting techniques allow you to make much more intricate and sophisticated colorwork projects.
To do this, I've again signed up for a Craftsy class and I'm working my way through Modern Stranded Knitting Techniques with Mary Jane Mucklestone.
Meanwhile, I'm making a third pair of socks, this time knitting them using the Continental knitting technique rather than the English knitting method. I'm also practicing Continental knitting with my shawl-in-progress too, and it's going well so far.
I'm just about to start the cowl project in the stranded colorwork class — and I am really excited to do some real knitting colorwork!
Why a garment?
I have become more convinced that garments look so much better when they are knitted. Just looking at the patterns that are available show that knitted fabrics tend to be thinner, have more drape and shaping to make a garment fit well seems more possible.
Reason to Learn Knitting #4:
If you want to make garments, you have a greater choice of knitted patterns, and the end products look and feel superior to those made with crochet (mostly!).
Right now, this is still at the planning stage. I've never made a garment using crochet or knitting, so I've been busy hunting around for beginners patterns.
A word about yarn
One thing I've noticed in writing this post is the impact that social media has had on my knitting journey. Pinterest, Facebook, Instagram and YouTube are all very enabling, and nothing is more so than the huge number of knitting podcasts.
Seeing the gorgeous knitted projects that podcasters are making — and the beautiful yarns that they are using — is very inspirational, but also potentially hard on the bank balance! Many projects are made using luxury hand-dyed yarns, which are more expensive than commercial yarns.
The great thing about knitting compared to crochet is that it uses far less yarn to create a fabric of the same area. It's easy to knit a large shawl using one skein of yarn or to make a sweater using 3 skeins of yarn. A similar-sized crochet project would probably use twice as much.
Reason to Learn Knitting #5:
If you want to use luxury, hand-dyed yarns, knitting is more affordable.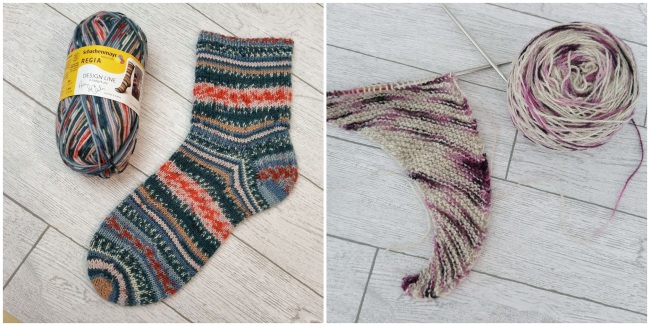 My top tips for crocheters who want to learn to knit
1. Find a community
When you are starting out, take a class at your local yarn store or take a Craftsy class. Join a knitting group so that you can get advice and support for your new craft skills. If you don't have a local one, there are many groups on Facebook and Ravelry.
2. Start small and work your way up
Start with projects that really interest you but that are not too difficult. It's probably not a good idea to start with socks! From there, build up gradually, challenging yourself to learn new stitches or techniques with every project.
3. Embrace mistakes
Learn how to fix your knitting mistakes and use techniques such as lifelines to avoid losing your work. The Craftsy class Save Our Stitches is excellent for this!
4. Try different techniques
Try knitting using different techniques — the Continental knitting technique can be easier for crocheters to learn, as you hold the yarn in your left hand, not in your right.
5. Don't forget that it's different
Accept that knitting is generally slower than crochet, so expect projects to take more time.
6. Stick with it!
The key to learning to knit is not to give up. Do a little knitting every day and it will get easier and more fun! And once your skills improve, treat yourself to some luxury yarn for a small project.